Plugins can fuel your blog with superpowers, from making it load with lightning-fast loading speeds to zapping out those annoying spam comments. But how do you know which ones to choose?
The WordPress directory has over 50,000 plugins available, and many of those have millions of downloads and plenty of five-star reviews. With so many good options to choose from, it can be hard to control yourself. But you don't want to add more than you need and slow down your blog.
You can be sure that your competitors have the top plugins working for them. This is one of the secrets of their success. To get you up to their ranks, and even top them, we'll show you the best free WordPress plugins. You can use them to drive more traffic to your blog and keep your readers excited for more.
What We Look For in the Best WordPress Plugins
To make sure you and your blog get nothing but the best, all plugins listed here meet the following criteria:
They have features WordPress is lacking to increase your traffic and conversions
They are simple to install and manage, ideal for bloggers with no coding skills
The most critical features are available with their free plans
Yoast SEO – Best Plugin for SEO
How Yoast SEO will help you: It will increase the chances of having your posts indexed and ranked higher in Google search results.
You probably dream of seeing your blog posts on the first search results page on Google. But this dream can only come true if your sitemap is following Google's guidelines and if you follow the most up-to-date SEO practices.
All you have to do is set up Yoast SEO plugin and link it to your Google Search Console – Google's web service where you can find out how Google Search evaluates your blog technically. With this plugin, you can do it within minutes – no coding or technical SEO expertise required.
Every time you create a new post, Yoast will give you precious SEO advice. It will tell you if your title tag and meta descriptions are up to Google's standards. As you can see in the image below, you'll get specific information about your blog post's keyword density, word count, outbound and internal links, and more.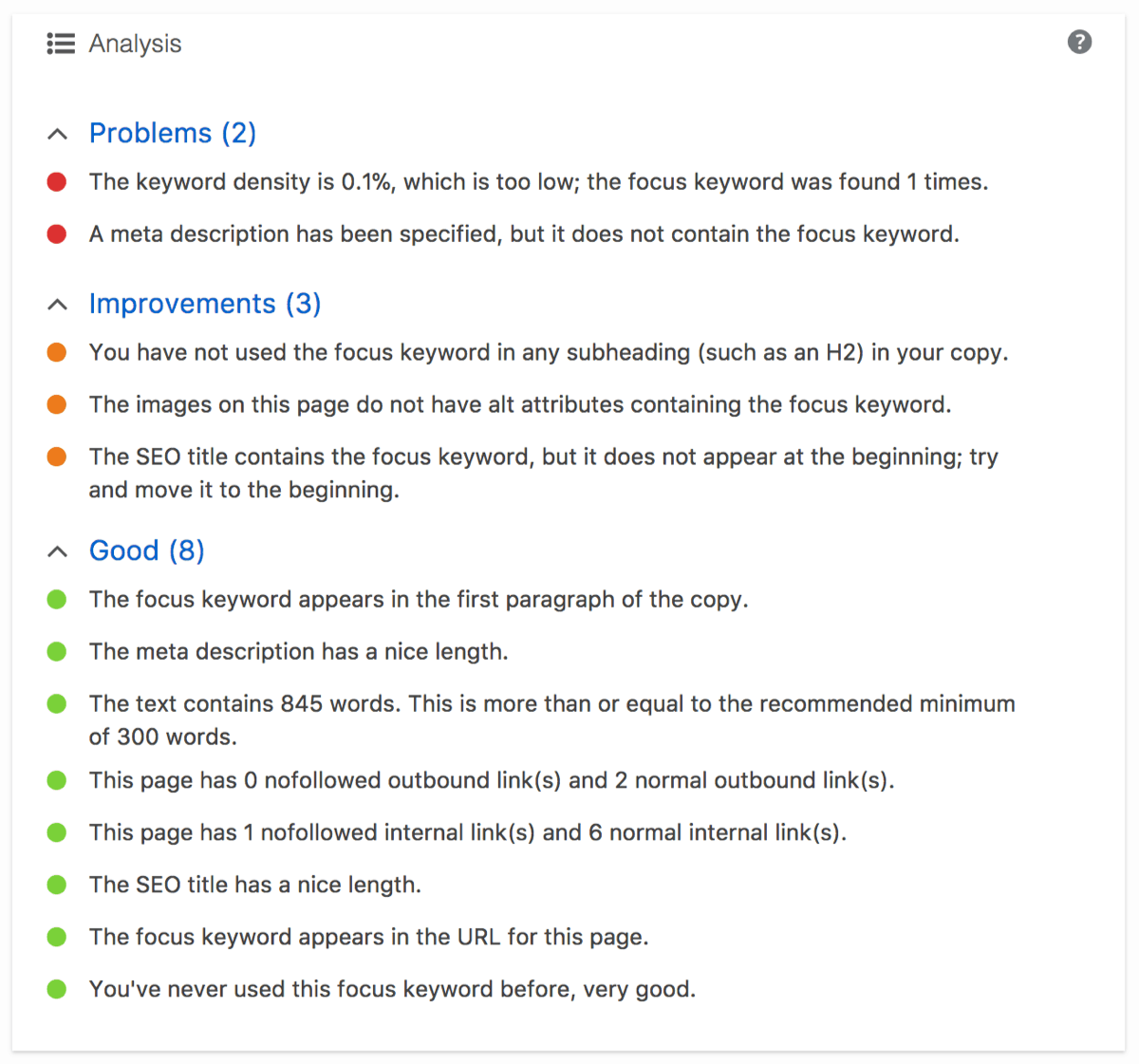 Be sure to take these as suggestions. If Yoast tells you to add more keywords, but you think they will make your text sound unnatural, ignore the recommendation. It's better to have fewer keywords than add too many and be penalized for keyword-stuffing.
If you're serious about blogging, consider buying the Premium version of Yoast. It will give you extra tools, such as internal linking suggestions – particularly important when your blog has tons of content. You also get a redirect manager that will take your visitors to another URL if they hit a 404 page.
Why Yoast SEO is better than its competitors:
It's user-friendly
The premium version is affordable
It's updated every two weeks, to keep up with the changes in Google's algorithm
How it might disappoint you:
The SEO suggestions might mislead you into thinking you should add more keywords to your text
If you're a free user, don't expect customer service; you'll need to figure things out through Yoast SEO's tutorials
MonsterInsights – Best Plugin for Google Analytics DashBoard
How MonsterInsights will help you: It will link your WordPress blog to Google Analytics; no coding required.
I strongly recommend that you learn how to use Google Analytics. It's there that you'll find all the data you need to deliver better content and increase your conversions.
But if you're not sure how to set it up, or you don't know where to begin analyzing the large volume of information it provides, you should install the MonsterInsights plugin.
MonsterInsights will do the hard work for you, connecting Google Analytics to your blog in just a few clicks. A user-friendly setup wizard will guide you through the process, asking simple questions – such as what type of website you have (see image below) – and taking care of the coding behind the scenes.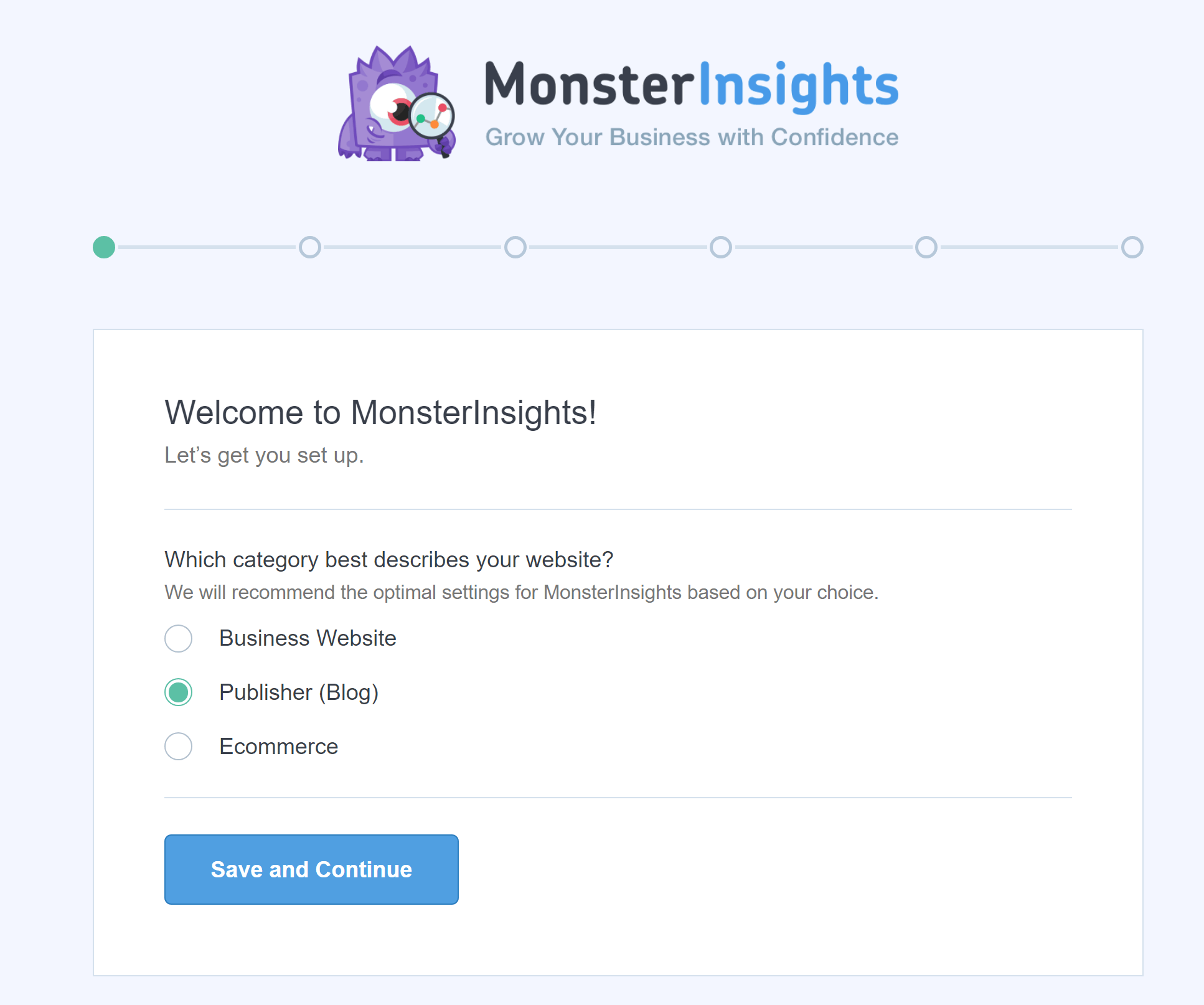 It will also bring data from your Google Analytics directly to your WordPress dashboard. You can use this data to determine how to improve your blog. For instance, by checking the most used type of device, you can learn whether your blog should be primarily optimized for desktops, tablets, or phones.
With the Pro version, you can track ads and sign-up forms, helping you to know how many readers are buying or registering with you. It also has an add-on that will take care of the advanced steps of GDPR compliance –  it will anonymize IP addresses and be easily integrated with two popular cookie consent plugins (Cookie Notice and CookieBot). Unfortunately, it costs quite a lot for a single website.
Why MonsterInsights is better than its competitors:
It offers a larger variety of reports
It's trusted by over 2 million businesses worldwide, including PlayStation, Microsoft, and FedEx
The Pro version comes with several e-commerce integrations, making this plugin the best solution to track sales within the WordPress dashboard
How it might disappoint you:
Many popular reports, such as top exit pages and e-commerce stats,  are available only in the Pro version, which is quite expensive
W3 Total Cache – Best Plugin to Improve Loading Speed
How W3 Total Cache will help you: It will improve your Google Search ranking and boost your readers' engagement
How many times did you leave a website just because the page took too long to load? And when I say long, I mean anything above 3 seconds. Few people have the patience to wait longer than that  to see a post — they just move on to the next blog.
But increasing the loading speed of your website is easier said than done. Your blog posts have images, graphs, GIFs, and other visual elements that can slow down your pages. But you can't just delete these items. You need them to retain your readers' attention. This is where W3 Total Cache can help you.
This plugin will increase your blog's loading speed by caching all these visual elements and reducing the download time of your theme. This will have an impact on your search engine ranking, as faster websites tend to show up higher on search result pages.
W3 Total Cache is a versatile and powerful tool, so be ready to see a large number of settings on your dashboard. Good news is you won't need to deal with them (unless you want to). Just enable the default settings to get started: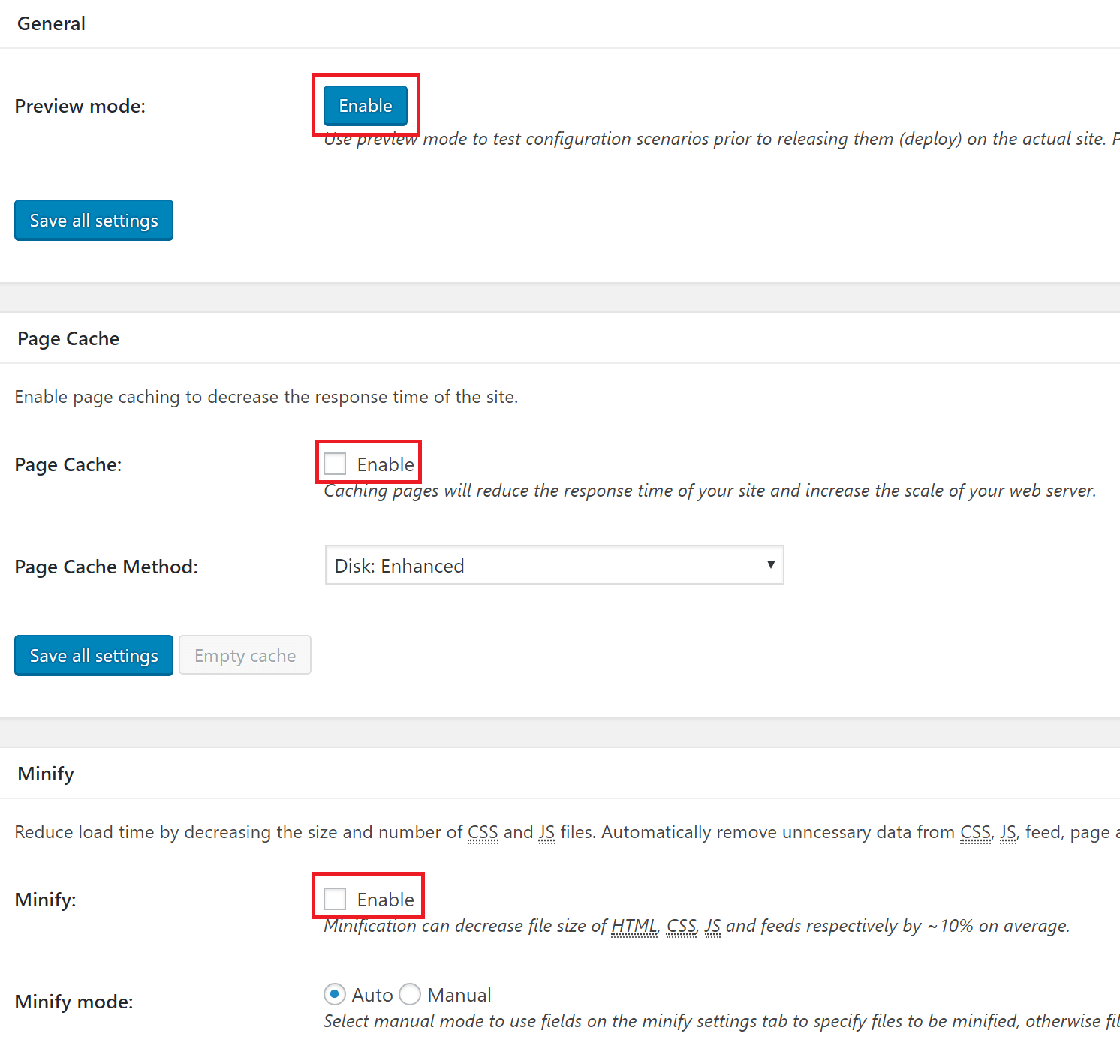 If you've also installed Yoast SEO, be sure to activate the related extension so W3 doesn't cache your sitemaps. Otherwise, search engines might access old and new versions of your sitemap at the same time, causing a data confusion with a negative impact on your ranking.
Why W3 Total Cache is better than its competitors:
You can increase the speed of your blog with just a few clicks
It integrates perfectly with CDN networks, a solution that uses servers from around the world to make your images download quicker
How it might disappoint you:
W3 Total Cache might conflict with new plugins – if this happens, you'll need to configure some of its settings to correct the issue
Social Warfare – Best Plugin for Social Media Sharing
How Social Warfare will help you: It will give you effective social media sharing buttons that are both attractive and effective.
I don't have to tell you how important social media buttons are to your blog. When readers share your posts, it increases your traffic and improves your reputation. But adding those boring buttons at the very top or bottom of your articles isn't enough. You need something more powerful and exciting.
Social Warfare gives you colorful, mobile-responsive sharing buttons you can place in four different positions on your blog. If you prefer, you can let them float and follow your readers as they scroll down. You can also create Click-to-Tweet elements.
With the Pro version, you can program your share count to be displayed only when it reaches a minimum number set by you. You'll also get access to more customization options. But the free version has the buttons and settings most bloggers will need, so don't rush into paying for the upgrade.
Why Social Warfare is better than its competitors:
It will load your sharing buttons faster, not compromising the speed of your blog
You'll be able to customize the description of your Pinterest images straight from your dashboard – see below: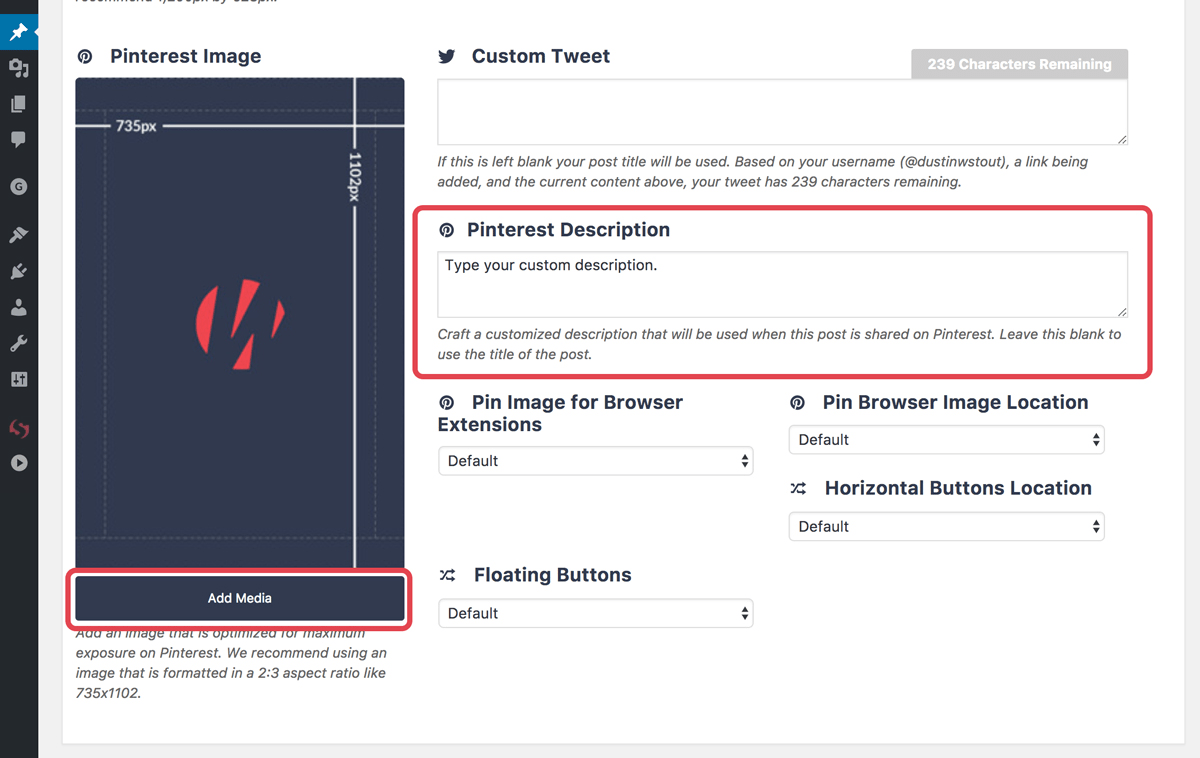 How it might disappoint you:
It might conflict with some plugins you already have. (I personally experienced a hiccup with Yoast, but this was a while ago and others might not experience the same issue). If this happens, contact customer service for help
Tweet count might stop working or disappear occasionally. Another issue their support can solve for you
Akismet – Best Plugin for Spam Protection
How Akismet will help you: It will filter spam comments and keep them away from your blog
Akismet is a popular anti-spam plugin, with more than 5 million active downloads so far. To install it, have a look at the plugin list in your WordPress dashboard. It's probably already there. If not, download it. Then register an account and get the API Key you'll add to your blog.
Once activated, Akismet will start blocking spam comments straight away. It will also give you stats, revealing the number of spam comments caught and missed along with an overview chart so you can see how often and when you receive the highest number of spam comments – see an example below.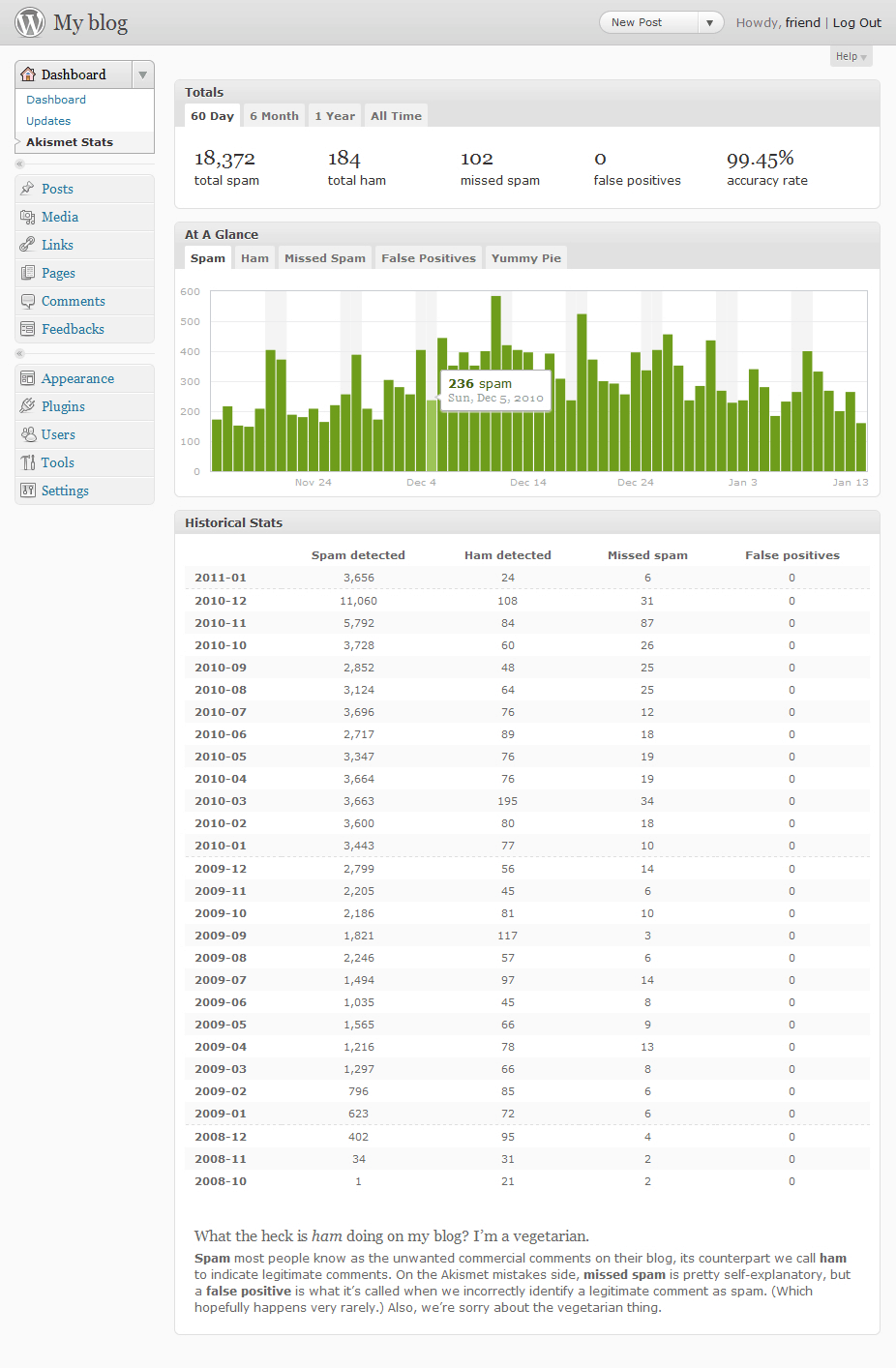 Plus, you'll be able to see the URL of the comment to check its origin. And Akismet is cloud-based, so it won't take space on your server.
Why Akismet is better than its competitors:
It's developed by Automattic, the parent company of WordPress, so you can be sure it will be compatible with your blog
It's so easy to set up that you won't even notice you did it
How it might disappoint you:
It won't catch 100% of your spam comments. You'll have to do a small fraction of the work manually
It's free only for non-commercial blogs. If you're making money with your blog, whether via ads or affiliate marketing, you must pay for it
Honorable Mention: UpdraftPlus – Best Plugin for Backup
How UpdraftPlus will help you: It will save a copy of your blog so you have it in case you need to restore or migrate it.
Nothing I said in this article will matter if you end up losing your blog. All it takes is a server crash, a WordPress update, or a hacking operation to make your posts disappear. That's why you should add a backup plugin to your blog. And our choice is UpdraftPlus.
The free version will back up all your WordPress files, databases, plugins, and themes. You will be able to decide if you want to perform the backup manually. And doing it with UpdraftPlus is a straightforward process: all you need to do is click the button in your control panel, as you can see in the image below. Or you can schedule it to happen automatically at specific intervals.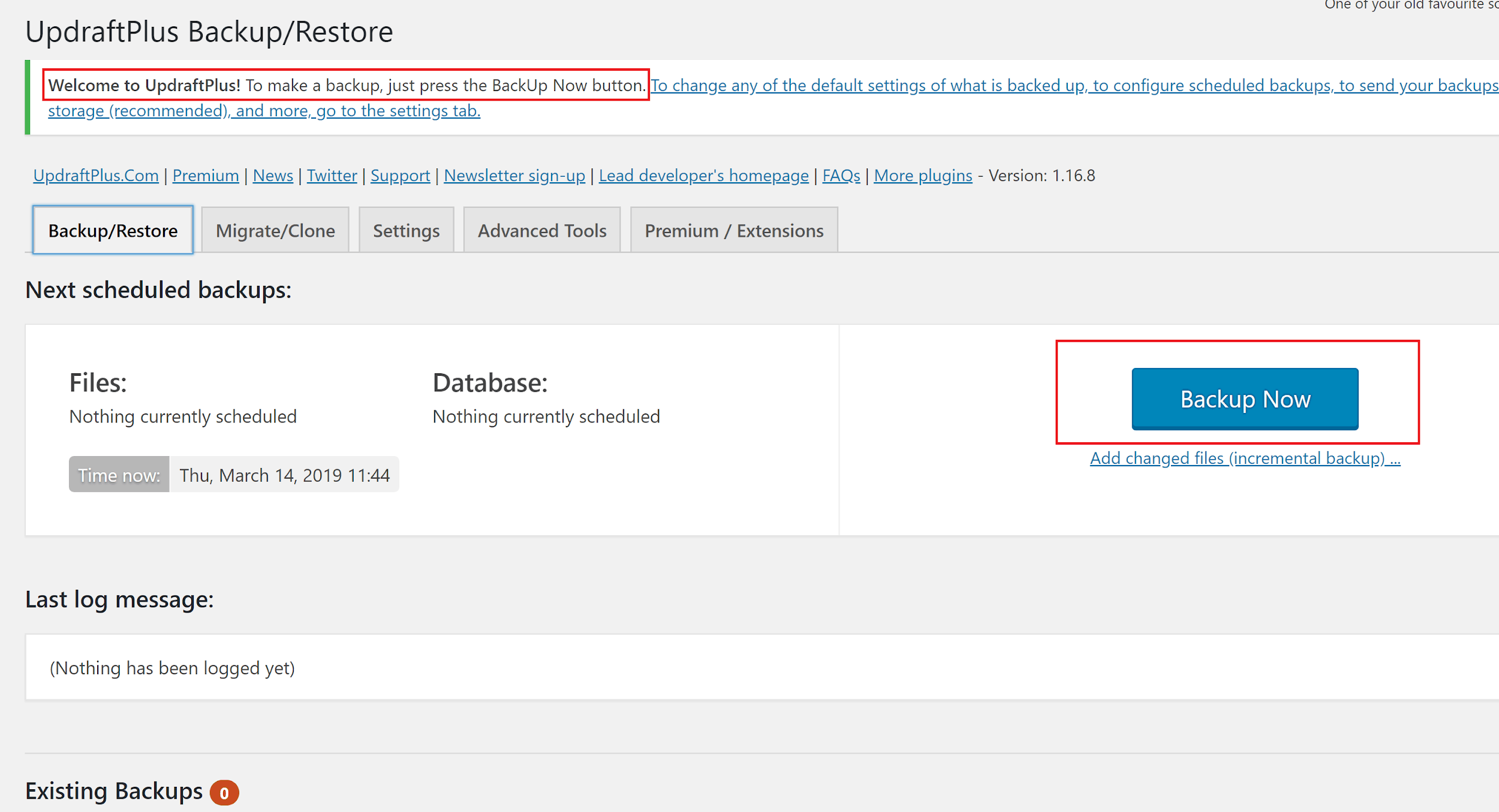 With the Premium version, you can migrate clones of your website, choose to back up only changes to your files (instead of the entire blog), and encrypt your database to secure sensitive data. This money is worth your peace of mind, especially if you have valuable information stored.
Why UpdraftPlus is better than its competitors:
You can choose from several cloud storage services to upload your backup, such as Dropbox, Google Drive, S3, Rackspace, or you can use FTP, SFTP, or email
It's very easy to restore your backup if you ever need to
It works in the background, with no impact on your blog's loading speed
How it might disappoint you:
You might find it difficult to use the advanced settings that let you encrypt your data or clone your website. But if your website is at its early stages, you probably won't need them. You can just accept the default settings until you actually need the extra features
Take Your Blog to the Next Level
About 70 million new posts are published monthly on WordPress. This is more than enough reason for you to look for ways to gain a competitive edge.
When you install these six free plugins, you will be taking your blog to the next level. Just review what they have to offer in this table below:
Plugin
What It Does
Why You Need It
What You Get If You Pay
Yoast SEO
Links your blog to Google Search Console
Your posts will be indexed and ranked on Google Search
Internal link suggestions, redirect manager, focus keywords export, 24/7 support
Monster Insights
Links your blog to Google Analytics
You will access data that can help you to attract and maintain readers
Track ads and sign-up form, plus GDPR compliance settings and publisher reports (top landing pages, top exit pages, top outbound links, top affiliate links, top download links)
W3 Total Cache
Increases the loading speed of your blog
To avoid readers leaving your blog because it's too slow
Fragment caching (choose what to cache) and extension framework (add third-party services to the plugin)
Akismet
Filter spam comments
You won't have to do it manually
Permission to install it on blogs with ads or affiliate marketing links, advanced stats, priority support
UpdraftPlus
Back up your blog
You won't lose your blog in case of hacking or server crash
Ability to back up only what has changed and to encrypt your database

More add-ons, free support, 1GB storage space on UpdraftVault, free tokens for UpdraftClone (clone a test site instantly and directly)
Once you install the plugins, it's time for you to do your homework. Go to your WordPress Dashboard >> Home >> Site Stats and take note of your current traffic, followers, and shares. Also, take note of your conversions using your current sales control.
One month later, recheck your data. See if the plugins had any impact on your data. You will be surprised by how a handful of simple, free plugins can make all the difference.
---
Source:
https ://wordpress.com/activity/
Image Credits:
https ://warfareplugins.com/support/custom-pinterest-options/
https ://developer.yoast.com/yoast-seo-product-sheet/
https ://blog.akismet.com/2011/01/18/adios-flash-charts/
https ://updraftplus.com/faqs/restore-site-updraftplus/