What is clear is that the number of digital nomads keeps growing.
Every year, there are more remote working and entrepreneurial conferences, and a growing number of companies that are run entirely by online workforces. This is made possible by
project management apps
and other resources like
Freelancer.com
, which help individuals to find everything from one-off gigs to long-term clients. Companies are also relying on websites such as
Fiverr
to find quick work at competitive pricing. If you're reading this from a crowded train or a stuffy office, it's not hard to see the appeal of digital nomadism. Freelancing platforms like
Upwork
allow employees to unlatch themselves from the 9 to 5 grind, earning the same hourly rate while working remotely from unspoiled beaches or foreign metropolitan hubs. Other digital nomads are driven by high costs of living in their home country, or just want a change. If you're a graphic designer in Winnipeg, you could be seduced into digital nomadism simply by the desire to sit bare-armed in the sunshine all year round.
As with any location, the cost of living can vary quite a bit, depending on your personal interests and desired lifestyle.
Some nomads choose to work less and live as cheaply as possible, where others may spend considerably more by partying at night, joining adventures during the day, and eating out for every meal.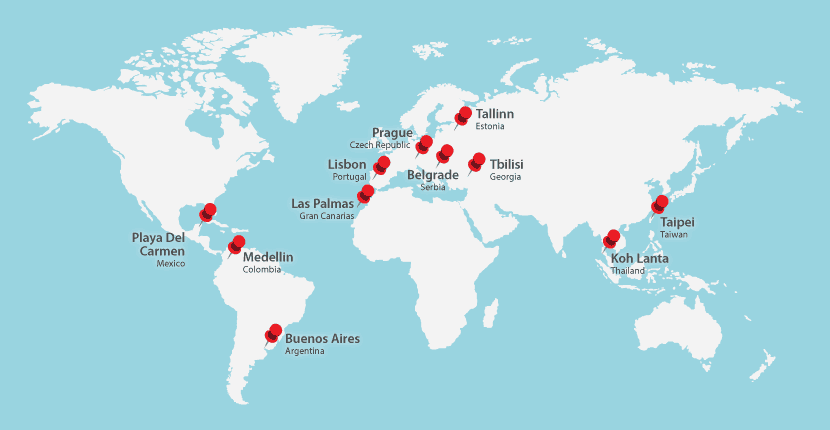 We can't tell you the single best destination for every digital nomad. But to help you make your own decision, we've gathered extensive information about 11 excellent options around the world—plus four that you'll want to avoid.
#1: Prague, Czech Republic: Best Historic City for Digital Nomads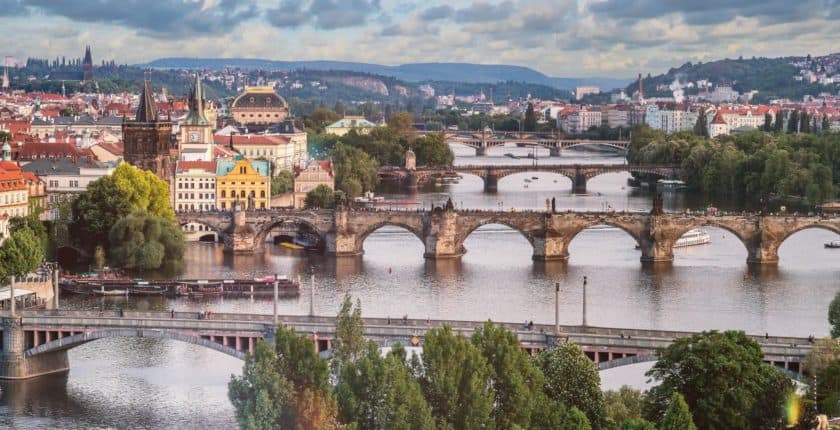 Prague has recently become one of the top digital nomad destinations, thanks to its excellent transport, culture, and international links. It's in the Schengen Area of the European Union, so European nomads won't need a visa to stay here. With relatively low living costs, plenty of nightlife, and beautiful architecture, Prague is a rising star in the digital nomad scene and a great choice for remote workers looking for culture and walkability.
Living Situation
Prague is well-equipped with a range of hostels, hotels, and Airbnb apartments. In the last year or two, the cost of living in Prague has risen somewhat, so the average cost of an Airbnb apartment for a month is around $1,700, although you can find gorgeous Airbnb rentals for around $1,000 if you avoid peak tourist season. Because Prague is a popular vacation destination, hotel rooms can be rather expensive, and it will cost an average of $2,500 for a room for a month. But you can also find cheap dormitory-style rooms in hostels for under $1,000, if you don't mind sharing your space. The lowest-cost option is to live like a local in a private rental. You can find a one-bedroom studio apartment for around $770 Prague's city center, which then allows you to walk pretty much everywhere you'd need to go.
Transportation
Prague has excellent public transport, with trams, buses, and metro trains across the city, although if you stay in a central location you'll be able to walk to plenty of parks, tourist sites, and coworking spots. A single ticket for public transport in Prague costs around $1.10, which is very reasonable in this part of the world. It's better to use public transport to get around than to hire a car or cab, since traffic can be dreadful, especially in the city center. If you do want to take a cab to a more distant destination, a five mile journey will cost around $11.20. Prague also has good air and international train links to the rest of Europe, making it easy to explore other parts of the region.
Weather
Prague never reaches extremes of heat or cold. Summers can be sweaty as the riverside city gets humid, but winters are chilly and grey without being bone-cracking cold.
WiFi Availability
You can find plenty of cafes and coworking sites with excellent WiFi service, scattered around both banks of the river that cuts through the city. In Prague, you're never far from beautiful architecture or refreshing green space to clear your mind, even in coworking hubs.
Food and Entertainment
Prague is a city of culture. Nomadlist ranks Prague highly as a city for fun entertainment and nightlife, and if you want to stick to free classical concerts in ancient churches, wandering around beautiful public parks and low-cost walking tours, you'll find you can entertain yourself in Prague without spending a lot. On the other hand, regular club nights and big-name concerts will set you back a lot more. Prague's many restaurants, cafes, and bistros make it easy to eat well. While prices are not as low as you'd find in parts of Asia, they are quite reasonable as long as you avoid the over-priced tourist-trap places. You can get a good, low-cost restaurant meal for around $6.30, and beer and coffee are both well-priced, at about $1.65 for a local beer and $2.25 for your morning cappuccino.
Healthcare
Prague has good healthcare, major hospitals, and a number of specialty practitioners. If you're an E.U. citizen, you'll be entitled to free emergency healthcare, but nomads from the U.S. and other non-E.U. countries will have to pay cash upfront. The Czech government requires all visitors to have valid travel or health insurance.
Crime Rate
Prague has a reputation as a safe city to live and work in, with a high ranking for female safety. Like many big tourist destinations, there are many pickpockets and ATM scams, but assault or violent crimes are rare.
The Downside
Prague can be overrun by tourists, especially during peak tourist season in July and August
It's very important to double check exchange rates because Prague has many crooked currency exchange agents
Summers can be very humid and winters may be chillier than you're used to
#2: Koh Lanta, Thailand: Best Island Paradise for Digital Nomads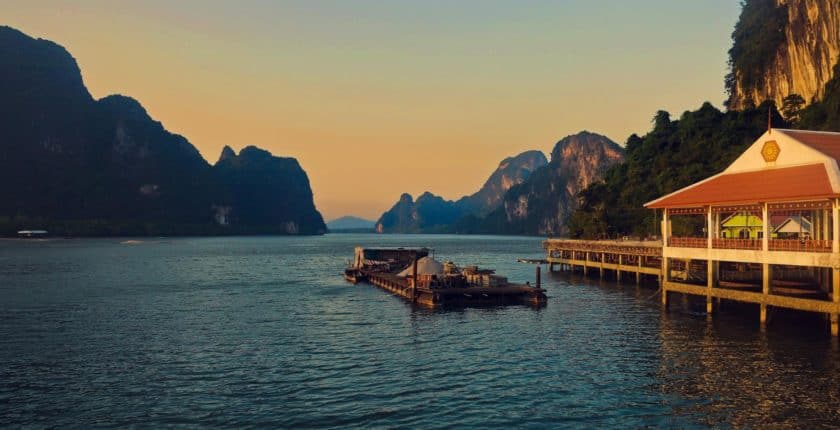 Thailand has been one of the top digital nomad destinations for a very long time, thanks to the amazing weather, thriving expat scene, and plenty of supportive coworking hubs. But many of Thailand's most popular islands are becoming overrun by tourists who make it crowded, noisy, more polluted, and push up the cost of living. The beautiful island of Koh Lanta has all the advantages of nomad life in Thailand, without the downsides of some of the more well-trodden destinations.
Living Situation
Koh Lanta offers hotels, hostels, and Airbnb options, all at reasonable prices. Koh Lanta's hotels are the best value for money, with plenty of rooms available for around $300 for a month's stay (and you can find lower offers if you hunt around). A private room through Airbnb can cost around $500, though an entire apartment can run over $1,200. If you have a local who can help you negotiate a short-term rental, you could pay even less for more space; a 1-bedroom studio rental costs around $300 a month.
Transportation
The best way to get around Koh Lanta is by renting a motorbike for a couple dollars a day, or by taking local taxi bikes called tuk-tuks. There isn't any public transportation.
Weather
If you love the tropical heat, you'll do just fine in Koh Lanta. For most of the year, the sun shines and the sky is blue, but June through September is Thailand's wet season. During this time, roads can become impassable due to the heavy rains.
WiFi Availability
Koh Lanta has average WiFi speeds of 16mbps, but there's not much free WiFi provision. A few coworking spaces are beginning to pop up, which offer different packages that can fit any remote worker's lifestyle and budget.
Food and Entertainment
You can eat well in Koh Lanta, especially if you stick to cheap, delicious, local Thai dishes. A meal in an inexpensive restaurant or street food stand will cost under $2, although you'll have to pay a lot more for an American-style meal. Compared to the food, coffee and beer are both pretty expensive, averaging about the same as the cost of a local meal, around $2 each. Koh Lanta doesn't have a lot of nightlife or attractions, but it does provide miles of sandy beaches, scenic roads, and natural beauty spots which can cost nothing to enjoy.
Healthcare
Koh Lanta has a few medical centers and one hospital, which can deal with basic health issues, but for anything more serious you'll need to travel to Phuket or Bangkok.
Crime Rate
Koh Lanta is one of the safer beach areas in Thailand. There is little violence or crime. The most digital nomads should be concerned with is being charged higher-than-listed prices for things.
The Downside
Koh Lanta is hot and AC is not always available, so this might not be the best option for those who have a difficult time concentrating in the heat
You won't find many English speakers on the island, apart from your fellow digital nomads
Free WiFi coverage can be scanty
#3: Playa del Carmen, Mexico: The Best Foodie Digital Nomad Destination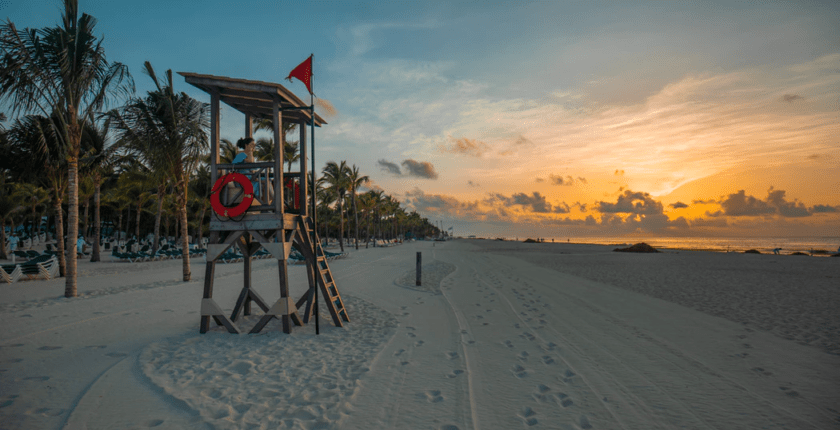 With beautiful beaches, fantastic food options, a range of coworking spots, and the possibility of a low cost of living, Playa del Carmen is getting more and more attention. As an added bonus, it's very close to the U.S., making it an easy destination for American nomads, and you'll be in the same time zone as businesses on the East Coast.
Living Situation
You can find hotels, Airbnb rooms, and apartments in Playa del Carmen. It is possible to find private rooms through Airbnb for around $500, although if you're willing to pay a few hundred more, you can also rent a full apartment with lots of modern amenities. A private hotel room can set you back anywhere from $400 per month up to a couple of thousand, and renting a one-bedroom studio apartment could cost around $650 for a month.
Transportation
Playa del Carmen is an easily walkable town. For longer distances across town and to nearby cities like Cancun and Tulum, you can get inexpensive taxis or buses. A single ticket across town costs around $0.40, and a return trip to Cancun or Tulum will cost around $7. If you want to use a taxi to get around central Playa del Carmen, you'll find the price is around $1.50 to $3 per journey.
Weather
Playa del Carmen can be pretty hot in the summer months, but it is an excellent winter digital nomad destination, with temperatures in the mid to high 70s.
WiFi Availability
WiFi in Playa del Carmen as a whole isn't great, but fortunately, there are a number of coworking hubs and WiFi cafes that are popular with digital nomads. Some coworking spaces offer monthly memberships for a couple hundred dollars. Overall, the city is home to a very warm and supportive digital nomad community, and there are a number of cafes that can serve as inexpensive and impromptu workspaces.
Food and Entertainment
If you stick to local eateries and Mexican dishes, you can eat like a king for pennies. Huge, delicious tacos and burritos cost around $3-5, but if you go for American-style restaurants you'll be paying more like $20 for your meal. Coffee and beer are expensive compared with the cost of food; a local cappuccino costs around $1.50-2.60, and a beer will set you back a similar amount. Playa del Carmen's biggest charms are natural ones. You'll never run out of beaches, diving centers, or scenic viewpoints to visit. If you stick to swimming and sunbathing on the stunning beaches, you won't spend much on entertainment. Diving centers and nightclubs are going to make more of a dent in your wallet, though.
Healthcare
As long as you take good travel insurance with you, you'll find all the healthcare you need. Playa del Carmen has a number of clinics and hospitals that work with all major insurance providers.
Crime Rate
Mexico has a bad reputation for crime, but Playa del Carmen is generally fairly safe. While there is organized crime in the city, it is almost never targeted at tourists or visitors. As long as you exercise caution and common sense, you shouldn't run into many problems. That said, opportunistic thefts can occur, so keep an eye on your belongings.
The Downside
Playa del Carmen has plenty of very expensive restaurants and attractions that are aimed at the tourist market
It can get pretty hot during the summer
The lack of extensive WiFi coverage can be frustrating if you don't want to check into a coworking hub to work
#4: Taipei, Taiwan: The Safest Digital Nomad Destination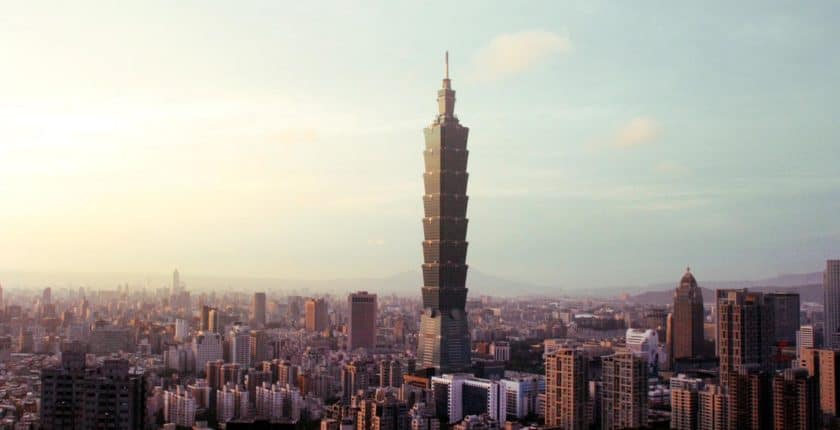 Taipei is a fantastic option for anyone looking for a laid-back and open city. You'll get to enjoy amazing Asian food, a safe and clean metropolitan area, and plenty of direct flights from places like San Francisco, Los Angeles, or digital nomad capital Chiang Mai. If you're American or European, you can stay visa-free for 90 days.
Living Situation
Taipei is full of Airbnbs and hotel rooms, but they aren't cheap. Although the average price for an Airbnb apartment is $1,800 for a month, you can find some excellent options for about $900 if you hunt around, which is pretty good considering that the average private rental for a one-bedroom apartment is about $830. Taipei has a lot of hostels offering dormitory accommodation for around $600 for a month's stay, or you could get a private hotel room for around $1,300 a month. Taipei's Ximen area is recommended for enjoying the fast-paced city life.
Transportation
Taipei's MRT network of subway trains can get you all across the city in a matter of minutes, and it's really cheap too at around $0.65 for a single journey anywhere in the city. You can also hire bikes for under $1 an hour, allowing you to cover the city at your own pace above ground.
Weather
It can be pretty hot in the middle of summer, but apart from the peak months from May to September, you'll enjoy warm days even in the middle of the winter.
WiFi Availability
There is a thriving digital nomad community in Taipei, working out of spacious coworking spots and friendly, clean cafes. You'll find good free WiFi coverage in the whole city, and internet speeds as a whole average 20mbps, so you'll be able to clock in wherever you are.
Food and Entertainment
Delicious Chinese and local Taiwanese specialties are available on every corner. Taipei's late-night markets have the best, low-cost street food, where you can enjoy a full meal for a little over $4. However, beer and coffee are both much more expensive than many other destinations, costing close to $4 for each. Taiwan is a small country with beautiful, varied scenery, so you don't have to travel far to enjoy awesome hiking and biking trails across wonderful nature spots. Taipei also has a thriving nightlife, with plenty of late-night eateries and nightclubs.
Healthcare
Taiwan's healthcare meets a very high standard. Even as a foreigner living in Taipei, you'll be able to access the subsidized public healthcare, or you can pay through your insurance for private healthcare. The only point to note is that wait times can be pretty long.
Crime Rate
Taipei is the among the safest cities in the world, so as a digital nomad you can feel secure visiting here. Violent crime as a whole is very rare here, and you can feel safe walking the streets at night as a single woman.
The Downside
Taipei can be very hot in the summer, with a lot of humidity as well
Accommodations are generally quite expensive, particularly when compared to other living expenses
Coffee and beer can cost you more than a meal
#5: Las Palmas de Gran Canaria, Spain: The Best Digital Nomad Destination for All Year Round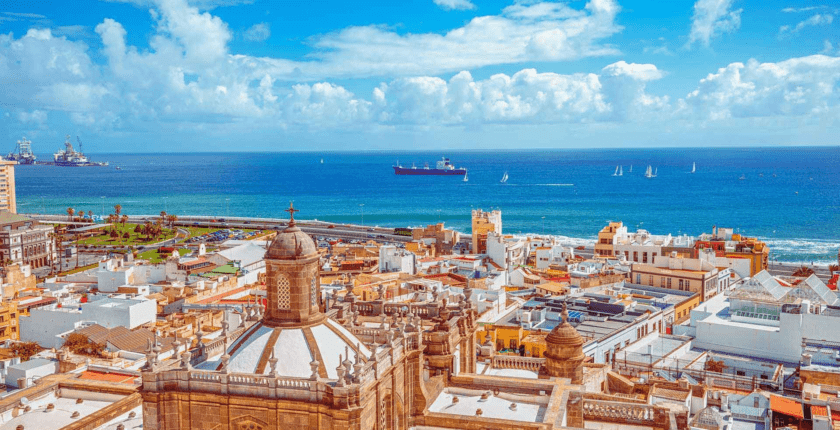 Part of the Canary Islands, west of Morocco, Las Palmas is one of the world's best digital nomad hotspots. Known for its warm winters, Las Palmas has always had a thriving expat community, which has been warm and welcoming to the more recent digital nomad arrivals. The scenery is varied and nightlife is lively, but the cost of living is still low.
Living Situation
Las Palmas boasts a plethora of short-term rental apartments, Airbnb properties, hotels, and hostels. Prices are fairly high, thanks to Las Palmas' popularity among tourists, with even hostel beds costing around $800 for a month. A month's stay in an Airbnb apartment will set you back an average of $1,500, but you can find some bargains for under $1,000. A hotel room is likely to cost around $1,800 for a month.
Transportation
Central Las Palmas is easily walkable. It's also a very bike-friendly place, with low-cost bike hires of around $6 per day, and well-maintained bike paths connecting North and South Las Palmas. If you need to go even further afield, you can take a bus or taxi, or hire a car. Bus fare within Las Palmas is under $2, but to get to the south of the island you'll pay $7+ each way, compared to a car hire of around $10-15 per day.
Weather
Las Palmas' weather is one of its biggest advantages. Even in the height of summer, the temperature is unlikely to top 82 degrees, and it rests for most of the year between 70 and 77 degrees.
WiFi Availability
Las Palmas didn't become a digital nomad hotspot without good working locations. The island is scattered with excellent coworking hubs that are welcoming and inviting places to work, and internet speeds are very high, averaging 27mbps.
Food and Entertainment
The food scene in Las Palmas is one of its weaker points, with cheap, delicious meals proving hard to come by—especially compared to others on this list. A low-cost meal in Las Palmas is still going to leave you about $9.50 poorer. However, it has lively nightlife and a very varied set of entertainment options. With such different scenery, you can easily hike, bike, swim, enjoy adventure sports, or just laze on the beach. There's no need to spend a lot of money on excursions or nightlife, but if you want to, there are plenty of options.
Healthcare
Gran Canaria, in general, has very good medical care, with hospitals and medical centers across the island. Both private and public medical care is excellent, and digital nomads from Europe are entitled to free public healthcare during their stay.
Crime Rate
Las Palmas has a low crime rate. In the tourist areas, you'll find opportunistic crime such as pickpockets and petty thefts, but violent crime is very rare. As always, stay vigilant and you shouldn't encounter any problems.
The Downside
It can be crowded during peak tourist times in July and August
Food and drink is pretty expensive in Las Palmas, especially compared to other options
You are limited in your ability to move around to other locations when in Las Palmas
#6: Belgrade, Serbia: The Friendliest Digital Nomad Destination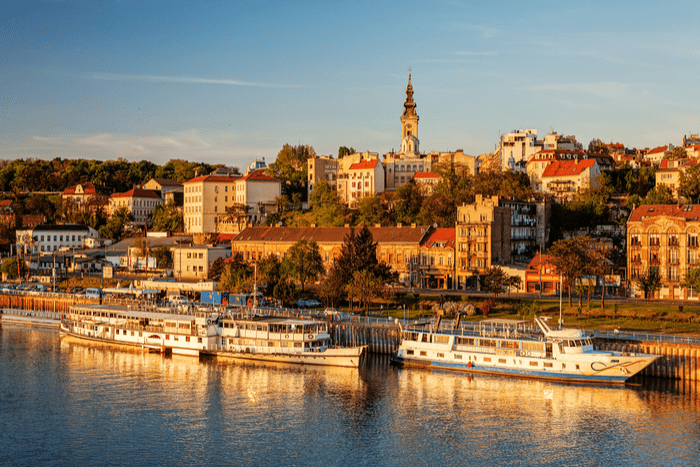 If you're looking for an inexpensive, welcoming, and comfortable city in Europe, Belgrade should be near the top of your list. There are plenty of coworking spaces, excellent internet coverage, low-cost food, and a very vibrant nightlight. But the one thing about Belgrade that everyone comments on is how friendly and welcoming the locals are. There's generally very little tension toward foreigners, and everyone is very laid-back.
Living Situation
Belgrade has plenty of cheap accommodation options, including lovely Airbnb apartments for under $700 a month. You can expect to pay about $50 per night at a low-cost hotel. Perhaps the best value option for digital nomads who want to stay a bit longer is a private one-bedroom rental, which goes for under $400 per month in central Belgrade.
Transportation
Belgrade has a good public transport network, but it can be quite confusing for a new arrival. Bus and tram routes crisscross the city and fares are low, with a monthly pass costing around $30. Belgrade is very walkable, and if you stay somewhere central, you're not likely to need to use public transportation much. Belgrade is also well connected to the rest of Europe, with good air and train links to other European capitals.
Weather
Belgrade is best in the spring and fall. July and August can be very hot, and from December to February it is cold, rainy, and grey.
WiFi Availability
You'll find plenty of excellent coworking spaces and thriving coffee shops in Belgrade, all with excellent WiFi and awesome coffee. A monthly pass to one of Belgrade's coworking hubs can cost around $150. Belgrade's digital nomad community is generally very welcoming, so you'll find people to chat with as well as a productive atmosphere wherever you go.
Food and Entertainment
For a major European city, Belgrade's food and drink are surprisingly affordable, costing around $6 for a low-cost local meal. Belgrade also stands out for its vibrant nightlife. The singles and dating scene in Belgrade is well-known, and you'll find plenty of fun nightspots. If you prefer sightseeing and culture, you won't find much in Belgrade. However, the rest of Serbia contains many beautiful spots, with dramatic scenery and stunning architecture.
Healthcare
Serbia's healthcare suffers from underfunding and chronic corruption. There is satisfactory emergency healthcare, but even E.U. digital nomads are advised to have travel health insurance since you'll be charged for almost any medical need. It's also a good idea to take with you any medication that you need regularly when traveling to Belgrade.
Crime Rate
Like many major European cities, Belgrade does suffer from pickpockets and petty thieves who target tourists. That said, violent crime is low.
The Downside
Belgrade is not the most beautiful city on the list
You won't find delicious, inexpensive street food of the kind you can enjoy in Asia or South America, but groceries are cheap
Belgrade's healthcare system is somewhat lacking compared to the rest of Europe
#7: Lisbon, Portugal: Europe's Biggest Digital Nomad Hotspot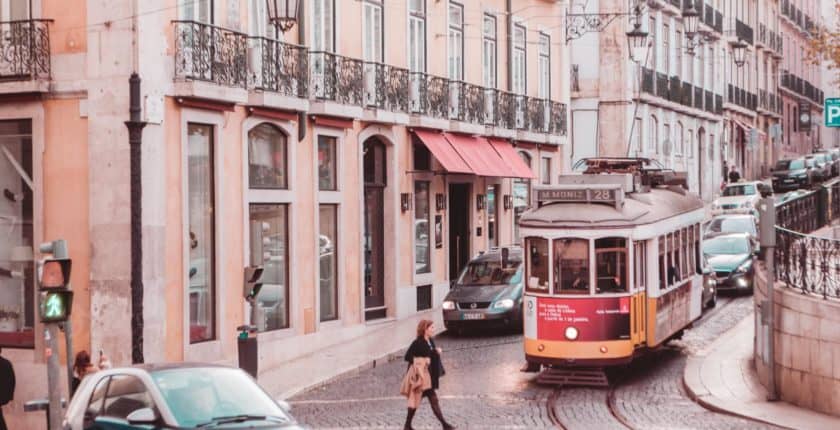 Lisbon doesn't need much introduction. It's become a digital nomad hotspot given that it has the benefits of a modern infrastructure, a wonderful climate, and the cost of living is still relatively low. European nomads can stay indefinitely without a visa, since Portugal is in the Schengen Area, and visitors from outside of the E.U. can stay for 90 days without a visa.
Living Situation
Lisbon has plenty of accommodation options, but prices have risen in the last couple of years. An Airbnb apartment for the month will set you back around $1,200, or a hotel room is about $2,000 for a month. A bed in a shared hostel averages $600 for the month, too. Even if you find a private rental for a month or more, you'll still pay over $900 for a one-bedroom apartment.
Transportation
As well as being an immensely walkable city, Lisbon also has a top public transportation network. Fares are more expensive than other European capitals on our list, with a monthly pass costing over $42 and a single fare costing around $2. From Lisbon, you can reach most of Western and Southern Europe easily with direct flights and trains.
Weather
Winters are chilly and wet, but the temperature doesn't dip much below 45 degrees at its coldest. In the summer, Lisbon is warm and sunny without being humid.
WiFi Availability
You'd expect a digital nomad hotspot to offer good working conditions, and Lisbon doesn't disappoint. The city has great WiFi coverage and many friendly cafes and coworking spaces, with monthly passes costing around $120.
Food and Entertainment
Lisbon boasts delicious, Mediterranean cooking at relatively low prices, although if you're coming from Asia or Eastern Europe, you'll find it on the expensive side. While there are tourist trap restaurants, a meal at one of the many excellent, inexpensive eateries costs around $9.50. Lisbon also has a vibrant nightlife and plenty of things to do, although here again, costs can mount up. There are beautiful beaches close at hand, plenty of sailing and swimming, cultural attractions, and historic buildings, offering something to suit all tastes.
Healthcare
Lisbon has good hospitals and medical clinics. E.U. members can get free healthcare with the European Health Insurance Card, but visitors from elsewhere in the world will have to pay around $100 or more for public medical care.
Crime Rate
Lisbon is one of the safest capital cities throughout all of Europe. There can be petty street crime, so it's wise to take care when walking alone at night. That said, violent crime is very rare.
The Downside
The cost of living has been rising in the last couple of years
While there are a number of expats living in the area, they can be difficult to meet
Healthcare can be expensive and patchy
#8: Medellin, Colombia: Best Startup Digital Nomad Destination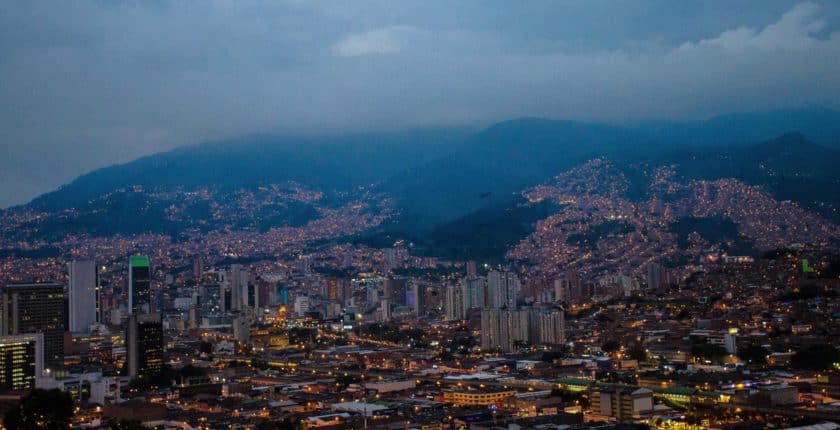 Medellin is one of the digital nomad world's newest hotspots, especially among entrepreneurs and startups. It has the benefit of being in the same time zone as Chicago, so you can easily conduct business across North America. Medellin also has a very friendly expat scene, vibrant nightlife, and excellent weather.
Living Situation
You can find some gorgeous Airbnb apartments for around $800 per month, or private rooms on Airbnb for under $400. There are also plenty of low-cost hotels, making it easy to find a decent private room for a month for under $600.
Transportation
Medellin is quite a large city, but it's still easy to get around on foot. For longer distances, there is a reasonable Metro network, but taxi prices are extremely low, so you might just save time and Uber it. It costs under $10 to cross the city in a cab. Medellin has direct flights across South America and to the U.S.
Weather
Medellin's weather is one of its biggest attractions. It's been called the City of Eternal Spring because the temperatures are warm and pleasant most of the year.
WiFi Availability
Medellin has excellent internet availability across the whole city, with average speeds of 22mbps and plenty of free WiFi coverage. You can choose from a number of coworking spaces, many of which are occupied by entrepreneurs and startups and offer monthly passes. You'll also find a bunch of remote worker-friendly cafes.
Food and Entertainment
Good food in Medellin can be expensive, and while lower-cost meals are cheap at around $3.30, they are not typically the most healthy or appetizing. If you're a foodie and plan to stay in Medellin for a while, make sure you rent accommodations with cooking facilities. Beer and coffee is relatively inexpensive, costing a couple dollars for either a local beer or a good cappuccino. For entertainment, Medellin can be a bit of a boys club, with plenty of nightlife, so you could easily end up spending a lot of money in clubs and bars. Hikers and nature lovers will find plenty to do in and around Medellin, with beauty spots like the Laguna de Guatape nearby.
Healthcare
Medellin has some of the best hospitals in Latin America, and many clinics have doctors who speak English well. However, it's best to make sure that you have good health insurance so that you can access the private health system.
Crime Rate
Medellin's safety profile has improved a lot since the dark days of the 1990s, but it still has a crime issue. Thefts are fairly common, and tourists are advised not to resist a robbery.
The Downside
There is a fair amount of crime; it's not the best place for digital nomads to travel alone
Good cheap food options are not as available as other destinations on the list
The nightlife can be a bit of a 'boys club'
#9: Tbilisi, Georgia: Best Digital Nomad Destination in Central Asia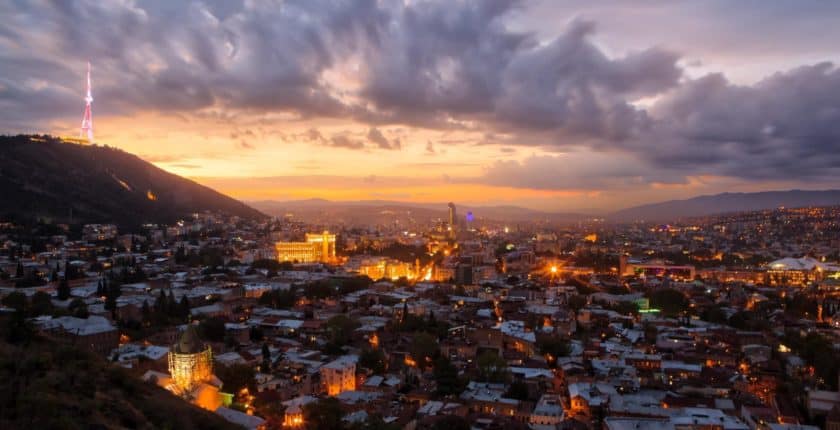 Located in Georgia, between the Caucasus Mountains and the Black Sea, Tbilisi offers dramatic scenery, friendly locals, and good food. More importantly, it's easy to stay and work in Tbilisi—a number of countries are able to stay for up to a year without a visa. There are not many established digital nomad destinations in central Asia, so Tbilisi is a good option for anyone en route between Europe and Southeast Asia.
Living Situation
You can choose between Airbnb rooms, hotels, or private rentals in Tbilisi. The Airbnb market is booming, and you can rent an apartment for around $600-1,000 a month, depending on the time of year and amenities. A private room in a hotel in Tbilisi could cost as little as $500 for a month or more than $1,000 depending on location and modern features. There are a number of hostels which offer shared dormitories for as little as $300 a month.
Transportation
Tbilisi has a good public transportation system, with buses and an underground metro connecting all major areas of the city. A single journey is very cheap, only $0.20, and you can get a monthly pass for just over $12. The central railway links Tbilisi with the rest of Georgia and Central Asia.
Weather
Tbilisi is at its best from May to June. Although the city doesn't even approach the freezing point in winter, from November to March, it's pretty chilly. Tbilisi can be very hot in the summer, with temperatures in the high 80s throughout July, August, and September.
WiFi Availability
Tbilisi does not have good internet speeds or free WiFi provision, so you'll do best to work from one of the city's coworking hubs, which are very low cost. A monthly pass can cost around $40. Digital nomads also enjoy working out of one of Tbilisi's many cafes, which are mostly remote worker-friendly, with strong internet and coffee.
Food and Entertainment
Digital nomads in Tbilisi love Georgian food! Inexpensive, healthy eateries are easy to find here, with a full meal costing around $6. Coffee and beer are both well priced in Tbilisi, with coffee costing around $1.60 and local beer at $1.25. Thanks to its location between the mountains and the sea, you can enjoy challenging hiking and extreme sports as well as relaxing beaches, and while tourism is slowly increasing in Georgia, you can still enjoy various sports and activities for reasonable prices.
Healthcare
Local healthcare is improving in Georgia, but nomads in Tbilisi still need good health insurance. It's best to go through private health clinics while living in the area.
Crime Rate
Overall, Tbilisi is a very safe city, with very low crime rates and little corruption. Georgia, as a whole, is considered a safe place to visit.
The Downside
Not the greatest internet speeds
It's still off the beaten track for nomads so there's less of an established community
There are just a couple of perfect months to visit, while other times of the year can be pretty hot or cold
#10: Tallinn, Estonia: Best Digital Nomad Destination for New Business Owners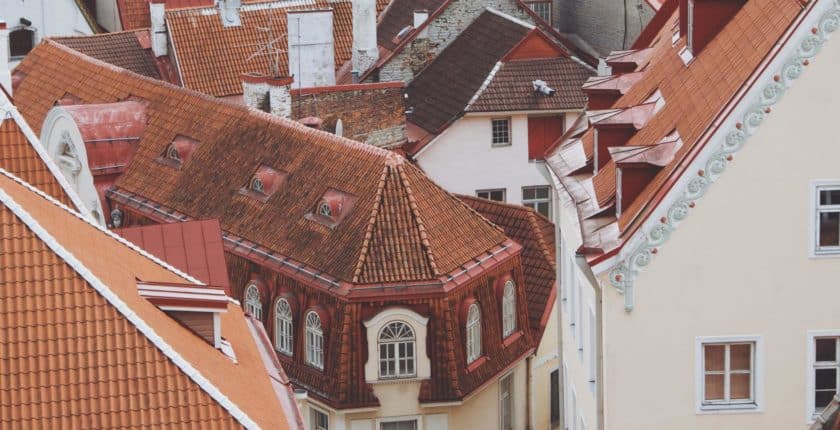 Estonia's e-Residency program makes it easy for non-residents to start up businesses in the country and has boosted the capital's popularity among digital nomads. Tallinn is a vibrant city with plenty of nightlife and a relatively low cost of living. Estonia is investing heavily in a digital infrastructure, making it an ideal place for "fintech" nomads and entrepreneurs working in finance and technology.
Living Situation
Tallinn has many Airbnb options, but they run quite expensive. A month in a private Airbnb costs around $1,200, although you can find apartments for under $800 if you book in advance. If you're planning on staying for a while, and you have a local who can help with the negotiation, you might prefer a private rental; a 1-bedroom studio apartment in the city center averages a reasonable $600 a month. Tallinn's hotels are also costly, with average prices of $80 a night for a room and a month's stay costing around $2,500.
Transportation
If you stay in central Tallinn, you can get to just about everywhere you need by foot; it's a very compact city. For longer journeys, you can rely on the Tallinn transport network of buses, trolleys, and trams. A single journey costs an average of $2.30 but a monthly pass gives good value at $26.50. Tallinn also has great air links with the rest of Europe.
Weather
Winters are quite cold. It's best to visit Tallinn in the summer, when temperatures are pleasant and it's not so wet.
WiFi Availability
Tallinn's startup reputation comes with plenty of coworking hubs and excellent internet coverage. There's a strong digital nomad community here that includes many entrepreneurs and business owners. Coworking hubs can be as pricey as accommodations, respectively, with a month's pass costing well over $200 at most establishments. That said, you can find lots of friendly coffee shops with good WiFi to serve as your desk for the day.
Food and Entertainment
Tallinn is a popular tourist destination with a lively nightlife, so you'll always find something going on. Although, like other aspects of a stay in Tallinn, entertainment can get expensive. Local parks and hills allow for plenty of value-priced hiking and general relaxation. Food and drinks in Estonia is also much more than other European digital nomad destinations like Prague or Belgrade, with a low-cost meal costing almost $10—not including a $4 beer.
Healthcare
Estonia's healthcare is quite good. European visitors to Estonia can access public healthcare through the European Health Insurance Card. Otherwise, you're required to come with private health insurance.
Crime Rate
Estonia has quite a high crime rate, with organized gangs carrying out car thefts and illegal drug use going on. However, in general, Tallinn is a safe city, as long as you are careful to look after your belongings and take general safety precautions.
The Downside
Quite cold in winter
More expensive than many other options with better weather
Sometimes the popular night spots can get rowdy, making it not the safest location, particularly for women traveling alone
#11: Buenos Aires, Argentina: Best Cultural Hub for Digital Nomads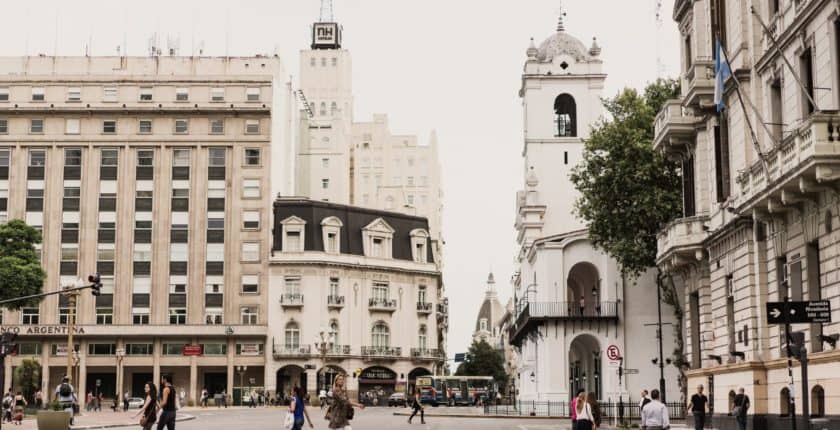 Buenos Aires is one of Latin America's most popular digital nomad destinations. It has plenty of vibrant coworking hubs, a lively nightlife, and it's ideal for anyone who wants to combine work with hiking, nature, and outdoor sports. Buenos Aires is also very welcoming to entrepreneurs and startups, with easy regulations for business owners.
Living Situation
Buenos Aires is a large city, with plenty of Airbnb listings, hotels, and hostels. You'll want to choose your neighborhood carefully; stick to the safer areas like Recoleta and Palermo, where an Airbnb apartment costs an average of $1,000, although you can find bargains for around $700. A private hotel room in the same neighborhoods of Buenos Aires can easily cost over $2,000. However, a private rental in the city center costs about $400 for a one-bedroom apartment, making it a good choice for longer-term nomads.
Transportation
As a large capital city, Buenos Aires isn't very walkable. However, there is an excellent public transportation system, and at rush hour the Metro is the best way to get around. A single one-way ticket costs just pennies, and a monthly pass only sets you back about $13. If you choose to take a taxi, it'll probably cost about $15 to get from Palermo to the edge of the city, so it's worth learning how to navigate the public transit.
Weather
Buenos Aires is in the Southern hemisphere, so it's cold and wet in June and July, which is wintertime in Argentina. Otherwise, Buenos Aires has warm temperatures from August to May, although January, the height of summer, is also the height of the rainy season.
WiFi Availability
Buenos Aires has a lot of coworking hubs, with a strong expat, startup, and digital nomad community that's ready to help you find the best work locations. The city's cafes have equally excellent WiFi and coffee, and there's even strong WiFi availability in many public parks, so you can really work anywhere.
Food and Entertainment
Buenos Aires is known for its great meat! But even if you're not a steak-lover, Buenos Aires has plenty of top restaurants. Food isn't cheap in Buenos Aires—it's one of Latin America's more upmarket digital nomad cities—but you can still get a low-cost meal for around $6.50. Buenos Aires is also known for its vibrant nightlife, local natural beauty, and football (soccer).
Healthcare
Argentina's healthcare system is generally pretty good, and even tourists can access free public healthcare, however, there can be long wait times. You'll do better to come with health insurance or be prepared to pay cash for private healthcare.
Crime Rate
Recently, Buenos Aires' safety profile has dropped a bit as violent crime has risen. Locals advise you to stay away from certain areas and to stick to well-policed neighborhoods like Recoleta at nighttime.
The Downside
The city is relatively spread out, which can make it harder to meet those in the digital nomad community
You do need to be careful in Buenos Aires, as crime has risen in recent years
You are not as connected to other areas as you are when traveling through Europe or Southeast Asia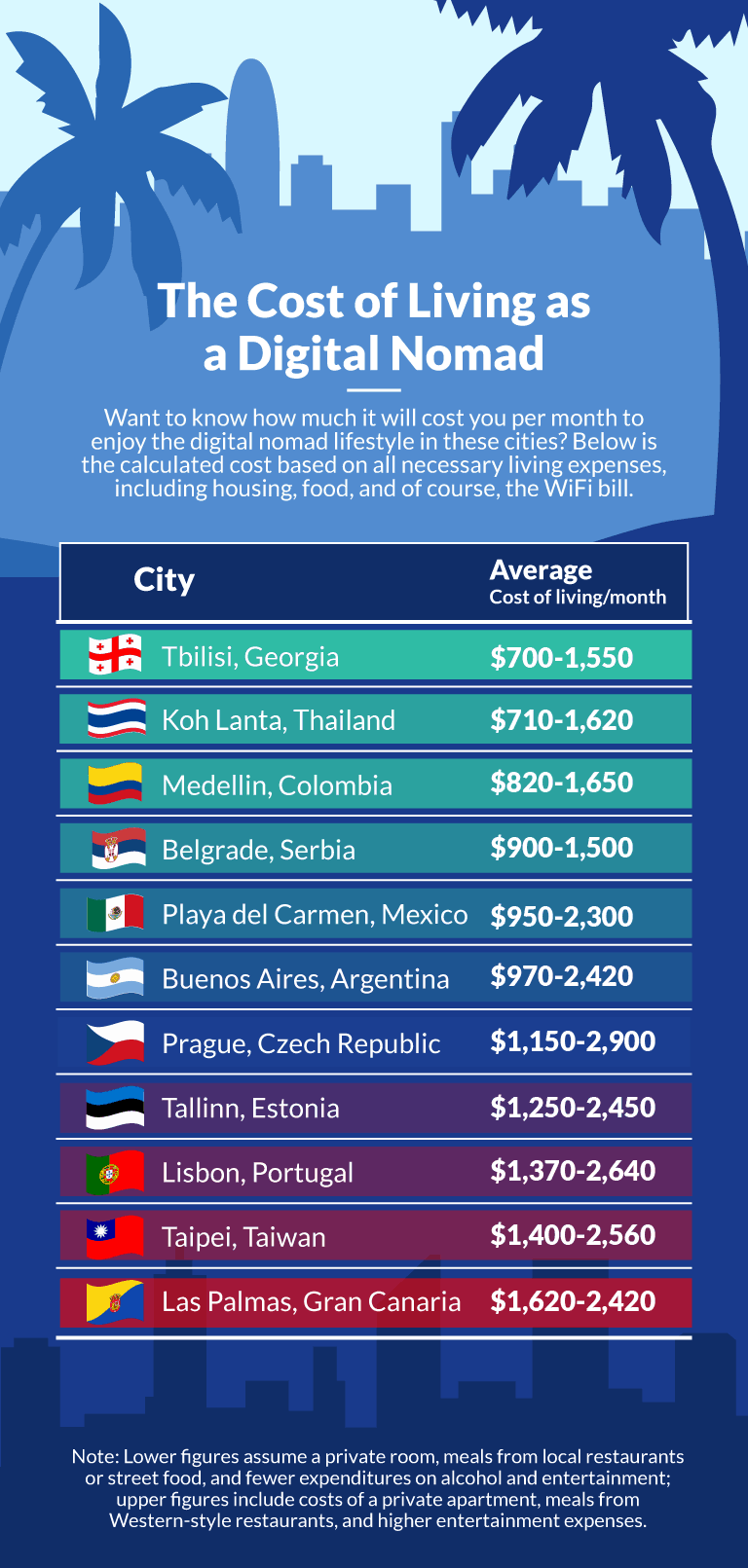 4 Most Overhyped Locations to Avoid
#1: Berlin, Germany: Too Expensive
Berlin has been a digital nomad hotspot for a long time, but it's time to take it off the list. It might be the birthplace of coworking hubs, but in recent years the city has become expensive, while rising crime rates and political clashes have made it less comfortable for visiting workers. There are other European capital cities (some of which we've listed above) that have just as much culture, nightlife, and resources for digital nomads, while also offering lower living costs.
#2: Cape Town, South Africa: Too Unstable
In the last year or two, there have been a few calls to add Cape Town to the list of digital nomad destinations. The city does have beautiful beaches, hiking, and nature spots, and if you know your way around, you can probably beat the high cost of living. However, the country is still very unstable, and Cape Town is frequently hit with water crises and power cuts. On top of that, large parts of Cape Town are unsafe for visitors.
#3: Bali, Indonesia: Too Crowded
Bali is a paradise for nomads of all types, but it's simply become a victim of its own success. The thousands of tourists flooding into Bali have pushed up the local cost of living and make it too crowded to be pleasant for digital nomads. Other remote worker destinations in Asia like Koh Lanta share the same island lifestyle, but with less of the negatives that come with too many tourists.
#4: Chiang Mai, Thailand: Too Overhyped
Chiang Mai is possibly the biggest digital nomad hotspot in the entire world, but that's exactly why we're recommending that you avoid it. It has a huge and supportive community, but it can be hard to find a space in the coworking hubs, and the entire place has become a digital nomad cliché, diluting the local flare.
Oh, the Places You'll Go!
Living as a digital nomad can be wonderful. The sense of freedom, setting your own hours, and enjoying beautiful scenery and new cultures all year round can be hard to resist. However, before you pick a digital nomad destination and pack your bags, we're reminding you to
prepare carefully
. The digital nomad life isn't always easy, so take the appropriate steps up front so you know what to expect and have the best chances for success.
Editor's note: changes were made to the original version of this story as certain facts about Koh Lanta, Thailand were misreported. We apologize for the error.
---
Image Credits: Prague:
https://unsplash.com/photos/vVWsqQVpWAM
Koh Lanta:
https://unsplash.com/photos/p-742K56Z3I
Playa del Carmen:
https://unsplash.com/photos/tNumsAEsf2I
Taipei:
https://unsplash.com/photos/ILO-z2bnjk0
Las Palmas de Gran Canaria:
https://www.luxair.lu/en/destinations/las-palmas-gran-canaria
Belgrade:
http://nomadcapitalist.com/2017/08/14/nomad-guide-living-belgrade-serbia/
Lisbon:
https://unsplash.com/photos/9qf-fPEfy9w
Medellin:
https://unsplash.com/photos/03gVOLHq9ec
Tbilisi:
https://unsplash.com/photos/XldYOZzDNCM
Tallinn:
https://unsplash.com/photos/5acMkMb4MFk
Buenos Aires:
https://unsplash.com/photos/VynkVKneWJA