if you want your beauty website to gain momentum, you'll need impactful content that offers value
. Aside from displaying compelling images and copy, your website should reflect your unique style and personality. If you're considering venturing into the beauty industry, these 19 stunning examples will provide ideas, inspiration, and helpful hints. You'll learn efficient ways to showcase your products or services, attract clients, and keep them engaged through blogging and social media tools. You'll also
learn how to make the most of a website builder's features to establish authority
and create a brand image. Lastly, you'll see great examples of how to infuse your content with humor and personality.
Did you know that you can build an eye-catching beauty website in minutes?
Wix has over 20 beauty website templates
 with most of the best features already built in. Pick your favorite design, add your text and images, and you're good to go!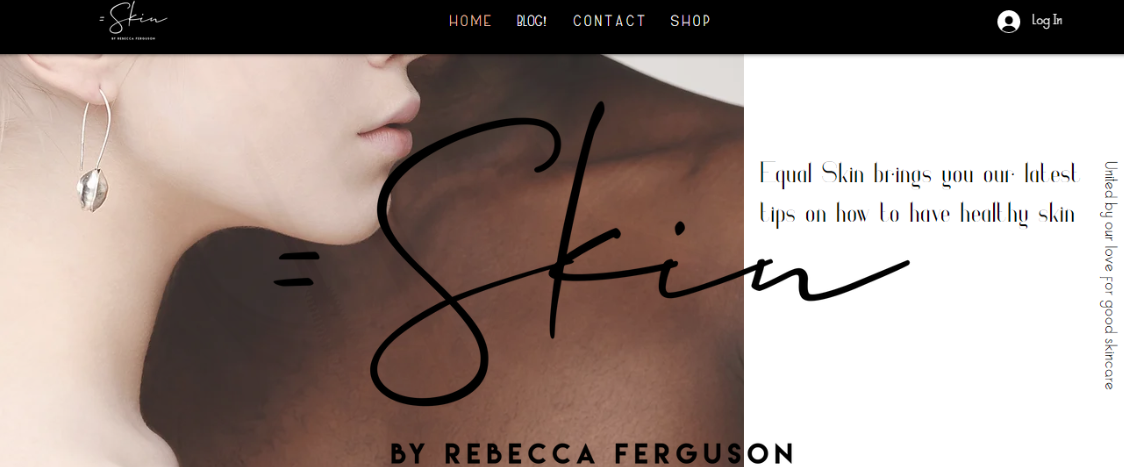 Visit website at: https://www.equalskin.co.uk/ The sheer elegance of this website design immediately makes an impression.
The homepage features an automatic slideshow of high-quality images
on the left,
complemented by a statement on Equal Skin's mission on the right – an excellent way to introduce a beauty brand. A clean layout and an elegant font will attract site visitors, and once you turn them into customers, they can take advantage of the designated client login area. The sticky navigation bar makes it easy to get around the website.
There's a blog
for sharing skincare tips and an online store to showcase and sell beauty products.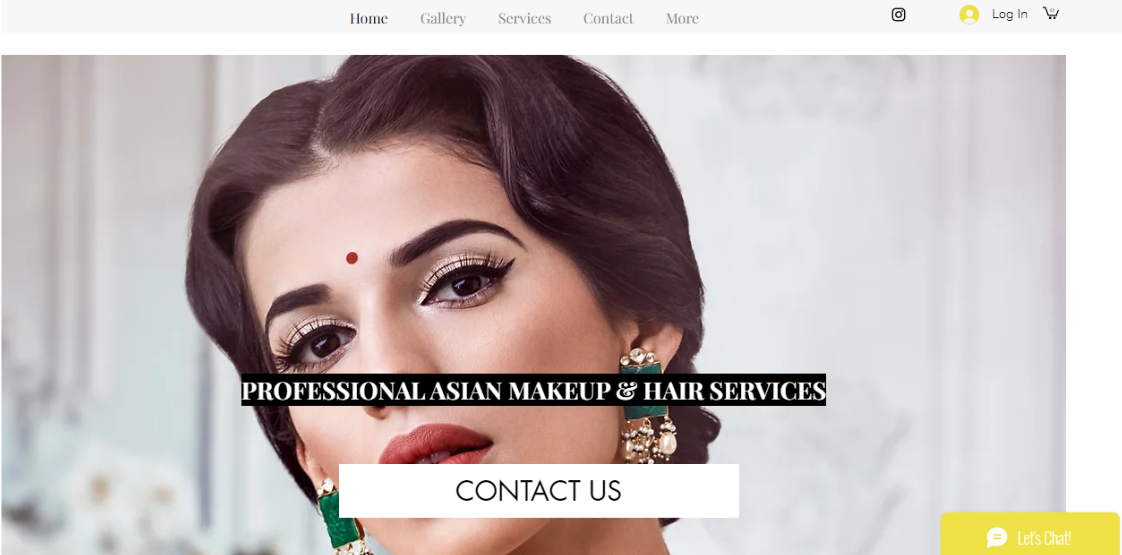 Visit website at: https://www.abmprolondon.com/
ABM PRO Academy
offers makeup services and makeup lessons, and its sophisticated website design reflects the brand's status and experience.
Aside from stunning images, there's also effective copy
in the About section to help establish a connection with potential clients.
Also, visitors are instantly encouraged to take action thanks to the prominent call-to-action buttons. While the homepage displays some examples of
ABM PPO
's work, you can visit the Gallery page for a full range of their makeup abilities. If you need more information, you can quickly get in touch via the live chat app powered by Ascend, which is Wix's suite of business tools.
Pro Tip.
Setting up a slick gallery to showcase your makeup skills might be challenging if you're short on time. With Fiverr, you can
hire a designer for as little as $5
 to create a visually appealing beauty website for you.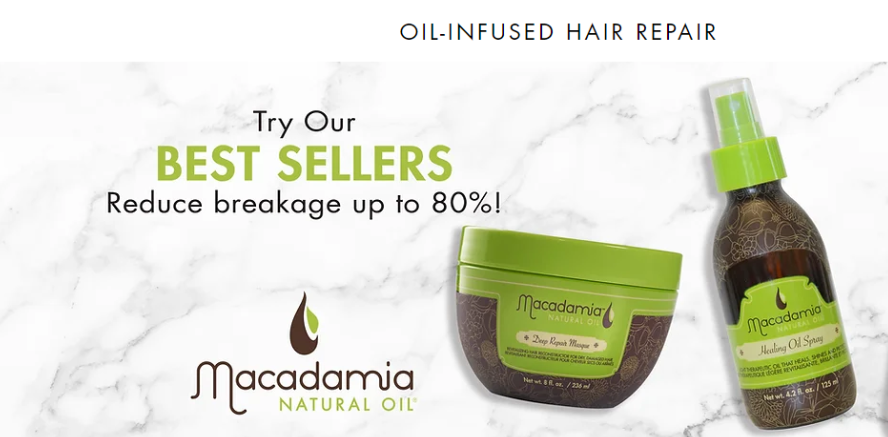 Visit website at: https://www.macadamiahair.com/ The
Macadamia Beauty
website uses white space to draw attention to its stunning product images. The homepage contains sliders of its top hair products (and sales announcements) displayed against a white background so that nothing can steal the viewer's focus.
The website is easy to navigate thanks to clearly outlined links leading to other pages.
As you scroll down, you'll see Facebook and Instagram links that pop out.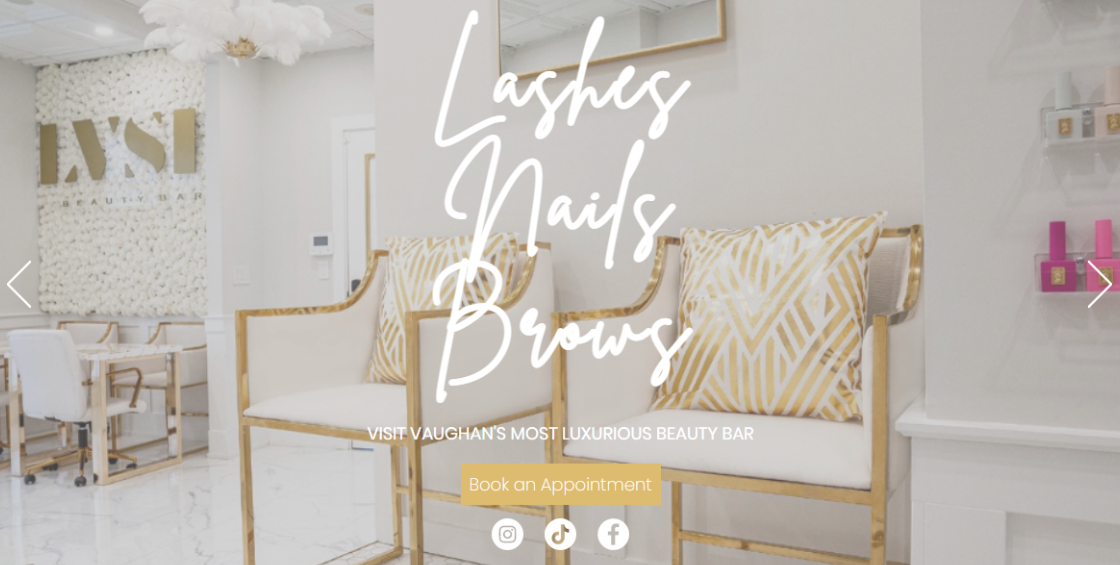 Visit website at: https://www.lvshbeautybar.com/
LVSH Beauty Bar
specializes in lashes, nails, and brows, and the website captures the brand's image perfectly.
There's consistency in the choice of colors, images, and fonts throughout.
As you scroll down the homepage, you'll see a neatly organized Services section, followed by positive testimonials by customers.
Those interested can schedule an appointment thanks to the booking feature
(which you can integrate for free from the Wix App Market). Embedded Instagram feed and prominent social media icons make it easy for visitors to get in touch.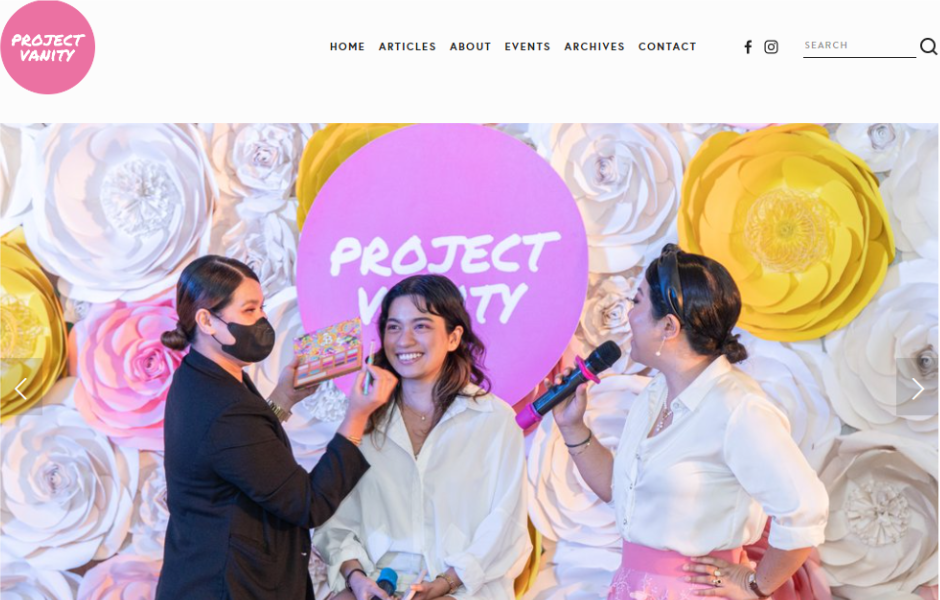 Visit website at: http://www.projectvanity.com/ As one of the top beauty resources,
Project Vanity
is a blog-focused website with plenty of easily-filtered content. You can also leave comments and share posts on social media. And speaking of sharing,
I absolutely love the perfectly shaped Facebook and Instagram icons – it's so hard to resist clicking on them!
The site's clean and professional look (courtesy of Squarespace's gorgeous templates) contributes to its credibility, and the cute pink logo at the top left corner makes it more recognizable. Did you know you can also create and download a logo for free with Squarespace?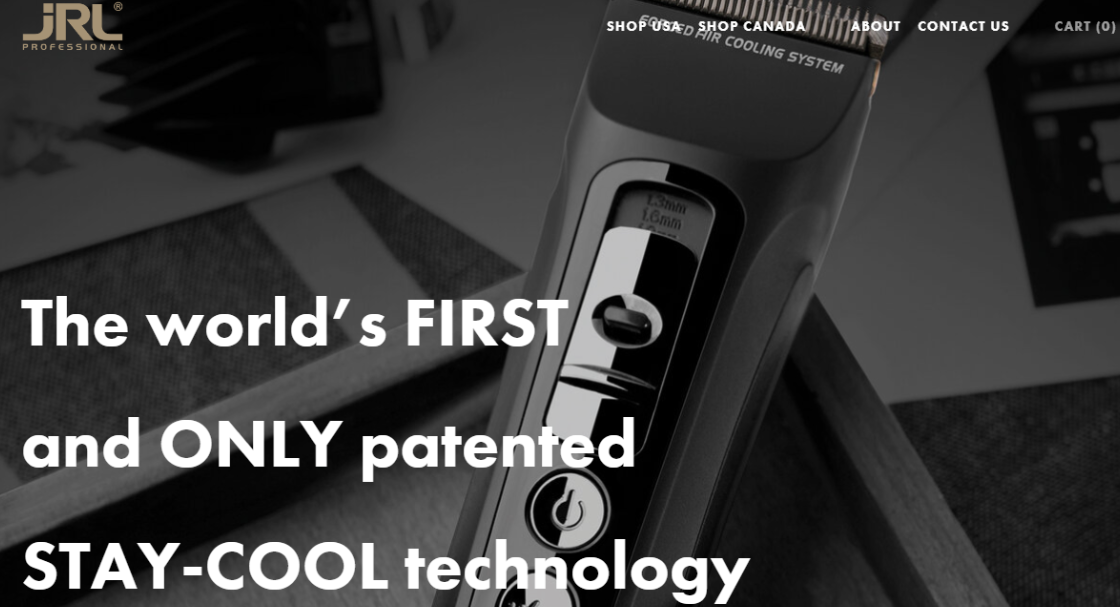 Visit website at: https://www.jrlusa.com/
JRL Professional
uses black-and-white contrast, full-screen images, and a large font to convey its message and promote barber products. Thanks to Squarespace's extensive e-commerce tools,
there are separate online store pages for the US and Canadian markets
. Also, you can offer a quick view of products to entice potential customers. Scrolling down the homepage,
you'll see a section with YouTube videos, which is a great way to provide additional information about your products.
The embedded Instagram feed and newsletter sign-up form ensure site visitors stay up-to-date with
JRL Professional
's work.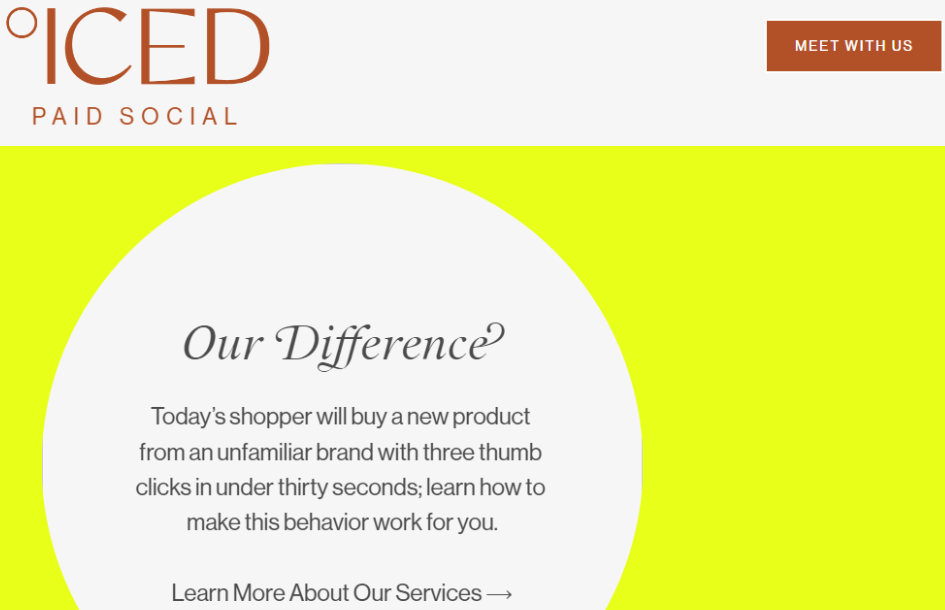 Visit website at: https://www.icedmedia.com/
Iced Media
is a social agency that helps beauty businesses grow, and its website reflects the company's can-do attitude.
The consistent use of round shapes (rather than typical square ones) and rich colors make the site stand out.
You can schedule a meeting directly on the website using Squarespace's booking tool.
I also love the polished design of the CTA buttons, which invite visitors to click without being obtrusive.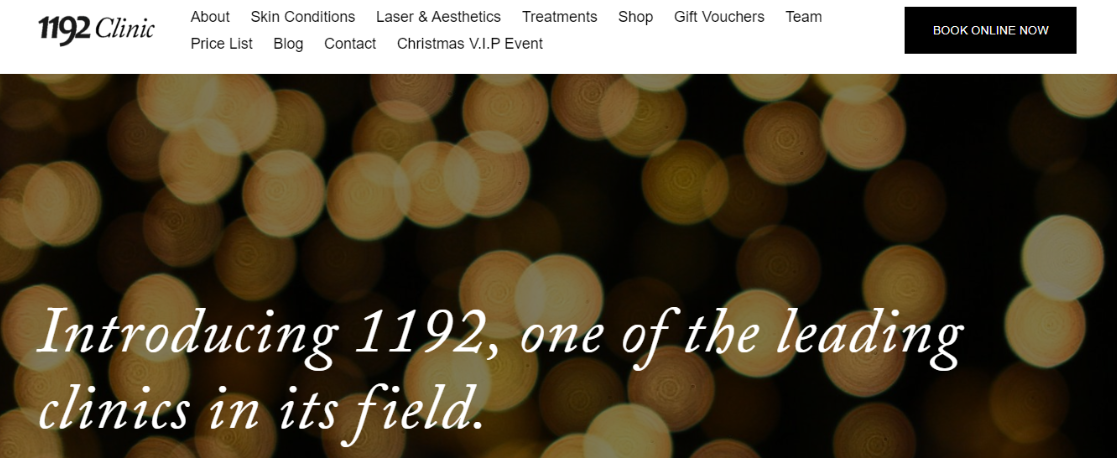 Visit website at: https://www.1192clinic.co.uk/
1192
is a Swansey-based laser clinic that offers a range of treatments, from prescription facials to tattoo removals. Despite being packed with information,
the website is neatly organized, with clearly outlined menu tabs that make it easy to access any page
. The Events page is a particularly nice addition, informing site visitors about upcoming events and allowing them to
buy tickets directly on the website
. As you scroll down the homepage, there's a Meet the Team section, featured blog posts, and a map with location details. And if you can't make it in, don't worry – you can schedule a virtual skin consultation thanks to the booking feature.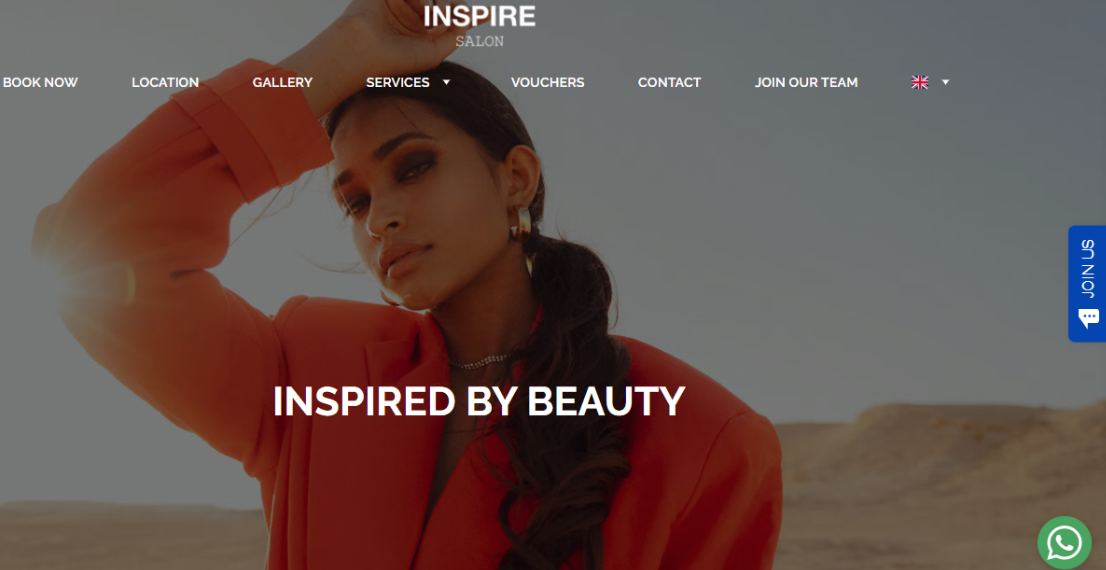 Visit website at: https://www.inspiresalon.eu/
Inspire
Salon's clean
layout and small details make a winning combo that will put you in the mood for a new haircut.
The website's unique artistic feel is achieved through stunning full-screen images and a short, black-and-white film promoting the salon's services. If you need more information,
you can get in touch via WhatsApp live chat function
(which Hostinger lets you integrate for free). Also, if you're a hairdresser looking for work, you can fill out
Inspire
's questionnaire, which opens when you click a sticky button on the right. Who knows, you may land a gig!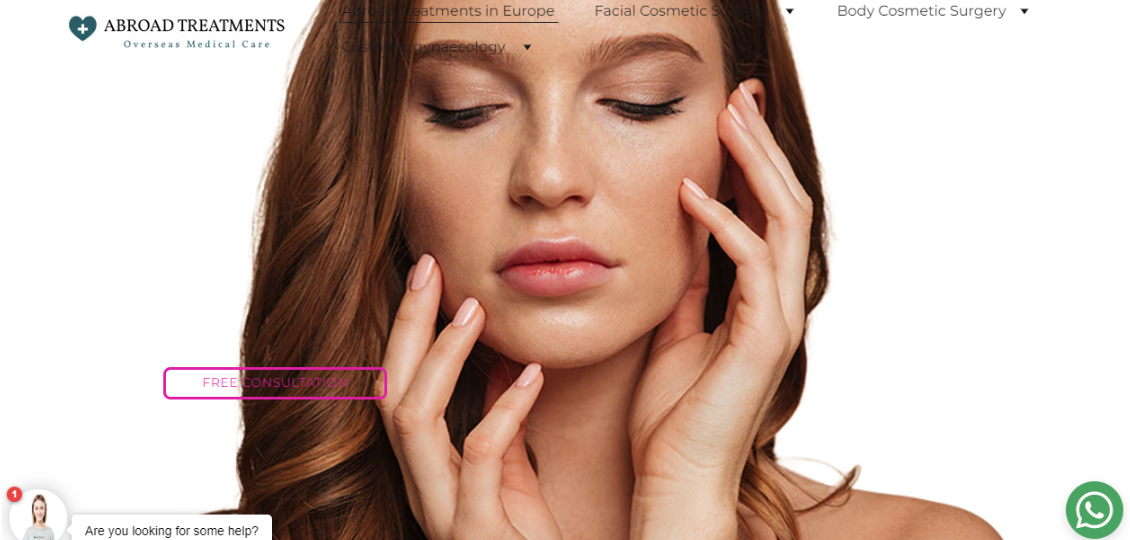 Visit website at: https://www.abroadtreatments.com/
The
Abroad Treatments
website reflects
Hostinger Website Builder's signature template design – simple yet compelling.
The contrast between white and navy blue for the background and fonts contributes to the calm, professional feel, which is essential in the medical care field. Despite having plenty of content,
the website is easy to navigate, thanks to drop-down menus with clearly outlined links
. You can immediately book a consultation or contact the clinic for additional information via WhatsApp. A helpful chatbot also pops up as soon as the website loads, prompting you to take action.
Other Notable Beauty Website Examples
If you need more inspiration to build a compelling beauty website, you can take cues from the following examples.
11. Twinkle Apothecary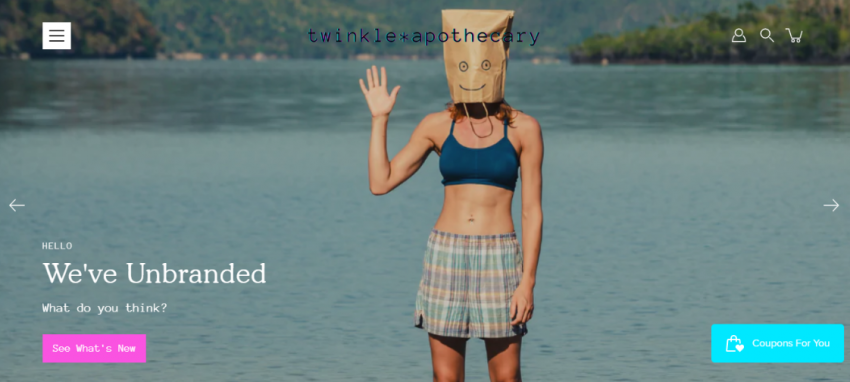 Visit website at: https://twinkleapothecary.com/
Twinkle Apothecary
offers everything from makeup to perfumes and hair products. It uses
amazing images, bright colors, and witty copy
to grab the viewer's attention. It also has a blog and a newsletter sign-up form to keep visitors informed about all things beauty.
12. Love the Planet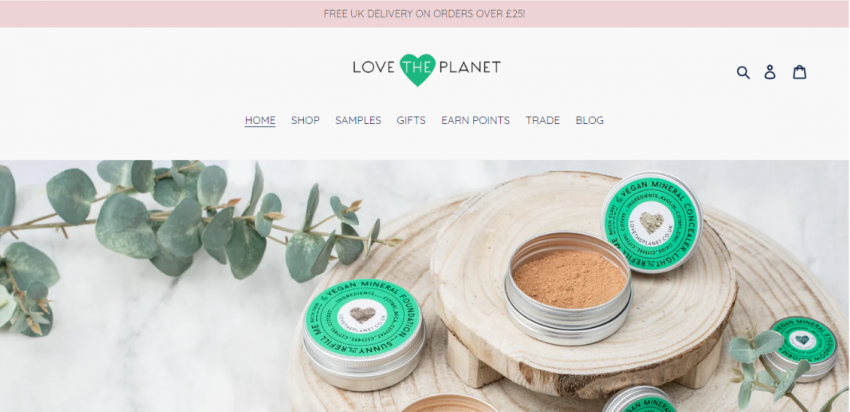 Visit website at: https://twinkleapothecary.com/
Love the Planet
is an all-natural, cruelty-free makeup company, and its website design is consistent with its philosophy.
Clean layout, pastel colors, and neat social media icons
feel fresh and inviting.
13. wet n wild Beauty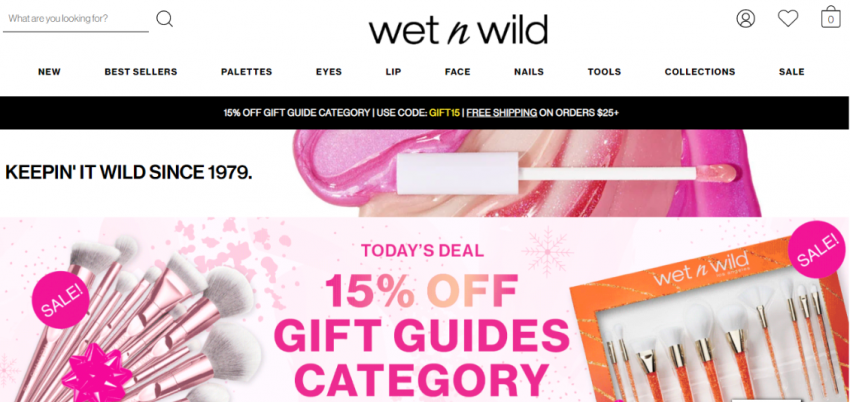 Visit website at: https://www.wetnwildbeauty.com/
Wet n wild Beauty
keeps it fun and flashy with
great image sliders and effective sales banners
. Fun fact: this company was the first to introduce black nail polish into drugstores.
14. Clove + Hallow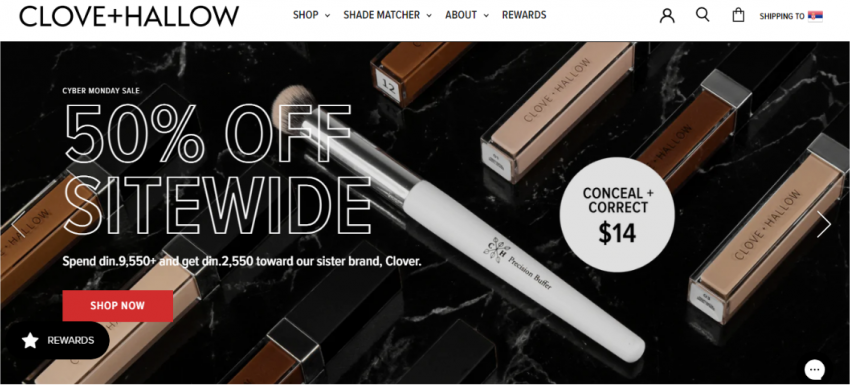 CAPTION: The black-and-white contrast breathes elegance Visit website at: https://cloveandhallow.com/ Makeup products by
Clove + Hallow
contain only 15 natural ingredients, and the company's website reflects this simple, straightforward approach.
High-quality images, prominent CTA buttons, and a visible live chat app
prompt visitors to get involved.
15. Zuzu Luxe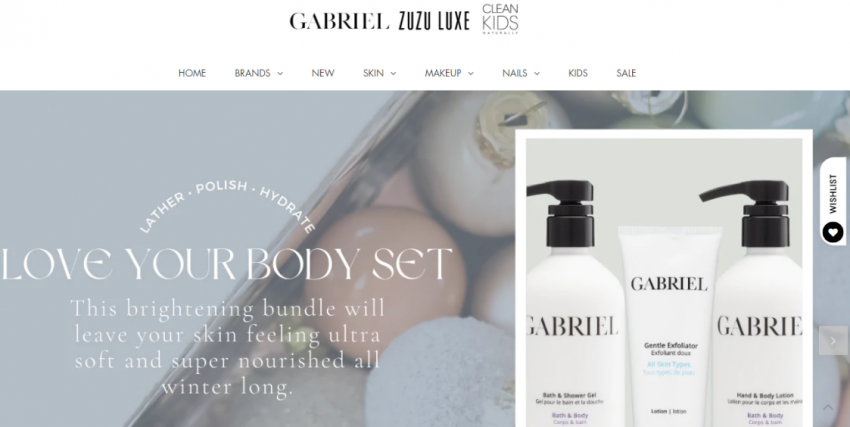 Visit website at: https://gabrielcosmeticsinc.com/
Zuzu Luxe
manages to pack quite a bit of info into its website while keeping it easy for visitors to get around.
My favorite detail is the sticky product wishlist button
on the right side – you can't miss it!
16. Red Apple Lipstick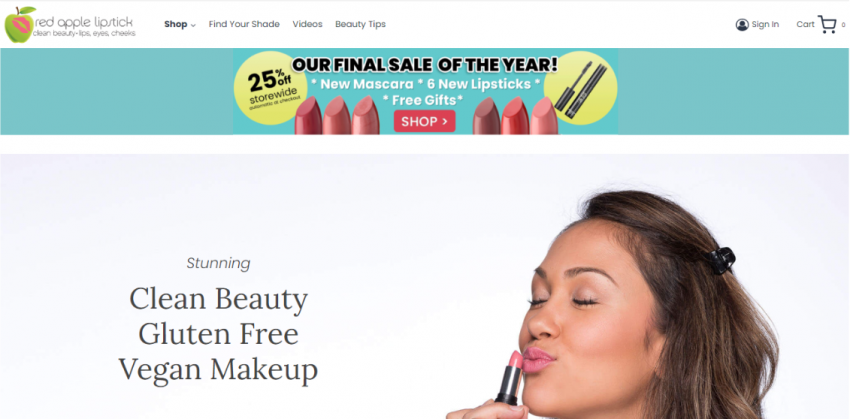 Visit website at: https://www.redapplelipstick.com/
Red Apple Lipstick
is another excellent example of how using white space can bring attention to your products or services.
There's a blog to share beauty tips and advice on finding the right shade.
For a more hands-on approach, there are also makeup tutorial videos.
17. Atomic Makeup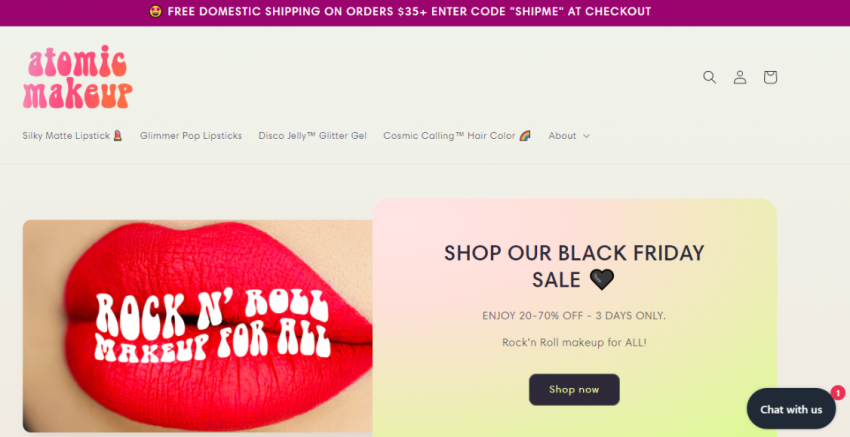 Visit website at: https://atomicmakeup.com/
Atomic Makeup
's rock star treatment is evident in the website's colorful and edgy look. The
quirky fonts, playful emojis, and noticeable CTA buttons
appeal to site visitors, especially younger ones.
18. Vegamour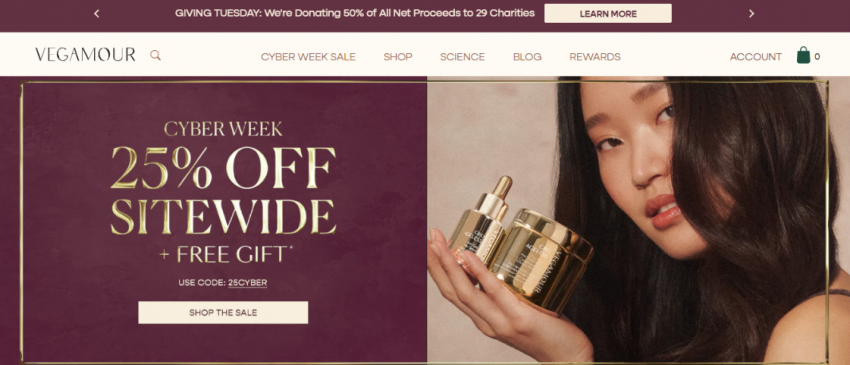 Visit website at: https://vegamour.com/
Vegamour
specializes in products for hair, brows, and lashes, and
the website's violet and gold color palette
contributes to the lush, velvety feel
. The site also has a blog and a rewards program to keep customers engaged.
19. Blank Canvas Beauty Collective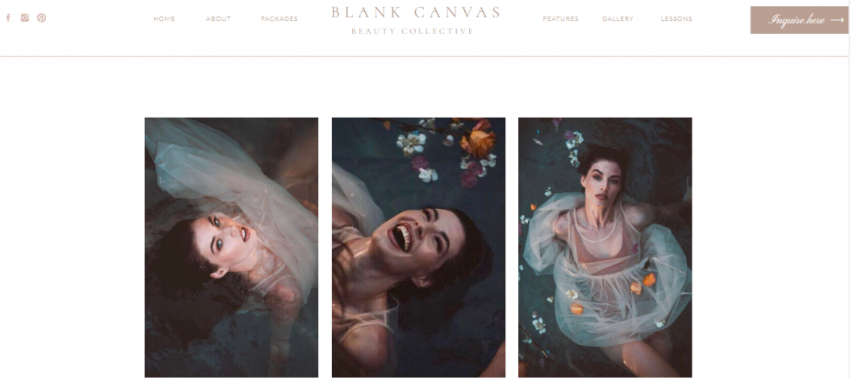 Visit website at: https://blankcanvasbeautycollective.com/ The team behind
Blank Canvas
offers a wide range of makeup services, from weddings to film and TV. The website serves as a canvas where they showcase their finest work. I love
the warm color palette and the sophisticated font used for the CTA buttons text
.
The Best Website Builders for Beauty Websites
Almost all of the websites above were built using either Wix (which we tested in our
full Wix review
), Squarespace, or Hostinger Website Builder. The great thing about these website builders is that they let you quickly create an eye-catching and functional beauty website, even if you don't have any technical experience.
You'll get attractive, easy-to-customize templates with many useful features
(e.g., online stores, blogs, booking tools, and more).
Wix has a massive template library (800+ designs) and more beauty website templates than Squarespace or Hostinger Website Builder
. Wix also offers the most customization options, allowing you to drastically change your template's look as you realize your vision. Despite its design freedom, Wix's drag-and-drop editor is intuitive enough that even beginners won't get lost. You'll also get many useful features, including blogs, galleries, forms, and chat apps. And if you need more tools,
over 300 integrations are available in Wix's app store
.
Squarespace has some of the most professional and elegant templates
. You'll find many attractive designs under the Health & Beauty and Professional Services categories. Squarespace's templates are automatically mobile-responsive, so your site will always look good and load quickly on mobile screens.
Squarespace is an excellent option if you offer makeup services or plan to sell your beauty products online
. You'll get comprehensive e-commerce features, including the ability to offer discounts, sell on social media, accept payments in various ways, and more. Also, Squarespace has a robust (and affordable) scheduling add-on allowing clients to book appointments directly on your site.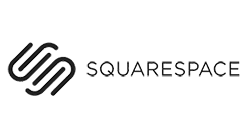 Save up to 30 % on your Squarespace plan today!
Plus get a free domain for one year!
1031 users used this coupon!
Hostinger has high-quality beauty website templates under the Health & Beauty category. You can also find great designs in the Portfolio and Blog sections. It's worth noting that Hostinger's templates are fully customizable, including features like icons that link to social media and chat apps. Hostinger Website Builder is one of the most affordable builders on the market, and its AI tools can speed things up significantly. For example, you
get a
content generator that creates text based on your industry
. AI Image Resizer and Upscaler optimize your photos, while the Heatmap tool predicts how visitors will navigate your site, providing essential information on how to boost conversions.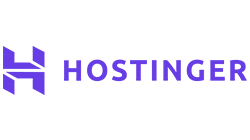 Hostinger Website Builder now has a 30 - day money-back guarantee!
Get a discounted annual plan without taking any risks.
44 users used this coupon!
High-Quality Content and a Clean Layout Are Must-Haves
Whether your website offers beauty services or products, it's crucial to have great images and impactful copy to get your message across. It's also a good idea to
be consistent when choosing colors and fonts to make your website more memorable.
Adding a personal touch to your content will also help you stand out. You must also keep your site organized and easy to navigate so visitors can quickly find what they need. But for that to happen, you'll need to find a suitable website builder first.
I recommend using Wix to build your beauty site
, which offers a wide array of robust tools and is very easy to use.
FAQ
What is a beauty website?
A beauty website can take many forms. For instance, it can be an online store for makeup and cosmetic products, a blog that offers skincare advice, or a mixture of both. Additionally, a beauty website can be a platform for makeup artists or hair salons to advertise their services.
What makes a good beauty website?
A good beauty website should contain high-quality images and compelling copy. Depending on your beauty sub-niche, it can include a gallery of your work, a list of services you offer, and client testimonials. You can check out our complete guide to building a website for more detailed information on essential website elements.
How can I promote my beauty products?
Social media marketing is probably the most efficient way to advertise your products online, so your beauty website must have links to your social media pages. You can also promote your beauty products through blog posts and newsletters.
How can I create a beauty website for free?
Wix's free plan includes an extensive list of features for beauty websites, such as free apps for galleries and online scheduling. That said, free plans don't always provide access to a website builder's best features. For instance, Squarespace doesn't have a free version, but its pricing plans offer great value and come with advanced e-commerce tools. Check out our list of the best website builders for 2023 to learn more about the best website-building platforms.