you don't need to create your website from scratch.
That's right.
There are thousands of ready-made architecture portfolio examples available online, and you can pick one as your starting point.
If you use one of the top website builders to create your website, you won't need any prior coding experience.
Just pick a template you like, drag and drop the elements you want, and make adjustments.
With your knack for symmetry and balance, you should have a beautiful website in record time.

Visit website at: https://www.nenovidenovic.com/ This portfolio features a clean, contemporary design, and its elements are pretty balanced and consistent throughout.
As a result, the website's font, colors, and layout perfectly reflect Neno's work.
Consistency helps visitors understand your vision and browse your website with ease. Another thing I like about this website is the video cover on the front page. It adds a dose of dynamism and captures your attention right away. The well-placed CTA button over the video cover takes you straight to the portfolio.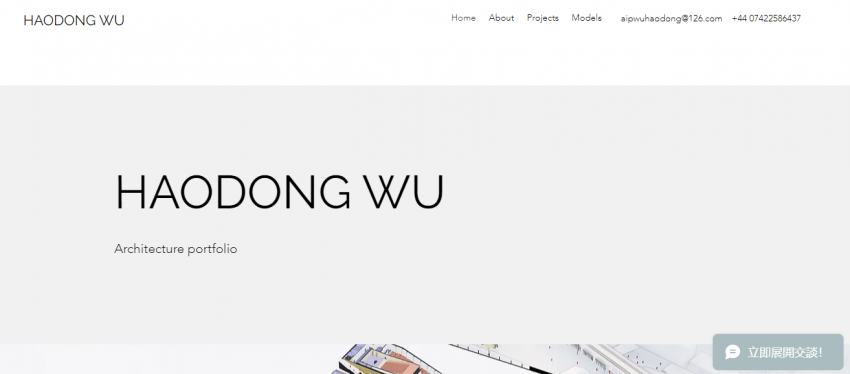 Visit website at: https://www.haodongarchitecture.com/
This artist showcases high-quality imagery right from the homepage.
He included renders and drawings for each of his projects, giving visitors a sneak peek of his work and architectural style. Apart from the beautiful visuals, he also included short descriptions of his projects, explaining the idea behind the designs. This strategy amplifies the value of your portfolio by showcasing your authenticity and dedication.
While visuals often dominate architectural portfolios, remember the impact of well-crafted text.
It can boost your ability to convey your ideas effectively to your audience.
Pro Tip.
If you don't have the time to work on one of these templates, consider hiring someone to do it for you. And no, it doesn't have to burn a hole in your pocket. Platforms like Fiverr offer an affordable solution.
For a price as low as $5
,
you can get a professional designer to create a beautiful website on your preferred platform.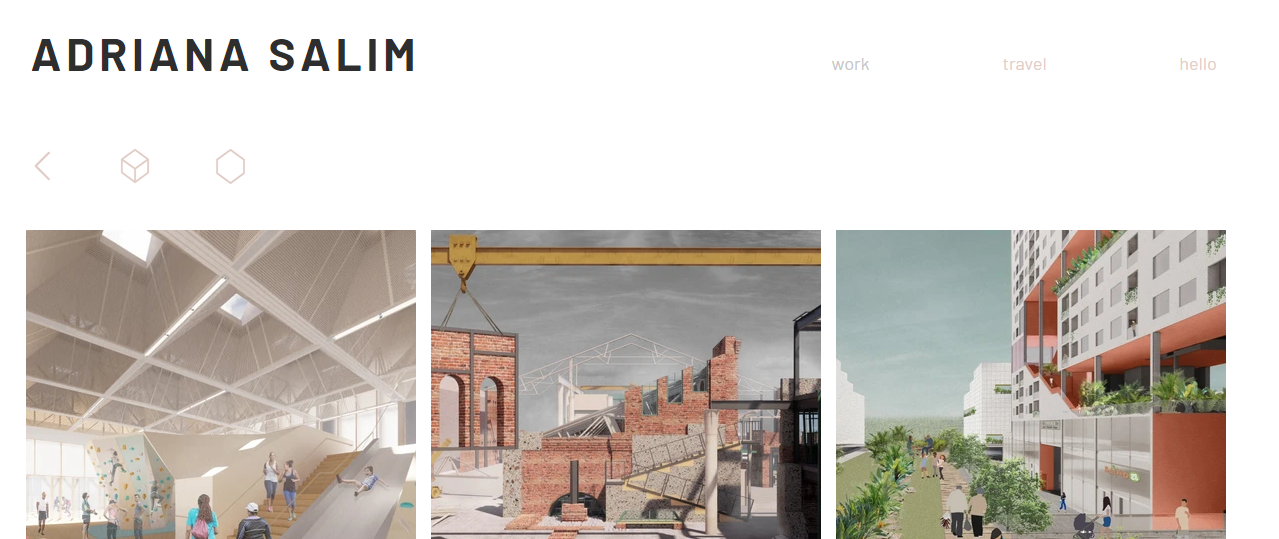 Visit the website at: https://www.a-salim.com/ Adriana's website uses a simple layout with a lot of white space.
Keeping your design clean and easy to understand can help you make a good first impression.
Also, a short menu bar can make your site feel more organized. Having no more than 5-6 items on the menu is always a good idea. For example, Adriana uses just three: Work, Travel, and Hello (her About section). This puts all the focus on her portfolio work and makes navigation a breeze.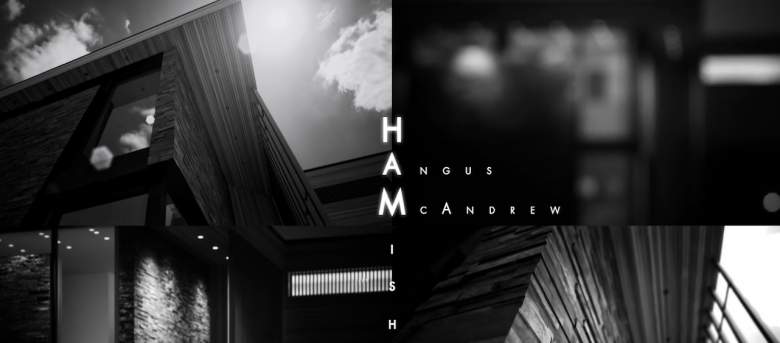 Visit website at: https://www.hamish-mcandrew.com/ Upon entering the website, visitors are greeted by a captivating video cover that presents high-quality footage of his projects, renders, and sketches.
Videos are highly engaging, attracting your visitor's attention and keeping them on the website longer.
Hamish's website adopts a scroll-down layout instead of a traditional navigation bar. This could disorient some, but the creative visuals tell a story of their own. As you scroll, several hand-drawn sketches come into view. They add a personal touch and showcase his skills while also keeping everything nice and tidy.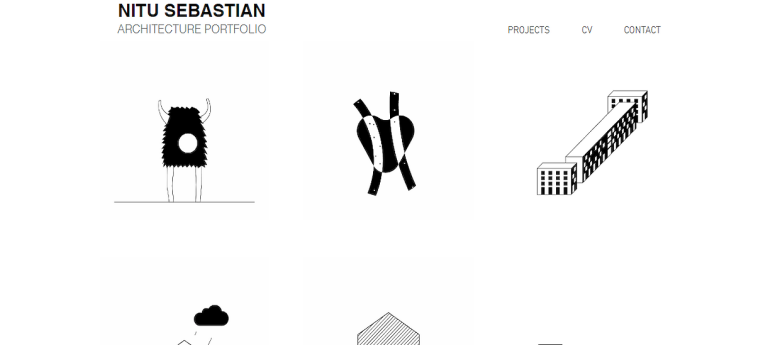 Visit website at: https://www.basti519.com/ Sebastian's modern portfolio is pretty unique. The illustrated black-and-white GIFs will capture your attention immediately, but there's more than meets the eye. Hover over any GIF, and you'll discover it's actually one of Sebastian's projects.
Clicking on a GIF unveils rich project information, complete with images, drawings, renders, and thorough descriptions.
Sebastian's CV is conveniently located in the navigation bar. It details past experiences, education, and technical skills, all rated by proficiency level. Highlighting your expertise in various software gives potential employers a clearer understanding of what you can (and cannot) do.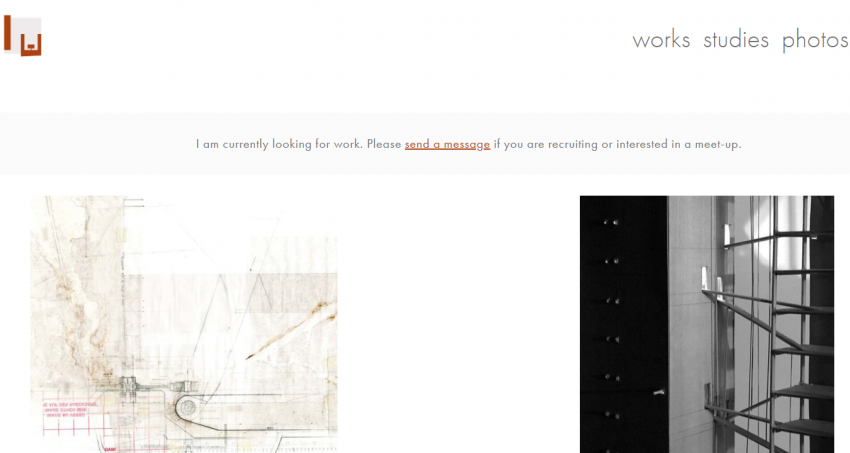 Visit website at: https://laurawiedenhoever.com/ Laura Wiedenhoever gets straight to the point. When you visit her online portfolio, you'll see a banner telling you she's looking for a job and asking you to contact her if you're hiring. You can message her by clicking on the link in the banner.
When making your portfolio, think of easy ways for people to contact you, like Laura's button or a menu tab.
Also, if you have any awards or publications, you should showcase them in your portfolio. Laura lists her own in the 'About' section, along with her experience. Bringing your qualifications to the forefront will make your website immediately more attractive to employers.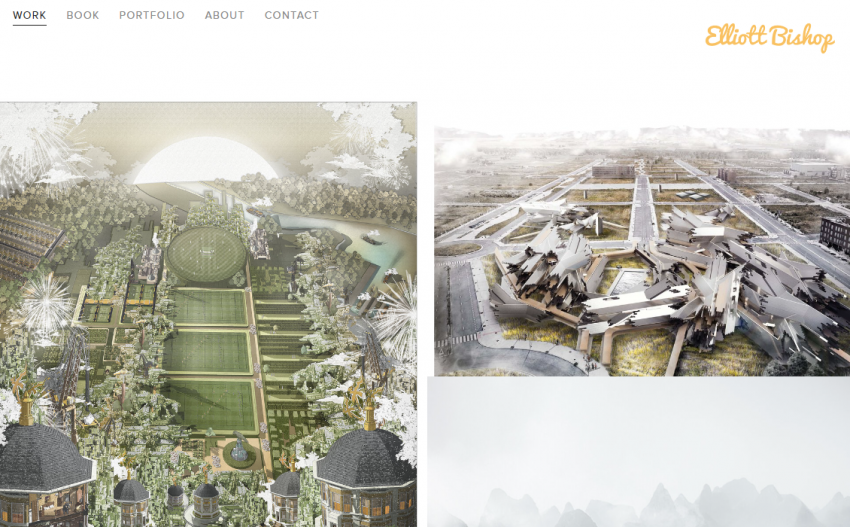 Visit website at: https://www.elliottbishop.com/ Elliot Bishop showcases only his biggest projects in his architecture portfolio.
When assembling your portfolio, selecting those key projects that reflect your design style is essential.
As tempting as it might be to include everything, an overstuffed portfolio could overwhelm your audience. I also like how Elliot makes it super easy for visitors to contact him. There's even a map with his exact location (+Google Maps link) that nearby potential clients can use to get to his office ASAP.

Visit website at: https://www.esarc.space/ This portfolio stays true to the age-old design principle: less is more.
The streamlined design of Elfed's website gives off a luxurious vibe with its chic black-and-white themes and elegant font.
Mobile optimization is a priority in 2023. If you're on your phone or tablet, I encourage you to check Elfed's website. Not only does it maintain its aesthetic, but it also ensures a user-friendly browsing experience. Additionally, a mobile-optimized website sits better with Google, bringing in more visitors as a result.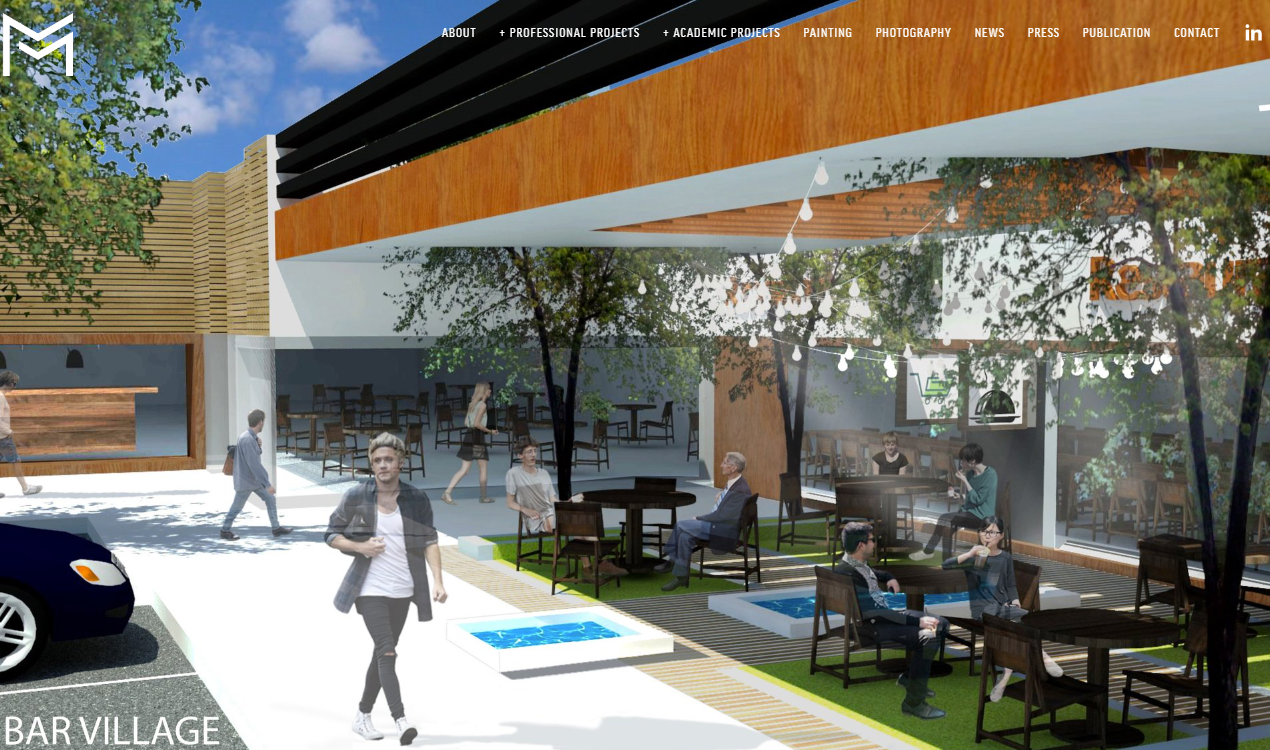 Visit website at: https://www.mariehmehran.com/ Your portfolio should reflect you, not just your architectural work.
It makes sense to include other creative pursuits, like painting or photography, adding a personal touch and making things more interesting.
Marieh does this well, featuring her photography and painting alongside her architectural projects. Although there are quite a few buttons on the navigation bar, they're not intrusive. Marieh has different sections for academic, professional, and personal projects – everything looks nice and clean. You, too, should try to keep your content organized to help viewers find what they need quickly.

Visit website at: https://www.cyiarch.com/ This website looks and feels like a collage of different projects, and besides the navigation bar, there's actually zero copy on the homepage.
The designs and sketches are the protagonists here and speak for themselves.
Minimalism and black-and-white elements are popular with fellow architects, so you might want to do something similar. Christopher provides three contact methods: a form in the
About
section, plus email and phone at the bottom of every page. Offering multiple ways for visitors to reach out increases the likelihood of contact, which is always good.
Other Notable Architecture Portfolio Examples
If you want a few more beautiful architecture portfolio examples like the ones above, I have a few more for you.
11. Besian Mehmeti Architects

Visit website at: https://bma.mk/ BMA, a creative hub for young architects in Skopje, North Macedonia, hosts a wealth of projects on their website. Despite the abundance, an organized categorization makes finding specific projects easy. Notably, they maintain a consistent aesthetic in their architectural designs, photographs, and 3D renders.
12. Alda Capi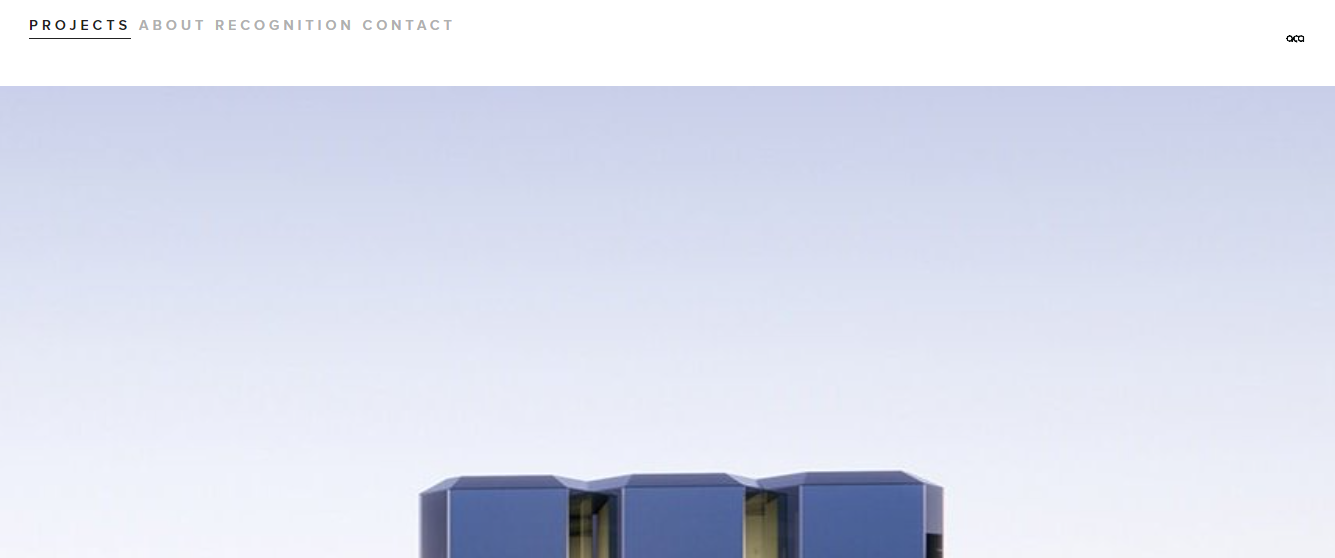 Visit website: https://www.aldacapi.com/ Alda's portfolio website is captivating. With vast experience in residential and commercial projects, Alda's work has earned numerous awards and recognitions. She boosts her employability by dedicating a section on her website to these achievements, demonstrating her competency in the field.
13. Sasaki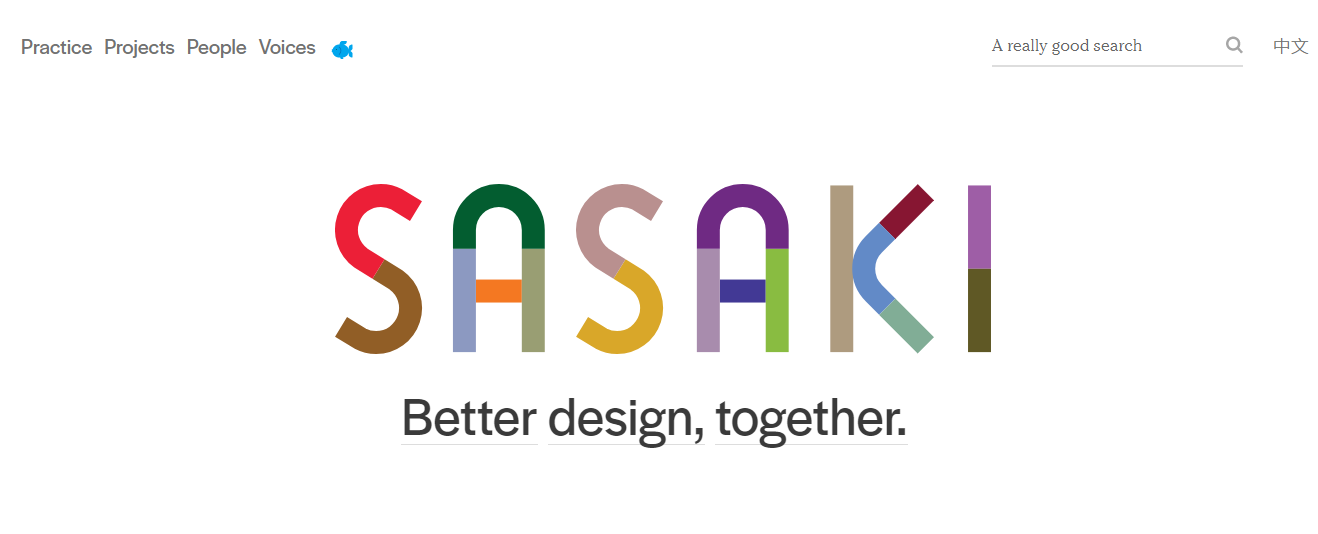 Visit the site at: https://www.sasaki.com/ Websites with a lot of content like Sasaki must be well-structured. As a large company, Sasaki needs substantial storage for the media on their site. So, if you're selecting a website builder for an architecture portfolio, prioritize one offering ample storage and unlimited bandwidth. Also, consider including a search bar on your site for faster browsing.
14. Emmanuelle Moureaux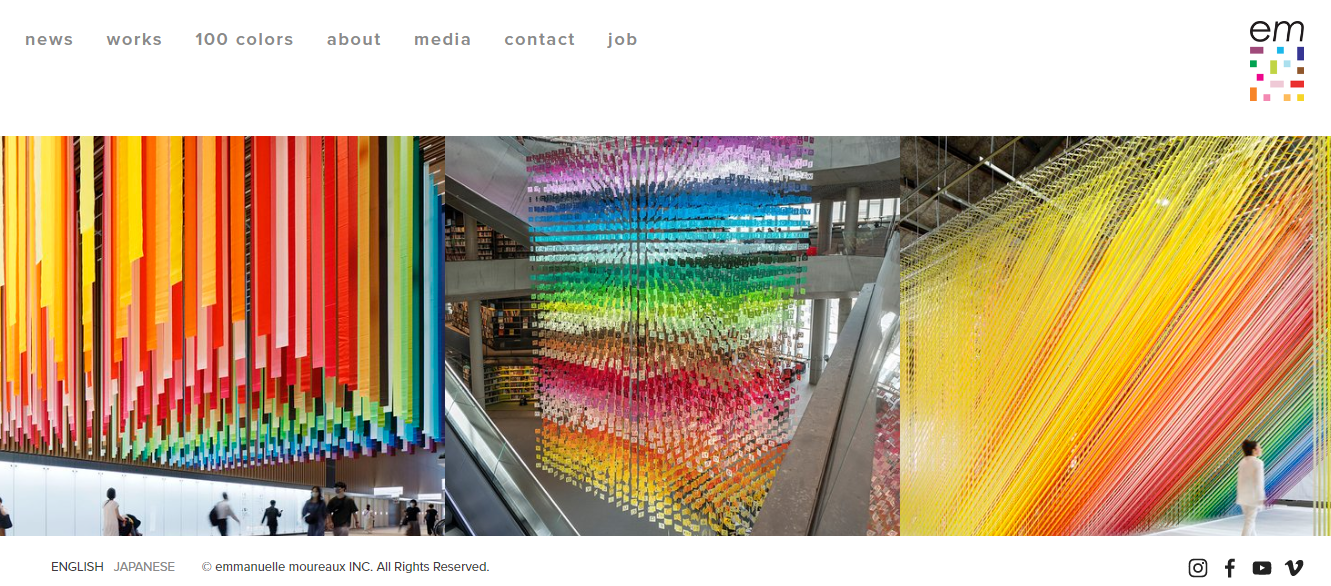 Visit the website at: https://www.emmanuellemoureaux.com/ Emmanuelle Moureaux's website stands out with its bright colors. It's not just her website – it's the style that has made her popular among architects. You should also try to find something that makes you unique and incorporate it into your portfolio's design. Thinking outside the box can really go a long way.
15. Jens Van Zele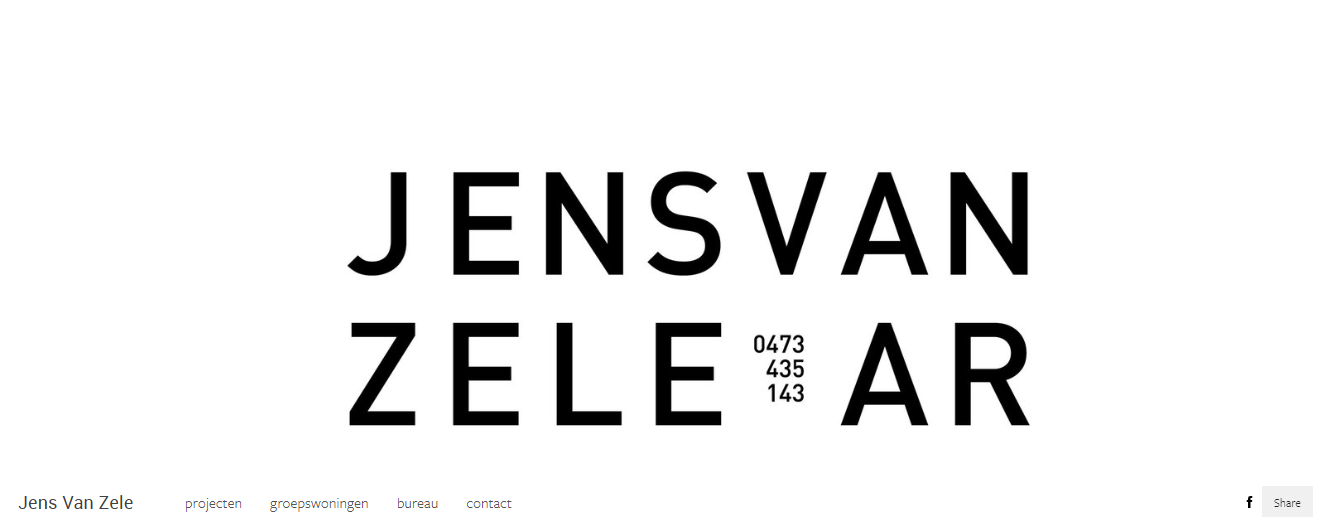 Visit the website at: https://jens-van-zele.format.com/ Jens Van Zele's portfolio leaves no room for doubt about its ownership. Upon landing on the website, a large banner bearing his name greets you. Digits (his phone number) are conveniently tucked between the letters – a clever design choice. The website is minimalist and to the point, with every bit of information chosen carefully and presented concisely.
16. Olson Kundig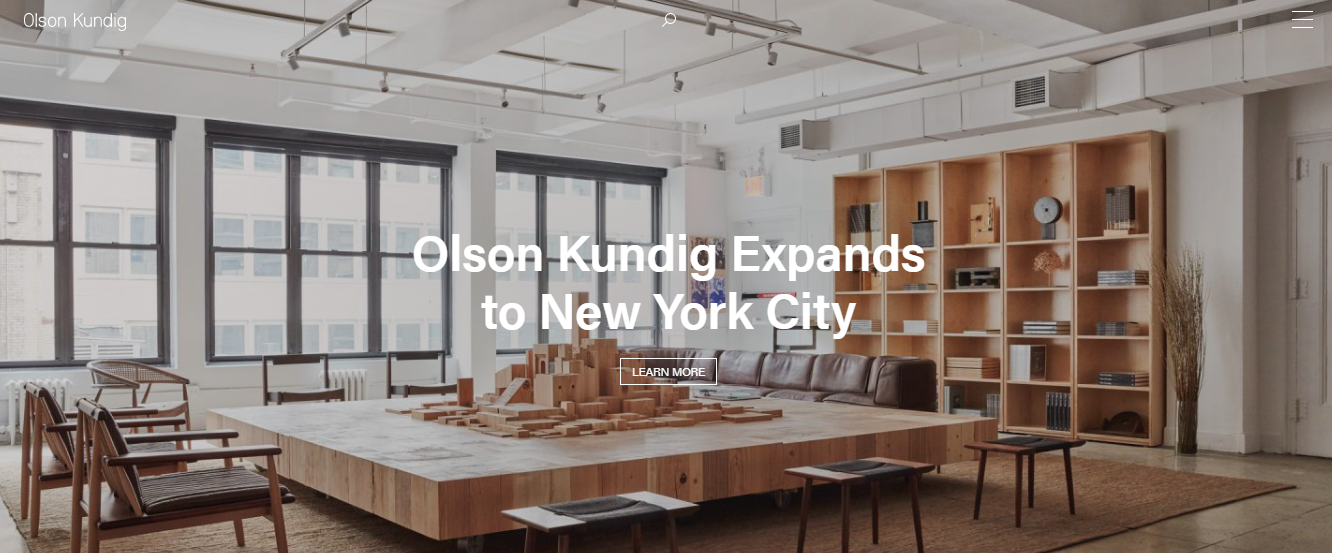 Visit the site at: https://olsonkundig.com/ Olson Kundig's portfolio showcases the power of high-quality photographs. Attractive images capture the visitors' attention, prolonging their stay on the website. The simple hamburger menu improves the user experience with a dropdown menu, allowing visitors to find content quickly without excessive scrolling.
17. Arhitektri

Visit the website at: https://arhitektri.mk/ Arkitektri uses a simple no-margin grid to showcase finished projects and ones currently in progress. When you hover over the boxes, two buttons appear – one for viewing project details and one for opening project galleries. That way, users who just want to browse images can do so as quickly and conveniently as possible.
18. Aba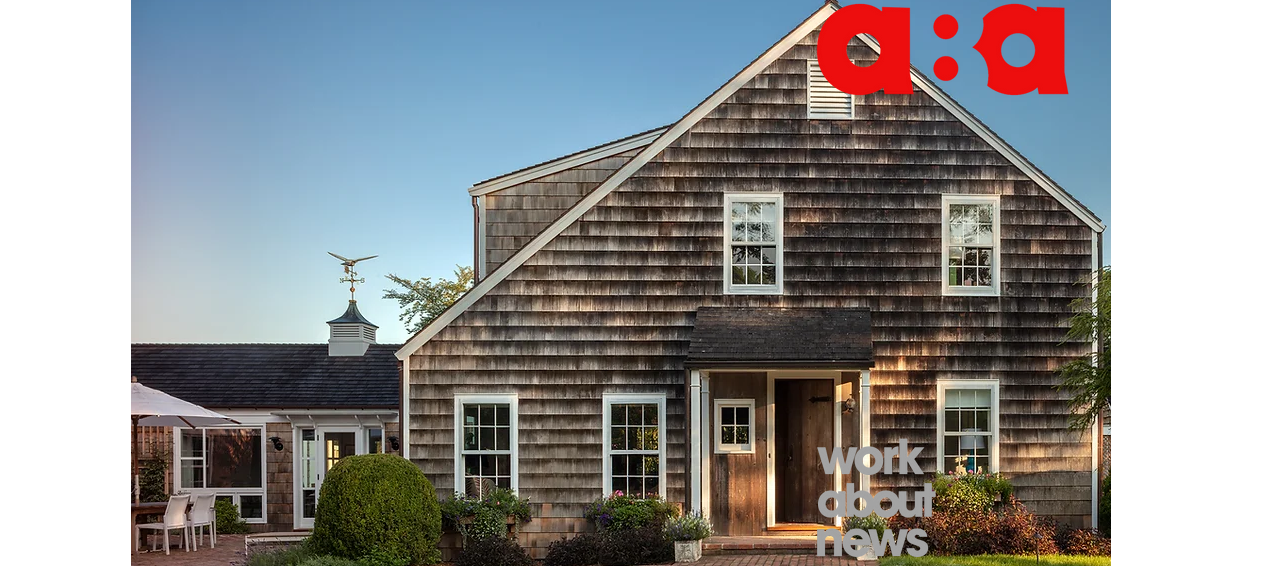 Visit the website at: https://www.abastudio.com/ Aba's site has a unique, magazine-like vibe from the 90s. The distinct font and color choice, along with the cover image, give it a standout look. The navigation menu, placed unusually at the bottom right, works well due to the large font size, drawing attention. Unusual design twists are risky but can help put you on the map.
19. Patchwork Architecture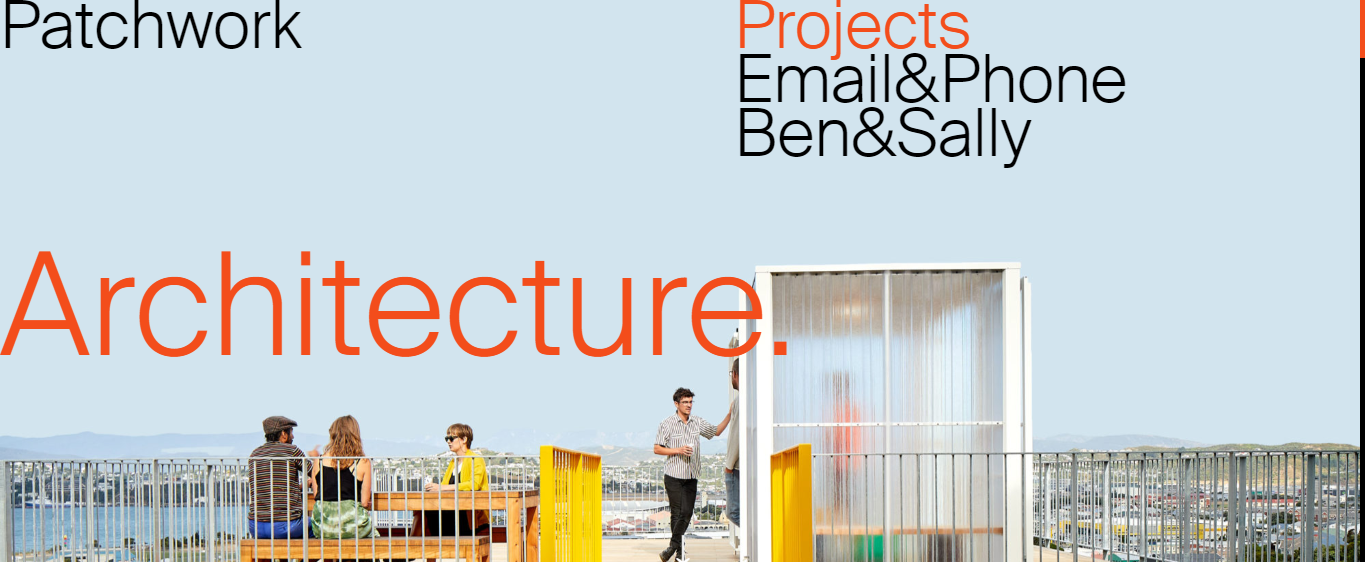 Visit the website at: https://patchworkarchitecture.co.nz/ The Patchwork Architecture website is stylish for sure. It features a gigantic font and top-notch imagery, with orange highlights for a modern look. This intense color contrast enhances readability and emphasizes key information. This portfolio also uses a large cursor, which is fun and makes navigation easier for those with visual impairments.
The Best Website Builders for Architecture Portfolios
As an architect, you know how important design is. It can make or break a physical space – and the same is true for virtual spaces like websites. Despite what you may have heard, you don't need any prior coding experience to craft your own architecture portfolio.
By picking one of the top website builders, you can bring your vision to life just by editing pre-made templates.
All you really have to do is drag and drop elements on the page and make minor adjustments. All the beautiful templates I've showcased here were made with the help of two excellent website builders. Here's a little more information about them.
Wix is an excellent choice for architects building a portfolio, thanks to its user-friendly interface.
Even as a beginner, setting up and customizing a website is simple, with no coding skills needed.
This makes it perfect for architects who want to focus more on showcasing their work and less on technical web development. Additionally, Wix offers a variety of architecture-specific templates to get you started. It also provides robust tools like Wix SEO, which can help increase your website's visibility on search engines. The platform's video editor can also come in handy, allowing you to showcase your 3D-rendered videos in the best possible light. If you want to know more, make sure you
read our in-depth Wix review
.
Squarespace is another excellent choice for architects.
It offers fantastic templates, many built with a visual focus – ideal for architects looking to showcase their work.
You can add all kinds of media to your portfolio and quickly create standout galleries. Squarespace also has robust e-commerce features (just take a look at our
Squarespace review
) that can support an online store if you wish to sell prints, books, or other products. And let's not forget the impeccable customer support. Squarespace's support team is always on standby – whether you have technical issues or need help building your site.
Your Architecture Portfolio Should Let Your Personality and Style Shine Through
Your portfolio should reflect your unique style, personality, and creative vision. From clean, minimalist designs to more elaborate themes, the portfolios I showcased here show the power of well-curated content and balanced aesthetics. Remember, your portfolio doesn't need to be built from scratch.
Leveraging user-friendly website builders like Wix can help you craft a stunning portfolio in record time.
Keep it visual, but don't be afraid to experiment with creative copy, unique fonts, and color. Ultimately, let your portfolio be a journey that invites your audience to discover your work, leaving a lasting impression of your unique approach to architecture.
FAQ
What should a portfolio for architecture include?
An architecture portfolio should be simple and represent your style. Avoid overstuffing it with too much information – only showcase your best work. Also, don't forget to include previous publications, awards, and qualifications, as they add plenty of value.
How do I create an architecture portfolio website?
To make your architecture portfolio look professional and appealing, use one of the beautiful templates provided by a top website builder like Wix. Plan the content you want to display, and make sure everything is organized in tabs and sections for a better user experience.
Is Wix good for an architecture portfolio?
Yes! Wix is perfect for building a stunning architecture portfolio. With the drag-and-drop editor, you can easily add galleries, forms, and other widgets to your architecture website. Wix also offers many marketing and SEO tools to help you reach a broader audience.
What is the easiest portfolio website?
Many website builders can do the trick. These are all easy to use, and you don't need to be a professional website designer to get your way around them. But if I had to choose, I'd go with Wix. It has hundreds of templates, many extra features, and a generous free plan.