Missinglettr is an online tool that creates and distributes a whole sequence of social media content and branded imagery, designed for brands and bloggers seeking to send their message out there. This interview is not a direct transcription but a summary of a conversation with CEO Benjamin Dell about how Missinglettr can be used to create brand awareness and the value it gives to online businesses.
What Are the Vision and Values Behind Missinglettr?
Missinglettr exists to help businesses get their content out there more effectively. It is based on the principle that the majority of businesses put a lot of effort into their content – after all, that's where the biggest value is. But once published, they forget that they need to do some promotional work to achieve customer engagement and longevity.
Typically you will see a half-life of traffic on each of those posts. You publish a blog, you send out a tweet, and then you forget all about it. This leaves a huge amount of potential interaction and engagement completely unexploited. Missinglettr exists to solve that pain point.
How does Missinglettr work?
Firstly, our customers write their own blog posts. Our software monitors websites and detects when new blog posts are published. Our AI and ML technology parse the blog post, looking for quotes and phrases can be used to create social optimized images and hashtags. This is all pulled together to create a sequence of Social Media content that we pass back to the author of the blog post for approval. In essence, within 15 minutes of publishing a blog post, users get an email, informing them that their new social media campaign is ready for review. The author can configure different options and make adjustments before finally activating the campaign. Once activated the campaign is dripped out to their social accounts for the next 12 months.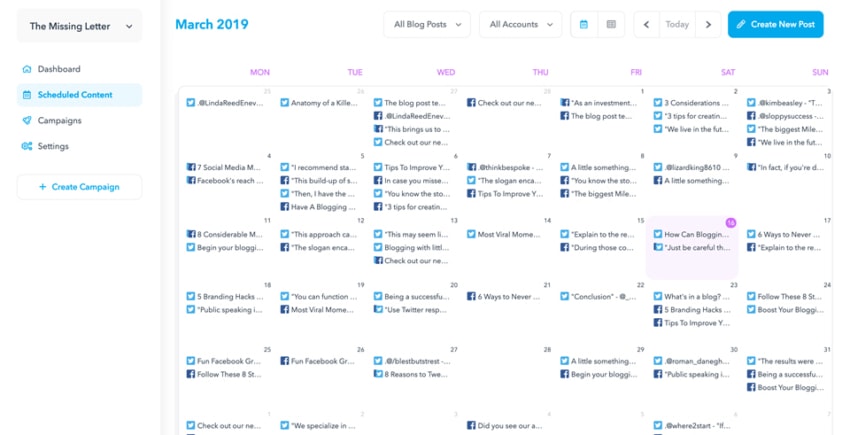 What makes content so powerful? How can brands use that power to generate sales?
There are different ways of looking at it. No matter what the business is doing, which markets it targets, and whether its an offline or online business, almost every business has a digital presence, and that presence plays a similar role to a traditional shop-window. Baring that in mind, it's so important to promote yourself in a way that puts you above the rest. Blogging is a powerful way to cut through the noise and create a connection with the audience; it's a really powerful long term strategy that delivers. It shows you as an authority, a thought leader, and there are multiple reasons why you'd want to create that kind of presence on the web.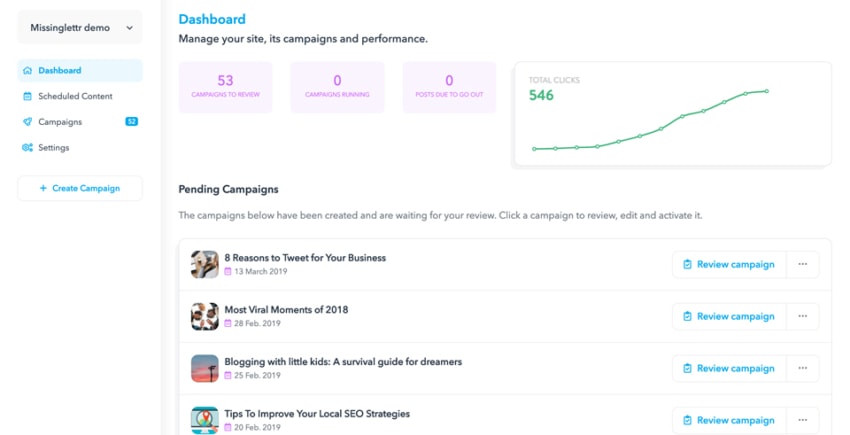 How do you avoid spamming?
It's an interesting topic. Generally, looking at marketing automation, just because you can automate something doesn't mean you should do it. You need to think about what effect you are trying to create. It's one thing I always tell new customers- think about what you intend to automate.
We like to encourage and incentivize our customers to create quality content. You don't want to publish 20 blogs a day and automate all of those campaigns at once, as that will create an infinite amount of noise, and all your efforts to stand out will be lost. Automation is about amplifying your content, so you should use it to let your important pieces stick out and get higher traffic volumes. At the end of the day though, it's totally up to the user to decide how frequently they want their content published on social media, and how they want to do it.
Facebook advertising has become very expensive (and inefficient in many cases). How does Missinglettr overcome that?
We don't currently create paid advertising, though we do plan to offer it in the future. In the case of Facebook, we create free posts, published on pages or groups. We give you the ability to get posts out there regularly without having to actually be online. In that sense, you are getting the best of what Facebook can offer for free.
What can we expect from Missinglettr in the future?
It's actually something that I've been thinking a lot about over the past few months. As exciting as AI and ML are, the reality is that they are just tools. It's what you do with them that really counts. Sure, it's powerful and it gives us an edge, but what really excites me is how can we help our customers create better blog posts in the first place. If you write a high-quality blog post, you'll have a high-quality campaign.
At the end of the day, we want our customers to see powerful results, with incredible campaigns that will superpower already brilliant content.