Atera
provides an All-in-One Management Platform for IT Support companies, MSP's and VAR's. From remote IT monitoring and management, through powerful ticketing and surveying, to billing and invoicing, Atera brings the entire IT business together, as
Chief Technical Officer Oshri Moyal
explains.
Please describe the story behind the company: What sparked the idea, and how has it evolved so far?
Small and medium IT operators are the heroes behind the scenes supporting companies around the world. They care a lot for their clients (external or internal) and often work virtually 24/7. However, small and medium IT service providers have always been underserved. Atera was built for exactly that. With the vision to simplify and streamline the work of Managed Service Providers (MSPs) and IT professionals. Co-Founded by CEO Gil Pekelman, this vision created the remote-first IT management software – enabling IT professionals to shift from reactive task takers to proactive problem solvers. Atera is based in Tel Aviv and is currently used by over 7000 IT professionals in more than 90 countries around the world. Here's a quick look at Atera's dashboard: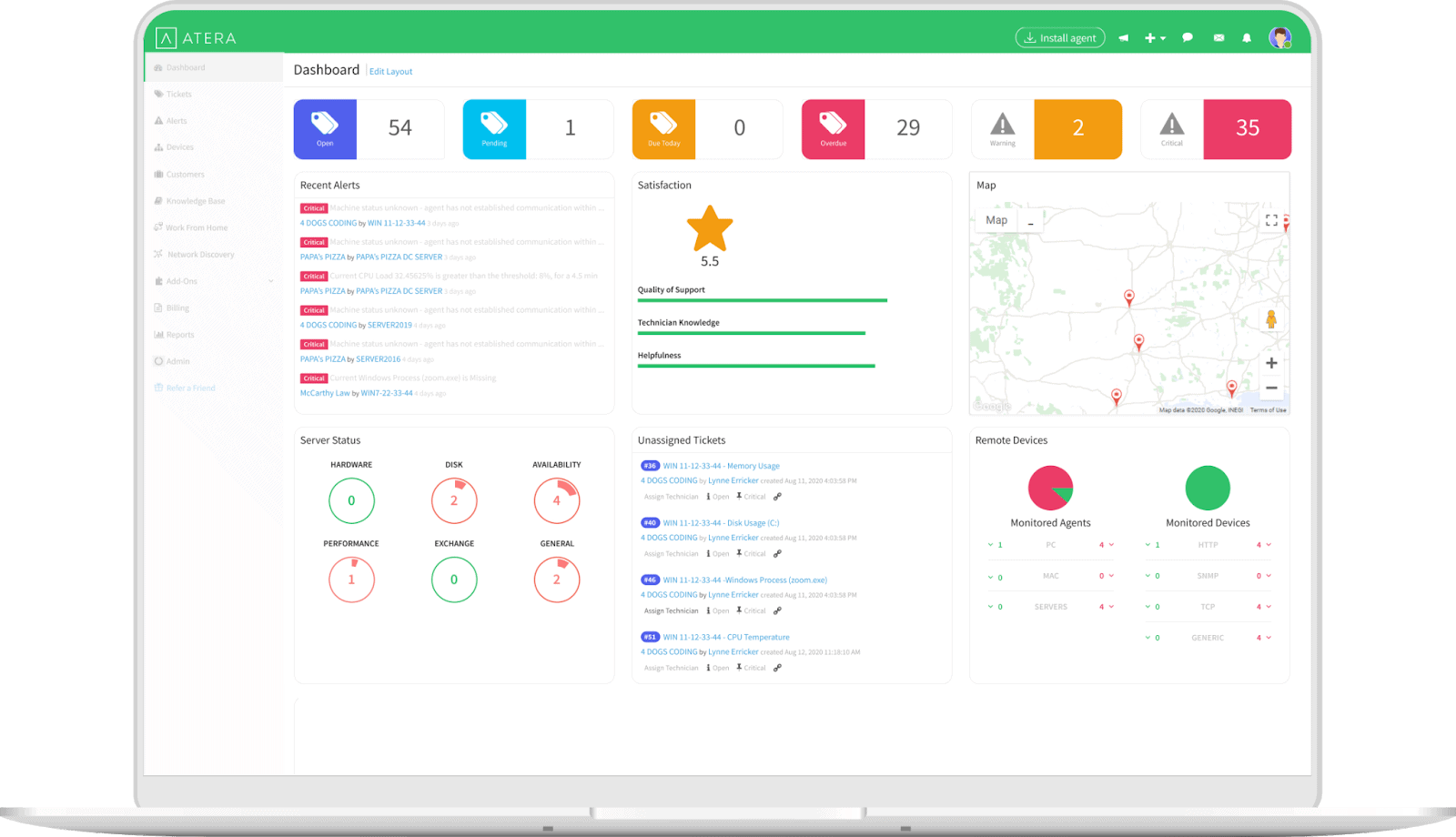 What are some of the challenges that you solve for your clients?
With technology evolving in today's business world faster than ever before, companies should ensure their IT departments are evolving with them. More and more businesses are turning to MSPs to outsource their IT-related processes to not only keep up with the technological advancements of today's world but also cut costs and enhance the overall efficiency of business operations. An MSP can replace a company's IT department entirely or provide a single niche service. Here's a view of Atera's mobile app alerts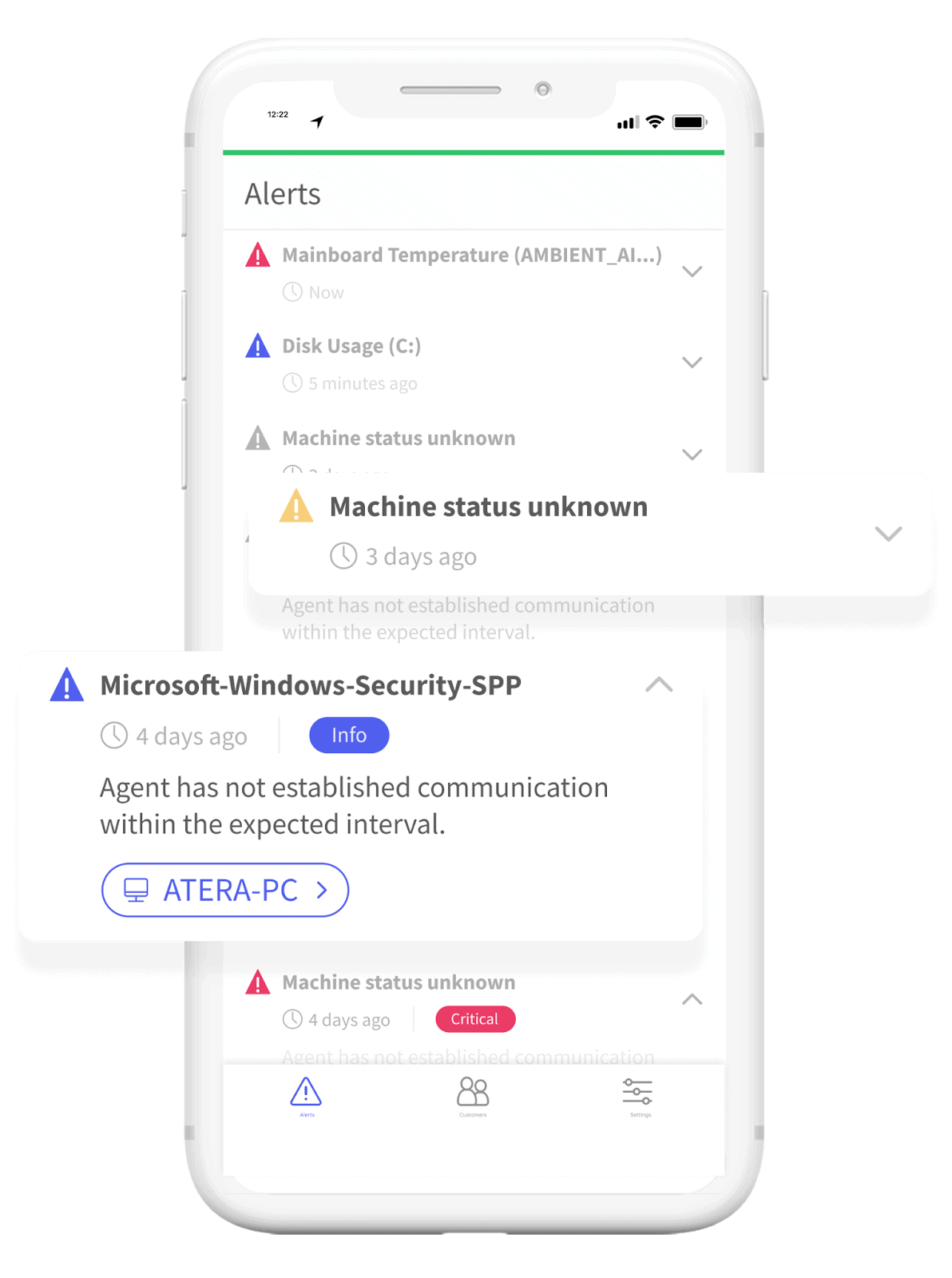 How does your platform interact with third-party software applications?
Atera works with a variety of third-party software applications, including Splashtop, AnyDesk, Webroot, Bitdefender, Acronis, Quickbooks, Xero among dozens of others. Atera's users are able to integrate the chosen applications seamlessly into their all-in-one platform. The various integrations Atera works with offer endpoint protection, security backup, online billing and accounting, automated patching, documentation, and warranty management for the complete package of IT services.
What are some common beginner mistakes around business automation, and how can they be avoided?
Automation can eliminate manual and repetitive processes, reduce your risk of downtime, and get you back a whole lot of hours in the day. Some network automation tasks will be more complex than others, and some may also depend on the technologies that you're comfortable with, such as software version control like Github or Beanstalk, scripting languages such as Python, Ruby or Perl, and automation tools like Ansible or CHEF. Common beginner mistakes include not checking for peer connectivity, not resetting passwords across accounts and using manual or repetitive processes for visitors to complete. These commons mistakes can be avoided by implementing automation processes, such as setting up a WiFi scheduler that allows you to choose the date and time to create a guest PSK to email the guest with a unique password and then be able to enable or disable the guest account on-demand – to automating your network to help you check connections such as router to switch, switch- to switch, or EtherChannel groups. Atera can help solve this through its large community-driven automation hubs such as a shared script library, shared SNMP library, and active communities on Facebook and Reddit.
Which trends and technologies do you find to be particularly intriguing these days?
It's no secret that remote work and a hybrid working model are here to stay. Over the next few years, revenue from the MSP market is expected to grow more than
300 billion U.S. dollars
.
It's important for companies to leverage an MSP approach as it's cost-efficient to your business by having one provider take care of your overarching business needs, from IT to invoicing and finance, allowing you and your employees to focus on servicing your customers. By using an MSP, businesses no longer have to deal with worrisome issues and can focus on their day-to-day efforts. In terms of the future of the industry, we see a critical need to provide exceptional support for customers, both on-site and remotely. As businesses continue to evolve and adjust to a new normal across the globe, it will be crucial to remain communicative and available to help customers troubleshoot any IT issues.