amoCRM
helps small sales teams to cut through the noise and win more sales by fully automating the sales process, from lead capture to won sales and beyond. Headquartered in San Francisco, they serve over 20,000 small and medium businesses worldwide, and have won recognition from Gartner, Finances Online, Software Advice and others. In this interview,
amoCRM senior marketing & technology partnerships manager Pavel Chukhlomin
describes what amoCRM is all about and stresses the power of messaging apps for business success.
Please describe the story behind the company: What sparked the idea, and how has it evolved so far?
amoCRM started back in 2011 in San Francisco, as a classic cloud-based CRM solution for customer relationship management. 
When WhatsApp and Apple started introducing their business chat tools, we saw it as a great opportunity for us to do something unique by providing integrations with various messenger applications like
WhatsApp Business
, and we continue to add more applications like that.
amoCRM offers a unique level of automation and intuitiveness that we didn't find in any other CRM solution. Our Digital Pipeline tool lets sales teams automate the majority of their tasks, for instance, automatically sending an email when a potential client moves to another stage in the sale process. 
The basic functionalities at amoCRM are extremely easy to use, and you don't need to hire a professional to help you set it up. If you just need the basic features like Facebook Messenger, emails or just making phone calls, you can do it with a couple of clicks. One of the greatest advantages of amoCRM is that you see all communication channels in one place, so you don't need to switch between apps. 
We also integrate with chatbot software. This may look like an outdated technology but it's still very popular. There are plenty of success stories from our customers who use it, particularly in the US. That's our main vision and that's how we differentiate ourselves from our competitors.
We're currently seeking funding opportunities to help us move ahead of the competition.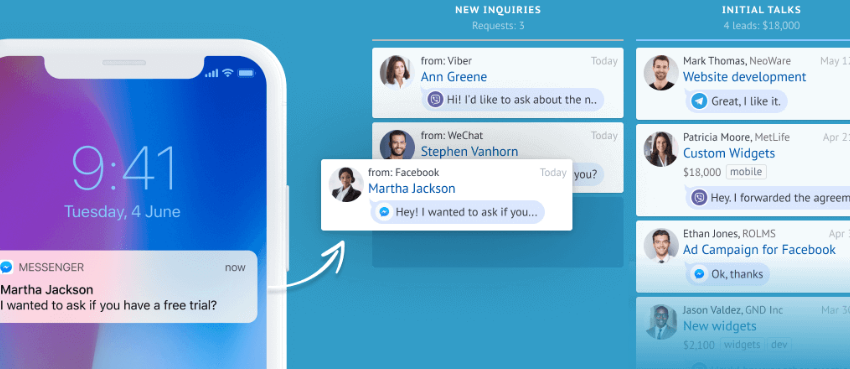 Who is your typical client?
The core of our customer base is small businesses with sales teams ranging from five to fifteen people, mainly providing professional services. We currently have about 50,000 paying customers and that number grows by about 2000 new customers every month. While the majority of our customers are in Russia and the CIS region, we also built a small panel of employees to serve the US market as well.
What would you say is the right balance between automated chatbots and live human support?
We recently introduced our own sales bot, where we tried to combine AI power with simplicity and ease of use. If there are some very ordinary, very frequent questions from customers that are repeated on a daily basis, a chatbot would be a really great solution and will save your sales team lots of time and energy. 
If there are questions that are out of the span of the automated answers of the bot, amoCRM will automatically alert the responsible account manager, so they can enter the communication channel and answer that person instantly. 
Whenever an automatic message is sent by a bot, it's really important to highlight it to the customer. Always start the conversation with a statement that clarifies this is a chatbot, and give your customers the option to switch to live support instead, if they need to. 
How do you balance between your need to know your customers and their right to privacy?
We only collect the very minimum of customer information that's necessary for us to do our job. As a person registers to amoCRM, we ask for some general information like the size of the organization, its industry, and some background on their use and experience with other CRM solutions. So, whether it's a profound user or just a visitor,  those are the only things we store about our customers, and we quite rarely publish any data except for overall customer stats.
How has COVID-19 affected your customers?
As a technology partnerships manager, I'm always in contact with our partners from Europe and from the US. Interestingly, some of them noticed a big growth in their business, despite all the challenges that they personally faced. 
Businesses are getting more and more involved in the digital sphere, and some of the companies that are working with enterprise-level companies really noticed an increase in sales. But for us, as the core of our customer base is small-medium businesses, we noticed a decrease in our sales performance. Some customers decided to pause their accounts or extend their free trials. The toughest part was about a month ago, when many small businesses weren't able to open their shops or offices and were forced to quarantine. But now, things are starting to get back to normal and we're hoping to recover as fast and as wide as possible.
We recently published a series of case studies about the popularity of messengers for small-medium businesses during the recent lockdowns.
One of them, for example, was about how Silicon Cities adapted to the coronavirus pandemic with a
CRM for WhatsApp
.
Which trends or technologies do you find to be particularly interesting these days around your field of work?
As I mentioned, the biggest trend we envision will become more and more popular is messaging apps, not just for personal use but for business use. More and more businesses will see that it's the most convenient way to communicate with customers. No more unsolicited calls, no more emails that go straight to the spam folder without ever being noticed.
Essentially, customers are getting more and more comfortable to communicate with businesses through messengers apps. The response rate is significantly higher on messenger platforms, so I think in the future, that will be the main way for businesses to communicate with their customers. 
In terms of trends, I'd also like to mention the consolidation of different products that extend each other's functionality. We see more and more companies that decide not to spend their resources on development, but rather, to extend their products by integrating them with other software. 
The demand for software that connects various SaaS solutions together, like Zapier, is getting higher and higher. Professionals who can help customers connect different software together will be able to prevent clients from having to switch their entire business model and work process when a product does not provide for all of their needs. So, instead of switching to another product, they will be able to extend the functionalities by integrating new features from another product.
How do you envision the future of your industry?
I personally think that CRM will become more segmented, from enterprise-level, multifunctional products, to a more intuitive and easier-to-use model for small businesses. 
That means some basic features like messengers, emails, and some unified inbox for communication with clients. I think that will become more and more popular because, despite all the technological progress, there's an incredible number of small businesses that are just using Google Sheets, notes, or even paper to keep notes of their workflow and client communications. They're really suffering from this because there are loads of users and there are loads of potential clients that are just getting lost. I think CRM solutions will become more available for people, both in terms of price and in terms of the simplicity of the interface, because there's huge room for improvement.