airfocus
is an easy to use prioritization and roadmapping software solution that helps teams visualize priorities, build lean roadmaps, collaborate on strategy, and align the vision with the entire organization. In this interview,
Co-Founder & CEO Malte Scholz
describes the hardships of product management, and how they can be overcome with airfocus.
Please describe the company's story: What is your mission? what sparked the idea, and how has it evolved so far?
My background is in product management. I am the CEO and CPO of airfocus. I started this company four years ago with my two co-founders, Christian Hoffmeister, our CTO, and Valentin Firak, our CMO. The idea for airfocus came to me after dealing with a lot of frustration and pain in my role as a product manager . I was involved in product planning and strategy, prioritizing what features to build and creating roadmaps. Building a product strategy is a very complicated task, by nature, because you're always in the middle: The marketing department wants something, the salespeople have requirements, the CEO pushes you, and you're always fighting multiple battles. I always thought that we could do better than spreadsheets and PowerPoints, which were the tools we used previously to solve all these problems. The existing solutions didn't satisfy me and that's why I decided to team up with my partners and we founded airfocus. Since then, many things have happened. As always in startup land, we tried to find investors while growing the company and it has worked quite well. We have done a few financing rounds and have doubled our staff in 2021. airfocus is now a team of just over 30 people, all working remotely and distributed across Europe, satisfying over 700 customers.
In such a competitive market, what makes airfocus unique?
airfocus is a platform that helps product managers to make sense of all that customer feedback, as well as feedback coming from inside the company. We help users prioritize what to put on the roadmap, communicate it, and continuously modify it because we know how dynamic roadmaps can be. It's a constant battle. It changes every week. In an agile world, airfocus is a modular platform that helps your product team to create better products. The problems that we solve around defining a strategy and creating a roadmap are quite complex. To get you started successfully, we have created customizable templates that you can see on our website and use when you sign up for our free trial. These templates help you get something off the ground quickly and give you a heads up to have something ready within minutes. You should not compare us to tools like Monday.com, Asana, Trello, or Notion. All these tools are awesome general practice tools for project management and task management, but that's not our market. We're focused on solving these higher-level planning tasks for product managers. If you look closely, there's really not a lot of competition in this area.
Here's a preview of airfocus prioritization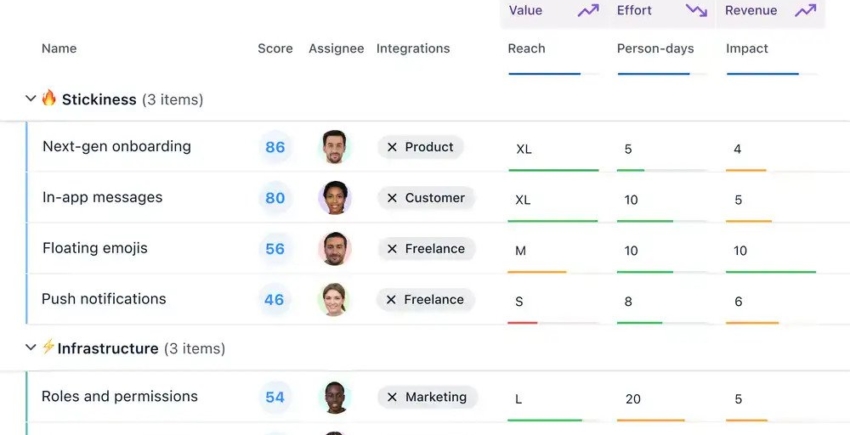 And airfocus roadmap planning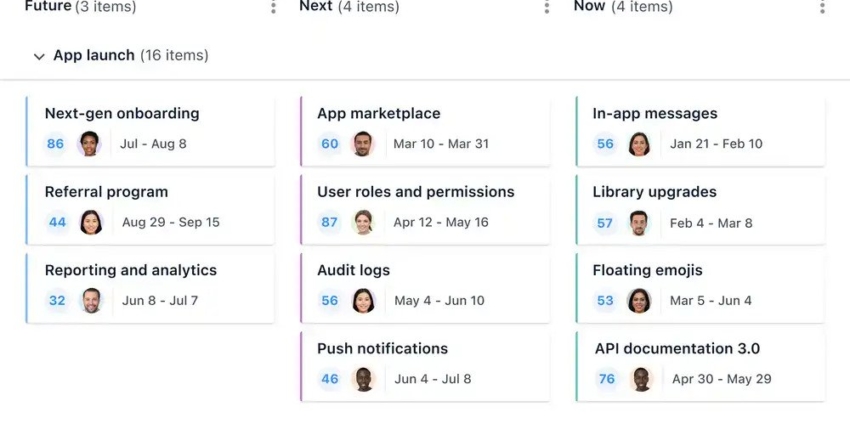 What would you say are the main challenges that product teams are struggling with, and how does your solution assist them?
It depends on the case, the people, the situation, the company size, and the market. The big problem, which is actually a good problem, is that building software has been commoditized. It's become super easy and affordable to either build your own platform or hire developers at a reasonable price, but just building software alone is not enough. The software has to be really good, otherwise, people will reject it. Think of your smartphone. The apps that you usually use are the ones that are on your home screen. There are only so many mobile apps that you can use at a time. The same is true for enterprise apps where you see a bit of software fatigue. You need to have outstanding, best-in-play software in order to win, and it always starts with the user. The user has to like, understand and engage with your software, otherwise, you won't make it in the long run. This is the notion we come from. We know how challenging product management can be, and we give you tools to solve a lot of these problems so you can focus on the things that we cannot help you with, such as having internal discussions, creating value propositions and features, and addressing customer needs. Those are things we cannot help you with because they are so unique to the situation, but we give you the tools to manage all the processes around it, such as managing user feedback and linking it to your roadmap ideas, and prioritizing tasks so you can make ruthless and continuous logical decisions while creating roadmaps that everyone in your company understands.
How do you feel the pandemic has impacted your business, customers, and industry?
Millions of people have lost their jobs and are under existential threats. I would never dare to complain about anything because we are the lucky ones. You can even say that our industry has benefited from this situation because everyone is at home and the need for central repositories that contain all product data is increasing. As hard as it may be to admit, the software industry, in general, has gained tremendously from the pandemic. On the other hand, certain industries were harshly affected, such as our clients in the travel industry. As their revenue went down to zero, we were one of the tools to get cut. We had a rough time in the first months of COVID, but in the long run, we certainly gained more than we lost. Nowadays, everyone is working remotely. When you don't have a whiteboard in the office, you need a reliable tool to store all the information. But regardless of whether or not people will go back to the office, airfocus will be there to help them make better decisions in the complicated process of launching the right products.
Which trends or technologies do you find to be particularly exciting these days around your line of work?
With most software companies working remotely, making collective decisions can be difficult. People are looking for more ways to democratize the decision-making process at a product level or beyond. We've seen a huge spike in people using tools like
Priority Poker
 to get the team involved in the prioritization and decision-making process which will likely become a trend if not the standard in the time to come."