Global Knowledge
is the world's largest dedicated IT training company. With over 5,000 guaranteed to run classes per year, and 3,000 unique courses, GK's unique approach enables professional teams from all across the globe to acquire new skills in multiple course format. In this interview, Zane Schweer, Director of Marketing Communications, and Richard Cleaveland, Director of Creative and Visual Brand, talk about the importance of having a skilled team, and how continuous training can improve your business over time.
Please describe the Background behind Global Knowledge
Richard:
Global Knowledge is the worldwide leader in IT training. We've been focusing on professional skills development since 1995, and have corporate offices in 15 countries. We train professionals, organizations, and governments in over 150 countries around the world. Our focus is on IT as it evolves into tech training, mainly in the fields of cloud computing, cybersecurity, project management, virtualization, networking, analytics and data management, app development and web development. From a technology provider perspective, we are the leading trainer for AWS, Cisco, Red Hat and Microsoft, and an authorized training partner for IBM, VMware and Citrix and more. Major tech providers come to Global Knowledge to train their customers in their technology, so they can maximize their return on investment in their technology and business. One of the top issues when bringing in new hardware and software to an organization is how do you use it? People need to have the skills to maximize it. Technology is only as powerful as the people trained to use it.
How does your training take place?
Zane:
All of our training programs are delivered in person, in training centers across various countries around the world, live online/virtually and on-demand. Our blended learning portfolio, which is a combination of instructor-led and on-demand training is growing as well. We also can customize and bring the training to any customer location, just about anywhere—even on military naval ships. Richard: When it comes to online training, we offer two delivery formats:
Virtual online training is where we live-stream the classes, and students participate in real time so they can ask questions, get involved in discussions and labs. The live courses take place on a specific time and day, so students are required to show up just like they would in a physical classroom.
On-demand or self-paced learning is where the students log in to their learning platform and take the courses at their own pace.
So, you can take a course at one of our training centers around the world, invite us to your location, join a live instructor-led course online, or study independently at your own pace.
What IT certification training is available for Global Knowledge Students?
We work with partners like AWS, Google Cloud, all Cisco certifications (e.g. CCNA, CCNP, CCIE), Microsoft certifications, Dell EMC, Red Hat, IBM, and VMWare. They have their own certifications, and we help students and IT professionals prepare to pass their exams. Our job is to prepare them to master the skills that enable them to pass the exam. So, we have certification prep courses that students can take before applying to exams, some even include exam vouchers. For project management professionals, we have a
project management boot camp
. We have a pass the PMP exam or your money back guarantee. Not every course is associated with a certification, but every course comes with course completion goals which are designed to lead the student to success.
Which courses have you found to be the most popular among your students?
Richard:
One of the hottest topics that we teach is cybersecurity because it impacts everyone every day. It's not just the professionals who are interested in these technologies. Security is a hot topic for all of us. We launched our
All-Access IT Skills Subscription
, an unlimited classroom, online and on-demand training offered. It focuses on a lot of areas including cybersecurity because there isn't just one course that accurately trains you for all the issues; the library includes hundreds of our best courses (not just cybersecurity). It's going to be a series of courses; it's going to be a certification, a learning path. Those are the things that will really establish rock-star type experts within their organization. It's not just one course that's going to be the catalyst for success; so we surround you with access to hundreds of relevant courses. For the application and web developers reading this, there are over 200 apps, web and development courses.
Zane:
We produce and manage the largest global survey of IT professionals' skills and salaries, so we hear from thousands of IT frontline contributors and decision makers who manage teams. They're all saying cybersecurity and cloud computing are by far leading in terms of what organizations are focused on, meaning that they are bringing the technology, skills, and knowledge right into the heart of their organizations.
What Can You Tell Us About Your All-Access IT Skills Subscription web experience?
Richard:
For us, it's really important to have a good user experience on our website. Every day, we strive to make it better. One of the things we just redesigned has been our Global Knowledge home page. There was a lot of internal and external feedback that went into that design process. It was quite extensive, and we used a worldwide team to implement it. The All Access IT Skills Subscription package meant we had to examine our experience, our brand, how we want to be seen, and how we connect with users. That project allowed us to re-examine how we talk to users and create something grounded that resonates with users and engages them by talking to them in a way that is relevant but also highly impactful and memorable. We took this exclusive package and created a VIP experience for our customers. The VIP experience you get in training can be the same VIP experience you get at a concert—access that not everyone else gets so you have more perspective and understand into what goes on to put on a stellar show. We created brand-new creative around it that takes musical themes and connects them to IT training in a way that presents them as the one who takes the center stage. There are a lot of parallels between different groups and roles in the IT industry which correlate to what goes into performing, producing and managing a concert. We had a lot of fun, and there's a lot of interesting, imaginative work that was done to make those connections, and it resonated immediately. We have glowing feedback from our users about how they are able to see the connections and how well the marketing has taken off.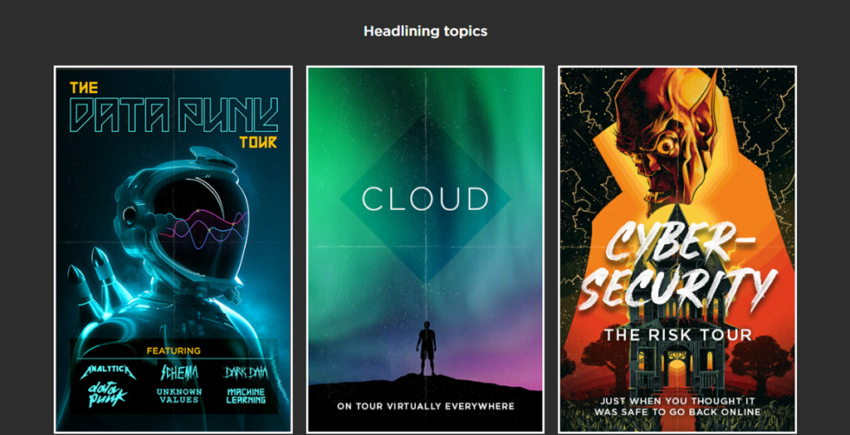 Which Technologies Do You Find The Most Intriguing These Days And Why?
Richard:
I would go back to security because it impacts so many people on a global scale daily. Having highly trained, highly skilled cybersecurity individuals in your organization is so important, not just to the organizations' data but also to your personal data as a user or customer. So, it impacts me daily. I think about it quite a bit.
Zane:
Our experience shows that when an organization doesn't have the skills in place, from a security perspective, they're not being a customer-focused organization. So, as a customer, when you hear about hacks where the organization could have done more, you're likely to take your business elsewhere. If the organization shows that it did everything it could do to protect their customer's data and it still got hacked, it's still a business-impacting event, but the public perception and outcry may not be as severe and recovery is hopefully quicker. There are many training resources available, so there's no excuse for being passive or negligent; you have to train your people. From a corporate brand perspective, navigating through a crisis is far easier when you have a strong story to tell. Cybersecurity has been woven into our everyday life, and businesses need to take it seriously. From a sales perspective, when our sales reps are talking to customers, or when our customers are on our website looking at content, we try to educate them about what's out there; examples include, What are some of the gotchas, pitfalls and best practices of cybersecurity? How do you develop cybersecurity practices and what frameworks do you follow? Working with customers, we try to find out what their vision is and what best practices we can bring to them. If you're trying to get from point A to point B, what skills do you need to develop in order to get to point B? We'll help you build a skills playbook by outlining the skills you need, the courses to take in order to get those skills, and the rationale behind why you would take those courses. In today's era, continuous learning has become crucial, requiring every professional to embrace this approach for fostering a enduring and productive career while actively enriching their organization. A lack of investment in employees poses a significant challenge for any organization, given that individuals constitute the core foundation of such entities.
How do you see the Future of IT?
Zane:
IT is always changing, so my comment earlier about being a continuous learner is crucial. The moment IT teams and organizations stop learning and seeing how technology can deliver for their business, their competitors will eat them alive. We shouldn't be afraid of technology changes, but organizations have to communicate how technology will impact their business and their people. Otherwise, employees may drag their feet because it impacts their livelihood. Using AI as an example, people are worried that their jobs will get automated, which is a serious concern. The good news is that someone has to manage the AI, and that requires new skillsets. As a result, these newly skilled employees will be able to provide higher value and contribution to their organization. As processes become more automated, it's critical to develop more strategic, ROI-creating people in your organization by getting them trained with new skills. But again, an organization needs to share how the technology is changing its business and how its people will be reskilled to deliver higher value. That's why re-training and up-skilling are so critical and will continue to be the lifeline of organizations.