Here's some good news. You don't need money to create a stunning website. You don't even need design or programming experience. All you need is an internet connection and a computer. It's that easy.
Check it out and create your own FREE site! »
1. Learn From Your environment.
Your competitors have done a lot of legwork for you. Use that to your advantage by searching the web and checking out their sites. Write down all of the amazing features you see so you can incorporate them into your own stunning site.
Build a better site than your competitors!
Learn More »
2. Create the Site
Now it's time for the fun to begin. While you can pay someone thousands of dollars to develop a website from scratch, that is unnecessary. Instead, utilize a free template to create your site yourself.
There are many DIY website building platforms out there and
Wix
is one of the most common and highly recommended. You can find a free template for anything you need. You might have an e-commerce site where visitors buy products, or you might have an information site full of articles. It doesn't matter what kind of site you have-there is a template just waiting for you to use.
Ready to start? Find your template and
get started! »
3. Create Killer Content
With the help of a template, you have now built a beautiful site. There is only one problem-it's empty. So it's time to populate it with some content that grabs your reader's' attention and doesn't let go.
Think about what you know, and turn it into content. First, make sure all of your content passes a test. Ask yourself:Is it edgy?
– Is it edgy? – Is it engaging? – Does it enrich people's lives? – Does it answer your visitor's questions? – Is it interesting?
If it passes the test, you are ready to populate your site with your content.
Start creating content on your site!
Click Here »
4. Get People to Take Action
Click here. Read more. Get this deal. Download this today.
These are all calls to action (CTA), and they are an essential part of any successful website. If your site doesn't have any CTAs, you can forget about making sales, closing deals, or getting more readers. It will just take up virtual space.
Use CTAs to get people to click on banners, buy your products, take orders directly from your website, buy your music, book an appointment from any device, or use a contact form to enable your customers to speak to you. You can also use them to collect email addresses that you will use for future marketing campaigns.
Get people to take action!
Learn How »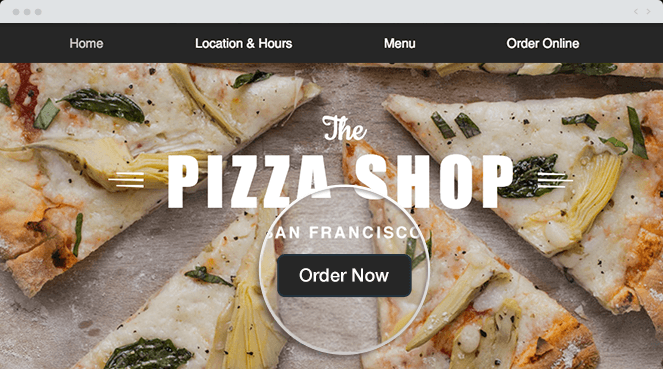 5. Run Your own Blog
Your site looks amazing, but there is still something missing. It doesn't have a blog. A blog lets you share your ideas with the world on a regular basis.
A couple of blog posts a week is a great way to reach more people. Just make those posts interesting.
You're busy? Don't worry. Start with posting two to three a week. You can always add to them later when you get more time. Just don't forget to make it interesting!
The first step is opening a FREE Blog with Wix »
6. Go Mobile
If you're just reaching people on desktop computers, you're missing a big market. You have to go mobile. Make sure your site is mobile friendly. One of the easiest ways to do this is to build a mobile version of your site. A good website builder offers a mobile version of your site and lets you customize it as you want, so your website will look its best on any device.
Create a stunning mobile optimized
for free! »
7. Now that you have built it, will they come?
If you build it, they will come … maybe. You have to put yourself out there in front of your audience if you're going to get visitors. Connect your site to social networks like Facebook and Twitter, and share your website with friends and family.
Now it's time to turn your incredible idea into a reality. You owe it to the world to share your vision. Take it from your mind, online.
Good luck!
Get Started with a Free Template Today »