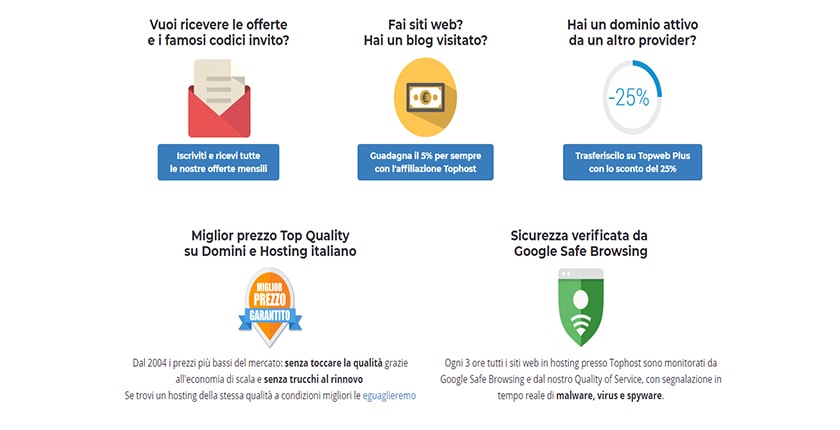 To compare the best web hosts, we hosted the same WordPress website on each one and tested performance, customer service, and value for money. Check out the results here.
Founded in 2004, Tophost is among the cheapest web hosting companies in Italy. It caters to the hosting needs of thousands of clients around the region and Europe, hosting more than 130,000 active domains. Its high-performance data center is backed by customer support round the clock.
Features and Ease of Use
Unlike many other companies, Tophost's hosting plans are feature-rich even at low prices. Some of the features that stand out include:
FTP Access
IMAP4/POP3, SMTP, Webmail
Unlimited bandwidth
99.9% uptime guarantee
PHP 5 & 7
MySQL databases
Antivirus and antispam
Free domain
One of the biggest headaches with running an E-commerce website or security-critical website is user-safety and data protection. Lucky for users, Tophost secures every website that it hosts on its servers using Google Safe Browsing. Every three hours its system scans for malware, spyware, and viruses to ensure your data is safe.
Tophost is one of the few companies that offers customers guaranteed resources. Its Quality of Service system ensures that every website gets optimized resources, so you won't order or use resources that you don't need. From the real-time intervention panel, you can optimize your websites to achieve maximum speed without a change in price.
Sometimes, a business can lose data because of system issues or malfunctioning scripts. But that's not something you'll need to worry about here as Tophost provides daily automatic and secure cloud backups. This covers database, websites, and emails. Should you lose any data, you can also it restore with a few clicks.
Aside from the language, I had no problems navigating Tophost's features and services. Its website is simple and easy to use. If you're familiar with cPanel, you won't have trouble carrying out routine administrative tasks or updating your websites as many processes are automated including email setup, database creation, and backups.
Pricing and Support
If you're tired of getting ripped off by expensive and non-performing web hosting or VPS providers, Tophost offers relief in the form of low-priced packages with many decent features and options including SSD storage. When you scale up, you'll unlock the one-click installer with several CMS apps, more emails, databases, and monthly traffic bandwidth.
Hosting packages are billed on an annual basis and exclude VAT. I feel they want to make customers commit to the long-term, so this may not be a good place if you're looking for one-month or three-month hosting to test the waters. When you sign up with Tophost, you can pay for your hosting package using PayPal, MasterCard, Visa, and other major cards.
Tophost 24/7 customer support team is on standby to help customers with a range of hosting problems through email and ticketing system. Unfortunately, I didn't get a response when trying to contact the support team. In the knowledgebase, there are many handy guides and FAQs that answer your hosting questions and help you make the most out of your hosting space.
If you need extra support, you can opt for the extended support to cover some of the repetitive tasks.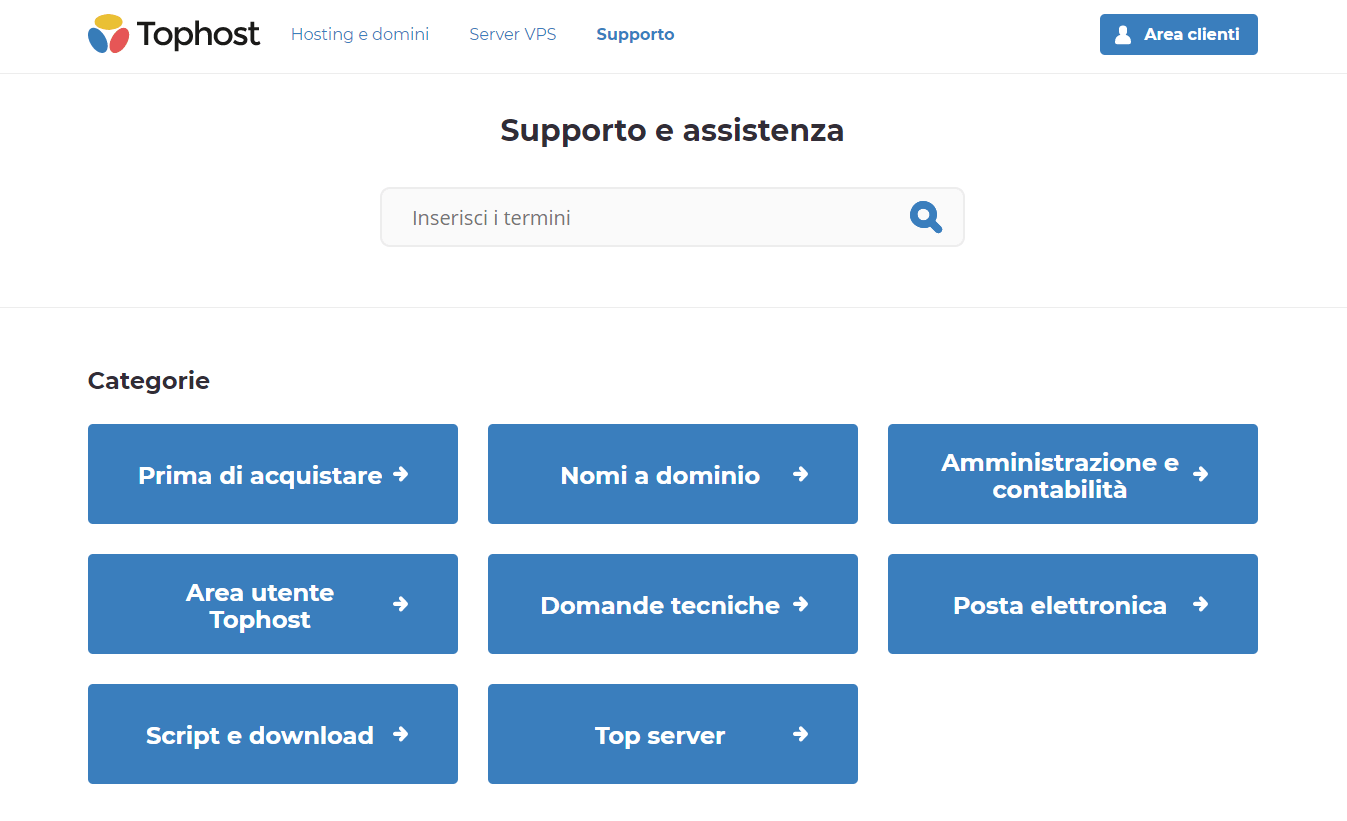 How much does Tophost cost?
Tophost offers multiple plans priced highest to lowest. The price depends on which type of hosting plan you choose. You can see the updated pricing table (updated weekly) below.

Which Tophost plan should I get?
My recommendation is to start with a cheaper plan. You can always upgrade later on. Tophost can help you with the migration to a more expensive plan. The increase in visitors many times takes longer than expected and you shouldn't pay a lot of money until the need arises. Of course, your needs may vary, and you can consult with a hosting expert from Tophost here.

How good is Tophost's customer support?
Tophost is not ranked as one of our top web hosts. But that can also be a result of Tophost being a small, under the radar, hosting provider. There are advantages to a small hosting company – as a customer, you are more important to them. You can also check out our comparison of the most popular web hosting services here.