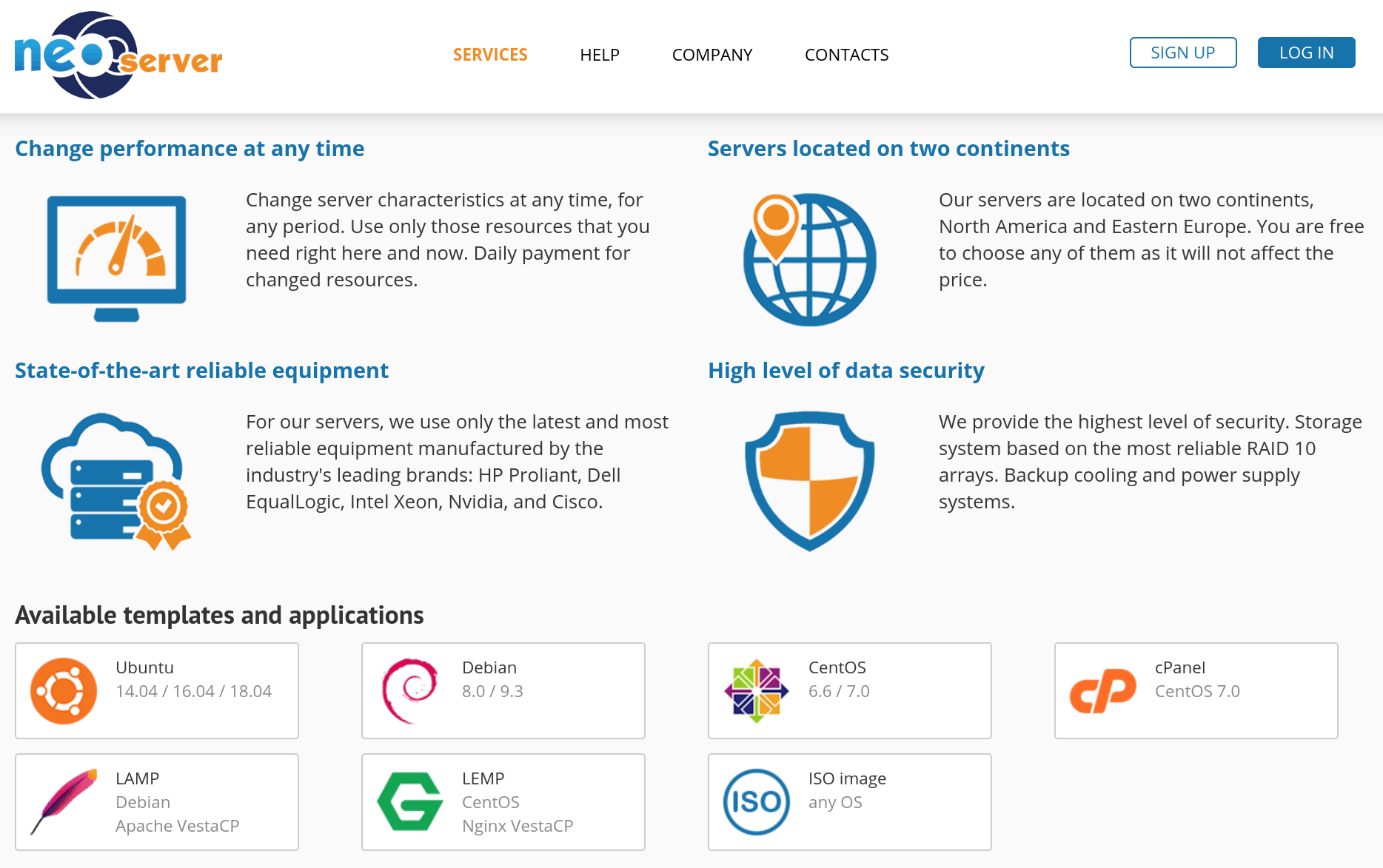 NeoServer has been providing telecommunications services since 2002. Its first data center was launched in 2004, it became a cloud service provider in 2014, and it started offering VPS/VDS virtual servers in 2015. NeoServer's website is in English.
Features and Ease of Use
NeoServer offers a variety of Linux VPS, Windows VPS, cloud servers, and Forex VPS solutions with variable configurations. The website lists ten popular plans (five each for Linux and Windows OS), with the popular Linux plans providing:
1 to 4 vCPUs
512 MB to 4 GB RAM
10 GB to 80 GB SSD storage
Unlimited 100 Mbps bandwidth
Full root access
KVM virtualization
Dedicated IP address
Templates and applications for virtual servers include Windows Server, Ubuntu, CentOS, Debian, cPanel, and the LAMP stack.
One of the best bits about NeoServer is the ability to change your server characteristics at any time for any period, to pay for only what you need and use.
NeoServer only uses the most reliable equipment from leading brands such as Dell EqualLogic, HP Proliant, Intel Xeon, Cisco, and NVIDIA. For the highest level of security and reliability, it uses RAID 10 arrays plus backup power and cooling supply systems.
Besides the generic virtual servers, NeoServer also offers specialist virtual servers for foreign exchange (forex) trading that requires minimum latency. These servers have the MetaTrader and CTrader trading terminals preinstalled, but you can use any other trading terminal.
Pricing and Support
NeoServer's VPS plans are affordably priced. You can pay daily or monthly in U.S. dollars via PayPal or your credit/debit card. Daily payments may be the best way to pay for only what you use when you change your resources. There are no refunds as far as I can see, which is not that unusual for a VPS provider (rather than a shared hosting provider).
Although you should be able to summon support via email or an online contact form, my pre-sales approach received no response. For self-support, you can refer to the website's FAQ and Instructions pages: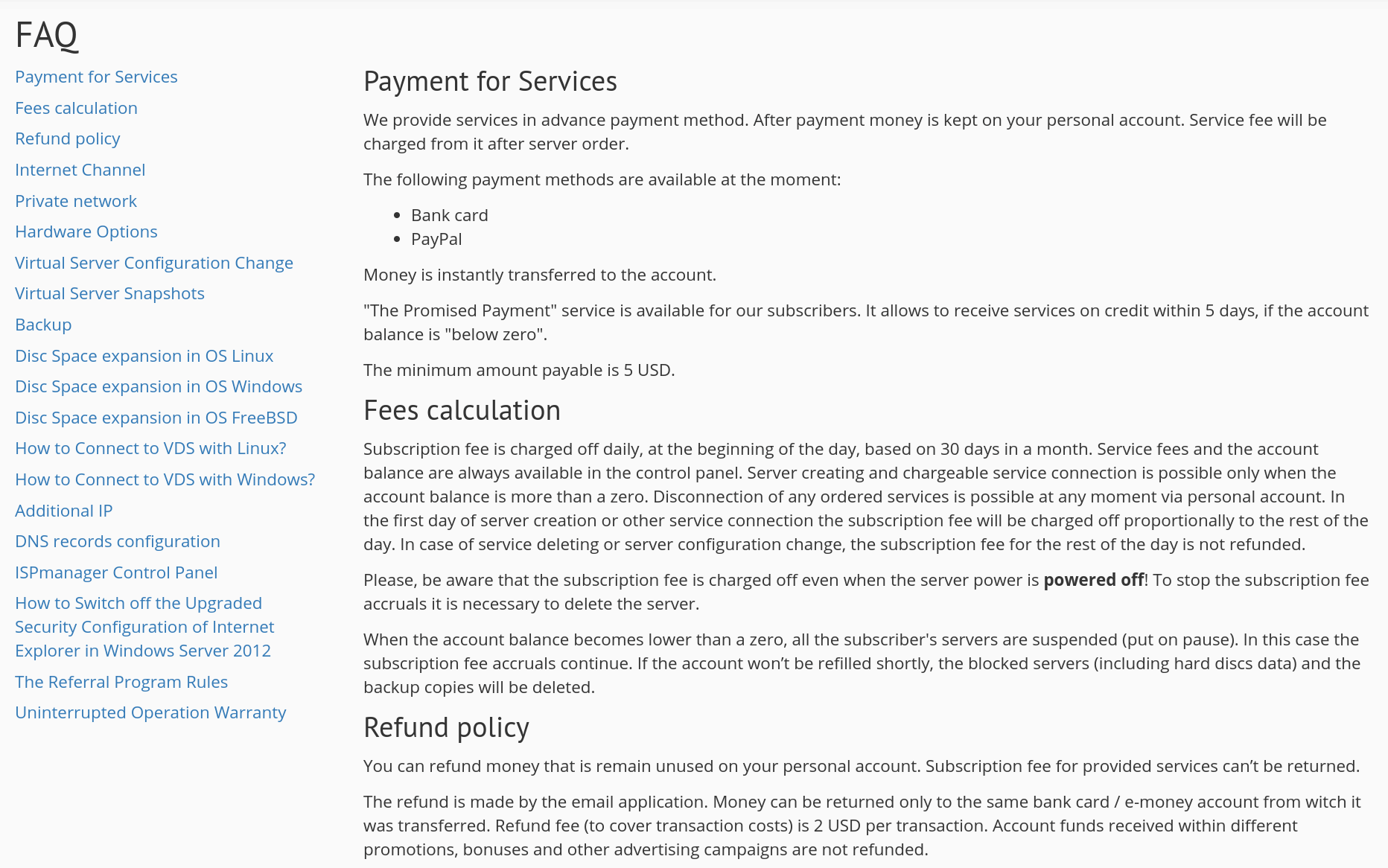 How much does NeoServer cost?NeoServer offers multiple plans priced highest to lowest. The price depends on which type of hosting plan you choose. You can see the updated pricing table (updated weekly) below.
Which NeoServer plan should I get?My recommendation is to start with a cheaper plan. You can always upgrade later on. NeoServer can help you with the migration to a more expensive plan. The increase in visitors many times takes longer than expected and you shouldn't pay a lot of money until the need arises. Of course, your needs may vary, and you can consult with a hosting expert from NeoServer here.
How good is NeoServer's customer support?NeoServer is not ranked as one of our top web hosts. But that can also be a result of NeoServer being a small, under the radar, hosting provider. There are advantages to a small hosting company – as a customer, you are more important to them. You can also check out our comparison of the most popular web hosting services here.