Hostopia is a full-service internet solutions provider for small businesses. Established in 1999 and acquired by Deluxe in 2008, they handle everything from crafting your brand's marketing strategy to web hosting. They acquired popular Irish telecommunications and web hosting provider Digiweb in 2018 and currently serve customers in 26 countries.
Features and Ease of Use
Hostopia's website isn't structured like a typical web hosting provider; it isn't as straightforward as browsing their packages, clicking on the one you want, and then completing the transaction through their online payment portal. This is because their value-add is not just in providing quality hosting, but also designing custom sales & marketing strategies for your small to mid-sized business. Once you contact them, they'll work with you closely to recommend products and services best suited to your business's core offerings and stage of growth. These include:
Logo and web design
Video design
Social media presence
Branded print and promotional collaterals
Online presence builder
Business email
E-commerce support
Online fax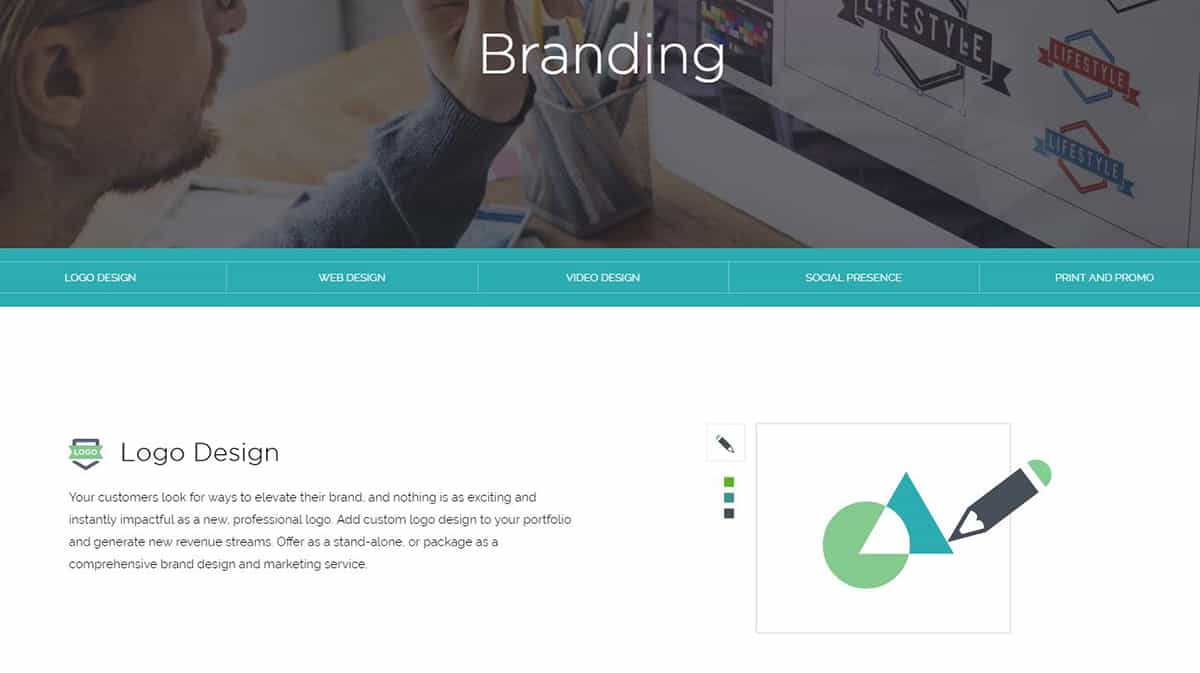 Hostopia aims to bridge the gap between regular service providers and small businesses. They're particularly well-known for delivering low-cost, well-supported services to large numbers of service providers, helping them to differentiate themselves from the competition and maximize customer retention.
In line with this mission, Hostopia offers an attractive reseller hosting package that's a low-cost option for two primary types of customers:
Clients with existing businesses (typically 50 websites or more) who are looking to cut costs, improve automation, add features, increase service reliability, and eliminate scalability worries
Businesses who have never had a web hosting offering but want to venture into the market without investing millions in capital and the years required to develop the product
After a one-time customization and orientation fee, you receive:
Custom branding
Training
Technical manuals and WebsiteOS support documentation
Free support for most website migrations
Free 2nd tier support
Up to three months of free hosting for any customers put onto the service
This initial period should allow their users to generate enough profit to cover the initial cost. Thereafter, you pay a monthly fee for up to 85 websites with control panels for your end-users.
Another appealing aspect of their reseller package is that unlike a regular server; you don't have to pay the full price of a new server just to add one more customer once you've reached capacity. Instead, you simply pay for a single new customer as you add them. Their reseller packages are hosted on a hybrid UNIX/Windows OS and include ASP, ColdFusion, PHP, and MySQL support.
Aside from the initial three-month investment, their contracts are open-ended and do not require any short or long-term commitment.
Hostopia's average uptime is a solid 99.98%, according to my tests.
Pricing and Support
Because Hostopia's services are not meant for individuals or small businesses with only a single website, there isn't as much information about their hosting packages available via their main website. You'll have to contact them directly for pricing.
Hostopia's customer support can be inconsistent at times. They provide a toll-free number (though it's only valid for the U.S.) and an email channel for support. However, they don't offer a support ticketing system or live chat. This means that all support requests receive the same level of priority, and you may have to email your request multiple times to receive a response.
However, one positive is that their founder, Franc Nemanic, seems to genuinely care about customer support and will frequently browse web hosting forums and even call customers who experience any hiccups in service. It remains to be seen whether they'll implement a more robust support system, but it is heartening to know that they do seek to continually deliver 100% customer satisfaction.
How much does Hostopia cost?
Hostopia offers multiple plans priced highest to lowest. The price depends on which type of hosting plan you choose. You can see the updated pricing table (updated weekly) below.

Which Hostopia plan should I get?
My recommendation is to start with a cheaper plan. You can always upgrade later on. Hostopia can help you with the migration to a more expensive plan. The increase in visitors many times takes longer than expected and you shouldn't pay a lot of money until the need arises. Of course, your needs may vary, and you can consult with a hosting expert fromHostopia here.

How good is Hostopia's customer support?
Hostopia is not ranked as one of our top web hosts. But that can also be a result of Hostopia being a small, under the radar, hosting provider. There are advantages to a small hosting company – as a customer, you are more important to them. You can also check out our comparison of the most popular web hosting services here.