Founded in 1999 by Joel Therien, GoGvo started off as an email management and autoresponder service but has since evolved to become a full-fledged web hosting and marketing tools service provider. Their hosting services comprise shared hosting, cloud hosting, reseller hosting, and dedicated server hosting.
Features and Ease of Use
All shared hosting plans include unlimited disk space, bandwidth, subdomains, email accounts, MySQL databases, and FTP accounts – a generous offering by industry standards. However, they're clearly geared towards funneling their customers to their reseller hosting packages. Even with their shared hosting plan comparisons, they indicate that certain features are only available to reseller hosts.
All their reseller hosting plans include unlimited domain names, Web Host Manager (WHM) installations, disk space, and bandwidth. Any limitations are placed primarily on their marketing toolkit features. For example, their Gold Reseller Hosting plan comes with a max of 500 autoresponder subscribers and 10 conference software seats, while their Diamond Reseller Hosting plan has a max of 30,000 autoresponder subscribers and 300 conference software seats.
Unsurprisingly and in line with CEO Joel Therien's expertise as an internet marketer, one of the best features GoGvo offers as a web hosting provider is their integrated marketing toolkit. This includes email marketing software and email templates, web conferencing software, and professional video streaming and creation services.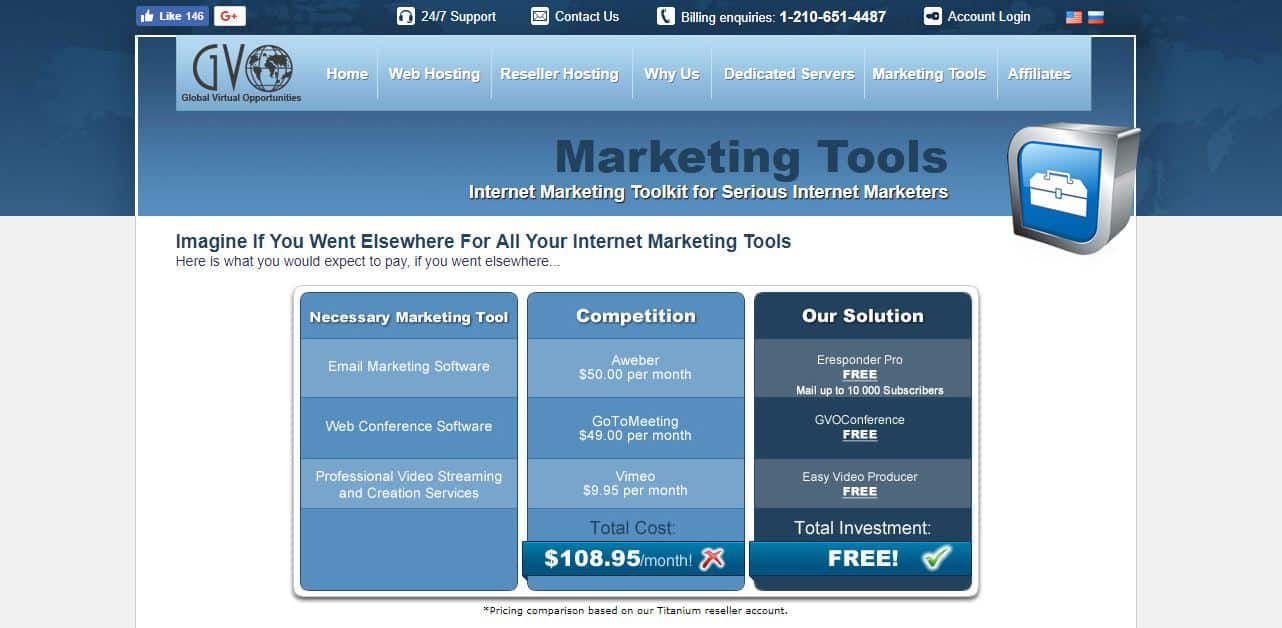 GoGvo also includes in all of their hosting packages an app installer which features over 50 one-click installations, as well as the easy-to-use cPanel for users to manage their hosting accounts. Guaranteed uptime is at the industry norm of 99.9%.
Pricing and Support
One of the best things about GoGvo is that they include their integrated marketing toolkit for free with all of their hosting packages. This means that their hosting plans, while a little on the pricey side if solely a web hosting plan, are well worth the cost – you get web hosting plus marketing tools at a fraction of what you'd normally pay.
GoGvo doesn't have a free plan, but you're protected by a 30-day money back guarantee if you notify their customer support team within the trial period. They do ask you to provide a reason for your cancelation so that they can improve their services, but they do not require one. Alternatively, if at any point you wish to upgrade or downgrade your hosting plan, you may notify their customer support team via live chat, email, phone, or their support ticket system.
One drawback of GoGvo is that it tends to frequently upsell, which can become irritating after a while. Moreover, their servers and customer support have not been the most reliable over the years. In the past, they received considerable backlash for experiencing excessive downtime and providing non-responsive customer support.
That said, Joel Therien is well known for his mantra of  "always improving," and recent reports have indicated an improvement in the speediness of their customer support and resolution of issues. In fact, the few issues I raised with their Help Desk were resolved within hours.