EuroDNS started out as an ICANN-accredited domain registrar in 2002. They are headquartered in Luxembourg and form part of the DCLGroup, a European giant in the web hosting and domain registration industry. In the meantime, they have expanded their services to web hosting and related services like webmail, a website creator tool, SSL Certificates, and more.
Their website supports English, French, German, and Spanish, but they provide phone support for many countries in even more languages, such as Japan, Brazil, and Singapore. They accept payment in USD, GBP or Euros.
Features and Ease of Use
In terms of features, EuroDNSactually has a lot going for it. The only problem is that most of it comes as paid extras, which somewhat explains their "unlimited" hosting plan:
Domain registration services
OX Mail webmail app (as an add-on)
Reseller packages for web managing agencies
For a platform that used to be a dedicated domain name registrar, EuroDNS offers a few standout features as well:
Professional DNS: This is their high-availability, low-cost DNS service that's supposed to decrease your latency with advanced routing techniques for your hosting solution.
Website Builder: Their own drag and drop builder comes with over 9,400 templates, can integrate with WordPress and other platforms, and comes with a whole library of free stock images.
SSL Certificates: Choose from three different SSL certificate packages based on your organizational structure and needs.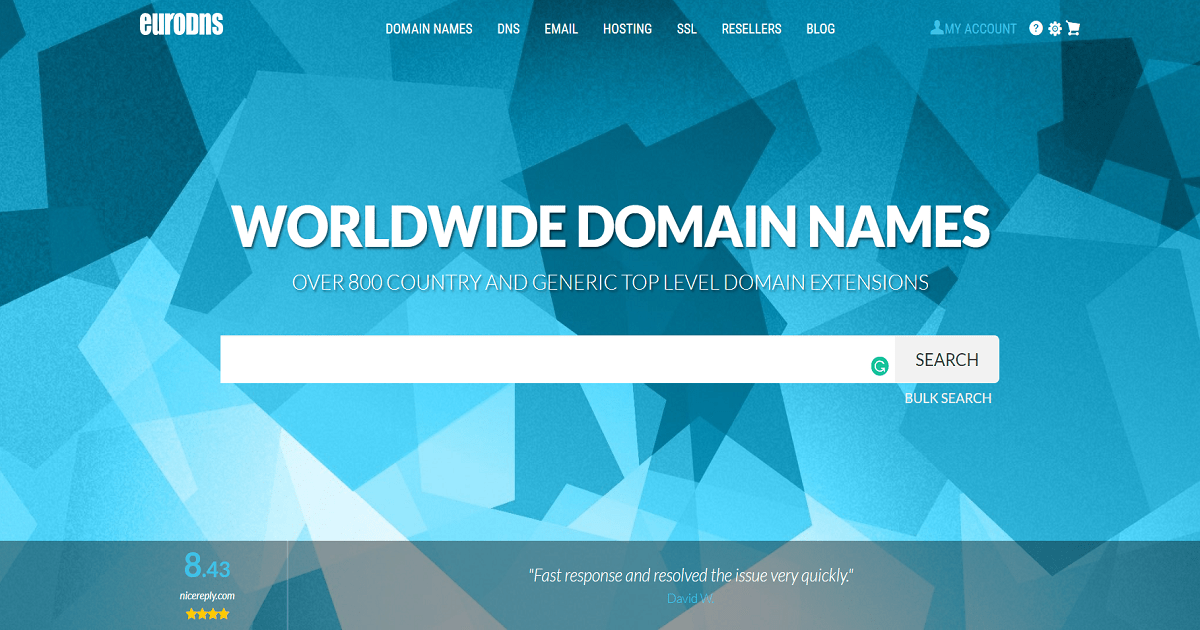 Not everyone is a fan of it, but I actually really enjoy using the EuroDNS control panel. It's simple, modern, and presents info in a way that's easy to digest, with the different aspects logically arranged under tabs. The process to add apps or a whole CMS to your website is also straightforward. Overall, there's nothing to complain about from an ease of use perspective.
Pricing and Support
It doesn't get any simpler than this. EuroDNS offers only one web hosting package, relying on its generous features to attract as many users as possible. They call this shared hosting plan "Unlimited Web Hosting" and this is what you get:
Unlimited storage
Unlimited bandwidth
An unlimited number of websites
Drag and drop page builder
Backup and restore features
One-click web apps
The only other costs you might need to take on are an optional SSL certificate for a yearly fee, the OX Mail app, or their Professional DNSservice. Here, they do offer a number of packages based on the warranty amount and what it covers, e.g., a domain only, organization, or extended domain and organization.
Overall, my experience with their support team was great. I haven't encountered any technically difficult interactions, but they have always replied promptly and the staff themselves are professional and friendly. The only downside is that there is no live chat support. However, they do have phone support lines for severaldifferent countries and they also offer one of the better self-help centers.
Summary
The simplicity and affordability of the EuroDNSproductsuite will be most appealing to first-time site owners and small businesses. If you're based in the E.U. and serve a European audience, you will get the most out of your hosting solutions.
Pros:
Your choice ofWindows or Linux hosting
1-click WordPress install tool
Phone support for U.K. customers
Extremely affordable hosting plans
Cons:
Support can be slow
Slightly dated control panel and tools