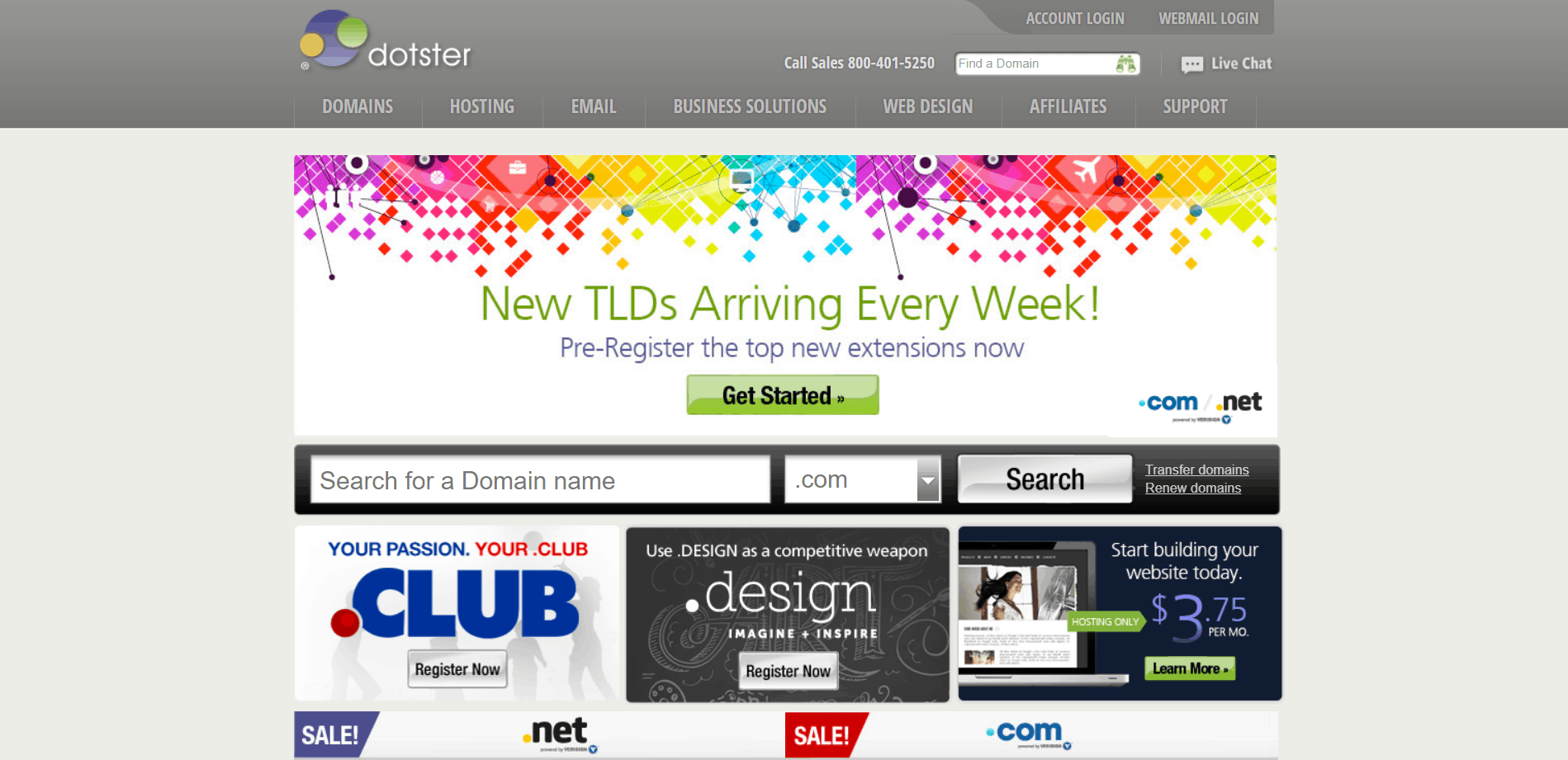 Dotster has been around since 1999 and started as a domain registrar. In the early 2000s, Dotster switched over to web hosting and later the company was acquired by the industry giant, EIG. At the moment, there are around 160,000 domains active on Dotster which is a healthy customer base. This U.S.-based hosting provider is only available in English but supports domains from almost any country.
Features and Ease of Use
Dotster has its bases covered by providing all of the most essential features you expect from a hosting provider, for example:
Register, transfer, or renew your domain.
Web analytics tools to monitor the performance of your sites and user behavior.
An email provider with spam filtering, security, and webmail check-in.
A few of their more unique features include:
Website design services: You can hire an expert on the Dotster platform to design and build your website for you.
A drag and drop site builder: Dotster provides their own basic website builder. It's not great, but it's easy to use and gets the job done for simple sites.
Free applications: You can also use free applications like WordPress, Drupal, or Joomla to build and manage your site.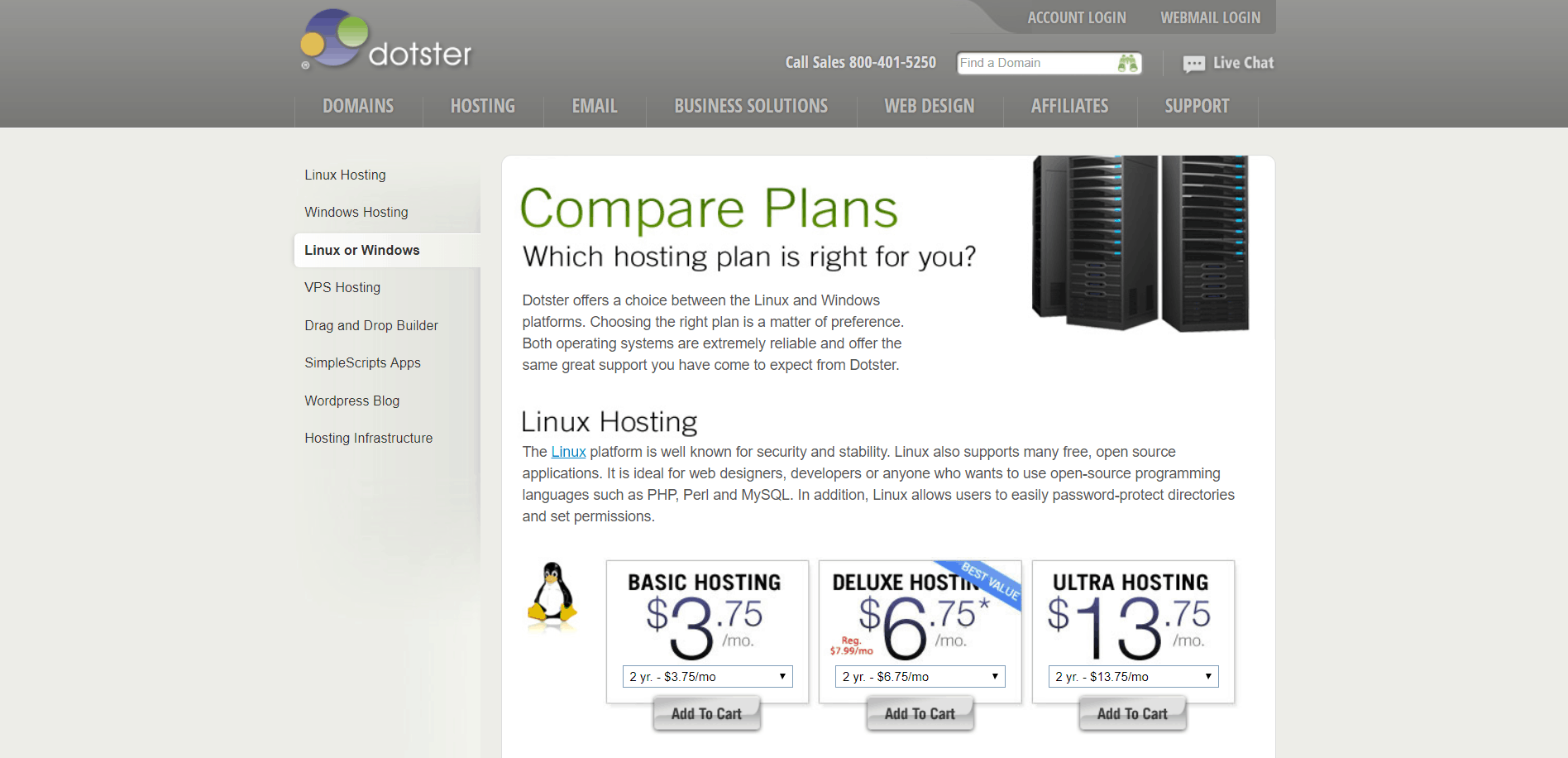 vDeck is the hosting manager unless you have VPS hosting. It's not the best, and I prefer working with other options, like cPanel. However, it's a pretty straightforward interface that's simple to navigate and use. You can manage all your databases, FTP transactions, and emails from the single dashboard. The signup process consists of three steps: Register your domain, confirm your selection, and add your billing info.
Pricing and Support
You can get Linux, Windows, or VPS hosting on Doster with Linux being the cheapest and VPS hosting the most expensive. There are three available pricing plans on Linux and Windows: Basic, Deluxe, and Ultra. A huge benefit of their pricing plans is that you get unlimited subdomains and storage space with all three as well as highly scalable bandwidth.
For the Deluxe and Ultra plans, you also get unlimited domains. With Ultra, your number of emails, FTP logins, and databases are also unlimited. Other than that, you get all the features on all pricing plans. They will offer you many extras after signup, such as managed WordPress, extra domains, etc.
Plans are available on one, two, or three-year terms and the longer term you choose, the more you will save. There are no free plans, however, they do offer a 30-day refund period.
Dotster does have an extensive documentation site where you can explore to solve issues. Some articles are a bit out-of-date. However, their chat support is quick to respond to queries and don't have those annoying automatic responses. I got a reply to a presale question in about 10 seconds and to a support query in just a few seconds longer.
How much does Dotster cost?Dotster offers plans from $4 to $15. The price depends on which type of hosting plan you choose. You can see the updated pricing table (updated weekly) below.
Which Dotster plan should I get?My recommendation is to start with a cheaper plan. You can always upgrade later on. Dotster can help you with the migration to a more expensive plan. The increase in visitors many times takes longer than expected and you shouldn't pay a lot of money until the need arises. Of course, your needs may vary, and you can consult with a hosting expert from Dotster here.
How good is Dotster's customer support?Dotster is not ranked as one of our top web hosts. But that can also be a result of Dotster being a small, under the radar, hosting provider. There are advantages to a small hosting company – as a customer, you are more important to them. You can also check out our comparison of the most popular web hosting services here.