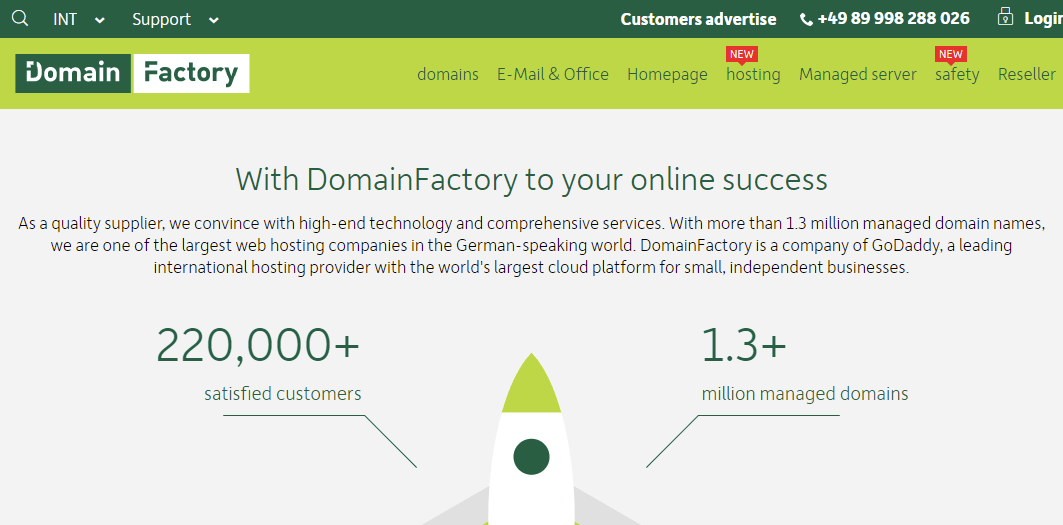 For more than 15 years, DomainFactory has been operating as a web hosting company. It is owned by GoDaddy and targets businesses in Austria and Germany. It has served over 220,000 customers with 1.3 million domains through servers that are located in Germany and France.
Features and Ease of Use
DomainFactory offers shared hosting, WordPress hosting, and managed servers, among other services. These are some of its shared hosting features:
99.9% uptime guarantee
Free domain name
Free SSL certificate
Automatic backups
Between 25GB to 400GGB storage
DomainFactory has one beginner-friendly tool on offer. Here, users will be able to churn out fully-functional and professional-looking websites through the use of web applications that they can easily install with a one-click installer. This installer supports more than 15 applications, including WordPress and Joomla!.
For developers, support for their preferred programming language is essential and here, customers get support for PHP, Perl, Python, and a few others. Also, unlike most shared hosting plans, DomainFactory allows SSH access on its own. That's not so easy to find but this will help developers handle tasks easy with command lines and get things done in mere seconds or minutes.
Of course, good hosting isn't complete without good performance. DomainFactory keeps up with the industry through its use of solid state disks. This ensures that websites load quickly.
For large businesses that need more than shared hosting, there's no VPS. This would also affect DomainFactory's customers. As your needs change or as you grow, you'll have to move elsewhere if you aren't willing to purchase a dedicated server just yet.
Pricing and Support
DomainFactory has plans with enough storage for most websites. With up to 400GB, small to medium-sized businesses might be fine with that storage. For other server features, that depends on how much processing power you need and the traffic you get. Regardless of any of that, DomainFactory offers reasonable prices that are in line with those of its competitors.
Furthermore, it provides free SSL and domain names on most of the plans. With this, your total cost is offset. Also, it offers monthly hosting to allow customers with a low budget to pay smaller amounts at a time. You can also pay for three months, six months, or one year via PayPal and credit card.
There's no free trial but the vendor offers something wonderful to mitigate risks. It offers a whopping 60-day money-back guarantee; this is hard to find in this industry as the standard for shared hosting is usually 30 days.
DomainFactory provides several customer support options, but it's worth noting that they are available in German only, which may be a drawback for some customers. They utilize a community forum, an FAQ section, email, and phone support. However, please keep in mind that phone support is only accessible during their official work hours from Monday to Friday.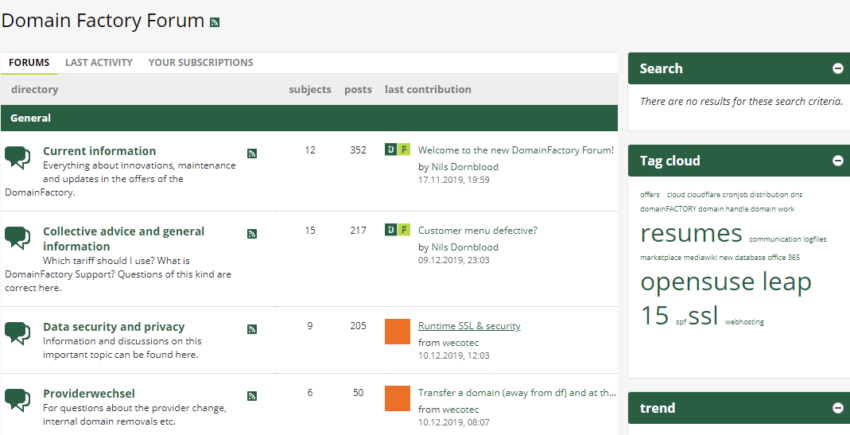 How much does DomainFactory cost?
DomainFactory offers plans from $6 to $44. The price depends on which type of hosting plan you choose. You can see the updated pricing table (updated weekly) below.

Which DomainFactory plan should I get?
My recommendation is to start with a cheaper plan. You can always upgrade later on. DomainFactory can help you with the migration to a more expensive plan. The increase in visitors many times takes longer than expected and you shouldn't pay a lot of money until the need arises. Of course, your needs may vary, and you can consult with a hosting expert from DomainFactory here.

How good is DomainFactory's customer support?
DomainFactory is not ranked as one of our top web hosts. But that can also be a result of DomainFactory being a small, under the radar, hosting provider. There are advantages to a small hosting company – as a customer, you are more important to them. You can also check out our comparison of the most popular web hosting services here.