Afrihost provides web hosting services that are fine, but not good enough compared to its competition, like Hostinger for example. Hostinger offers WordPress-optimized hosting and performance-boosting tools. It really does surpass other web hosts with its excellent performance, fast loading speeds, and more. 
When I hosted my basic website with Afrihost, I may have had unreasonably high hopes. But it is one of ZA's first hosting companies, after all.
I took a close look at top features like email hosting and tech support. I also looked into Afrihost's pricing. While it does offer many different options with its eight available packages, I found some issues that made me eliminate Afrihost from my list of the best web hosting services.
Features and Ease of Use
Afrihost has eight main shared hosting packages:
Bronze Home
Silver Home
Gold Home
Platinum Home
Bronze Pro
Silver Pro
Gold Pro
Platinum Pro
You can choose either Linux or Windows as your operating system. The Linux plans do offer more features and resources than the Windows ones, with the exception of Microsoft-specific features such as Silverlight and Microsoft SQL databases. Also, all Linux Pro plans offer access to a website builder, whereas the Windows Pro plans do not.
Since Linux hosting plans tend to be more common, I'll focus on that. The Bronze Home plan starts you off with the following:
1GB data storage
Unlimited web traffic
Unlimited subdomains
50 email accounts
1 MySQL database
Softaculous app installer
Backups
This was a fairly standard entry-level package that affords you everything you need to establish a basic online presence, including a free .co.za domain registration. Note, however, that Afrihost doesn't offer any SSL certificates as part of their packages, so if you need a secure website it'll cost you extra.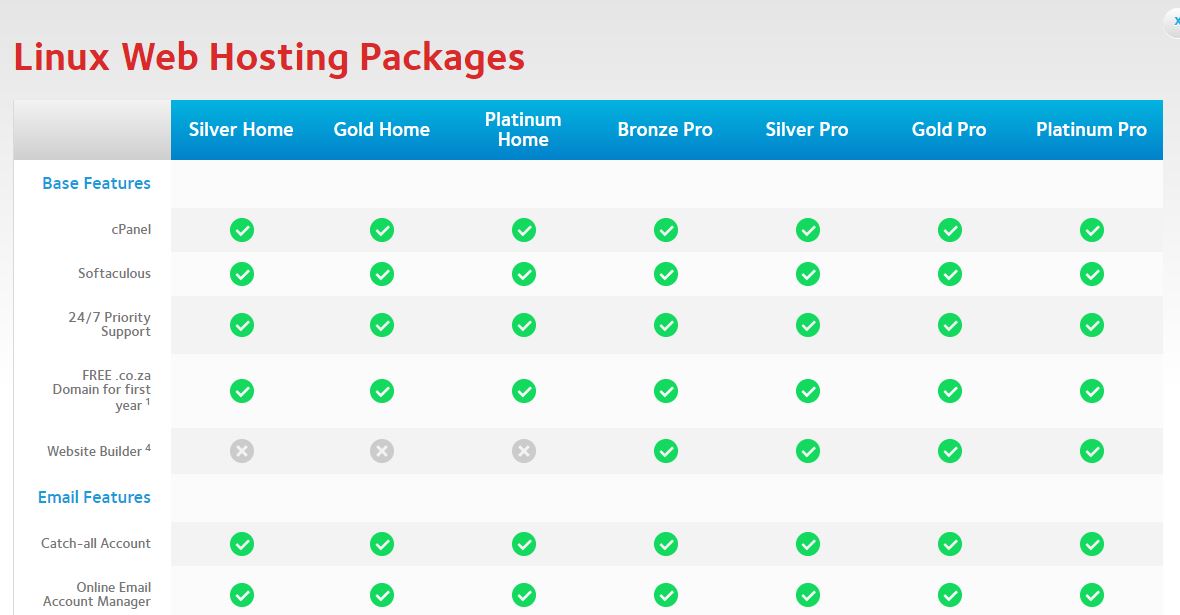 At the other end of the spectrum you have the Platinum Pro plan, which comes with all the features of the Bronze Home plan plus:
50GB storage space
Unlimited email accounts
Unlimited MySQL databases
The aforementioned website builder
All in all, Afrihost's packages are more than adequate to set up a fast-loading, dynamic website. However, you can only host a single domain with any shared hosting account. If you plan on setting up multiple websites, you'll have to opt for their cloud hosting packages or better.
Afrihost also offers cPanel 11 with every shared hosting package. This is an all-inclusive web-based control panel that affords you full control over your domain (email, files, backup, FTP, CGI scripts, web site statistics, and more) through a web interface.
To manage your account, they've created their very own ClientZone management portal, a user-friendly and aesthetically-pleasing interface that allows you to get information and adjust whatever you need to within your account.
Afrihost also has an extraordinary 100% uptime guarantee. Of course, this doesn't apply to regularly scheduled maintenance periods, suspension of service due to any violations of the terms of usage, or any problems with the client's ISP link to the host server.
Pricing and Support
Overall, Afrihost's packages are competitively priced for the South African market. Unsurprisingly however, their Windows shared hosting packages cost slightly more than their Linux ones. Best of all, Afrihost allows you to instantly upgrade or downgrade your package at any time if your needs suddenly change.
One of the aspects I love most about Afrihost is their double money back guarantee. It's not about the money as much as it is about the trust they're establishing with their customer base. While most web hosting providers would offer a one-month money back guarantee, Afrihost really goes out of their way to let you know that they're confident in what they sell. You have 60 days to test out their services and if you're not completely satisfied, they will not only return what you paid, but double the amount. That's some real confidence over there!
Afrihost also doesn't require a minimum contract period. If you ever decide to switch to another web hosting provider, Afrihost ensures that the process is smooth and easy. Simply cancel your subscription before the 23rd of the month, and you're good to go. They make it hassle-free for you to transition to a different hosting service if you ever feel the need to do so.
Customer support is probably the strongest side of Afrihost; their vision was to create a company driven by client and employee satisfaction, after all. You can reach them via their support ticket system, email, or telephone — though the latter is only available during South African business hours. They also have live chat, and — intriguingly — a WhatsApp support line. Alternatively, you can peruse their extensive knowledge base with over 220 articles and video tutorials.