Website Planet
had the chance to interview Alex Florescu, Head of Product and ShortPixel, an easy-to-use, lightweight WordPress plugin helping over 1 million websites load faster by compressing the size of their images and PDFs by up to 90% without quality loss.
What problems are you solving with your products and services?
ShortPixel enhances a website's speed by optimizing images. Our service can be of assistance to any website, with a particular emphasis on WordPress sites, for which we ensure faster loading times.
The way we increase site speed is by reducing image file sizes while maintaining their visual integrity
. To achieve this goal, we offer two plugins: ShortPixel Image Optimizer and ShortPixel Adaptive Images. These two plugins contribute to image optimization in distinct ways, catering to the unique requirements or needs of various websites. By utilizing either of these plugins, you can significantly accelerate your website's loading speed and prevent visitors from leaving your site due to sluggish load times, a common issue that can result in lost traffic and revenue.
Slow Website = Traffic Loss + Revenue Loss
A slow-loading website is a prevalent problem, and addressing it is crucial for customer retention. In fact,
visitors who typically abandon a site if it takes more than seven seconds to load
. Therefore, failure to rectify this issue will lead to revenue loss 🙁 Our plugins are user-friendly and require minimal setup.
Once ShortPixel's plugins are configured, you can virtually forget about image optimization and conversion to nextgen image formats like WebP or AVIF
. These tasks will be automatically managed by either ShortPixel Image Optimizer or ShortPixel Adaptive Images.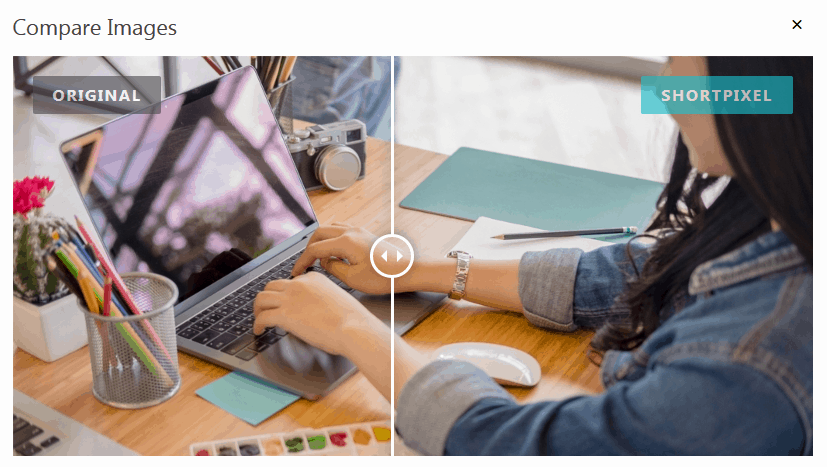 Optimizing images with ShortPixel products or services results in faster website loading, which can enhance search engine rankings, particularly on Google. Improved rankings generally translate to increased traffic and revenue.
Images can affect all of the Core Web Vitals, which are now an official Google ranking factor:
Image is enqueued takes too long to load > slower LCP score (Largest Contentful Paint)
Images wrongly sized or added to a page after it is loaded > Cumulative Layout Shifts (CLS)
Too many large images to process > poorer INP score (First Input Delay)
The secret beyond that is
SmartCompress
, a unique set of image optimization algorithms that works differently from all our competitors – While most image optimization services apply a single JPEG quality setting to all images, with SmartCompress each image undergoes optimization through over ten different methods, striking an ideal balance between size reduction and image quality preservation. This is achieved by leveraging dedicated visual-quality-assessment algorithms to measure and maintain visual quality while minimizing file size. The outcome is
smaller website loading times without compromising the visual experience
. Consider a photographer's website, where images must showcase high quality while ensuring swift loading. We tailored the Glossy image optimization algorithm for photographers and websites with exquisite product imagery. Moreover, thanks to 9+ years of customer support experience and continuous plugin updates, we are constantly introducing new innovative solutions such as the Archive Optimizer and Google Drive Optimizer, making us the most comprehensive solution provider in the market. Users of our solutions, particularly WordPress plugins, enjoy a
seamless process of automatic image optimization and conversion
. Installing the plugin, configuring it within a minute or two, and subsequently forgetting about it is all it takes. All images uploaded by website owners or their editors will be automatically processed, resulting in the smallest files with exceptional image quality.
ShortPixel offers an entire set of tools and APIs to reduce files size, save space on your drive, and speed up websites. are best for you.
Visit ShortPixel >
How does your mission differ from the other companies in your niche?
Our objective is to offer a comprehensive service, and our WordPress plugins are engineered to handle a wide spectrum of websites, ranging from small to large, each with specific optimization requirements in various scenarios. ShortPixel plugins distinguish themselves from others in the field, as they go beyond basic PNG and JPEG optimization. Instead, they meticulously address technical considerations like EXIF data removal, PNG-to-JPEG conversion for optimal compression, and other intricate aspects. Furthermore, our commitment to improving website speed has led us to introduce a brand-new WordPress plugin known as FastPixel. This new plugin reflects our extensive experience and years of work with WordPress, image optimization, and website enhancement for numerous websites. FastPixel serves as a user-friendly, all-encompassing tool designed to accelerate every facet of a WordPress website. In addition to image optimization, it also effectively caches pages, generates critical CSS, etc. ensuring that all pages are fully optimized for peak performance. A hassle-free solution, encompassing all the technical intricacies for a seamless, accelerated, website experience.
What industries or business sizes benefit the most from your solutions?
Our solutions cater to a broad spectrum of WordPress websites, ranging from the simplest, basic presentation sites to large-scale enterprise websites. We serve clients in every industry imaginable, most of whom utilize WordPress websites. Essentially, almost every website, whether WordPress-based or not, makes use of images. These images often constitute a significant portion of a webpage's size, sometimes accounting for up to 80% of its overall size. Therefore, optimizing these images for peak performance and converting them to cutting-edge NextGen formats, such as WebP or AVIF, is a must-do. Our comprehensive solution addresses all these needs within a single package.
For that same reason,
ShortPixel is a real-time-saver for large websites with a team of editors, who can simply add images, and the rest is automated.
This eliminates the need for website owners to oversee and instruct each editor on image resizing or optimization before adding images to their articles. Additionally, it streamlines the process of converting images to WebP and AVIF, all while considering the potential advantages of using a Content Delivery Network (CDN) for speed optimization. Some of our customers initially experiment with free or lower-cost solutions offered by our competitors. However, they often find that these alternatives do not provide the reliability and complexity that our tools offer while being supported 27/4/365.
*
Note from the author: if you have an agency, take a look at the ShortPixel subaccount feature!
And what makes them eventually choose you over your competitors?
ShortPixel products have significantly improved the lives of our customers by freeing up their time from technical concerns
. They merely activate our solution, and the rest takes care of itself. Our customers have experienced noticeably faster website loading times, often near-instantaneous, when using ShortPixel Adaptive Images or optimizing their image libraries with ShortPixel Image Optimizer. Furthermore, we've welcomed customers who migrated from our competitors. They've shared their experiences, noting that they couldn't find certain features in their software, or that while the features sounded promising on paper, they encountered numerous technical issues that went unresolved by their support teams. Consequently, they've expressed deep disappointment with both the technical aspects and the level of customer support. Our customers consistently recommend us due to the exceptional quality of our image optimization algorithms, WP plugins and the outstanding support we offer. Additionally, our comprehensive solutions stand unrivaled in comparison to those offered by our competitors. For years, our algorithms have held a dominant position in the market, with competitors unable to match our accomplishments in terms of compression and image quality.
"I've tried ShortPixel's competitors, you know who they are. Working with an amazing WP optimization person now. He suggested Short Pixel for my images. Which I thought were optimized already. Had an issue at signup, which was my fault. Customer service literally responded within minutes!!! And went above and beyond! On top of that, my 'already optimized' images were reduced by another 29% on average. Using GLOSSY, not even Lossy!!!
@mikeshecky
Amazing Plugin. Works like a charm plus a super quick support team.
Happy to be with them!
@surfpat
Great plugin (and support) SPAI is great because it makes the page experience and the scores so much better. What I like is the number of options it gives for what types of images to optimize, serve, exclude, etc. And the support is just excellent.
@manishahi
What other tools and best practices do you suggest using in combination with your products?
Up to this point, our main focus has been on image optimization, and this specialization has allowed us to offer the most effective solution available. However, after years of dedicated work on – literally – tens of thousands of websites, we realized that a more complex solution was needed, including image optimization and encompassing all the technical aspects that are important for improving website speed. Allow us to introduce our latest innovation: the FastPixel WordPress Plugin 🙂 – a comprehensive website accelerator. It is not your typical caching plugin; rather, it integrates all the vital technical optimizations necessary for any WordPress website to achieve faster loading times. We strongly advise against settling for subpar free solutions. While the lure of free tools is undeniable, they often only serve as a stopgap solution for websites. Users of such free services not only miss out on the superior results that can be achieved with a paid service like ours, but also have to deal with support challenges along the way.
Can you share any success stories where your product made a significant difference for a business dealing with those challenges?
Every day we deal with clients who struggle with non-optimized websites with thousands of images. They find that their search engine rankings are dropping, website load times are slow, and they desperately need a solution. Fortunately, ShortPixel offers them a quick remedy. But our assistance doesn't stop there. We often go beyond image optimization with our support, offering guidance on various factors that affect the speed of their website. In addition to our standard image optimization services, we recommend strategies to improve website load times. Our customers have expressed their gratitude for this comprehensive approach, and much of the feedback we receive relates to our support team consistently exceeding their expectations. As a result, our customers are happier and spend less time dealing with ongoing image optimization or technical issues, leading to a happier and more satisfied clientele.
What opportunities and challenges do you see in the future of your industry?
Analyzing the current market landscape, we observe a clear trend toward holistic solutions for website speed optimization. Customers are demanding more than just image optimization, which will nevertheless remain essential in the future. They are looking for integrated solutions that can be effortlessly enabled to address their website speed issues. This aligns perfectly with the direction we have taken with our FastPixel WordPress plugin. Our goal is to provide a user-friendly tool that does not require any technical knowledge. Users can effortlessly activate the plugin, configure their settings, and witness automatic website optimization in action. With our plugin, there is no need to scout for separate solutions such as image optimization plugins, CDN providers, caching solutions, critical CSS optimization, and the like. Our plugin seamlessly takes care of all these aspects.