Getting online with various social media platforms can be a free or low-cost way to promote your business. But how can you know if your content is making an impact?
Arseniy Kushnir, Co-Founder and CEO of Popsters
has created a unique analysis tool to help gauge the most important factors for creating a successful social media presence.
Please tell me a little bit about your background before founding Popsters.
I completed university with a master's degree in business administration specializing in the economics of intellectual property. For several years after graduating, I worked at an advertising agency focusing on social media advertising and overseeing media campaigns for several global brands (burgers, drinks, cosmetics, movie promotions, etc.). Because of my experience and knowledge, my friend Arthur Kalin invited me to work with him to create an analytics tool for social networks. I left my position, and we co-founded Popsters. Arthur published the first version of the tool just a few weeks later.
How does Popsters work?
Using Popsters may seem a little complicated at first, but it's really easy once you begin. Once logged in to the appropriate social media platform, paste the URL of the social media page you want to be analyzed into the search field and click the Search button. You can then select the time frame you want to be included in your search by using the calendar function and click the Analyze button.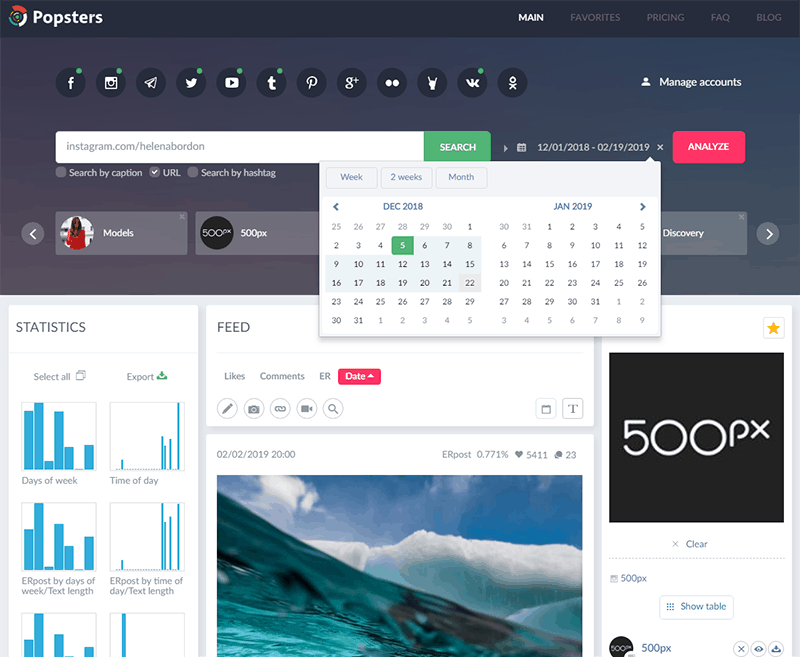 Popsters collects all the posts from that time frame, sorts it by type of engagements, calculates some metrics, and generates charts. This can take 1-2 minutes depending on the length of the time frame selected. The tool can generate reports in 3 formats: XLSX, PPTX, and PDF. PPTX reports are editable which makes it convenient should you need to present results under your own branding.
Do you need to be the "owner" of a page to run Popsters, or can it be run on any social media page (i.e., a competitor's page)?
Since Popsters works with common data, it allows you to analyze any public page on social media without administrator or owner permissions.  Gaining this insight into your competition is what I think makes Popsters one of the most useful tools for creating an effective social media presence and running successful advertising campaigns.
What are some of the factors that Popsters analyzes?
The tool analyzes all available properties of the posts to present extremely useful data, including the time of posting, the day of the week, text length, included tags, engagement counts (likes, shares, comments, views [if available])  types of attachments, etc.
What is ER (Engagement Rate) and how is it measured?
In simple terms, ER or Engagement Rate is the metric that calculates the level of audience involvement with the page's content. We apply the same classic formula used by most advertising agencies:
ER
= (The total of the engagements)/(count of analyzed posts) * 100%/(number of followers)
What is the LR (Love Rate) and TR (Talk Rate) and how do they differ from ER?
LR
and
TR
are similar but use different types of engagement in the base – count of likes and count of comments, respectively. LR, or Love Rate, presents the rate of the attractiveness of posts. TR, or Talk Rate, presents the level of sociability. The metrics are calculated in the same ways as ER.
What is an ERpost?
While the ER Metric is the classic metric, some of our users wanted a broader view of their content's efficiency. So, several years ago we introduced some new ways to calculate additional types of metrics depending on key indicators used in a formula. Each metric describes a different point of view on the data.
ERpost
shows the level of audience engagement to an average post of the page.
ERday
shows the daily percent of the audience that is involved in the content.
What other factors are analyzed, and which do you feel are the most important for making decisions on future social media postings?
Popsters analyzes and researches the requested social media pages and displays common statistics including peaks of activity by time of post and the best (or worst) types of content. It gives insight into your audience – how to improve content, what subjects are unpopular and therefore better to exclude, and which factors to keep in mind when creating content. For example, if posts with long text perform better, a social media manager would want to use that model when creating posts in the future. You can also filter results to help check or compare advertising posts. I think all these factors are equally important when analyzing and generating conclusions.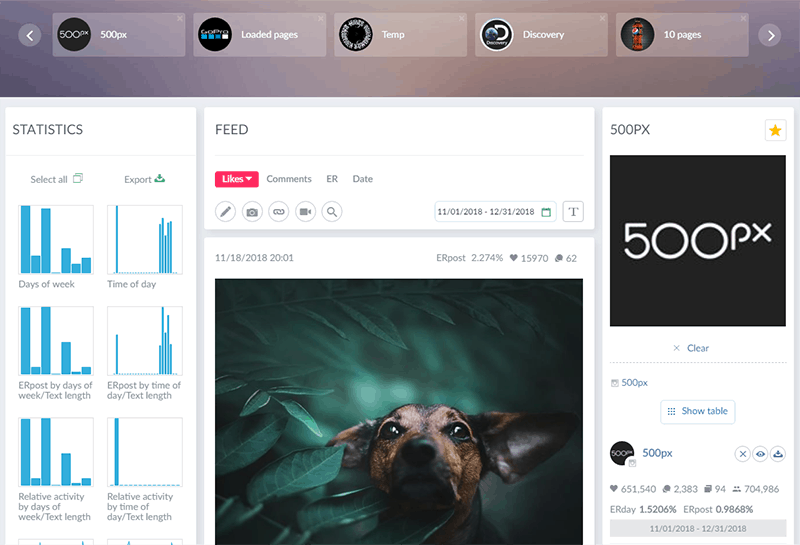 How can these results help with planning a more successful social media engagement plan?
Based on my advertising agency experience, this insight is helpful at every stage of the working process. When it comes to successful advertising campaigns, there's a long chain of specialists: project managers, analysts, creators, copywriters, account managers, and designers. Managers can use the tool to generate quick reports for the client (or the head of the department). Analysts use the data to generate findings for their colleagues. By understanding what subjects and type of posts are preferred by their audience, creators, designers, and copywriters have a guide for content creation. The data is also useful for freelancers and solo-specialists within companies. So, our results provide information to improve every part of the process. One customer told us he was able to expand the reach of his Facebook posts
10x
by using our data as a guide for creating his own viral content!
Can more than one page on any social media platform be analyzed? Can they be analyzed together and compared?
Sure! A user can analyze up to 10 pages at once; even they are on different social networks. Pages can be adding to a search by using the "+" button. After loading, Popsters will generate all the charts and data for each page as well as tables comparing the common stats – all in the same file. You can save page packs to Favorites to rerun the same list in the future. If you wish to exclude a page at any point, just take out the URL from the saved page pack.