It's no secret that the internet is full of people with strong, passionate opinions! We spoke with
Steven Stein, President, and GM of Disqus
about their commenting plug-in which enables publishers to quickly set up a forum for readers to interact with them and others, thereby fueling colorful discussions, building loyal, engaged communities, and increasing return traffic.
This interview was originally published on March 15, 2020.
Please tell me a little bit about your background before becoming president and general manager at Disqus.
I've been working in online advertising and media my entire career. Before working at Disqus, I managed the Sales, Account Management, and Strategy for a company called 33Across, which is in a similar space to Disqus in that it relies on publishers and the sharing habits of their readers to create social graphs for targeting. I joined Disqus as the Chief Revenue Officer nearly five years ago with the goals of creating not only a sustainable advertising business that helps monetize our publishers, but also enriching a sustainable business for Disqus with a subscription business and the existing advertising business that we already had.
What is Disqus?
Disqus is the largest commenting platform on the web. We are primarily a self-service tool for publishers, enabling them to engage with their readership by allowing them to comment and start conversations about content.
How can site owners integrate Disqus?
Every day, hundreds of sites are creating accounts, installing, and creating their first page views within their first 24 hours. The Disqus integration is a JavaScript code that's available for download once the account is created. Depending on how tech-savvy you are, whether you're adding the code directly to your page or a WordPress site, we provide lots of instructions and tutorials for downloading and integrating our commenting embed on your website.
What Disqus features help keep audiences engaged?
Great question! We look at engagement as gaining return traffic to your page because people come back to read the comments. For example, if you comment on a recipe, "I made it, and it needs more garlic" or "I made it, and I hated it" – that's engagement. Engagement includes upvoting and downvoting or replying to someone else's comment. So, using that recipe example again, you might post that you substituted a different ingredient for the heavy cream. Then someone might ask, "How much did you use?" So now you've created this community of engaged readers talking about the recipe. And that runs true for every content category under the sun, whether it's news, politics, science, anime, anything passionate communities of people are talking about.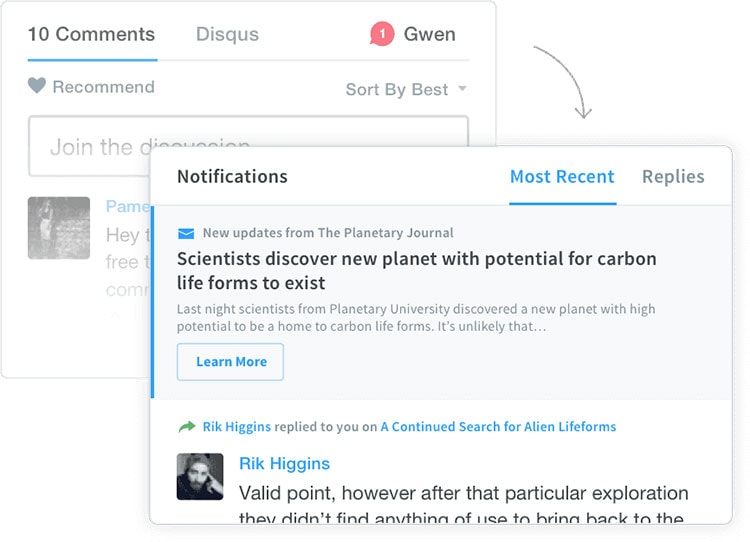 What moderation tools are available to publishers to avoid spam or troublesome users?
Disqus provides different sets of moderation tools. Since the language allowed on a passion blog about fishing is going to be different than what is permitted on a passion blog about heavy metal, we give the publisher or moderator the ability to set community guidelines and establish what language is allowed and what's not. Publishers can also set up spam filters to avoid comments like the ones from Bob from Ohio about how he "makes $30,000 a month from home." For trolls or troublesome users, we give publishers the ability to ban or "shadow" ban them.
What is "shadow" banning?
The problem with banning a determined individual is that they'll come back and create another account, get banned again, and just create another account, so we're playing whack-a-mole every day. A person who is "shadow banned" is still able to log in and comment, but their content is blocked from the rest of the online community. You no longer need to worry about moderating their comments, and since the user sees their own content,  it is not readily apparent to them that they have been banned.
What are some of your features for reader retention?
Engagement and traffic are two of the core reasons why Disqus is around, so we have several features for publishers to retain their readers. Whenever there is a response to a reader's comment, we email a
Notification
letting them know, which will bring them back into the conversation. Another feature is
content recirculation
. When a reader gets to the Disqus comments section of an article, we display a carousel of eight articles with images and content from that publisher. So, for instance, when you get to the end of a DIY article about refinishing an old chair, you'll see eight other articles from that publisher. The premise being that readers will click on another article thereby creating loyal, engaged readers that will not just come in for one piece of content, but will come to you for multiple pieces of content every day.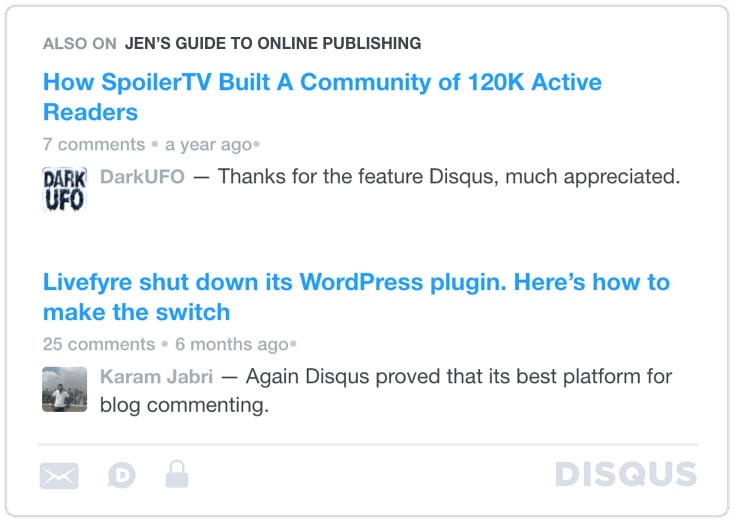 A core part of our retention strategy is the tools for publishers to grow their email subscriptions. Using the
Subscription
feature
,
publishers can gather readers' email addresses and send regular updates about new content on their site. One of the advantages to readers is they only need to register once with Disqus, and they are then able to comment on any site that uses the platform. So, they can go to TMZ and comment and then join a discussion on Android Police with just one login. Readers also have the option to receive a daily or weekly
Digest
. This email digest contains the content they have commented on, what conversations have happened on the sites they've engaged with, along with additional content from the websites they're interested in. This brings readers back to those publisher sites where they continue to be part of the conversation.
What metrics does Disqus analytics track?
Our analytics look at a combination of things. We look at your page views and your engaged audience – the people that are commenting, upvoting, recommending, and sharing – so you can understand who your audience is and who you're writing for. We show the number of visitors and what they are doing on your site – reading articles, reading the comments, voting, etc. We also measure
Reactions
, which are emojis selected by readers to express their reaction to an article, so you can see whether they posted a positive or a negative emoji reaction to what they've read. So, we give you a combination of that information as well as information on individual articles – what day, date, and time it was published and the volume of engagement. We're constantly looking at new ways to visualize and expose information to publishers to help them write content for their audience.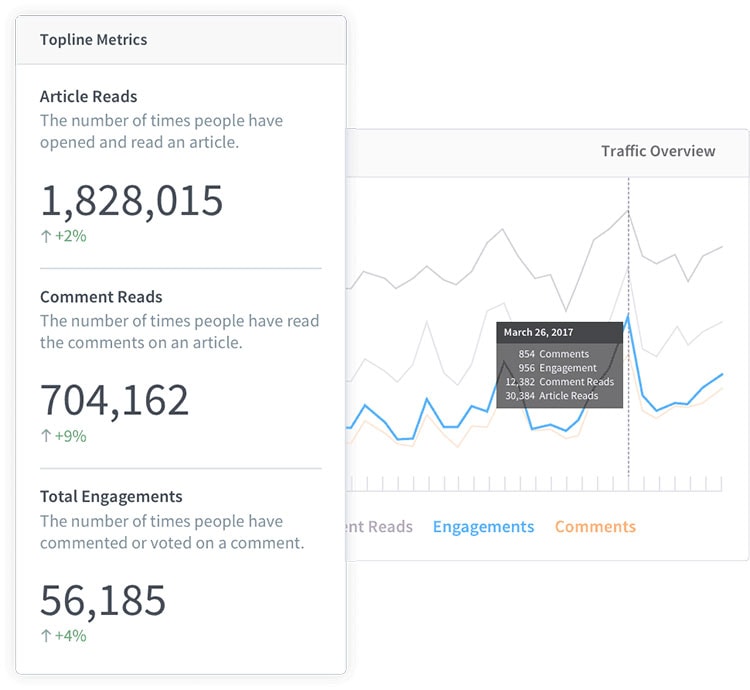 How can publishers use this information to strategize upcoming content to increase traffic and engagement?
Let's say you publish ten pieces of new content every day, and one piece of content always gets the most engagement. We'll look at its subject, the time of day it was published, etc. and then use those as levers to understand what other information you should be writing about. It's about your strategy and what as a publisher you want to be writing about and whether you're garnering or getting the attention of your readership.
How can publishers monetize engagement with Disqus?
When publishers sign up with Disqus, they can choose an ad-supported version of the software or for a monthly subscription fee, an ad-free version. It's akin to a newsfeed in that we're monetizing the super-engaged spaces where people are having conversations. The advertising inventory is exclusive to Disqus, doesn't require any additional code, and unlocks a new revenue stream for publishers. We're unbelievably flexible when it comes to working with our publisher partners about the positions and the types of ads that we run for them.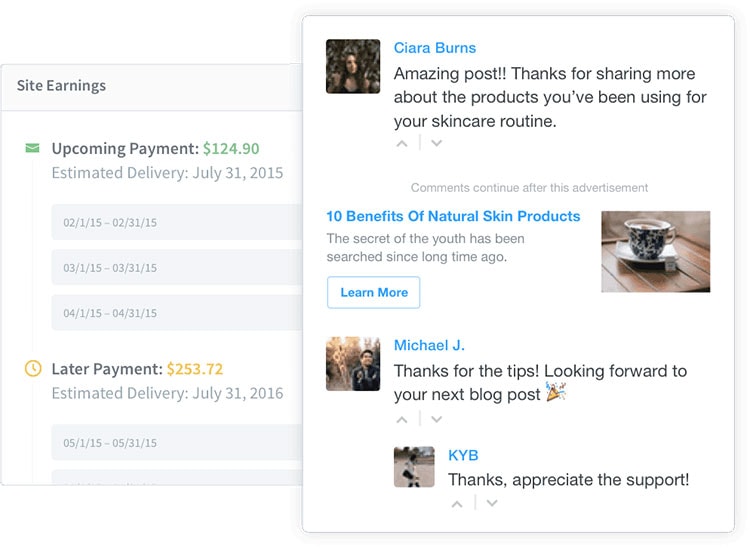 What new products or features can we expect to see in the upcoming year?
We're always playing with features to make it easy for readers to discover new content and to get them back to their existing content providers. For publishers, we look at new ways to help them get more traffic and impact their site engagement. As for the products and changes coming this year, you're going to have to wait and see (laughter), but we have a couple of exciting things in beta right now with some of our publishing partners.