Companies are always looking for the best way to optimize their ad spend and making sure their marketing dollars go to the sources producing the best ROI. We spoke with
Kevin Mann, Co-Founder & CPO of CallRail,
about the platform's ability to track and analyze phone calls, form submissions, text messages, and soon, chat, so you can discover which ads, keywords, and campaigns are driving your most valuable leads.
This interview was originally published on March 12, 2020.
What is CallRail's function?
CallRail helps companies optimize and improve their advertising and marketing efforts. We give them the complete picture of their marketing by including all lead types in our platform to see how customers are converting through phone calls, text messaging, and online form submissions. By analyzing how much they're spending on each marketing source and how many leads each marketing source is driving, they can decide if they should spend more on one source and less on another.
How do you track calls from different marketing campaigns that may be running simultaneously?
We track calls in two ways –
Source Level Call Tracking
and
Visitor Level Call Tracking
. In both situations, one of our unique phone numbers displays as our client's telephone number. Now, when the end customer calls, it goes through our system and is immediately routed to the business. This enables our technology to track the types of calls that are generating leads for our customers. For
Source Level Call Tracking,
we assign a unique tracking phone number to each source – one for Facebook ads, one for Google Ads, one for all Google organic calls, etc. – which allows us to show how many phone calls were generated by each source. Our second and recommended method is
Visitor Level Call Tracking
. This installs a JavaScript snippet on your site that displays a unique phone number from a pool of numbers to every site visitor. Since at any given time, there's only one person in the world seeing that phone number, if a call to that number comes in, we know it's that visitor calling. When they leave your site, that phone number is returned to the pool until it is ready to be assigned to the next visitor. If someone calls while viewing your site and calls again from the same number four days later, even if that number is being shown to someone else at that moment, we'll recognize that customer and make sure it is assigned to the initial source. With
Visitor Level Tracking
, we're able to get all the same type of analytics as you would with Google Analytics. You'll see what that customer did on your website, along with the source, campaign, and keyword(s) that drove that initial visit.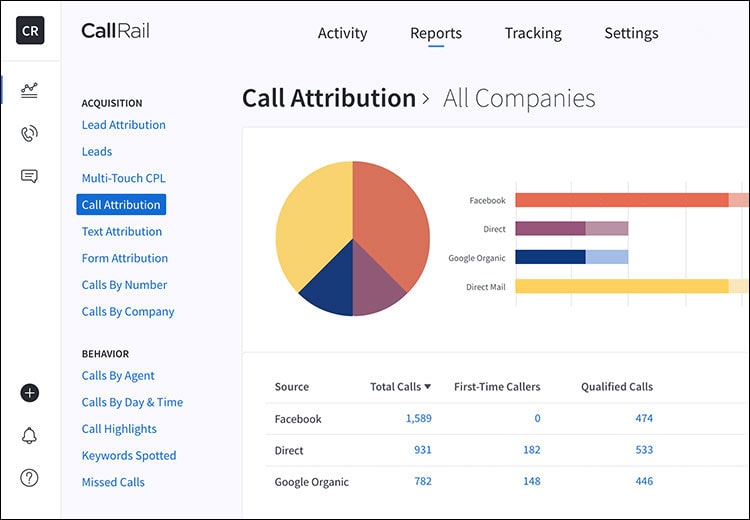 How do you analyze and report on the success of campaigns?
The most basic way we analyze success is by showing our customers how many calls came in from each source or keyword. Then when they go into their different advertising platforms, they can see how much they're spending, and if they're getting a good cost per lead. When using our Analytics Suite, the cost per lead function actually plugs into two different ad networks such as Google Ads or Facebook Ads, pulls in the amount they're spending on these different platforms and keywords, and will automatically calculate the cost per lead for you. For those who use HubSpot as their CRM, we can pull in their revenue data as well. So, we're not just showing them cost per lead; we're showing them their ROI so they can spend more on the ads that are giving them positive ROI and less on the ones that aren't quite as effective. For those not using HubSpot or that don't have revenue data within HubSpot, there are things we can do to approximate ROI. For customers using our basic cost tracking with call recording, we can feed those calls through our machine learning algorithms and score them as to whether they were a good lead or not.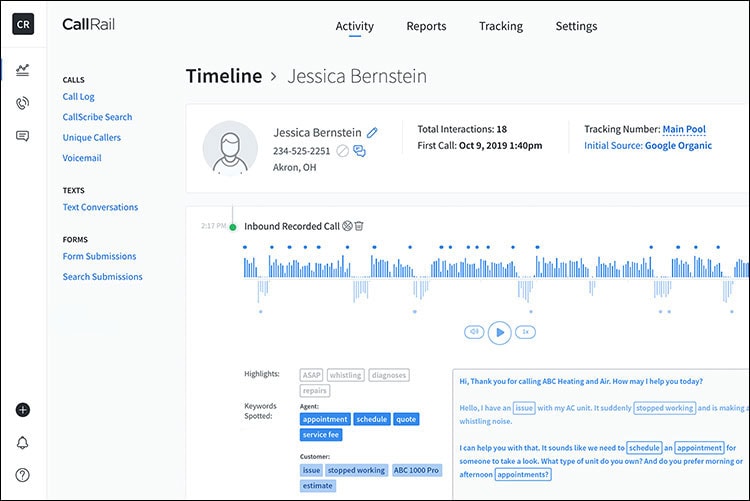 What are your call management services?
I'm sure you've been frustrated by spam calls to your cell – so imagine how a pool of ten numbers pointed at one small business increases the surface area of spam! So, we invested a lot in creating our RoboRail anti-spam technology, which can automatically identify and then either challenge or block calls that are likely spam. Since we have so many phone numbers, we can detect phone numbers that are calling many of our unrelated clients. Call Recording is another valuable service. Many of our small businesses come to us through marketing agencies and want to see that the agency is delivering them actual live, human clients. By providing recordings, the marketing agencies can tell these businesses, "We placed this ad in Google ads, and that brought in Teresa who got her Honda Accord repaired at your shop on Tuesday. " Another valuable call management service is Whisper Messages. When clients answer a call that was routed through our system, we play a short message telling them what keyword the caller searched for before calling. Now they have an idea of the caller's intent, which helps them start the conversation off on the right foot before they even start talking.
What call routing services do you offer?
We offer the standard menu routing functionality – press 1 for sales, press 2 for support, etc. We also offer responsive routing. Say, for example, you want to route people that have never called your business to your best salesperson. We offer the ability to route calls based on different attributes, such as whether they are a first-time caller. Our geo routing service is especially useful for multi-location businesses. We can route calls to the location nearest to the caller based on their area code or after asking them to input their zip code.
How does CallRail generate and add the unique code for form tracking?
We've invested a lot to make sure adding the code is as simple as possible. We realize that a lot of our customers already have a form solution that they're happy with, but while there's plenty of good software for building and styling forms, there's very few for tracking and organizing analytics at the same visitor-level analysis we do with calls. The simplest way to set up our form tracking is to install a JavaScript snippet that will automatically attach the code to all your existing forms as well as new forms as they are added. We've spent years refining that technology and making sure we can attach to as many forms as possible. We also offer the ability to build a form within our app and install it on your website by inserting some basic HTML. Once that code is attached, we can capture a visitor's form submission data and display it along with all their calls and text messages.
How is Form Tracking useful?
We find a lot of customers are using it very similarly to the way they're using call tracking; to optimize their ad spend. The same way that call tracking can pull in the revenue data in HubSpot, so can form tracking. You can see, for example, that a particular keyword is delivering forms for $25 per form lead while another may be doing it for $100. Now you can spend more on the keyword that's working and less on the one that's not. We show form data alongside all website views, phone calls, and text messages in one place within our app. You'll see if a customer browsed your listing for a new Escalade on Monday, made a call or submitted a form for more information on Tuesday and then spoke to someone over the phone on Wednesday. You can see all the channels that are bringing in leads and make decisions on how to optimize.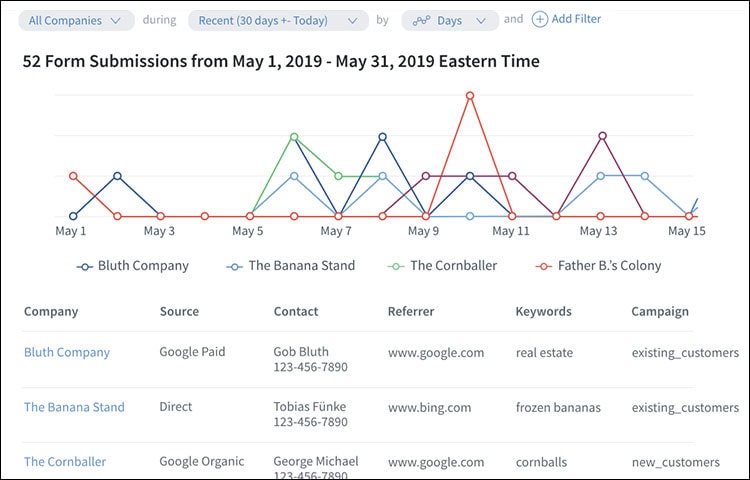 How does the tracking work?
In a sense, it works very similarly to Google Analytics. For example, someone searches' call tracking,' clicks through a Google Ad, and ends up on our homepage callrail.com. At that point, our JavaScript will set a session ID cookie and start recording the Google Ad referral and the page view in our database. If they then go to our pricing page and submit a form requesting more information, it's still tied to that same session ID, so we're able to pull it back to the original referral source. Similarly, if they come back three days later from a Facebook ad, we'll still have that session ID cookie and can tie their Facebook Ads visit on Thursday to the Google Ads visit they did three days before. When reporting, we offer different attribution models. So, if they came from Google Ads on Monday, came from Facebook Ads on Thursday and then purchased your service on Friday, you can decide if you want to give all credit to the initial referral from Google Ads,  the more recent referral from Facebook or to split the credit 50/50.
What additional analytics or reports are available?
The big one is the cost per lead and ROI report, which is available for calls, forms, and text messages within our Analytics Suite. It offers different ways to slice and dice the information – whether you want to categorize by source, campaign, or keyword and whether you want to give attribution to the first or last visit. On the individual level, there is a list of all leads, so you can see that your business got 20 leads on Monday – five of them were phone calls, and 15 were through a form submission, as well as all the details.