if you hire the wrong translator, you could end up with an inaccurate translation that has poor grammar – or, worse, with something that is offensive in some way.
To help you avoid any awkward translation issues,
I've put together a list of nine of the best freelancers offering translation services.
 Those who made it onto my list specialize in different languages and different types of copy, and will adjust their pricing according to your word count.
I handpicked each freelancer based on their customer reviews, experience, and affordability.
Even better, each freelancer was found using Fiverr, a freelance hiring platform where package
pricing begins at just $5
. No gimmicks, no fine print.
9 Best Translation Services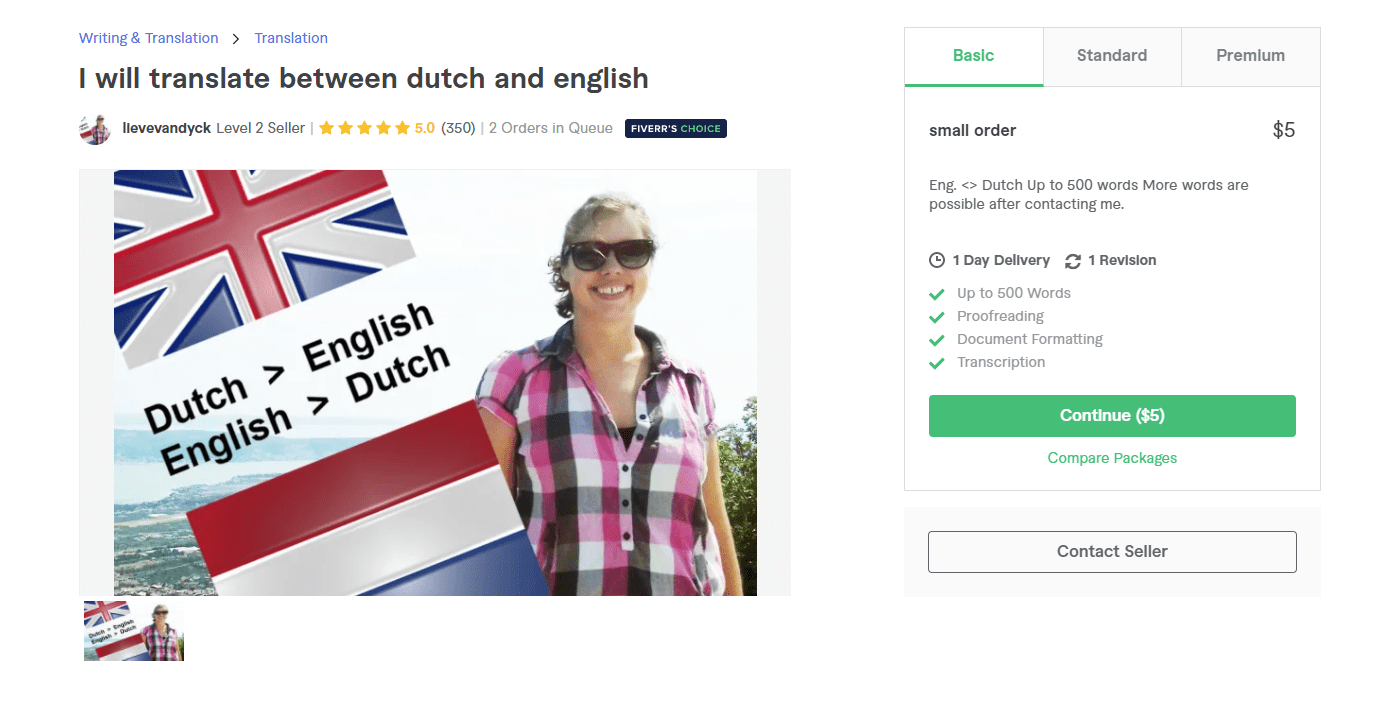 Lievevandyck is a Dutch-English translator with a passion for translation that's backed up by a 5-star rating on over 350 projects. Their basic package includes a 500-word translation, inclusive of proofreading, document formatting, and transcription (when needed).
They've also been labeled a "Fiverr's Choice" seller, a rare stamp of approval that indicates the platform recommends this seller for this service.
 I was impressed not only by Lievevandyck's rating, but also by their many satisfied clients, each praising the seller's excellent translations in their reviews.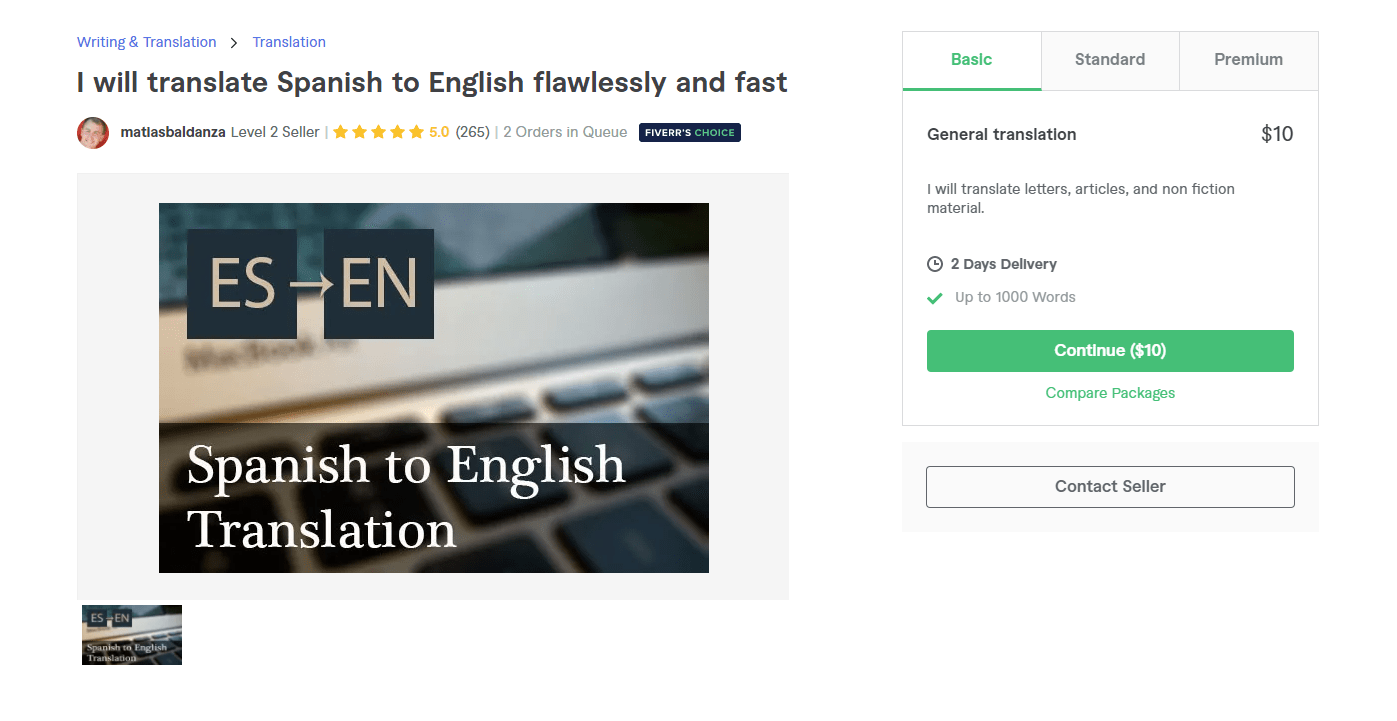 Matiasbaldanza offers Spanish-English translation packages that are priced according to the type of document or material you need translated. In their Basic package, for example, they'll translate letters, articles, and nonfiction (up to 1,000 words). Their higher-tier packages include translation for material like songs, academic papers, or legal documents. Matiasbaldanza is rated 5 stars and has also secured the "Fiverr's Choice" label.
Aside from their impressive profile, what attracted me most to this seller was that many of their customers have hired them multiple times
 – indicating not just great work, but also exceptional customer service.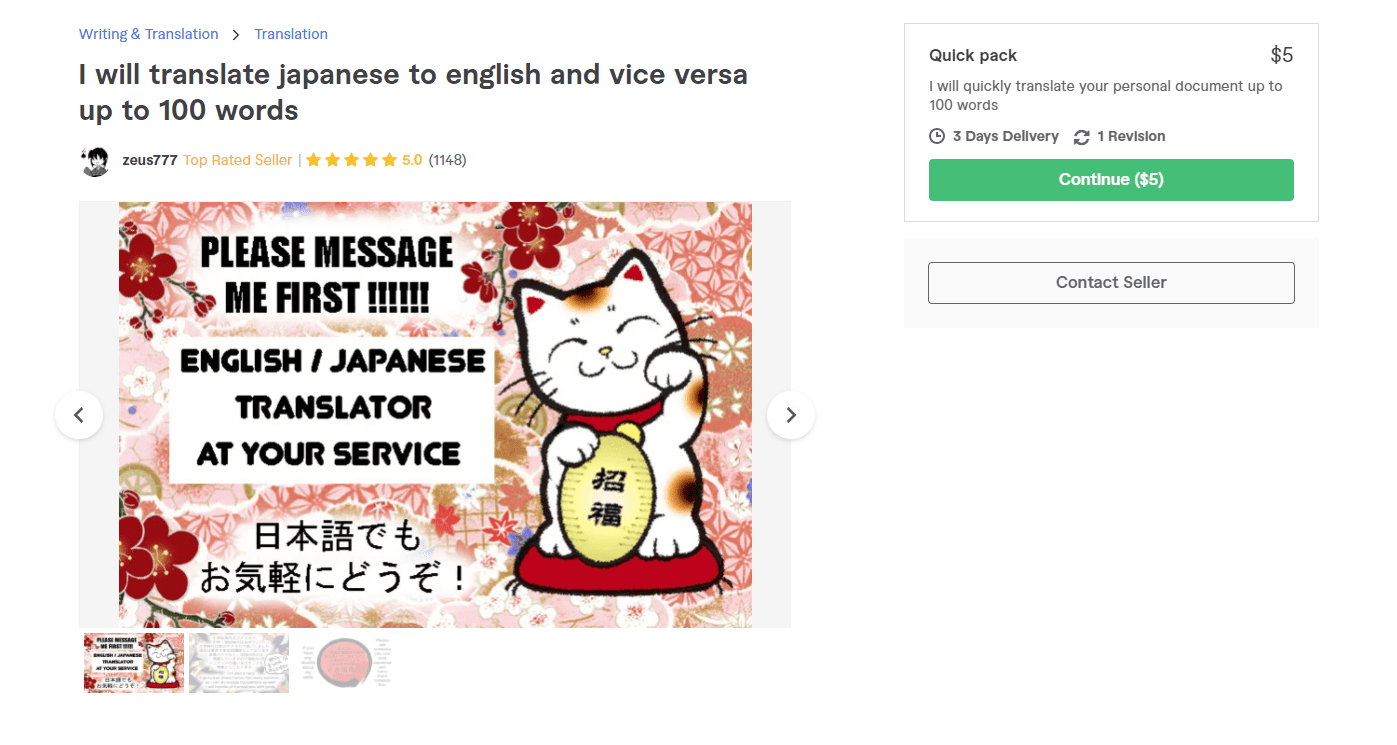 Zeus777 is a Top Rated Seller with over 1,000 5-star reviews. As a native speaker of both English and Japanese, they offer to-and-from translations for both languages. They only offer one package for translations of personal documents up to 100 words long, but you can purchase add-ons for business-related or professional materials.
I was also excited to see that Zeus777 offers audio translations (priced per minute), since not every translator works with both audio and written materials.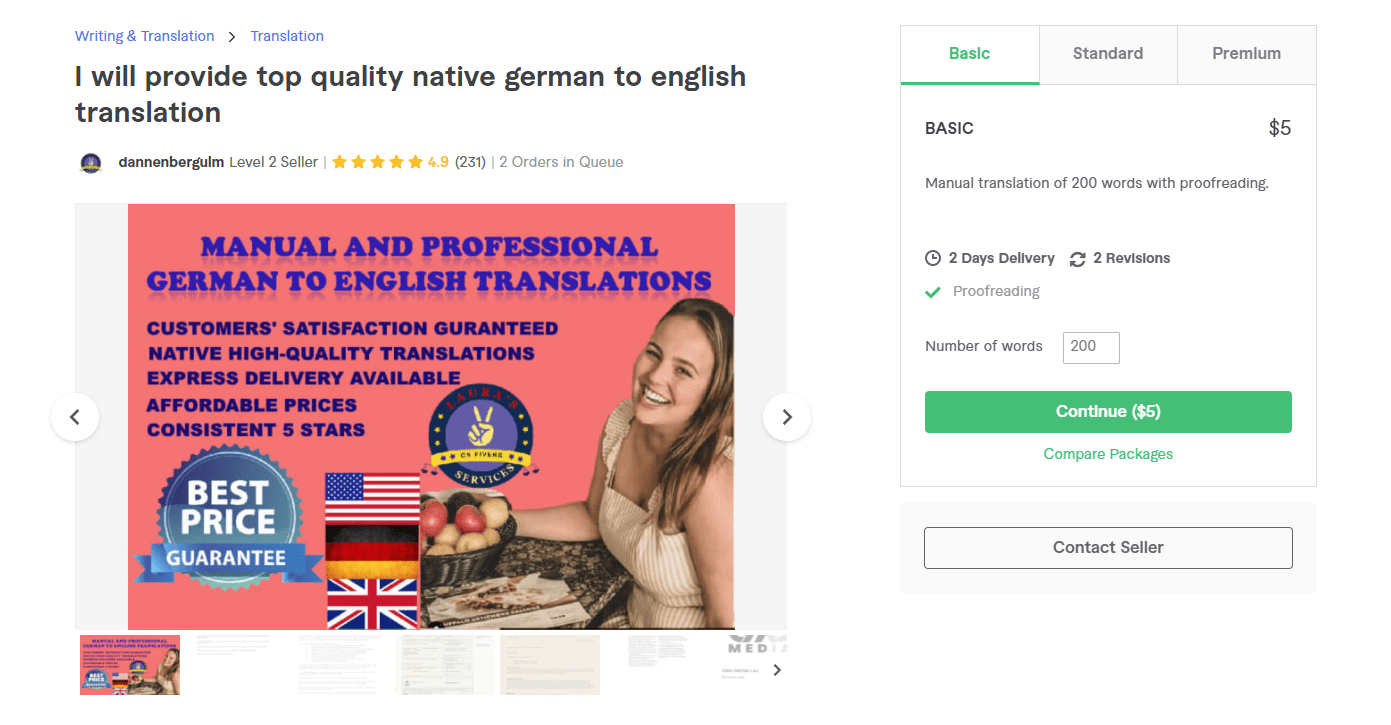 Dannenbergulm is a talented German-English translator and an experienced seller, with over 250 completed projects. Their Basic package offers translation of up to 200 words but, if you have a higher word count, you can opt for a higher-tier package or enter your word count for an automatic quotation.
Their customer reviews are excellent, with many of their past customers applauding how quickly and accurately their project was completed.
Dannenbergulm also offers French-English translations. You can access that gig by navigating to their profile.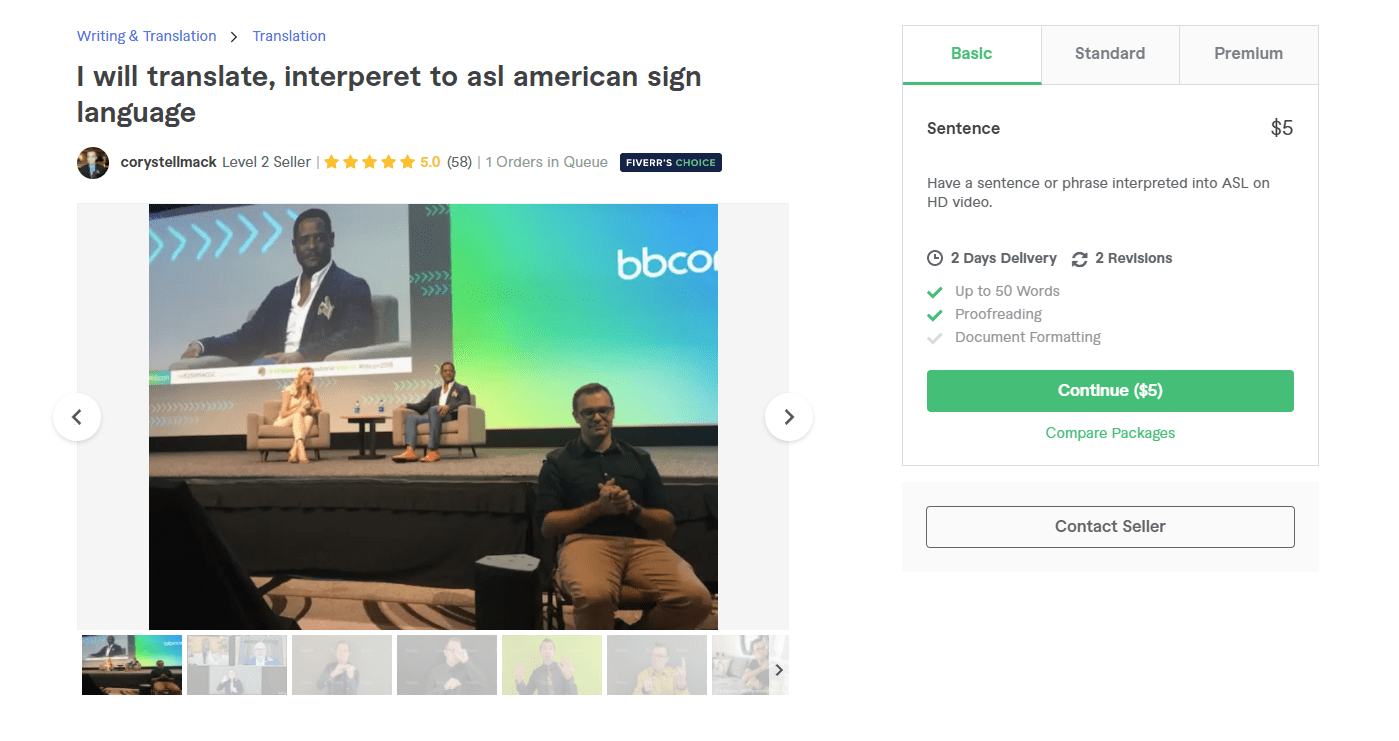 Corystellmack is a "Fiverr's Choice" American Sign Language (ASL) interpreter and translator with several years' experience. I love that this seller offers affordable access to a service that, for many people, would otherwise be too expensive. Their Basic package is just $5 and includes the translation of short sentences and phrases into ASL. The higher-tier packages offer translations of longer texts or recordings. You can even request song translation, but you'll need to reach out for a customized quotation. Corystellmack delivers each translation via HD video completed in two to four days.
The customer reviews indicate that the seller delivers great quality work, and many customers are repeat buyers.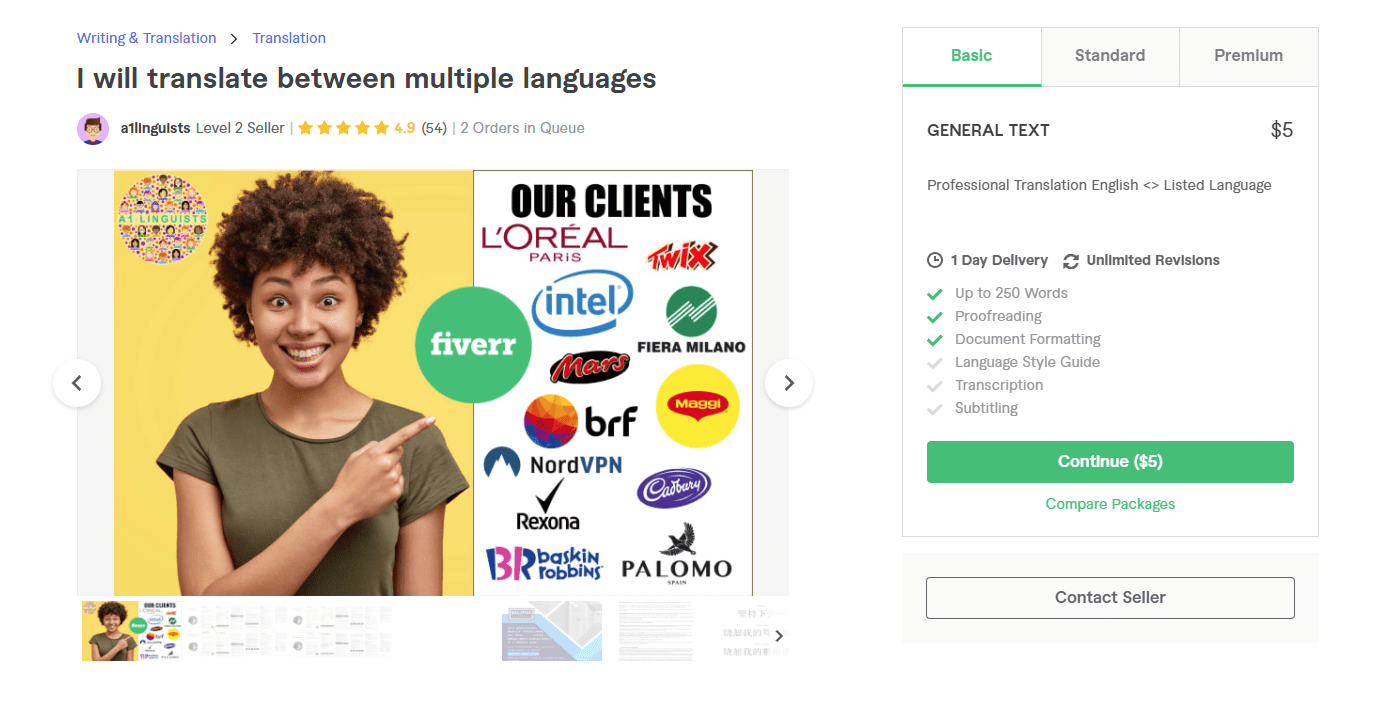 A1linguists connect clients with trained translators for many different languages, including Russian, Portuguese, Arabic, and Polish. This seller has a 4.9-star rating for communication, and their past clients include major brands like Cadbury and L'Oréal.
A1linguists is an ideal hire if you need text quickly translated into multiple languages at once.
In their Basic package, their experts will translate up to 250 words, plus proofread and format the finished document. I like that A1linguists is a one-stop shop for projects which involve multiple translations – just send them a message with your project requirements to receive a customized quote.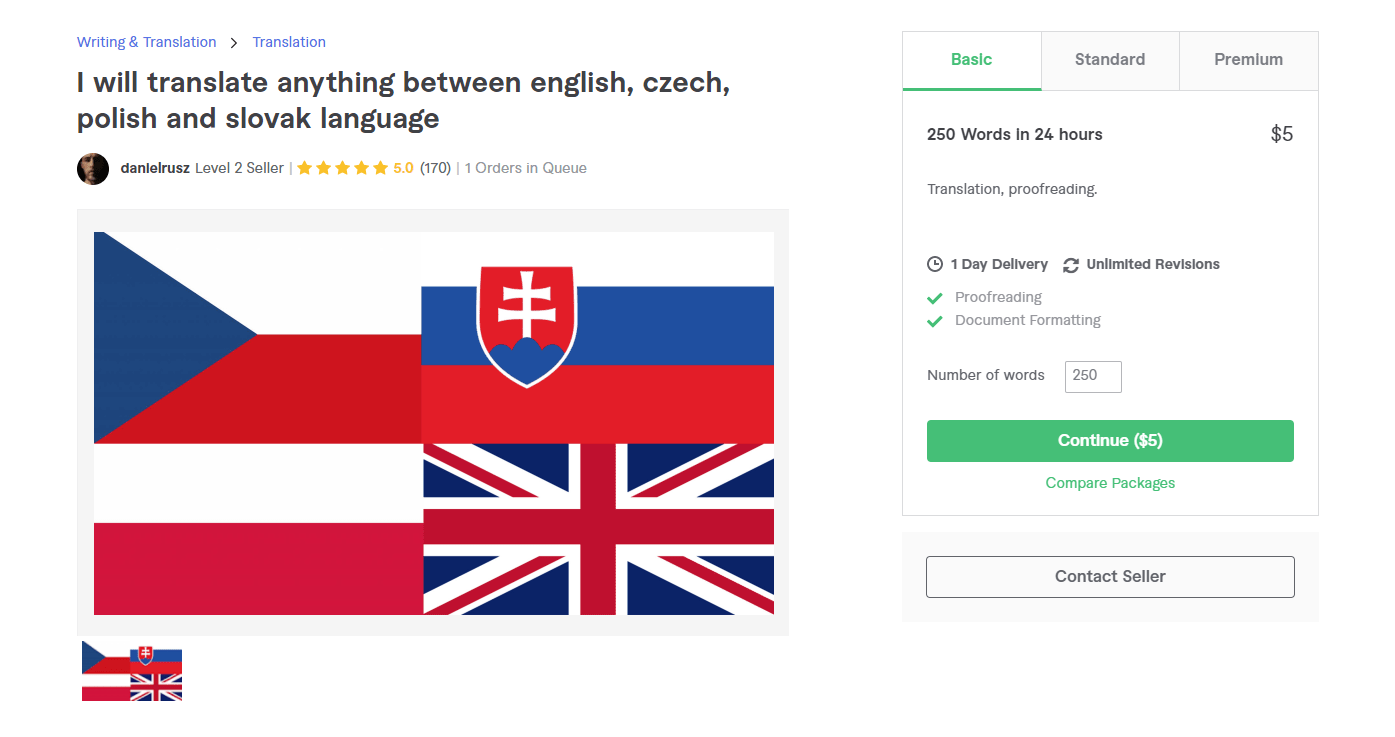 Freelancer Danielrusz specializes in translations to and from English, Czech, Slovak, and Polish. If you purchase their Basic package, your 500-word translation will be delivered in just 24 hours, and includes SEO, document formatting, and proofreading. Their Standard package translates up to 750 words within 24 hours, and their Premium package translates 500 words within 12 hours.
The glowing reviews from previous clients praise Danielrusz's professionalism, accuracy, and punctual delivery.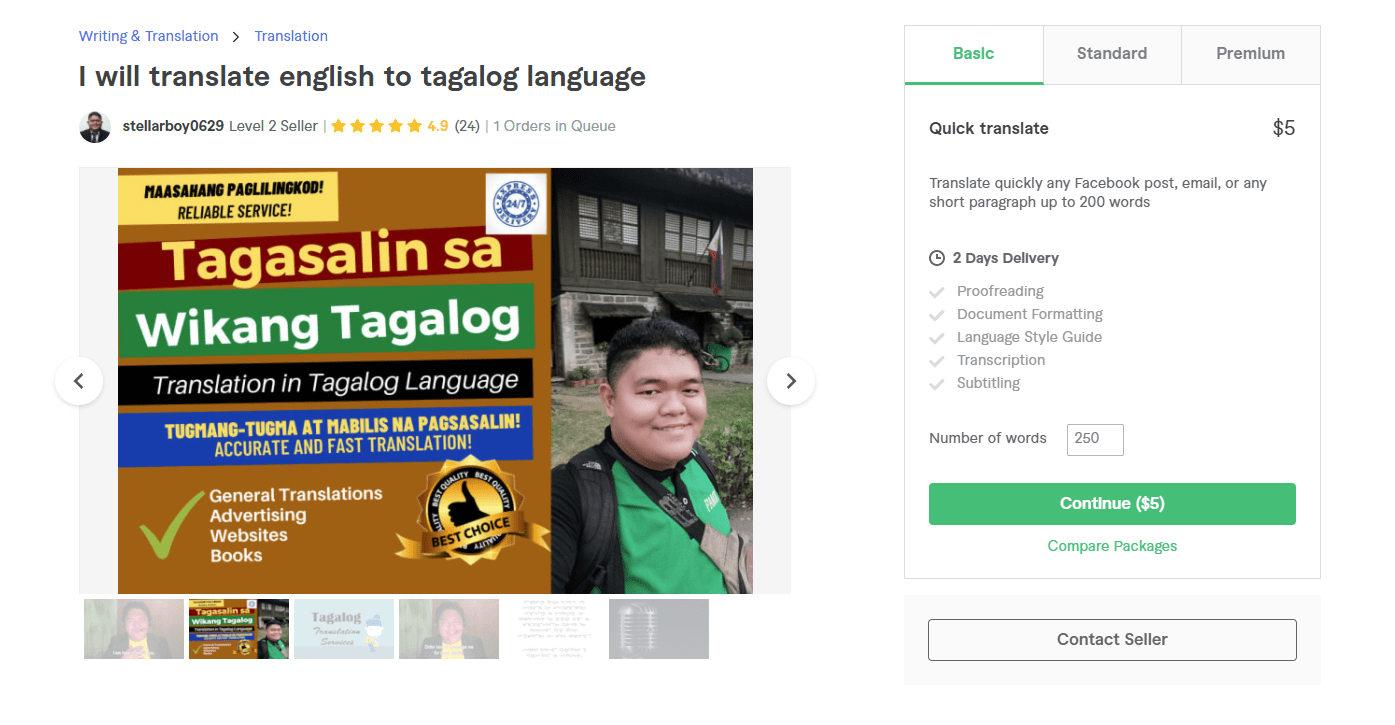 Stellarboy0629 is a translator based in the Philippines offering translations between English and Cebuano, Filipino, Tagalog, or Bisaya. Their Basic packages offer translations, subtitling, and proofreading of 250 or 500 words within two days. Higher packages offer longer word counts with a slightly longer delivery time.
Stellarboy0629's customer reviews are overwhelmingly positive, and, with a 4.9-star rating and more than 250 successful projects, their work speaks for itself.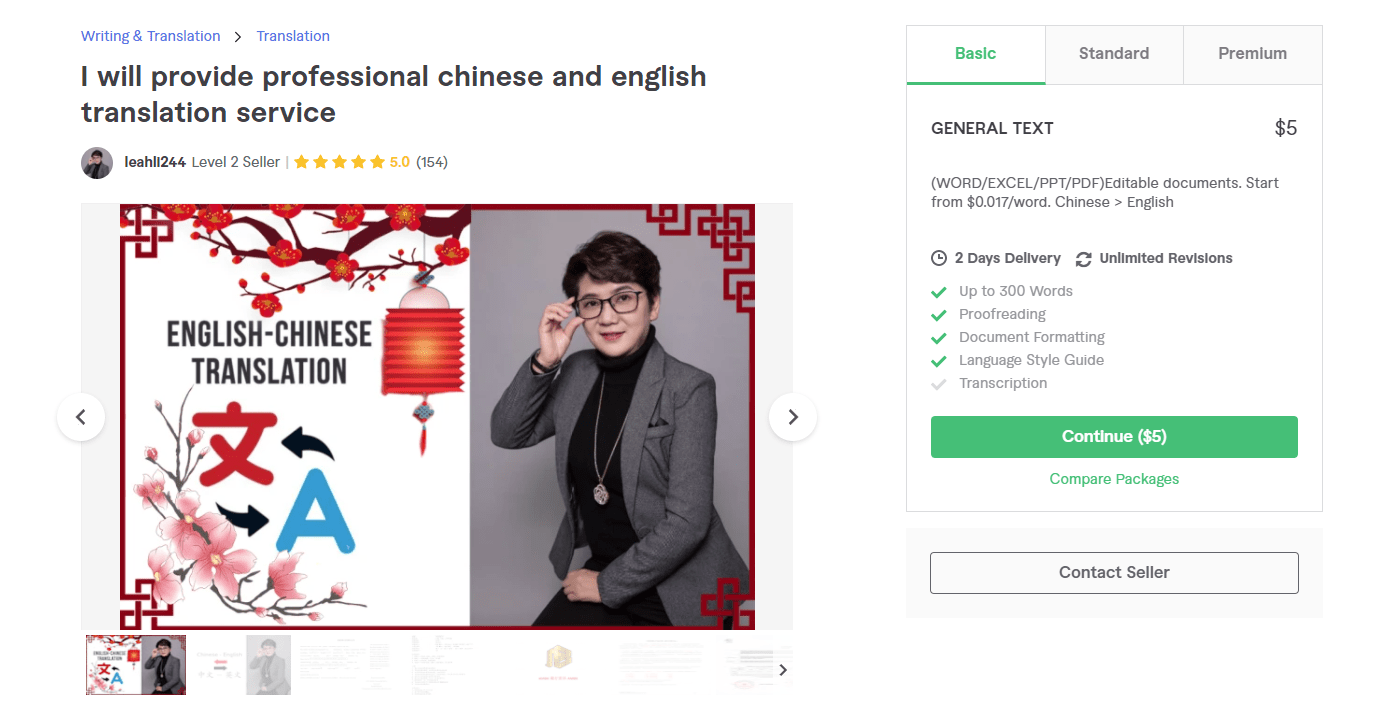 Regardless of which package you choose, Leahli244's Chinese-English translation gig offers two-day delivery times and unlimited revisions.
This seller has over three decades of experience as a translator and can translate materials such as product descriptions, website text, and blogs. Leahli244 has a 5-star seller rating, with many reviews referencing their professionalism and proficiency as a translator. You can request both simplified and traditional Chinese characters, and each package comes with a language style guide to help you better understand the final product.
How to Hire for Freelance Translation Services on Fiverr
When I discovered Fiverr, the hassle of searching for talented freelancers disappeared. Fiverr is a well-known
freelance hiring solution
 that helps you find the perfect expert for your project within your budget. When we tested it out for our
Fiverr review
, it scored
4.9
 out of 5 for everything from ease of use to pricing and support, so I'd definitely recommend it.
Fiverr's package pricing starts at just $5
– and no, that number isn't missing any zeroes. Freelancers can set their pricing as they choose, but many of them remain at this entry-level pricing. When you're ready to find a freelance translator, simply head to the Fiverr homepage and type "translation services" into the search bar. You could also try searching for "translator" or include the language you need in the search, e.g., "Spanish translation services" or "Spanish translator". Scroll through the results until you see a gig that interests you. Click on the gig to open it in its full view where you'll be able to see package pricing and the services included in the gig.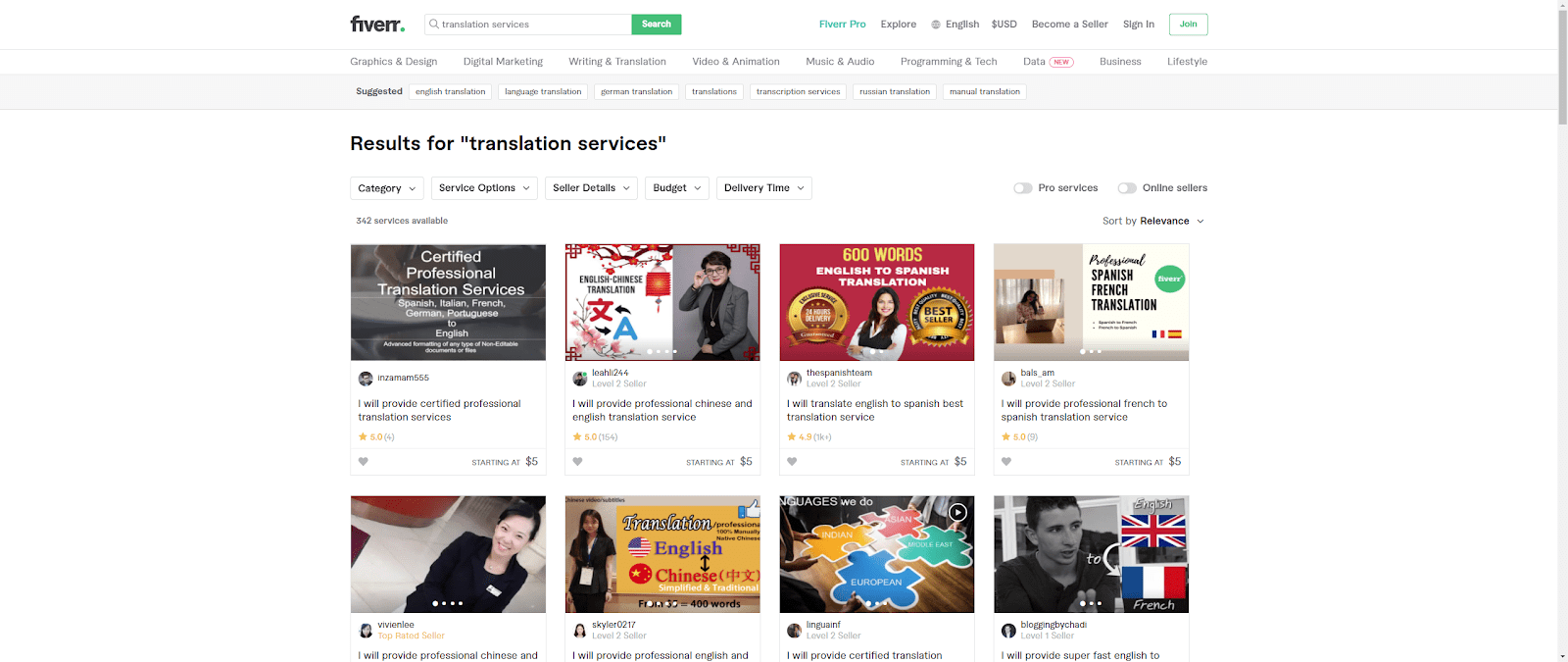 The package overview page has a few different sections, including the
About This Gig
 and
About This Seller
 sections. Reading through this information will help you understand the services that the seller is offering in their gig and gives you a bit more background on their qualifications and background.
You can also take a look at the gig's reviews toward the bottom of the page to read what previous clients had to say about the seller's work.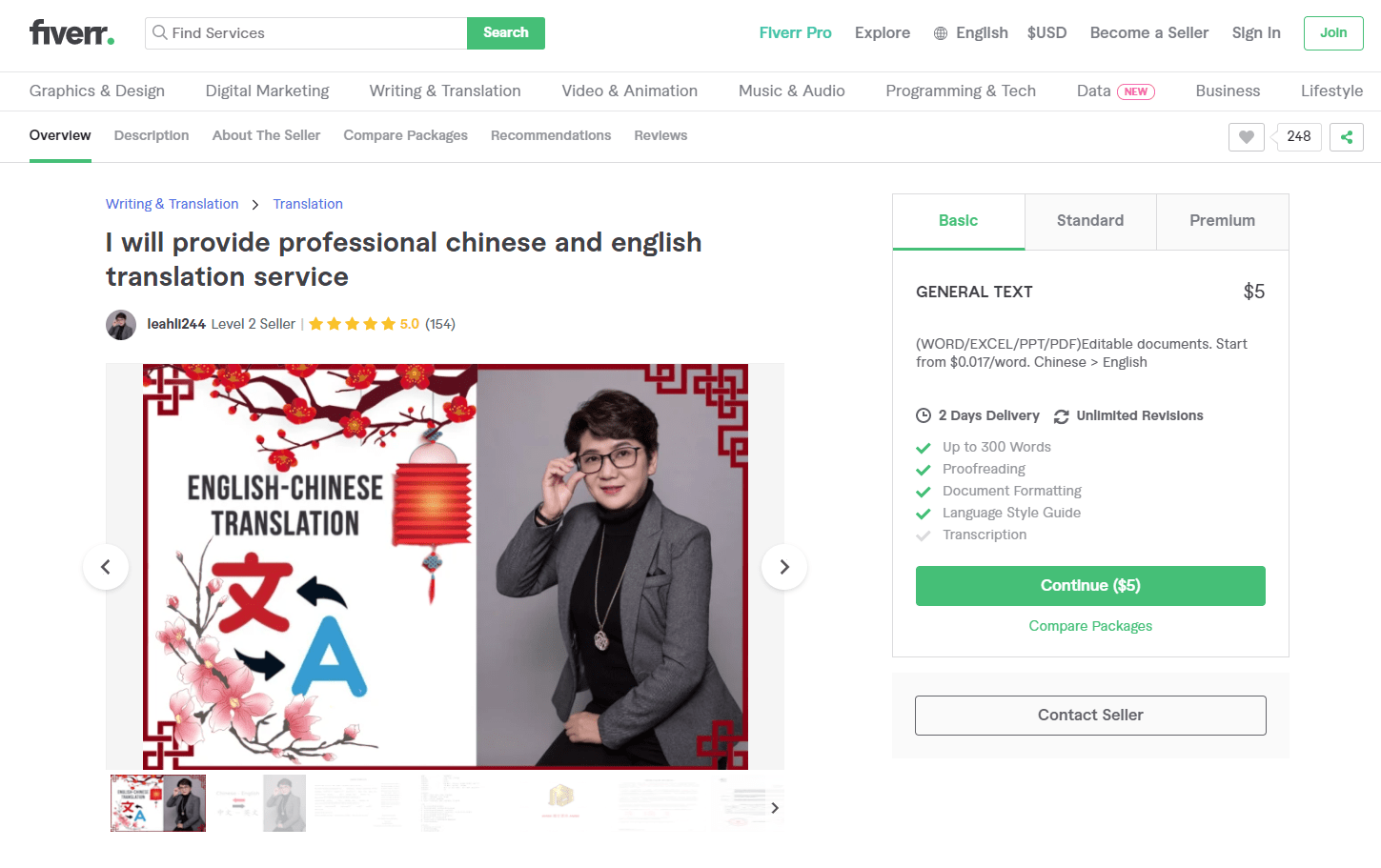 To view pricing information, toggle between the tabs at the top of the box on the right. You can also view this information in a table form by clicking the
Compare Packages
button.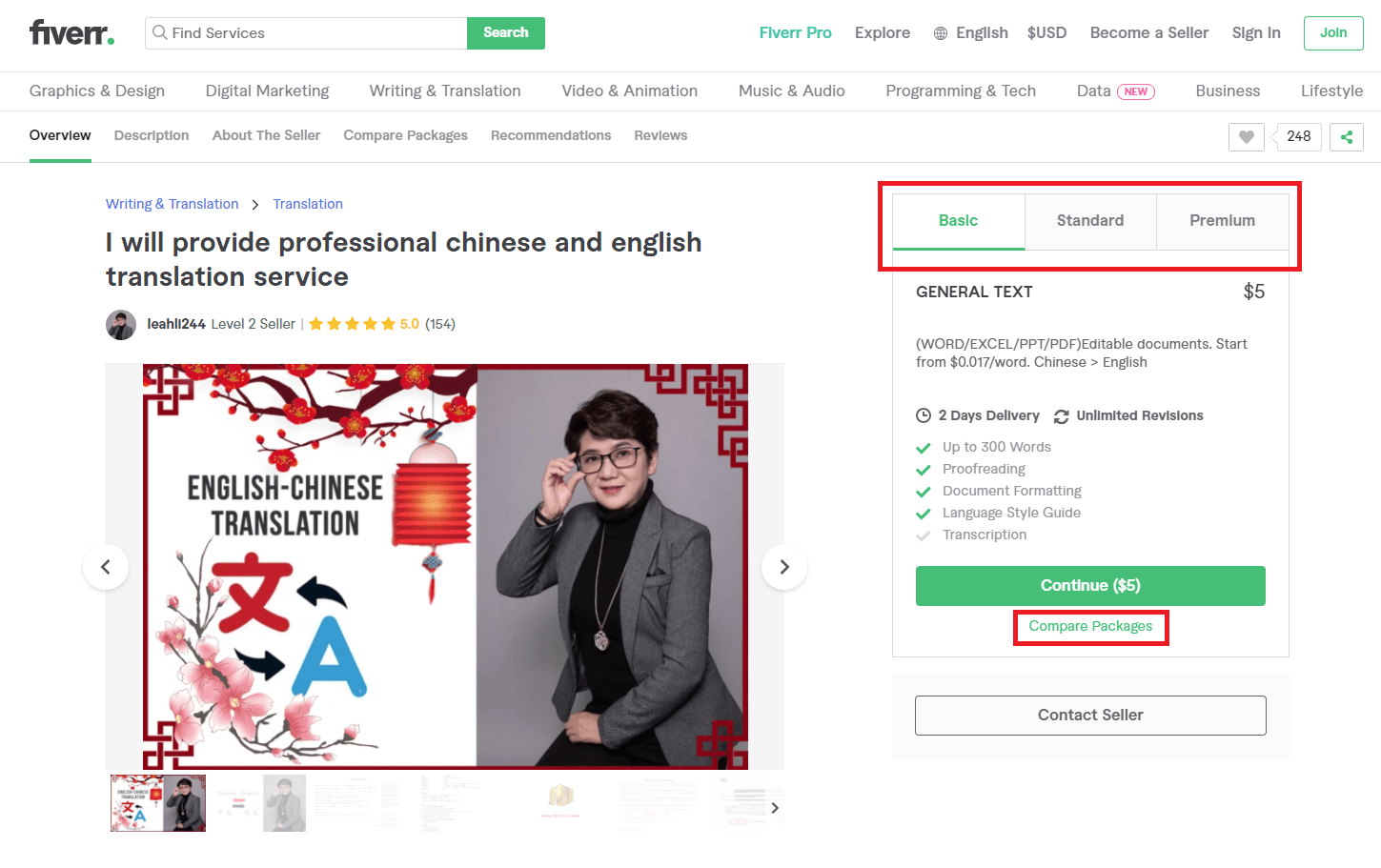 Freelancers generally prefer you to contact them before hiring to ensure that they have the availability and necessary skills for your project. You can do this by clicking the
Contact Seller
 button below the pricing information.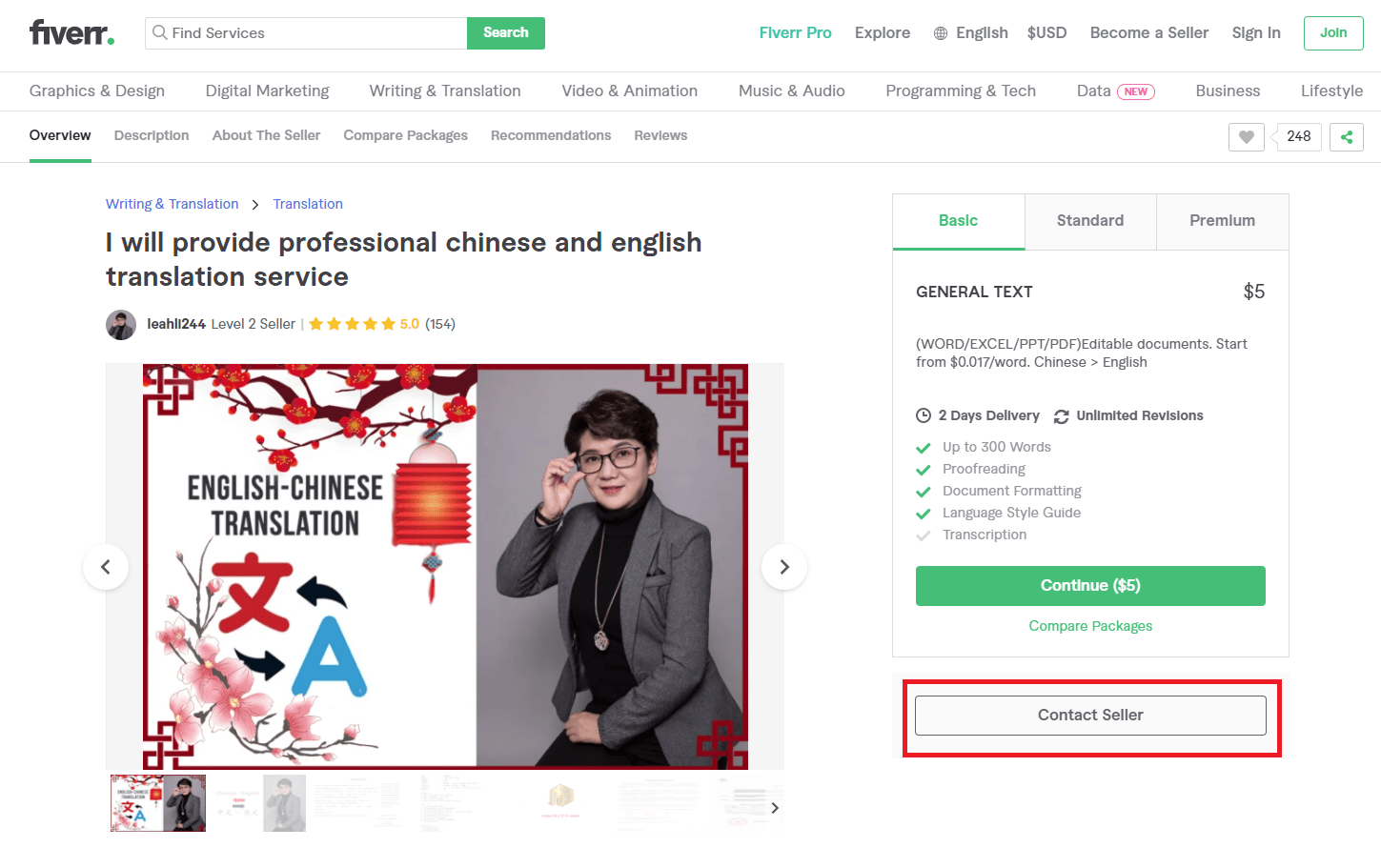 Select your package and click the
Continue
 button when you're ready to commission your freelancer.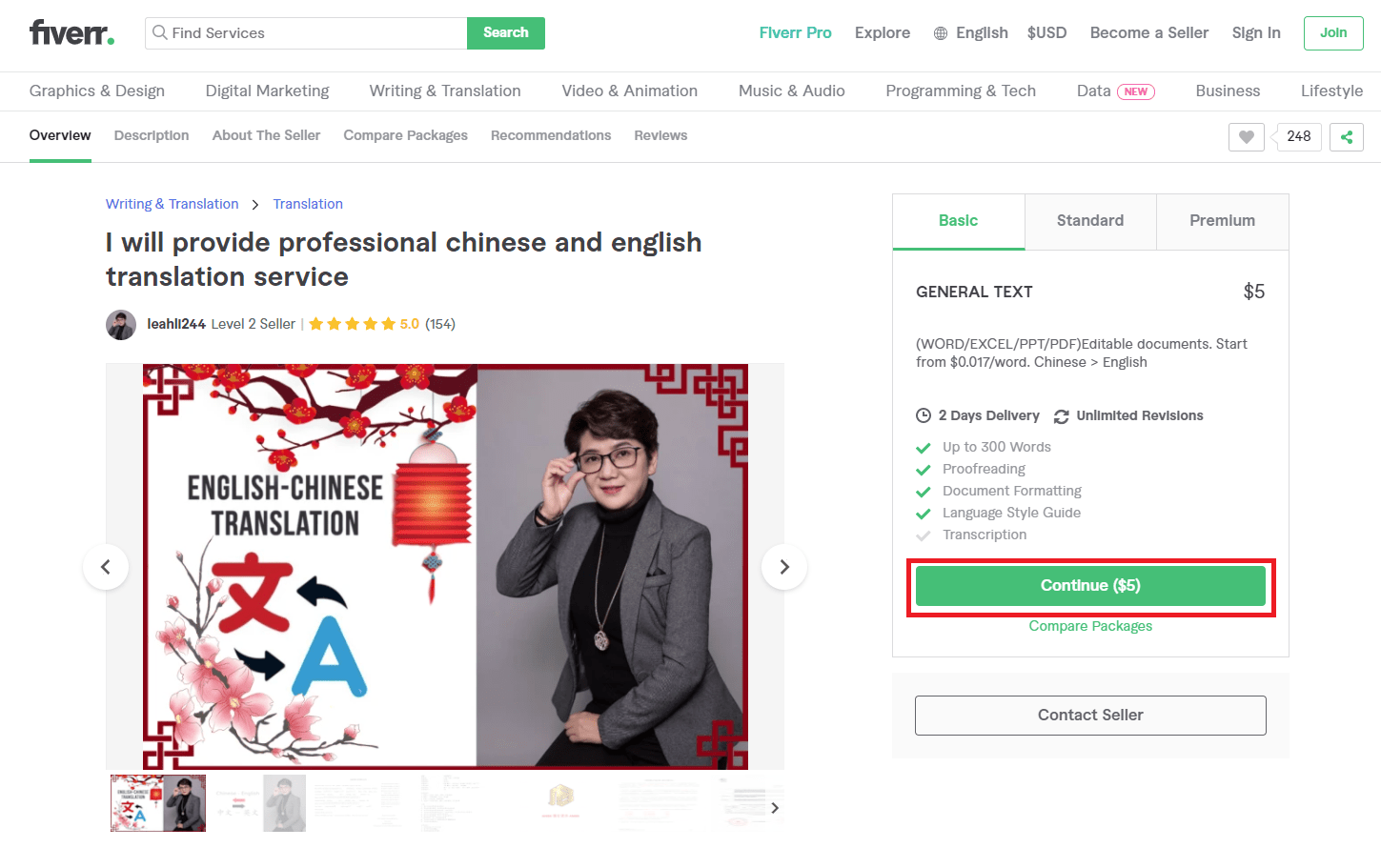 The next page displays your final costs and the full list of services for your chosen package. When offered, you can also add package extras on this page. Hit
Continue to Checkout
 to enter your payment details and finalize the commissioning process.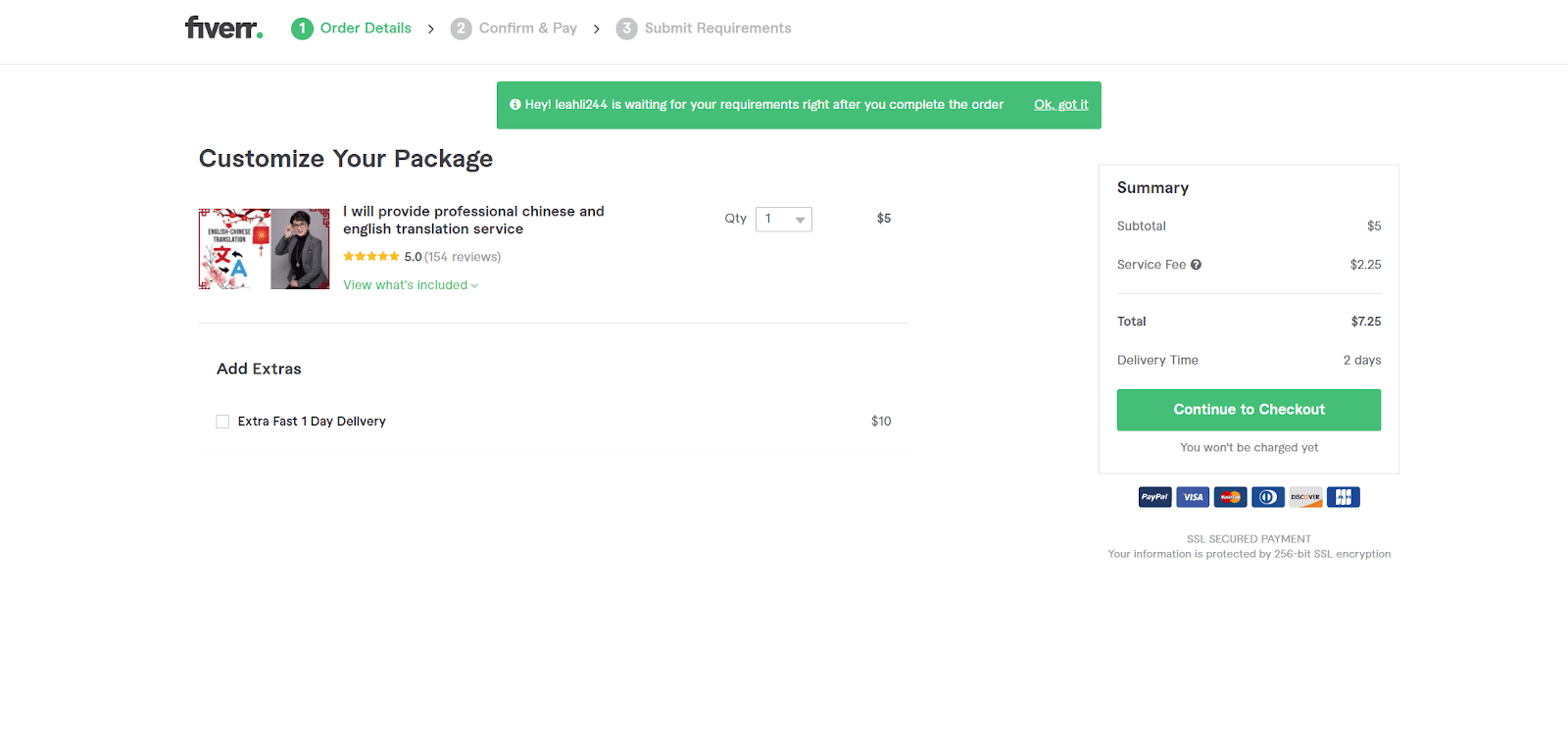 What to Look For in a Freelance Translation Service
If you've never hired a translator before, you might find it difficult to know what kind of translation service would be the best fit for your project. It can help to get clear on your exact requirements for your project first. To begin with, you need to know what language your original document, audio, or video is in, and what language it needs to be translated into. You'll need to know how long the translation(s) will be, what budget you have to work with, and how quickly you need the project delivered. You'll also want to ask yourself whether you need a translator with a background in a specific industry, and whether your translated document requires a certified translator. Once you're clear on this, you'll be able to narrow your search for a freelancer who meets these needs.
 But there are a few skills you should look for in any translation service you hire.
Native-level language comprehension. Although it isn't necessary for a translator to be a native speaker, they should have the same level of comprehension as a native-level speaker. Try looking for information in the About The Seller section regarding where and how the seller learned the language.
Extensive experience. Check the seller's description or the About This Gig section for information on the seller's experience. You can also reach out to a seller directly for this information.
Cultural awareness. A talented translator is more than just a language expert. They are also socially and culturally aware. Look for sellers who have lived in a language's country of origin, or who have a fair understanding of the language's cultural complexities.
Consistent attention to detail. Accurate translations are essential, and a talented seller is acutely detail oriented. Scroll through gig comments and reviews to see what past clients have to say about the seller's ability to deliver precise translations.   
Integrity and trustworthiness. Whether your documents are confidential or not, reputable translation services should be trusted to maintain your privacy, which includes not sharing or dispersing your translation materials without your consent.
---
Are You Interested in Selling Your Freelance Translation Services?
If you offer translation services and want to sell on Fiverr, you'll be happy to know that signing up is incredibly straightforward – just look at our
Fiverr review
. You can have your profile created and a gig published in just a few minutes. A gig is purchased every four seconds on Fiverr – hundreds of thousands of skilled freelancers in a range of industries, including translation, are being hired every day.
Head to the Fiverr homepage
and click the
Join
button in the top right corner to sign up for a profile using Facebook, Google, Apple, or an email address. Once you've done this, you can choose a username and password. Be sure to pick a professional-sounding username – your username will be visible to buyers during searches, so choose wisely!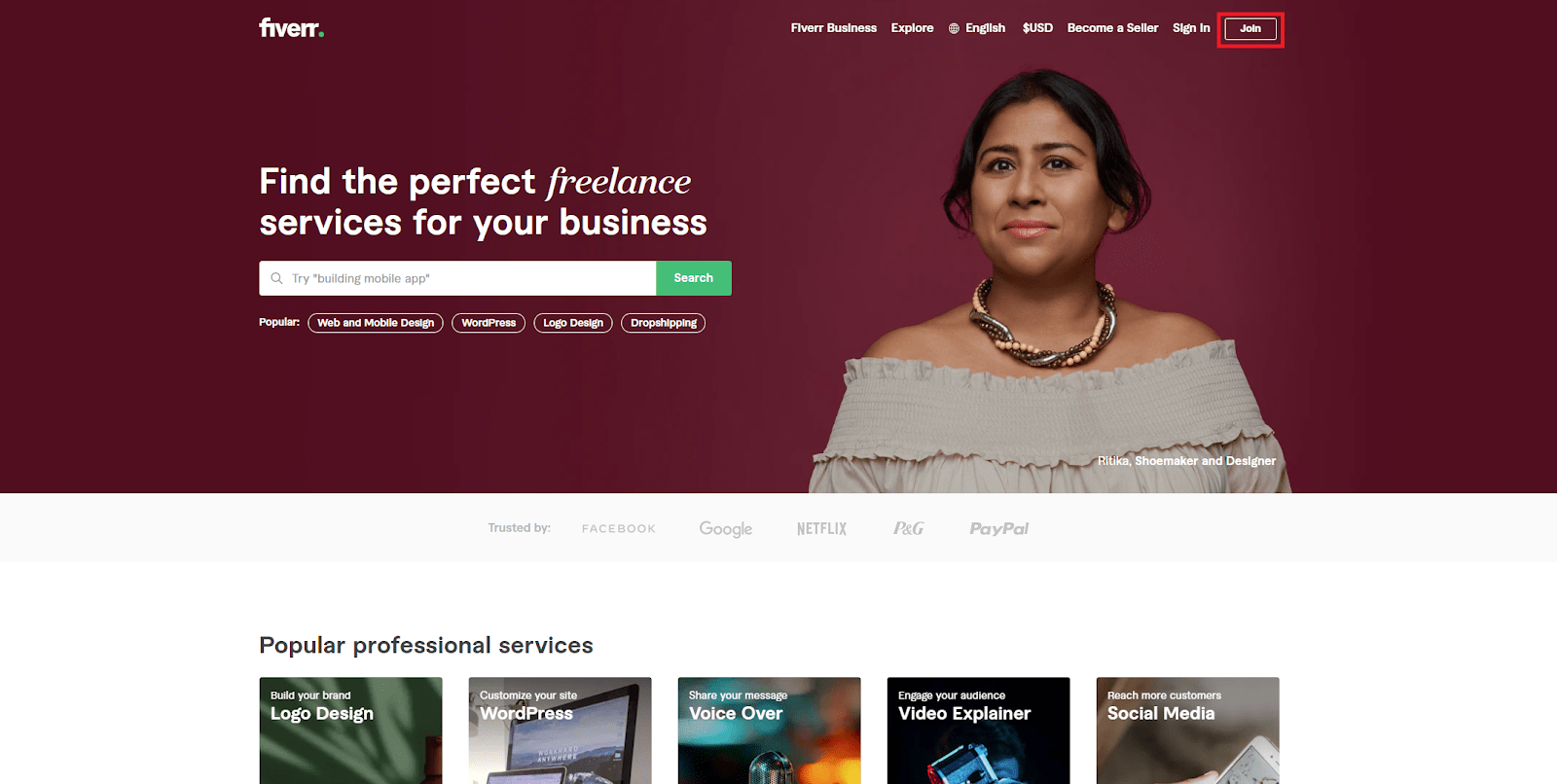 From your dashboard, click the circle icon in the top right to navigate to your profile
. Here, you'll be able to upload a photo, connect your social media accounts, and add your academic background or any certificates you've earned.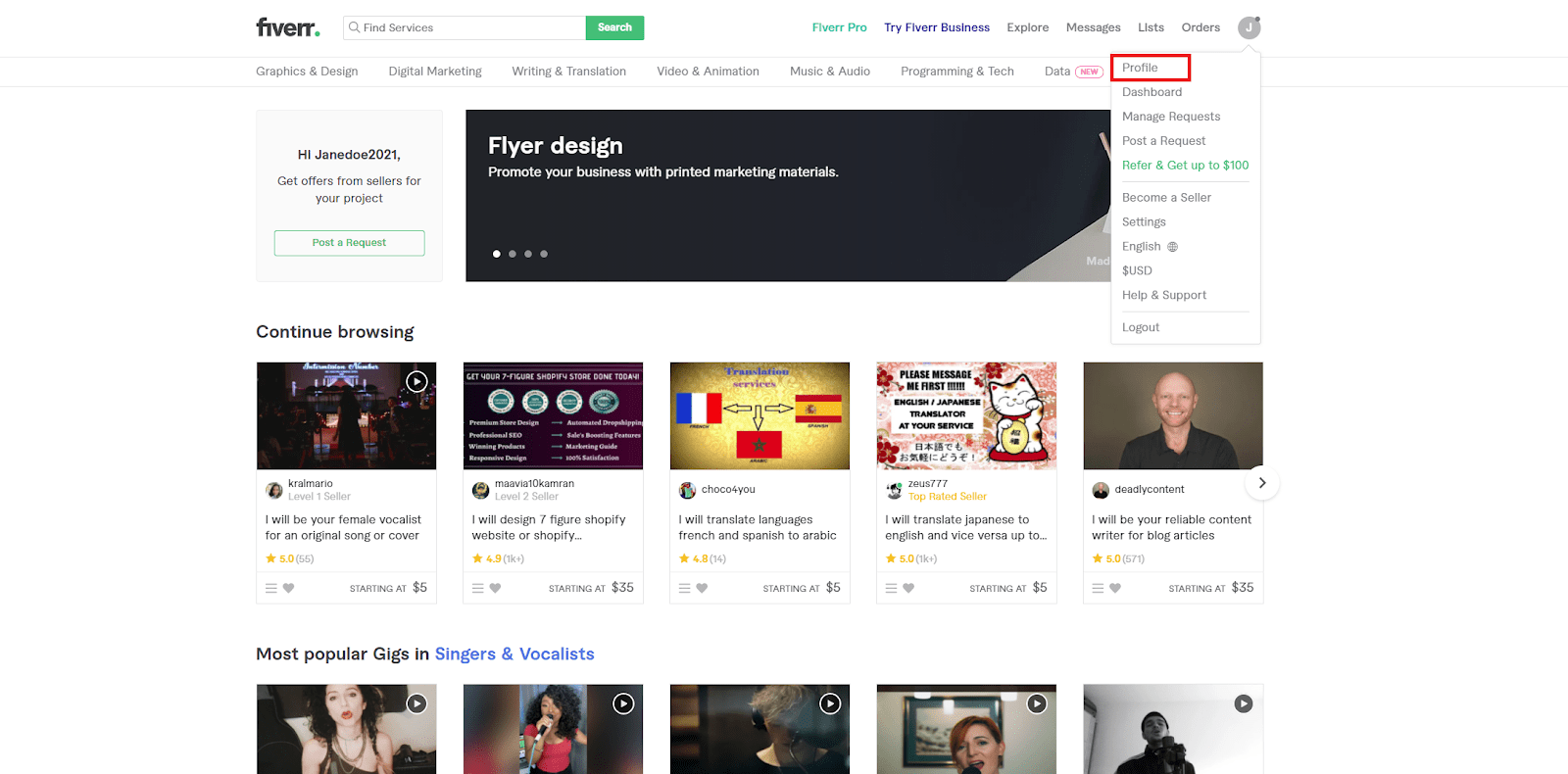 Next up, you'll need to create a gig based on your language(s) of expertise and intended services. To do this, click
Create a New Gig,
 choose a gig title, and select a category and subcategory. Add each of your "from" and "to" language offerings, document types, and any industry-specific expertise you may have.
From there, add search tags, like "English translation" or "translator", to help buyers find your gig more easily.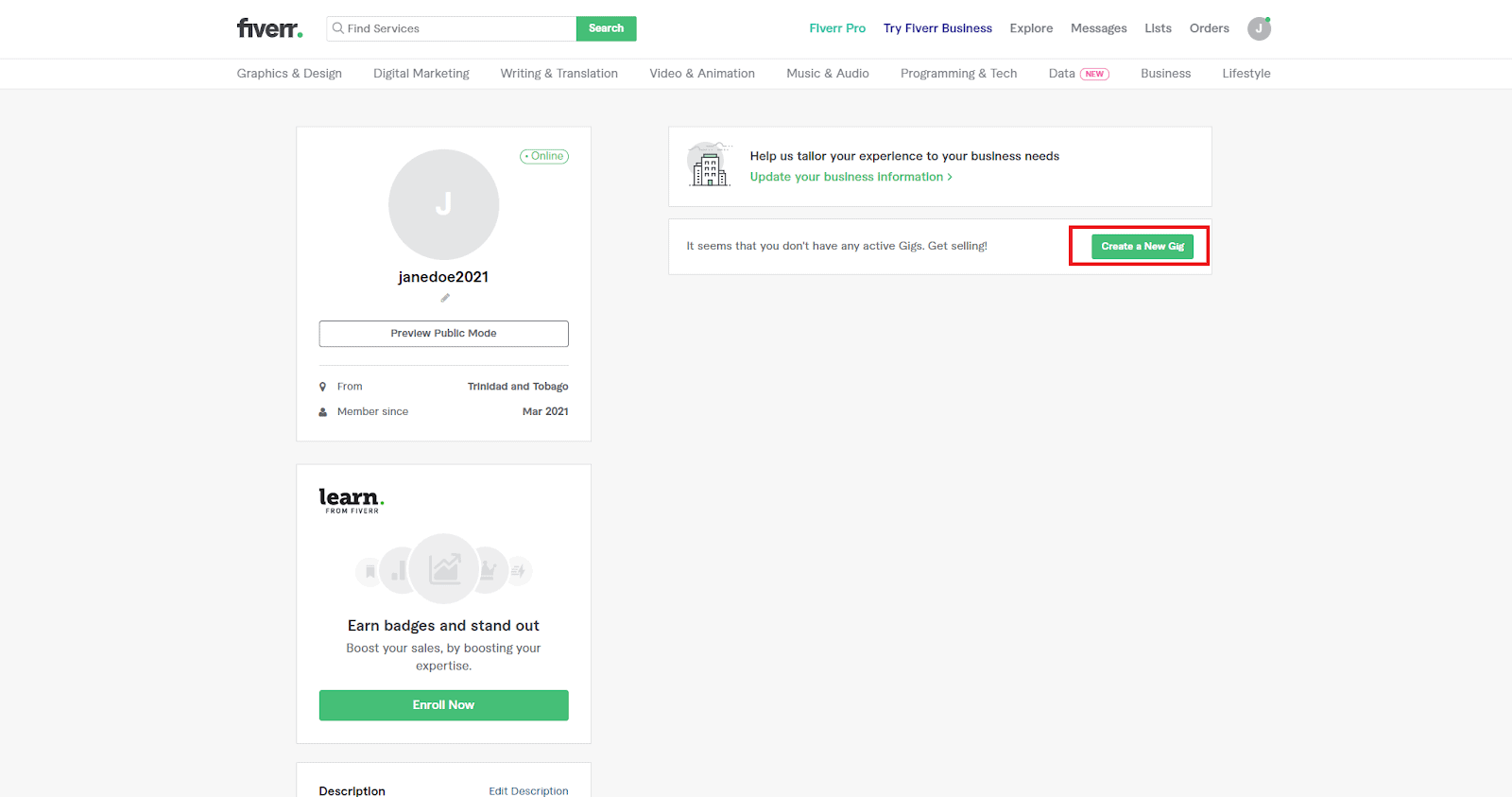 Decide whether you'd like to offer one standard package or three tiered package levels
. Name your package(s) and add a description of what you offer. Use this page to indicate the number of revisions, word counts, and whether services like document formatting and proofreading are included in the price. You can also set services as package extras, which buyers can add to a package for a set fee. On the next few pages, you'll need to add a gig description, FAQs, and questions for buyers, and to upload samples to the gig gallery.
We've also put together a step-by-step guide on how to create a successful Fiverr gig
 if you'd like some more guidance. Once you've done this, you'll be ready to publish your gig and take it live. Click the
Publish Gig
 button on the final page to make your gig visible to buyers and start your journey as a Fiverr seller.
If you'd like to optimize your profile even further, consider switching over to a buyer's profile and purchasing a gig of your own.
Click through the gig categories and decide whether you'd like something practical, like a logo for your business, or something fun, like a cooking class from a chef. When you're looking for a freelancer to hire, consider the elements in a seller's profile that draw you in and the ones that turn you off. Afterwards, revisit your own profile and incorporate some of the favorable features you noticed during your search.
Hiring Budget-Friendly Professionals Quickly and Easily
Fiverr makes it easy to find skilled professionals in all fields, including those in translation services. I use Fiverr whenever I need to find an expert that fits my budget and my project requirements. Getting the best value for your money is important, so I love that
packages on Fiverr start at just $5
. Alternatively, if you'd like to target sellers with more platform experience, Fiverr makes it simple to hone in on sellers that match your needs. Seller levels are assigned based on the number of projects completed and the seller's overall rating. For example, sellers reach Level One status once they've completed ten projects and maintained at least a 4.7-star rating. Level Two sellers have at least 50 completed projects and must maintain a star rating at or above 4.7. Opting for a higher-level seller can help ensure the quick and accurate completion of your project.
FAQ
Where can I find translation services?
Fiverr, one of our top freelance website recommendations (it scored 4.9 out of 5 in our Fiverr review), hosts freelancers from all over the world who offer top-rated services, including translation. You can use filters like budget, delivery time, and service options to find freelancers that match your project needs.
What can you expect to pay for translation services?
The final cost of your project is dependent on the length of the materials you need translated and the type of freelancer you're looking for. However, pricing at Fiverr begins at just $5, with freelancers setting their prices based on their skill level, location, and package offerings.
What skills should I look for in my translation service?
Ideally, your translator should be a native-level speaker and have a fair understanding of cultural and societal nuances surrounding the language. They should be detail oriented, professional, and trustworthy, and also be able to deliver work on time.