my team and I have researched dozens of credit card processors to identify which best cater to the unique needs of travel agencies.
Some are better suited for agencies that sell holidays online, while others have options for solo agents that go door-to-door, but all of them have advantages for high-risk merchants like security and fraud prevention.
Overall, Stax stood out as the number one choice for most travel agencies.
Apart from the free modern POS terminal, you can make use of its great e-commerce capabilities while saving a lot of money on transaction fees, with greater savings the more you earn.
Short on Time? These Are the Best Credit Card Processors for Travel Agencies in 2023
Stax – Effective e-commerce facilities for purchasing holidays online, plus up to 40% savings due to the subscription model.
Payment Depot – Capable processing for big agencies and risk-monitoring teams to avoid chargebacks and fraud.
LMS – A meet-or-beat guarantee on your current rates and long-term secure contracts for high-risk merchants.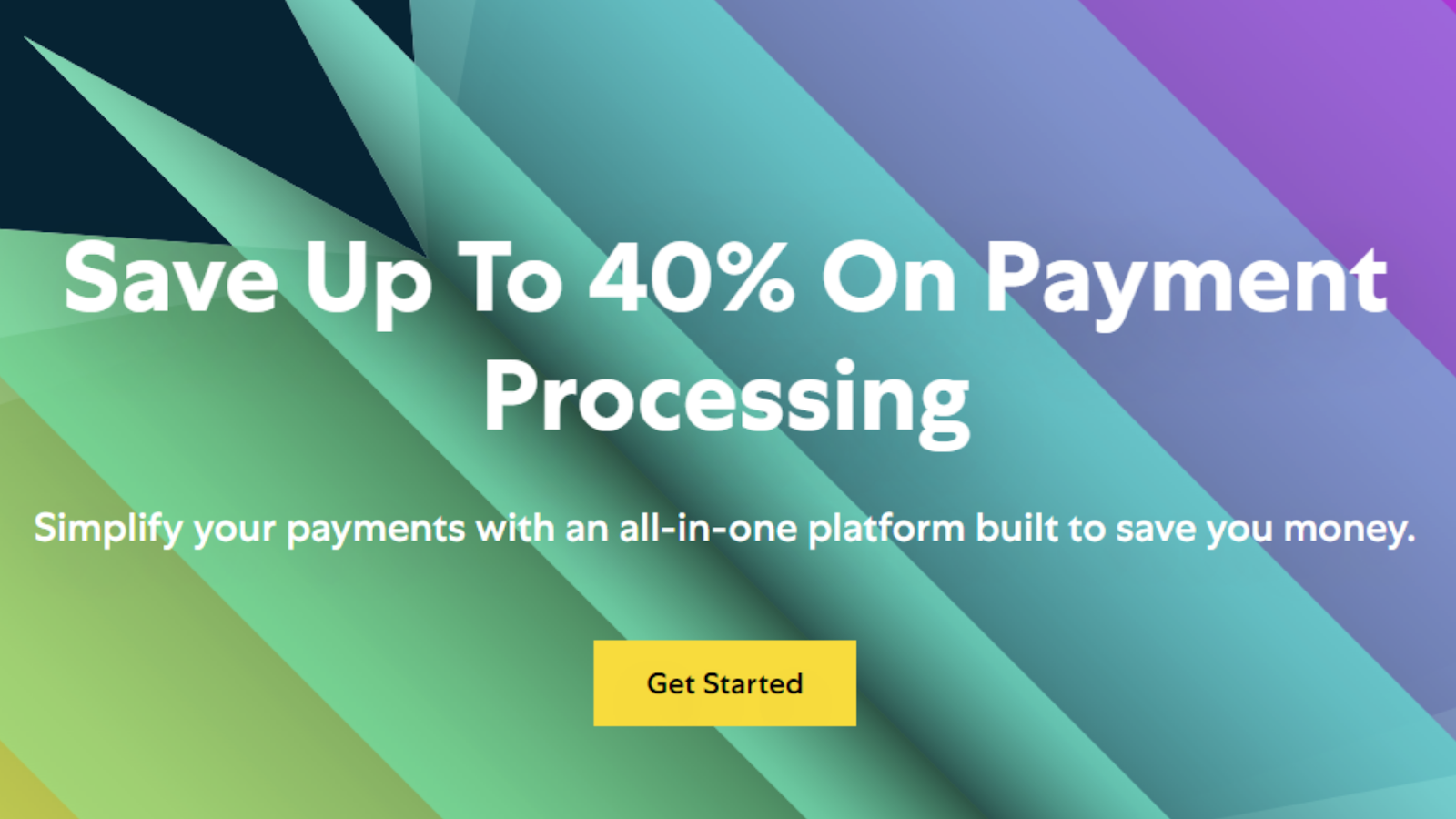 Stax is a great option for most travel agencies,
no matter if you're working online, in-person, over the phone, or if you mix things up. That's right: Stax gives your clients the ability to pay for your services in multiple ways thanks to its efficient all-in-one system. If you process more than $5,000 a month, which is very probable for most travel agencies,
you can save up to 40% on processing fees
 when compared to other processors that don't function on a monthly subscription. Your subscription includes a Stax merchant account,
e-commerce capabilities if you want to sell holidays online
, and a free modern terminal for office work. If you're an independent agent, you can also charge clients on the go using a mobile app directly from your phone. As you can see, versatility is a key component of Stax's policy. If your agency is just starting out,
Stax is also a beginner-friendly choice
. The onboarding experience should go smoothly and quickly as it's rather intuitive to set up. Then, you can add multiple integrations and website-building tools according to your needs, including accounting software. Now, let's talk about your subscription.
There is no long-term contract or early termination fees with Stax.
The cost of the monthly subscription starts from
$
99.00
, depending on how many transactions you process each month. No matter which plan you end up choosing, each transaction also means a fixed fee of
0% + 10¢ (in-person)
or
0% + 10¢ (online)
. Separately, you can also activate same-day payouts for an extra fee if you want to see money in your agency's account after business hours.
Read our expert Stax review
for more details.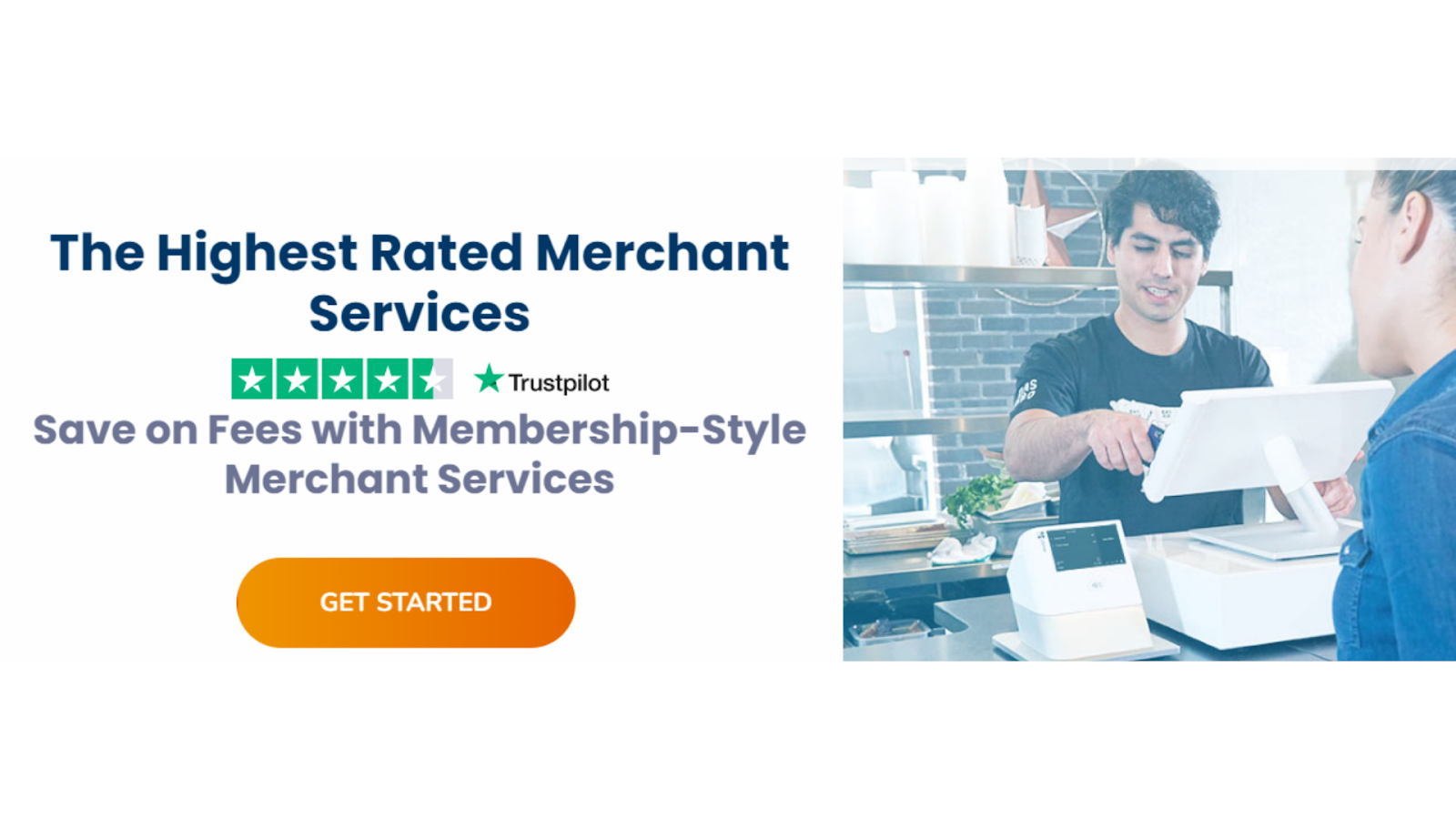 Payment Depot is a solid choice for travel agencies that want to prevent fraud attempts and stay clear of the risks usually associated with the business. That's because
Payment Depot employs risk monitoring teams
that help keep your transactions safe.
Just like Stax, Payment Depot's subscription policy means you can save up to 40%
of the cost of a usual credit card processor. And just like Stax, Payment Depot can offer you solutions for every type of travel-related transaction, from e-commerce to good old-fashioned in-office holiday purchasing. Payment Depot is a great choice if you're looking for speed, as
money usually takes less than 24 to pay out
. Onboarding also takes little time and you can have your merchant account set up and your hardware running in a day. Speaking of hardware,
Payment Depot offers you a free Dejavoo Z11 terminal for in-person transactions.
You can negotiate for more terminals if you can justify your agency's need for more than one, for example if you have more locations open. The best part is that you don't have to pay extra in that case either.
Payment Depot also shines when it comes to customer service.
From helping you set up your online dashboard to helping resolve chargebacks, you can count on the friendly team. The price for the monthly subscription is fixed and starts at
$
79.00
. For each transaction, you'll need to pay an additional fee of
0% + 10¢ (in-person)
or
0% + 10¢ (online)
.
Check out our expert Payment Depot review
for more details.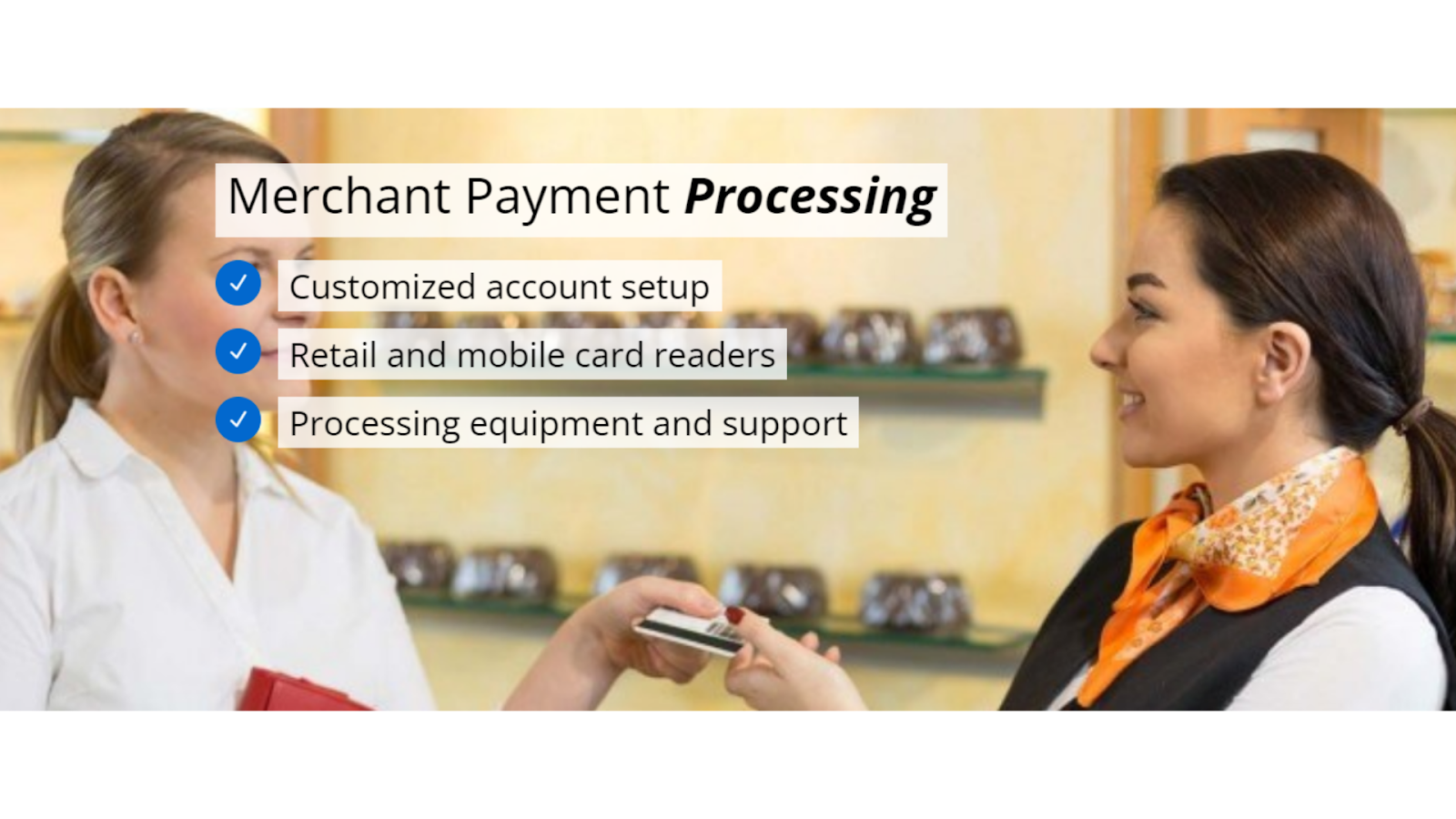 If your travel agency has been using a credit card processor for at least two months, you can benefit from switching to LMS. The policy is simple:
LMS promises to meet or beat your current rate,
and if it can't, you win a sum of money. The point is, you have nothing to lose either way. This is great news if you feel like your current rates are too high or if your card processing company has decided to drop your contract, as often happens with high-risk merchants like travel agencies.
LMS is also a perfect solution if other companies tend to avoid you or avoid renewing your contract.
That's because LMS works only with long-term contracts, which gives you the guarantee that, if you're accepted, you won't have to worry about your card processing needs for at least three years. Signing a long-term contract with LMS comes with other advantages as well, including
free hardware like the ultra-modern Clover terminal
. On the other hand, if you want to end the contract on your end, cancellation fees apply, which can set you back a few hundred dollars. Needless to say, trust works both ways in business. Your LMS merchant account will make it easy to accept money from your clients in person, but you'll also get a virtual terminal for online selling. I think it's very important that
LMS's technical support is available 24/7
in case you have any issues. After you negotiate your contract, they can help you set up your account in under 24 hours, which is also impressive. Monthly subscriptions for LMS are
$
9.00
. Apart from that, each swiped-card transaction is
~2% + 0¢
and each virtual transaction is
~2.9% + 30¢
.
See our expert Leaders Merchant Services review
for more details.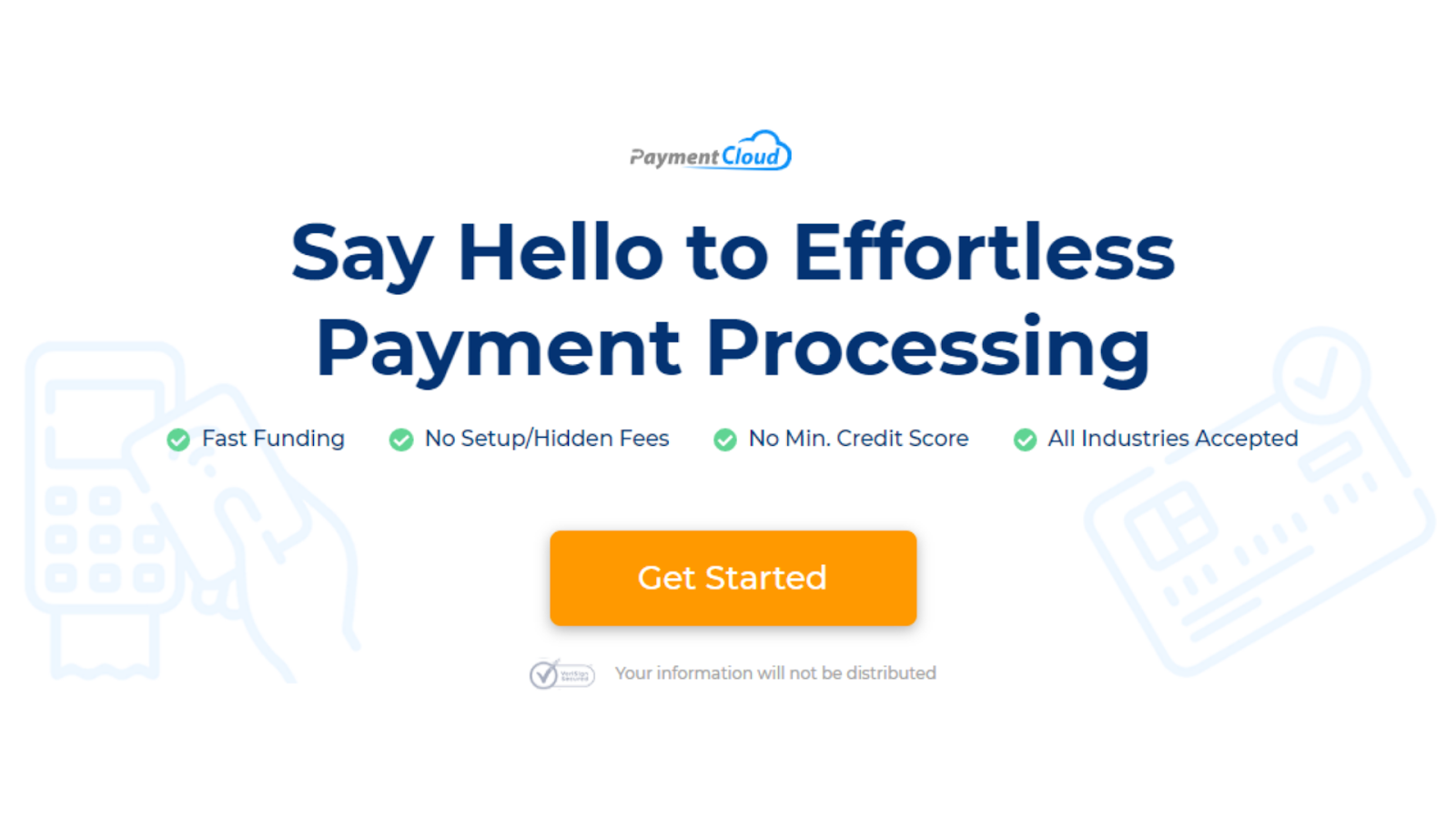 PaymentCloud is another solid choice for travel agencies, especially if you're high-risk.
Travel businesses in general are considered to be mid- and high-risk, so it can be difficult to find a card processing company that will accept your application. But if you've had more trouble than usual before, you'll be happy to hear that PaymentCloud's acceptance rate is super high (around 98%) and includes all industries. After you're accepted, you'll also get
a free POS terminal
for selling holidays in person and a secure virtual terminal for online transactions. This makes PaymentCloud suitable for different types of agencies, including solo travel agents.
PaymentCloud is very serious about its security
and offers chargeback monitoring services and protection, as well as PCI-compliant tools to help prevent any problems. Customer support is also very friendly, but you should note that it's not available on the weekends. A cool thing about PaymentCloud is that you'll be able to
accept payments from your clients in all sorts of ways, including cryptos such as Bitcoin or Ethereum
. While most of your clients will probably pay using the more traditional credit or debit cards, it's nice to know that you can offer these payment methods and make a sale where other agencies wouldn't be able to. The pricing is not the most transparent with PaymentCloud, which is not uncommon with companies that work with high-risk merchants. To get an idea, the monthly subscription is
$
14.00
, and the fee per transaction starts at
Around 3.95% + 15¢
for high-risk merchants.
Read our expert PaymentCloud review
for more details.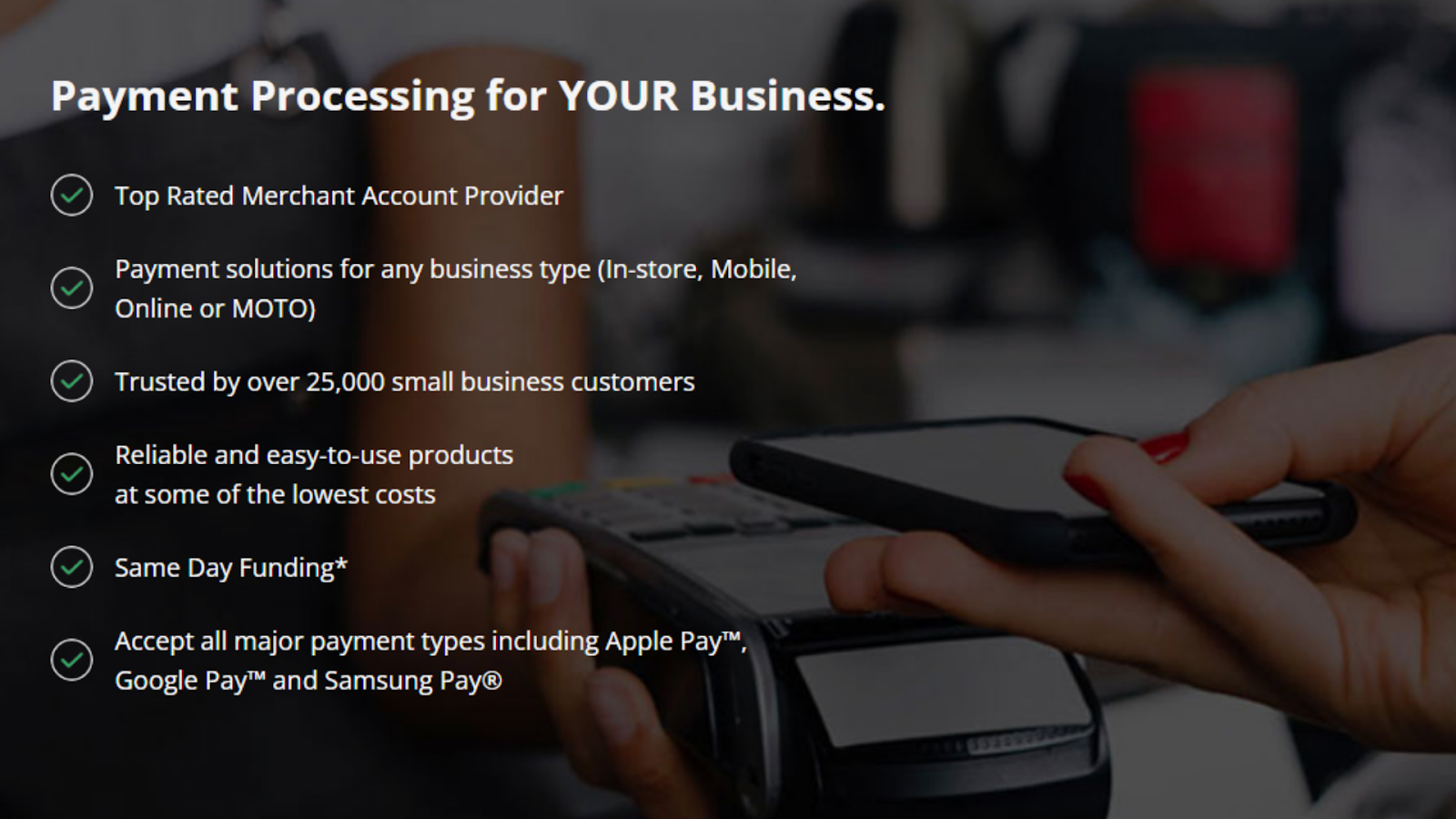 Flagship is a credit card processing company that offers
unique contacts that are tailored to your agency's needs.
This means that you can get something that fits your business perfectly, but it also means that you won't be able to know the prices before talking to a representative and getting an offer. Flagship shines in its simplicity and speed from the get-go. It's super easy to apply to a merchant account online by simply filling up a form. If you're eligible,
your merchant account can be ready in just a few hours
. This is great if you want to set up your processor as soon as possible, like in the eventuality that your former company dropped your contract on short notice. For an extra fee, you can get same-day funding for both online and in-person transactions. Without this extra service, money usually arrives within 48 hours, which is decent as well.
Flagship offers you a free Clover Mini or Verifone terminal
, so you can accept payment in-person at your agency. If you want to sell holidays online, you can also get eCommerce or virtual terminal features. For solo agents on the road, there are wireless options as well, so any type of travel agency can benefit from Flagship's offering. There's no definite contract length – it all depends on what you agree on, but cancellation fees may apply. The price for a Flagship subscription is around
$
7.95
per month and the price per transaction starts at
1.58% + 19¢ (in person)
.
Check out our expert Flagship review
for more details.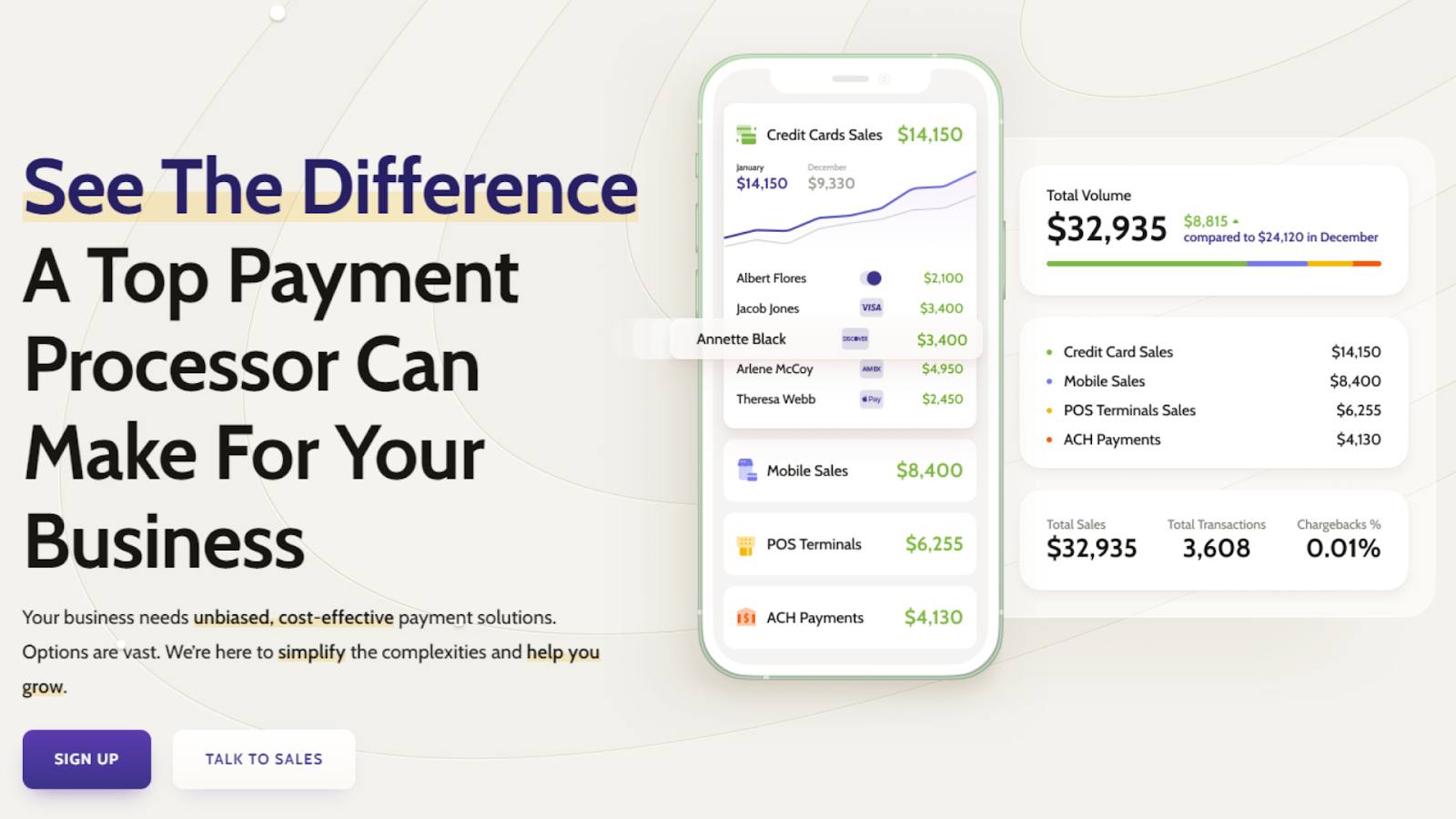 National Processing is one of the most transparent processors you can find
when it comes to what you pay and what you get. The website offers plenty of details for every type of subscription and even has a calculator so you can get a clear idea if you want a customized deal. For a standard subscription, for instance,
you get free reprogramming in case you already have processing hardware
, free gateway setup, a free terminal, and a free mobile reader. If you need more, you can also purchase other equipment, such as Clover terminals. For e-commerce businesses, like online travel agencies, you get a cheaper monthly subscription, but no free terminals, since you won't be needing them.
National Processing has plenty of integrations for e-commerce as well as for bookkeeping
for seamless cooperation between all aspects of your business. A great plus is that National Processing's
customer support is available 24/7 by phone or email
. The online chat is available as well during business days. Prices for National Processing start at
$
59.00
for a monthly subscription and
0% + 9¢
per transaction, but custom pricing is available if your travel agency has unique needs. You can also get a $500 gift card if National Processing can't beat, or at least meet, your current rates.
Take a look at our expert National Processing review
for more details.
Pick the Best Credit Card Processing Company for Travel Agencies
If you have trouble finding the right credit card processing company for your travel agency or simply want to have a backup option in case your current one might drop your contract unexpectedly,
this list should provide you with solid options that are secure and friendly toward high-risk merchants.
To recap,
Stax is my top choice
. It's very simple and intuitive to use and it offers great prices for what it offers, which includes robust hardware and
e-commerce features. There are no early cancellation fees to beware of either.
Payment Depot is my second choice
. Customer support is top notch and you can get two free terminals if your agency needs them. Plus, you can get your account running in as little as one day.
If you want a long-term hassle-free contract,
Leaders Merchant Services is a great choice
. You can also get a better rate if you already use a processor thanks to its meet-or-beat policy and the technical support is very friendly as well.
At last, here's a quick overview of the best credit card processors for travel agencies:
Best Feature
Best For
Monthly fee on cheapest plan
Transaction fees on cheapest plan
Stax
Great price for robust capabilities
Big travel agencies, online travel agencies

$

99.00

0% + 10¢ (in-person)

Payment Depot
Easy-to-use all-in-one dashboard
Big travel agencies, first-timers

$

79.00

0% + 10¢ (in-person)

Leaders Merchant Services
Meat-or-beat price guarantee
Travel agencies that already use a processor, long-term contracts

$

9.00

~2% + 0¢

PaymentCloud
Accepts most payments, crypto included
High-risk travel agencies that had had trouble getting accepted

$

14.00

Around 3.95% + 15¢

Flagship
Setup can take just a few hours
Same-day funding options

$

7.95

1.58% + 19¢ (in person)

National Processing
Dedicated customer service
Transparency and support

$

59.00

0% + 9¢
FAQ
What is the best payment processing company for travel agencies?
Stax is, in my opinion, the best payment processing company for travel agencies. It's easy to use, it offers great e-commerce capabilities if you operate online, but also very robust hardware for in-person transactions. And last but not least, you can save up to 40% on your processing fees with Stax.
Is Payment Depot good for travel agencies?
Yes, Payment Depot is a great choice for travel agencies. It offers solutions for online agencies as well as traditional agencies and solo agents. Customer service is extremely friendly from onboarding to more delicate matters, like chargebacks.
Can you use a credit card processing solution if you're a high-risk travel agency?
Even though it's hard to find a suitable card processor when you're a high-risk agency, it's not impossible. Some companies, like Leaders Merchant Services, even make long-term contracts that guarantee the safety of your business. Others, like PaymentCloud, have very high acceptance rates for all industries, including travel.
What is the cheapest credit card processor for travel agencies?
Stax might be the cheapest card processor for travel agencies due to its monthly subscription model that helps you save on processing fees. Leaders Merchant services is also a great choice for agencies that already have a processor and want to use their current rates as a starting point for negotiating a better deal.