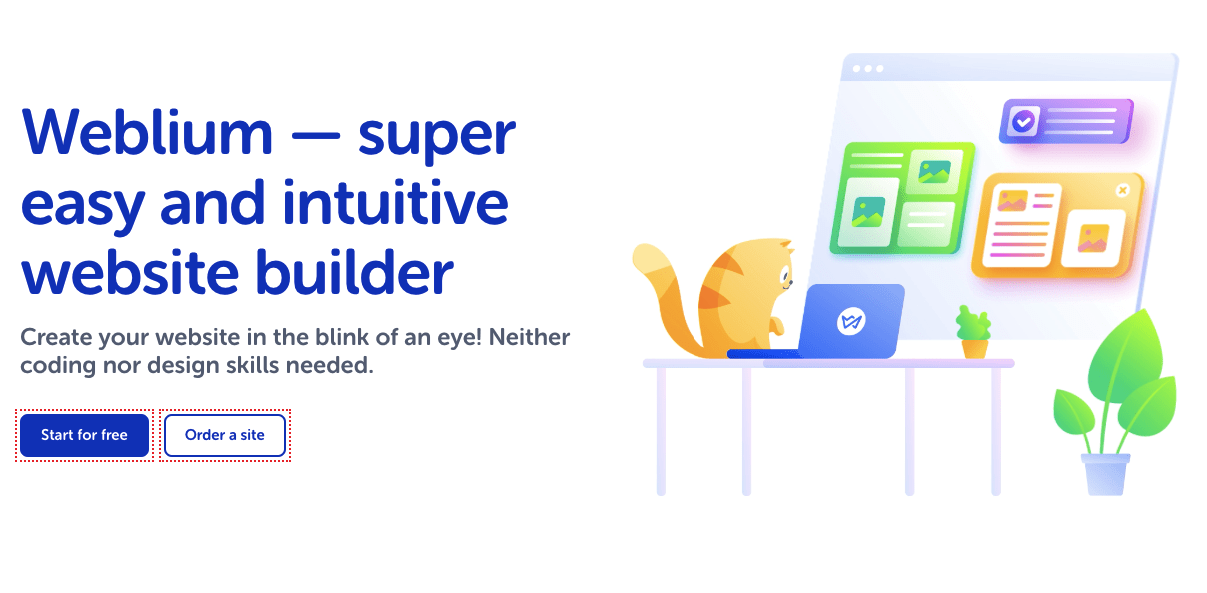 Weblium is a beginner-friendly website builder that helps you build a basic, professional-looking website quickly — in just a few minutes. With the help of its AI Design Supervisor,
building your website is as simple as playing with Legos.
Features and Ease of Use
Weblium offers you the tools to get your website online fast. Every website on the Pro plan comes with the following:
Free domain for a year
Built-in SEO
Free SSL certificate
Mobile-adaptive design
Cloud hosting
Weblium doesn't have a ton of advanced features, but it does offer a great entry point for cloud-based hosting. With a free SSL certificate, your visitor's data and connections are secure. Your website is also mobile-adaptive; if you edit the desktop version of your website, the builder will automatically design the mobile version of your website for you.
Weblium doesn't offer an app market, but you can add third-party functionality to your site if have the physical code for the function. There are tutorials explaining how to add the code once you obtain it.
Weblium's strongest selling point is that it's easy to use. With the AI Design Supervisor, you can edit your website using templates and content blocks. There are 100+ templates available in over 20 categories, and each template takes advantage of block design.
Content blocks allow for dynamic editing, meaning you can see the changes as you make them. If your template is missing a content block you need, you can probably find it in the block library. It has over 200 content blocks, including blocks for galleries, a FAQ section, and more.
You also get a Smart UI-kit that lets you manage your website's fonts, button styles, color schemes, and more from one place. Best of all, if you need to change your template or move blocks around, you can easily do so without having to start over. You can't do that with Wix and some other editors.
Pricing and Support
Weblium offers three primary plans: Free, Pro and Landing Pro (which is only for landing pages and not full websites). The free plan is for the most basic websites and uses a Weblium subdomain. If you want anything more than a basic website, or if you want your own domain, you'll need to upgrade to Pro.
On the surface, Pro's pricing seems average compared with other website builders. However, you get a free domain for the first year and SSL certificate, which makes it a good overall value. If you're a web designer, there are reseller plans available, but you must contact Weblium for a quote.
If you want Weblium to build your website for you, that option is extremely expensive. Expect to pay anything from double to quadruple your annual rate for the first year. Afterward, Weblium will charge you to make updates to the website for you.
If you're looking to build an e-commerce store, you're going to be limited to using Ecwid. Weblium offers an "E-commerce lite" plan with up to ten pages, ten items, online payments, and shopping cart features. However, Ecwid comes with a very steep price tag. Frankly, if you need an online store, just go with another service like Wix, which will give you more features for a lower price.
Weblium offers multiple support options: phone and email support, 24/7 live chat, and a knowledge base (available in Russian and English) that covers a wide variety of topics. You can also reach Weblium via Facebook, Twitter, and LinkedIn.
I think Weblium's live chat support is lacking. While they responded quickly, they ended up sending my question to another group to get back to me. I even contacted them via Facebook and received the same reply.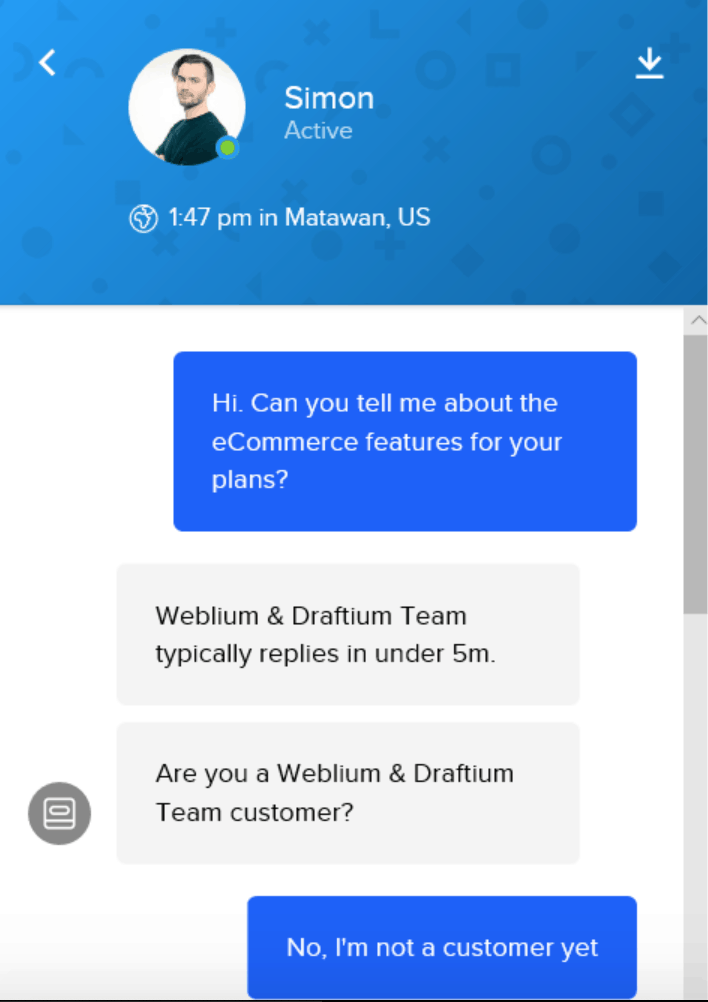 It took three days for someone else to get back to me. I received two answers. The second person was a "setup expert" who answered a bit more thoroughly.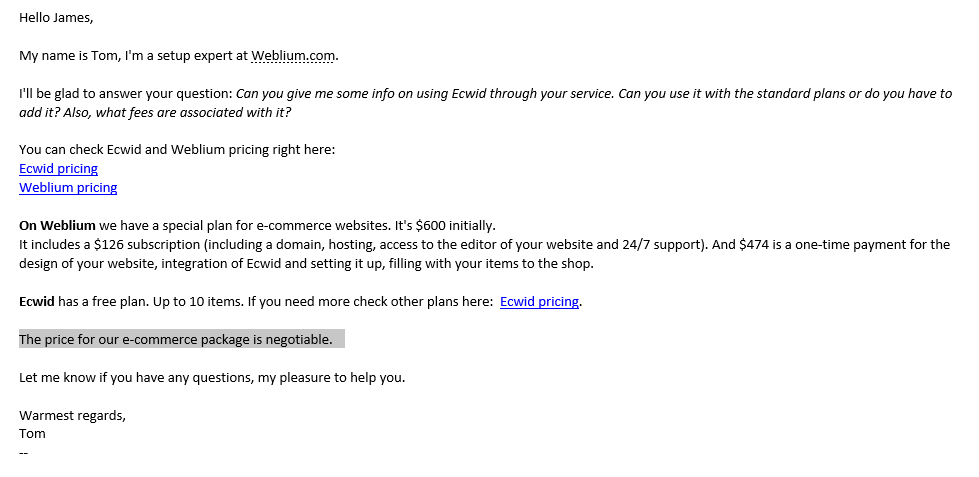 The first couple of times I contacted support was on the weekend, and it was on Monday when I started getting the help I needed. I suspect that the live chat support is outsourced on the weekends and is limited to very basic questions.
My last attempt to contact Weblium went much better. I asked a question about the content block library, and the agent even sent me a screenshot of some of the block functions to help me understand.
If you need help, I'd recommend going with email or phone support over live chat.