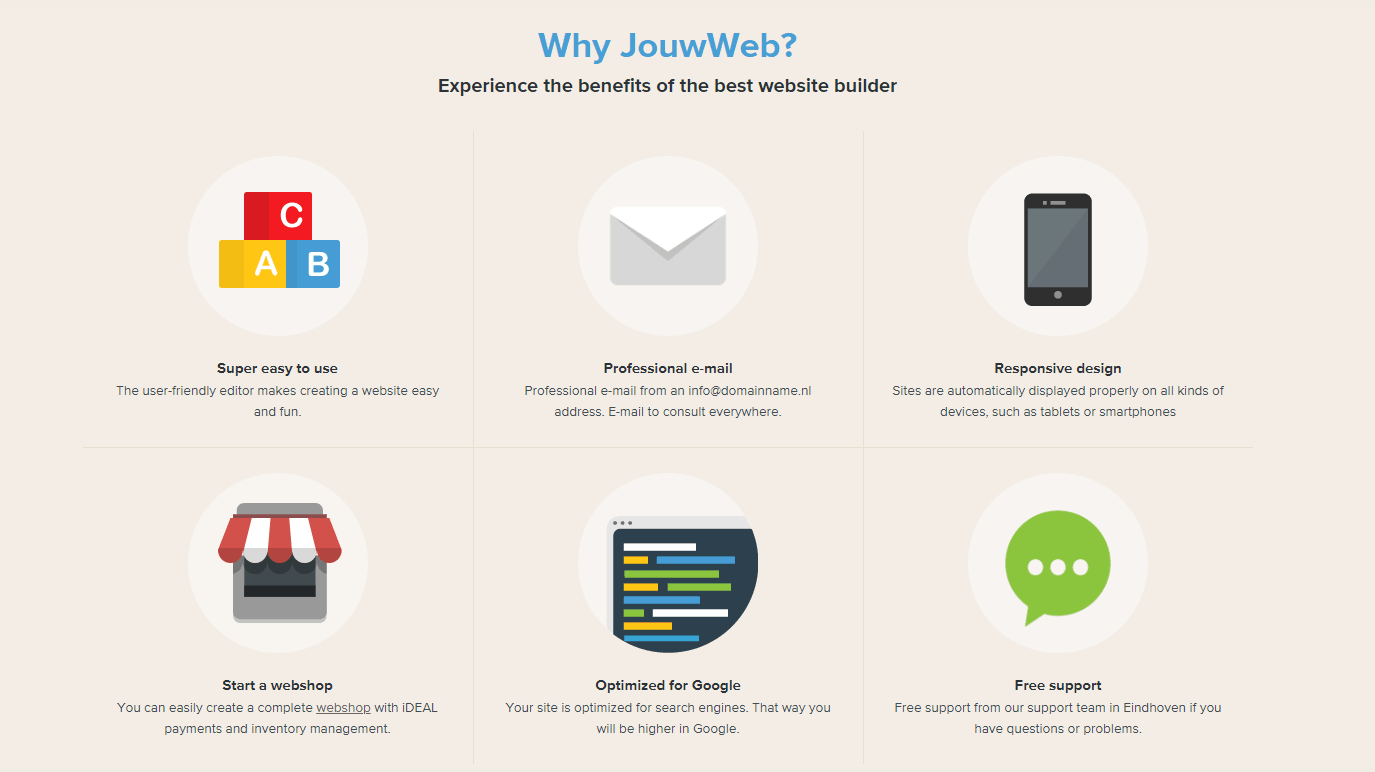 JouwWeb is a Netherlands-based website builder that focuses on providing simple website design tools. Over 750,000 websites have been designed with the platform, and its services are an excellent option if you're a beginner. The functionality is a bit restrictive, which means decision making is easy and there's not much room to mess things up. On the other hand, if you're an experienced user, you might feel like you want more freedom.
Features and Ease of Use
JouwWeb offers basic website-building services that are great if you're a beginner. All paid plans offer the following features:
Unlimited storage
Unlimited bandwidth
Free SSL certificates
Free domain
Multilingual websites
One thing that sets this website builder apart from other services is its drag-and-drop web store builder. The Pro plan gives you a web store with up to ten products, while the Business plan gives you unlimited products. You also have access to iDeal for payments.
I like that the Business plan offers two free domains as opposed to a single domain. That, coupled with free SSL certificates, makes for some excellent cost savings.
JouwWeb focuses on providing simple website design tools. Everything is done through its proprietary, user-friendly drag-and-drop website builder.
Dutch speakers will appreciate the fact that the website is entirely in Dutch. (If you don't speak Dutch, you can use Google Chrome to take advantage of the built-in Google Translate option.)
The builder offers over 50 mobile-responsive design templates, so you can make your website compatible on all mobile devices. It also offers tools and apps to support photo albums, videos, downloads, and social media integration. If you want to add third-party apps, you can do so via the Embed Code element in the web designer.
If you want to put forward the best impression for your new website or web store, then an email with your domain is a must. The Pro plan gives you one email inbox, and the Business plan gives you ten. If you want more accounts, you can buy additional inboxes for a fee.
You have the option to upload your own photos, but that's not all. When you upgrade to the Pro or Business plan, you gain the ability to upload audio files. Moreover, with the Business plan, you can also upload videos. The editor will automatically generate an audio or video builder that matches your website's color scheme and style. Additionally, you can embed various types of documents, such as Microsoft Word, Excel, and PDF, directly into your site. Alternatively, you can upload any file type you wish to make available for your visitors to download.
If you're not a Dutch speaker then this won't be a great choice for you, so click here to check out our other recommended website builders.
Pricing and Support
JouwWeb offers three service plans, including a free plan. The free plan is great if you're a hobbyist or someone who needs a simple website, but it's hosted on a JouwWeb.nl subdomain. Also, your website will feature ads.
The other plans offer either monthly or annual pricing. The monthly fee is on par with other website builders. However, the annual fee offers a discounted rate. Another nice thing is that when you sign up for a paid plan, you get the first three months free.
There are no extra fees with paid plans. The Pro plan gives you one free domain, while the Business plan gives you two. Note that if you want additional domains, you have to pay a flat fee that's a bit pricey.
For help, JouwWeb offers a searchable knowledge base, frequently asked questions, and video guides, all in Dutch. If you'd rather, you can also contact support by email, Facebook, or Twitter. They even have an emergency phone number for immediate help.