A Strong, but Simple Website Builder for Small Businesses
Flazio is an Italian website builder that offers users a one-stop shop for creating effective sites. The builder has all the basic elements you could need: hundreds of free templates and widgets, a straightforward editing tool for beginners, and user-friendly SEO guidance.
Flazio's interface conveniently supports a whopping 17 languages (though the English was a bit confusing at times and had quite a few grammar mistakes).
Do I think you should use Flazio to build your website? Honestly, I recommend you check out our list of the best website builders in 2023 instead. Flazio is a decent tool to start with, but the lack of advanced features can become frustrating when you want to build a full-fledged site.
Features and Ease of Use
There are over 100 template options on Flazio through the free plan – though I didn't find their designs as sleek as those offered by Wix or Squarespace. Nevertheless, the templates are very personalizable. So while you might hate all the templates' fonts, for example, you can choose from hundreds of fonts to swap it out, or upload your own.
Once you choose a template, you can start customizing with Flazio's user-friendly website editor. A tutorial takes you through the entire process, step by step.
The drag-and-drop editing tool is quite similar visually to the one offered by WordPress, so I encountered no learning curve on this platform. You certainly don't need to have any tech knowledge in order to dive right in.
The site offers special customized templates for the following categories:
Freelancing
E-commerce
Booking
Restaurants
In addition, Flazio's app store has hundreds of options, including a plug-in for Facebook that allows you to directly import your business' Facebook posts to your site.
Aside from that, a couple of other things stood out to me about Flazio:
Flazio reward you for using the platform. If you access your workspace every day, the site unlocks certain features for free.
The free plan offers basic analytics like site traffic and performance.
You have access to an impressive amount of tutorials on anything from creating banners to publishing videos, customizing photo galleries, and setting up an RSS feed.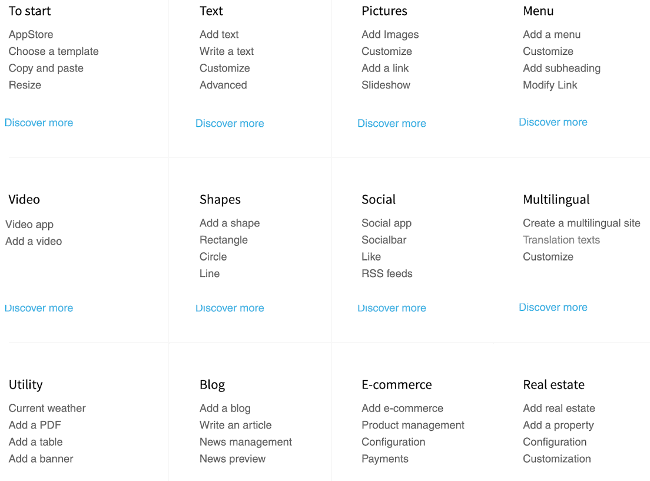 Pricing and Support
Flazio has different plans available, depending on what your needs are. The free plan, which I tested out, definitely gets the job done. Bear in mind, though, that this plan only comes with 200MB of storage.
If your site is doing well, it's probably worth it to upgrade to the premium plan. The platform runs different special offers on pricing, so check if they have any going on when you get to that point.
Flazio also provides decent customer support. If you're on the free plan, you can reach out to their team via email or chat, and they usually respond promptly (though only during M-F business hours). With the Professional Plan, you even have the option to give them a call.