Big Cartel is made for creative individuals looking to sell their products online. It offers a basic set of sales and marketing features to help you get your store up and running.
From my experience, Big Cartel works best on a small scale because of its simple set of features. There is no built-in tool that lets you change the language of your shop, but you can integrate translation apps such as Weglot, which display your site in several languages.
Big Cartel keeps it simple, but is it too simple to meet your e-commerce building needs? Read on to find out!
Features and Ease of Use
Getting started with Big Cartel is extremely easy and there are many prompts and reminders to lead you through the process.
Templates
Big Cartel offers 19 templates, which isn't a lot, but all of them are neat-looking, professional, and mobile responsive.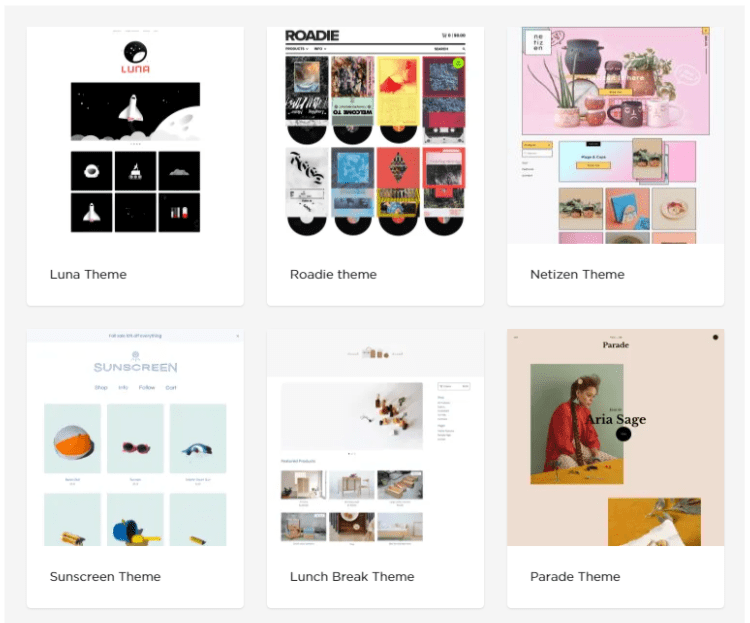 The downside of these templates is that they come with a narrow scope of customizing options. You can try on different fonts and add images, but the only way to edit images is to use code. Also, only users on paid plans get access to CSS/HTML editing, so if you're on a free plan, what you see is what you get.
On the plus side, you can switch themes whenever you want, and the products will be automatically reformatted to fit the new theme.
Dashboard
Big Cartel's dashboard is well-organized and everything is presented clearly. You can easily add products, manage orders, and see details of shipping, tax, and payments.
Apps and Integrations
Big Cartel offers a basic set of SEO and marketing apps, free and paid. Some of the free apps include Google Analytics to track your site's performance and Mailchimp to boost your email marketing efforts. You can also sell products on Facebook and tag them on Instagram.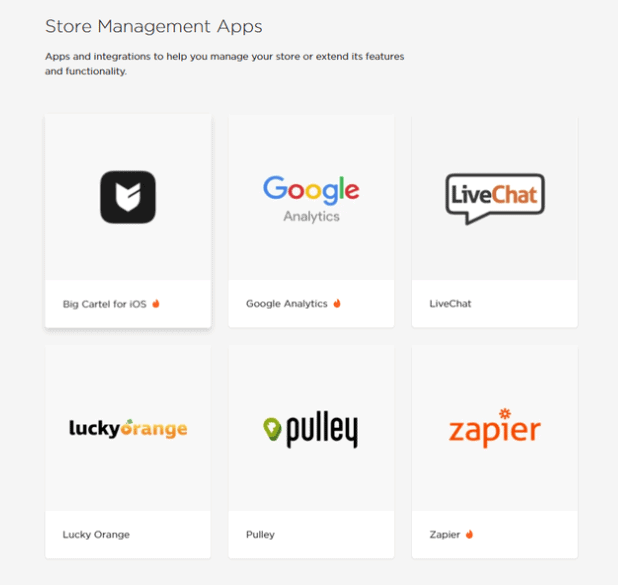 If you're interested in selling digital products, you can utilize the paid app Pulley. On the other hand, if you prefer custom printing, you have the option to use paid apps such as Art of Where or Printful.
You can receive payments via PayPal and Stripe, and Big Cartel doesn't charge any transaction fees.
Pricing and Support
The biggest perk of Big Cartel is its free plan. You can add only five products, but you also get some useful features, such as custom domain, shipment tracking, and a chance to offer discounts and run promos.
There are three paid plans: Platinum, Diamond, and Titanium. Compared to the free plan, paid plans offer some additional features, such as the ability to edit theme code, Google Analytics, and bulk editing of products on sales. However, all paid plans provide the same features, the only difference being the amount of products you can host, which is 50, 250, and 500 products, respectively.
Big Cartel offers email support only, but it has a pretty extensive Help section that covers all aspects of running an online store with them. Their support team is friendly, but it took almost 24 hours before I received an answer to my question about the video size limit.