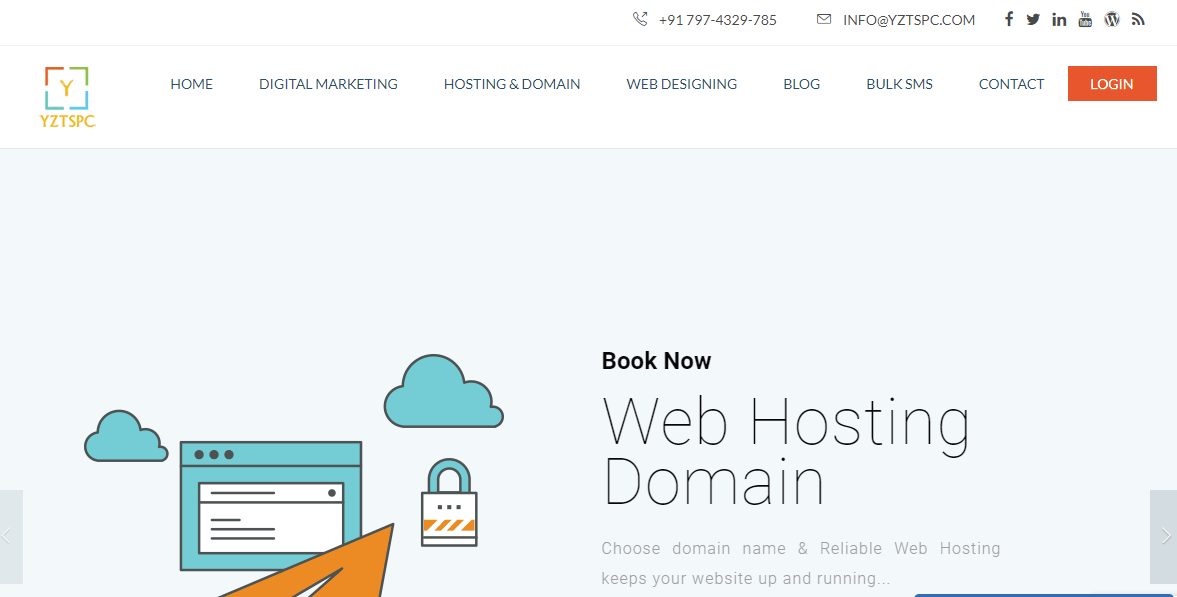 YZTSPC is a company founded in 2017 that's based in India. It doesn't only focus on web hosting. In fact, it offers web hosting, domain services, digital marketing, web security, bulk SMS, website design, and mobile application development. Its website is available in English only.
Features and Ease of Use
YZTSPC doesn't seem to pay much attention to its web hosting service. Its offering is basic at best, and these are its features:
Free domain registration on the top plan
100GB storage space
Email accounts
The storage space might make the features appear able to handle a lot, but the lack of any mention of other relevant web hosting features make me skeptical of how well it works. If you're looking to host a small business website with very little traffic or for testing, you can try it out.
There are no features or plans to support large businesses as the company doesn't offer virtual private servers or dedicated servers either. So, if that's your focus, you'll have to look elsewhere.
YZTSPC doesn't provide enough support for beginners to web hosting. There is no one-click application installer. That means that customers that want to use WordPress or any other CMS for building their websites will have to go the manual route when installing the application.
On the plus side, it does provide database backup and restore options to its customers. Also, it offers ten email accounts and DNS management (top two plans only).
Pricing and Support
Although there are three plans, there's not much difference in the features offered on them. The storage space is 100GB on all three, and the number of websites allowed and email accounts are three and ten respectively. The difference is in providing a free domain on the top plan and the lack of DNS management on the first.
However, the difference in price is a lot for the "little difference" that there is. Furthermore, the prices offered, although reasonable for that level of storage space, aren't so for the lack of other fantastic web hosting features that this company doesn't provide.
Its prices are displayed per month and you might have to contact the sales team if you wish to place an order. There's no free plan or free trial.
If a knowledge base is a must-have feature for you, check out other web hosting companies because this one doesn't have one. The customer support options available are a toll-free phone number, email address, ticketing system, and live chat. The live chat was offline multiple times, so I sent an email, but got no response even more than a week later.