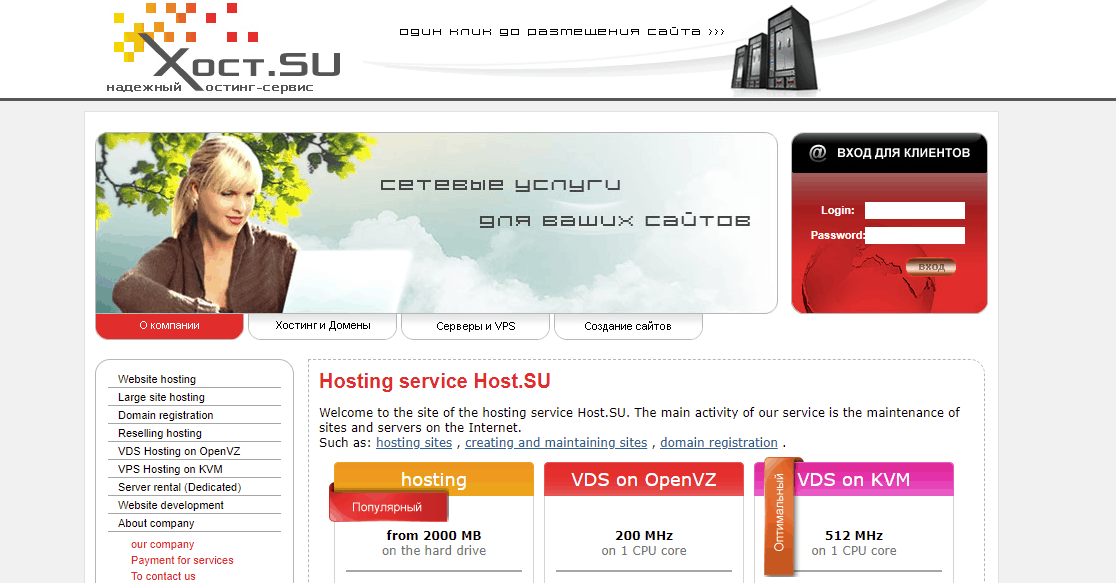 Founded in 2007, Xost.su is a web hosting company that is operated by CosmoHost LLC. It offers shared hosting and Virtual Private Servers (VPS). The company's office is in Moscow, and its website is in Russian only.
Features and Ease of Use
Xost.su offers two shared hosting categories: Website hosting and Large site hosting. These are the features that it offers on them:
Free SSL
Free .ru/.rf domain
one, 15, or unlimited domains
Unlimited traffic
Up to 100,000MB storage
If you're a beginner to web design, then an installer will be one of the features at the top of your list. If you're not willing to pay a whiz at programming, without those tools, you'd be lost. Xost.su offers a website builder with over 300 free ready-made templates that are mobile responsive so that you can create your website fast without any prior coding knowledge.
For those who'd rather use a Content Management System (CMS) or E-commerce application like WordPress and Prestashop, Xost.su covers them as well. Through the Softaculous and Installatron applications installer, you can install them on your account quickly.
For developers and others with experience, you can work with PHP scripts, HTML and CSS, CGI, Perl, and Python. Be aware, though, that Python isn't supported on all plans; you only get Python support on the VIP/large site plans. Also, PHP is restricted for those on the base website hosting plan.
Xost.su improves the performance of PHP scripts on its servers with Zend Optimizer. An application on Zend optimizer can perform from 40% to 100% faster than one that isn't.
Another feature that it provides (but not to those on the base plan) are databases. It provides MySQL with PHPMyAdmin and PostgreSQL with phpPgAdmin. The number of databases on offer differs between plans.
Pricing and Support
Xost.su doesn't offer a free version. Its pricing plans start from a one-month subscription, and it also also offers three-month, six-month, and 12-month hosting options. The longer you go, the more of a discount you get – discounts can be up to 10% when you pay for 12 months.
Prices are fair for a web hosting provider in Russia. On two plans on the Website Hosting category, it provides seven days of free hosting. Also, the company offers a .ru or .rf domain when you pay for six months and above. Plus, you'll get a free SSL on all but the base plans.
Its payment methods include WebMoney, ROBOXchange, Visa, MasterCard, bank transfer, E-gold, and Eleksnet terminals. They don't offer a money-back guarantee.
I needed information and searched for a knowledge base but couldn't find one, so I sent an email. Unfortunately, I didn't get a response. Other customer support channels available are phone and live chat.