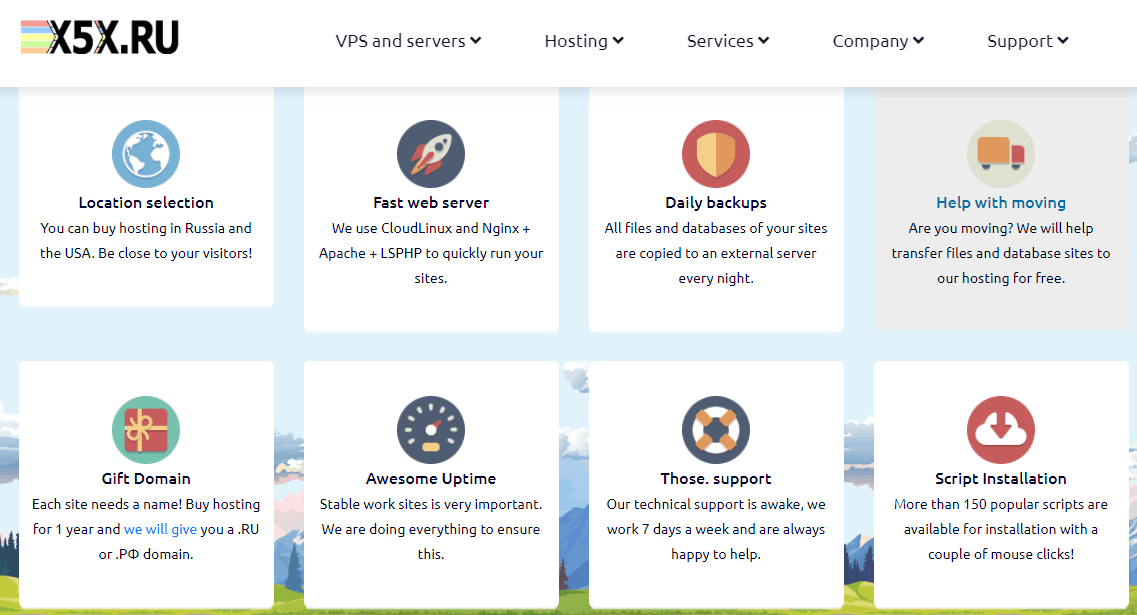 Russian IT company X5X Hosting has been in the hosting space for over 12 years and is a trusted host by more than 15,400 customers worldwide.
The vendor sells a range of online services, including shared plans with everything you may need to successfully run your PHP website. Its website is available in two languages: English and Russian.
Features and Ease of Use
With X5X Hosting, you get, among other services, PHP shared hosting, fast KVM VPS, Windows VPS, dedicated servers, and software licenses. As standard, the hosting solutions come with the following features:
Free Let's Encrypt SSL certificates
Dedicated IPv4 addresses
One-click script installer
Unlimited MySQL databases
PHP selector: 5.3-7.2
Free .RU domain name
Cron and DNS management
phpMyAdmin for database access
This vendor's hosting solutions support Linux, FreeBSD, and Windows operating systems, and while all support different customer's needs, CloudLinux is equipped with high-end technologies among them Nginx, Apache, and LiteSpeed web servers that make your website even faster to access.
Its customers' websites are hosted in Russia and U.S. hosting locations to bring you closer to your site's visitors. Dedicated and VPS servers are accommodated in European locations (France, Bulgaria, and the Netherlands).
Users get served with the DirectAdmin control panel with a user-friendly web interface and a variety of features (like web-based file manager and the ability to install over 150 popular scripts) for easier account administration.
By default, all of its customers' website accounts include daily backup options that are backed up to remote servers and you can rest assured that your data and files are safe.
Pricing and Support
X5X Hosting web hosting prices are somewhat affordable and are listed in U.S. dollars (as well as Russian rubles and euros). The solutions start with monthly contracts but annual subscriptions attract a 20% off for each plan purchased. You can also get a quote on additional resources like additional IP addresses, disk space, RAM, CPUs, and hosting location.
The hosting provider does not provide any refunds upon payment but it gives users a seven-day trial period to try its hosting services. That said, it does not seem to commit to an uptime guarantee policy.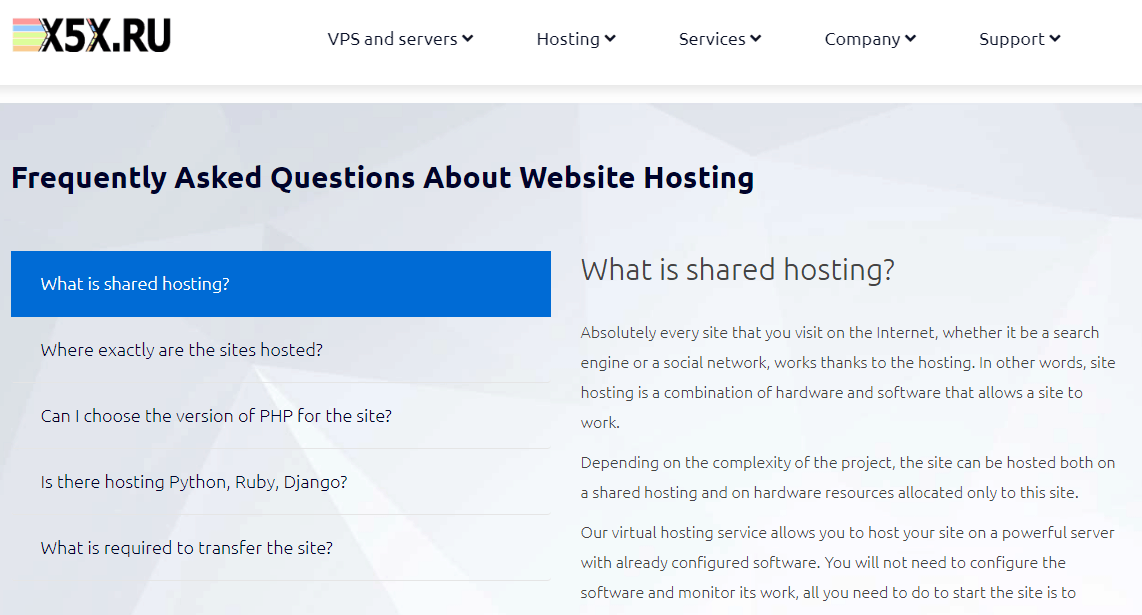 Its 24/7 technical support staff can be reached by customers through telephone, email, and live chat. Additionally, customers have the option to report abuse by submitting an abuse complaint form. I experienced a swift response from this vendor's support team to my email query, receiving an answer in merely ten minutes.

The knowledgebase is lacking and there are a few FAQs available on its website.