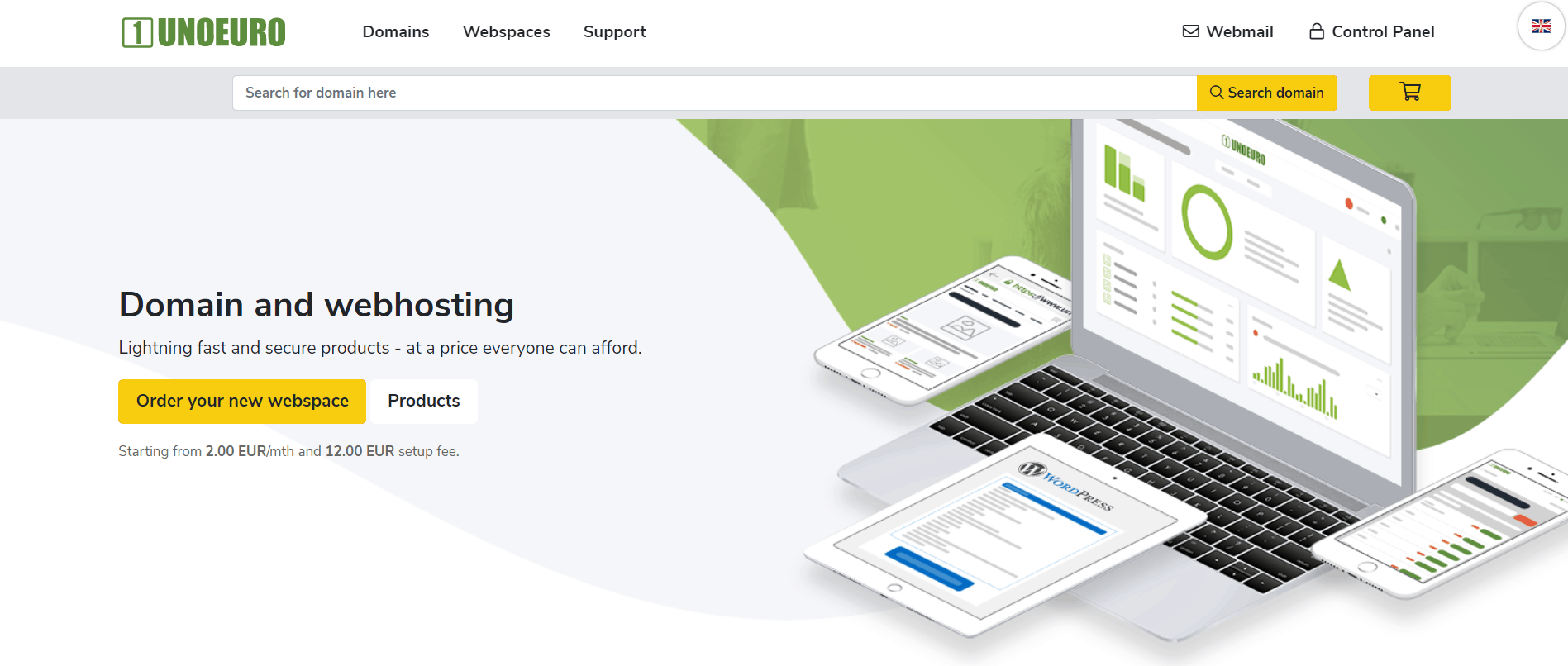 To compare the best web hosts, we hosted the same WordPress website on each one and tested performance, customer service, and value for money.
Check out the results here.
UnoEuro is a small European hosting provider that's been in the web hosting game since 2004. Their main office is in Denmark, as are their servers. UnoEuro is a Microsoft Gold Hosting Certified Partner, so they're well-equipped to offer reliable and stable ASP and ASP.NET hosting services. Their website is available in English, Danish, and Swedish.
Features and Ease of Use
UnoEuro's website is fairly basic, yet straightforward: there's only one section outlining their range of hosting services, so you can check out all the features of their four packages in one shot. These four packages are limited to shared hosting; they don't have any cloud, VPS, or dedicated server options.
All plans come with unmetered traffic as well as unlimited emails, subdomains, and MySQL storage. Each tier up gives you more storage space, CPU power, RAM, and MySQL databases. Plus, you'll get the standard shared hosting features, such as HTTPS protection, a free Let's Encrypt SSL certificate, daily backups, a one-click app installer, SSH access, and support for the various scripting languages. There's no limit to how many domains you can host per account.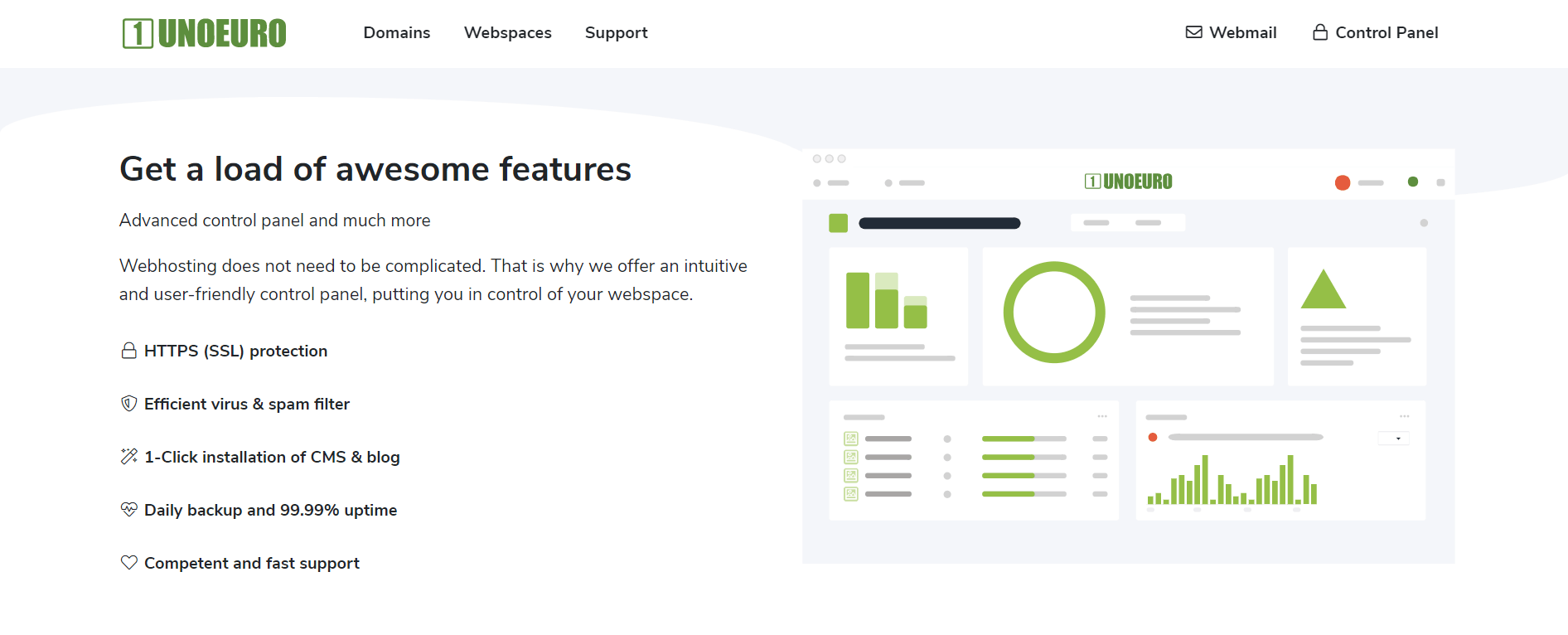 All of their servers are located in a highly secure data center in Demark. They don't own the data center, unfortunately; instead, they've partnered with Zitcom A/S, another Danish web hosting company. This means that network connectivity and server uptime are out of their control; for this reason, they don't readily advertise any uptime guarantees or SLAs on their website.
Those who require Microsoft-specific features will be happy to know that UnoEuro is a Microsoft Gold Hosting Certified Partner, so they can provide you with highly reliable and stable ASP and ASP.NET hosting on Windows-based servers.
Pricing and Support
Since UnoEuro's packages are limited to shared hosting at the moment, their prices are highly affordable and typically below the market average. One thing I didn't quite like about them is that they charge a setup fee for all their hosting plans, and the setup fee can be equivalent to several months to half a year of your annual hosting costs. They also charge setup fees for adding extra associated domains, so the fact that they advertise "no limit" to the number of domains per hosting account was a bit misleading.
They do not offer a free version or free plan, but they do provide a 14-day money back guarantee. However, compared to industry norms, this money back guarantee is quite limited in terms of its generosity.
Support-wise, they've demonstrated that they've got a competent and responsive team. I wish they had more support channels and technical documentation available. At the moment, you can only contact them via support tickets.
How much does UnoEuro cost?
UnoEuro offers plans from $2 to $22. The price depends on which type of hosting plan you choose. You can see the updated pricing table (updated weekly) below.

Which UnoEuro plan should I get?
My recommendation is to start with a cheaper plan. You can always upgrade later on. UnoEuro can help you with the migration to a more expensive plan. The increase in visitors many times takes longer than expected and you shouldn't pay a lot of money until the need arises. Of course, your needs may vary, and you can consult with a hosting expert from UnoEuro here.

How good is UnoEuro's customer support?
UnoEuro is not ranked as one of our top web hosts. But that can also be a result of UnoEuro being a small, under the radar, hosting provider. There are advantages to a small hosting company – as a customer, you are more important to them. You can also check out our comparison of the most popular web hosting services here.