Tu Tienda Hosting is a Spanish company with their own data centers in Spain and France. They've been in business since July 2012, initially starting out as a reseller host and domain registrar offering web design services on the side. They now serve customers from various parts of Europe and around the world. Their website and service are only available in Spanish at the moment.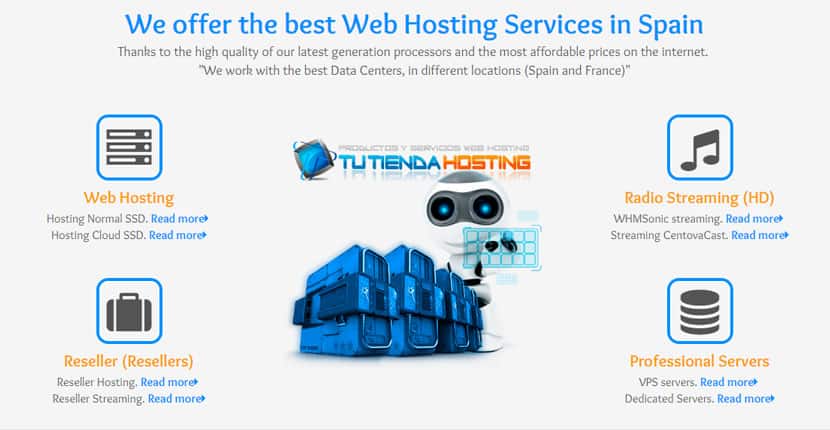 Features and Ease of Use
Tu Tienda Hosting offers a typical array of shared, reseller, VPS, and dedicated server hosting. One element unique to them is that they also offer HD radio streaming services. Their reseller hosting services are white-label, which affords their customer base the ability to customize and rebrand the platform for their own companies. Their data centers come with a network connectivity uptime SLA of 99%.
Tu Tienda Hosting's shared servers are cloud-based, so you get the best of both worlds. They offer an excellent range of your typical shared hosting features along with the easily-scalable and high-availability infrastructure of the cloud. This means that you get redundant servers for far better uptime, immediate activation, unlimited backups, free SSL certificates, a one-click app installer, and a highly-responsive interface among other features. All shared hosting packages also come with a cPanel installation that's been fully translated into Spanish. The servers utilize full SSD storage, so you can be assured of efficient load times for your website.
Tu Tienda Hosting guarantees a website uptime of 99% and will credit a pro-rated amount to your account should they fall short of this mark. This is lower than the industry average of 99.9%. It basically means that instead of experiencing less than an hour of downtime every month, you might have to deal with several hours of downtime.
Pricing and Support
As previously mentioned, their shared hosting plans are an incredible offer: you're getting the best of a cloud infrastructure at some of the cheapest shared hosting rates in the European market. There's no free domain included, unfortunately, so you'll have to factor this into your budget.
Their VPS hosting packages are also among the most inexpensive I've seen in the market. Their VPS Mini 1 package is priced at slightly less than double the price of a low-level basic shared hosting package; this means you're getting the better security and performance of a VPS at roughly the price of a shared hosting plan. Note that all their VPS Mini plans are unmanaged; you'll have to go for at least their VPS Normal plans for some level of management.
There's one bonus with Tu Tienda Hosting: all plans are easily scalable; if you find your website outgrowing your current hosting plan, you can easily upgrade to the next level from your admin panel. This is thanks to their cloud infrastructure (which, by the way, also means that if you purchase a VPS plan from them, this can be activated instantly).
Sadly, Tu Tienda Hosting doesn't offer any free plans or trials. They do have a 100% money back policy if you cancel within the first 15 days, but given that most providers give an average of 30 days for this refund, this pales in comparison.
You can reach their support personnel through support tickets, a contact form, email, and telephone. Most of their channels are only open during office hours though; if you need support after hours, you can submit a ticket via the relevant departmental channel. Also, bear in mind that Tu Tienda Hosting is a Spanish platform, so non-Spanish users may have trouble communicating with them.