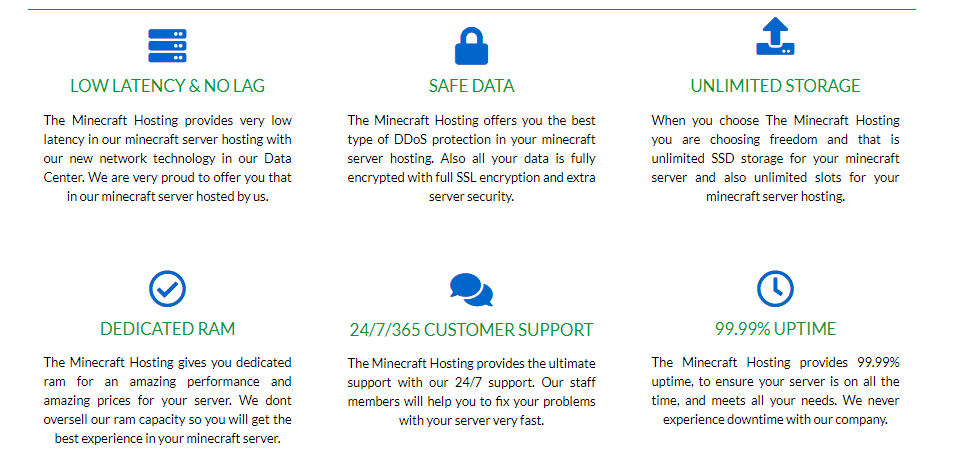 TheMinecraftHosting sells what it calls Minecraft Pocket Edition Plans and Minecraft PC Plans. Also, Game servers are now in stock. The host is a home for over 15,000 customers, and to date, it has sold more than 75,000 servers to businesses worldwide.
Based on its website's copyright footer (that reads © 2015-2019), this hosting company seems to have been launched just over four years ago. Its "theminecrafthosting.com" website is available in two languages: English and Spanish.
Features and Ease of Use
TheMinecraftHosting's web hosting services are equipped with hosting resources that the vendor claims provide the speed and reliability that customers require to run successful online projects. The hosting services are powered by Multicraft control panel and include the following standard features:
Unlimited slots for servers
Servers with Intel Xeon CPUs and fast SSDs
1 Gbps connection
Unmetered monthly bandwidth
Special Enjin and Buycraft promotions
Plugins, mods, and custom JAR support
TheMinecraftHosting owns all of their servers and they are hosted in data centers with independent power grids, battery arrays, backup generators, and diverse internet entrances to prevent downtime. Also, the hosting infrastructure is under tight security and its data center facilities are manned 24/7 for protection against unauthorized access.
With TheMinecraftHosting, users can choose their preferred hosting locations from the United States, France, and Poland. The vendor also has plans to expand its infrastructure to Asian countries in the near future.
TheMinecraftHosting provides DDoS protection in your Minecraft servers for protection against any DDoS attacks. In addition, your website will be fully integrated with SSL encryption offering even extra server security. However, the hosting company does not seem to perform any backup services and users would be forced to outsource these services elsewhere.
Pricing and Support
In contrast with the features included, a fair conclusion would be that its hosting plans seem reasonably priced. The services are advertised with monthly billing cycles but you can select other payment options, including quarterly, semi-annual, and annual subscriptions. All prices are listed in U.S. dollars.
TheMinecraftHosting provides a 99.99% server uptime guarantee, ensuring your server stays on almost all the time. All the same, only some plans offer free website hosting for 45 days with Enjin forums.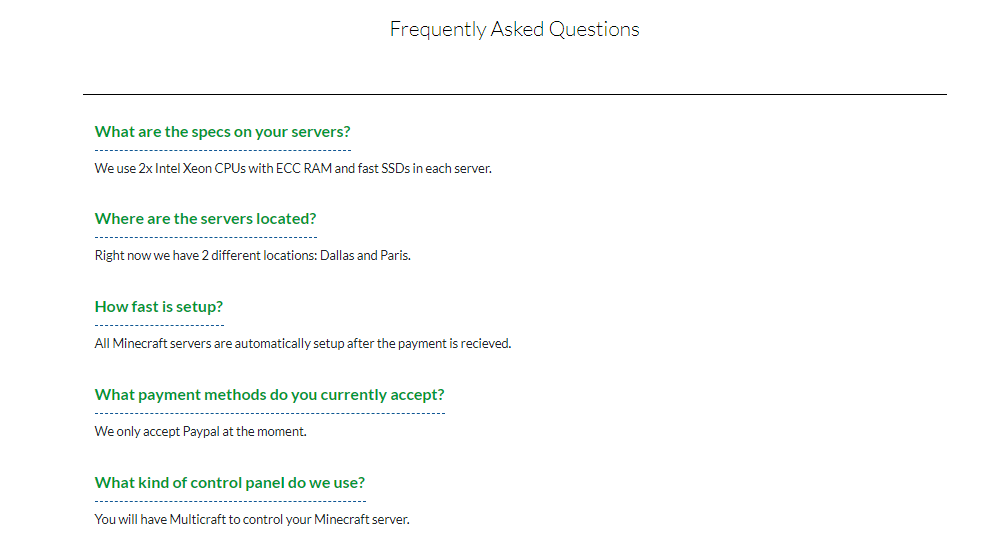 Its customer support center is available 24/7/365 and customers can only contact them via support ticket. The hosting company has live chat support but is exclusive to existing customers. That said, the hosting vendor does not seem to have email or telephone support.
I sent a message to this vendor's sales department via the contact form on their website but did not hear back from them.
Although it has some FAQs available on its website, many customers will find this vendor's knowledge base quite unhelpful, since it has only two articles available. Alternatively, users can also check out some videos on their website.
How much does TheMinecraftHosting cost?TheMinecraftHosting offers plans from $1 to $95. The price depends on which type of hosting plan you choose. You can see the updated pricing table (updated weekly) below.
Which TheMinecraftHosting plan should I get?My recommendation is to start with a cheaper plan. You can always upgrade later on. TheMinecraftHosting can help you with the migration to a more expensive plan. The increase in visitors many times takes longer than expected and you shouldn't pay a lot of money until the need arises. Of course, your needs may vary, and you can consult with a hosting expert from TheMinecraftHosting here.
How good is TheMinecraftHosting's customer support?TheMinecraftHosting is not ranked as one of our top web hosts. But that can also be a result of TheMinecraftHosting being a small, under the radar, hosting provider. There are advantages to a small hosting company – as a customer, you are more important to them. You can also check out our comparison of the most popular web hosting services here.