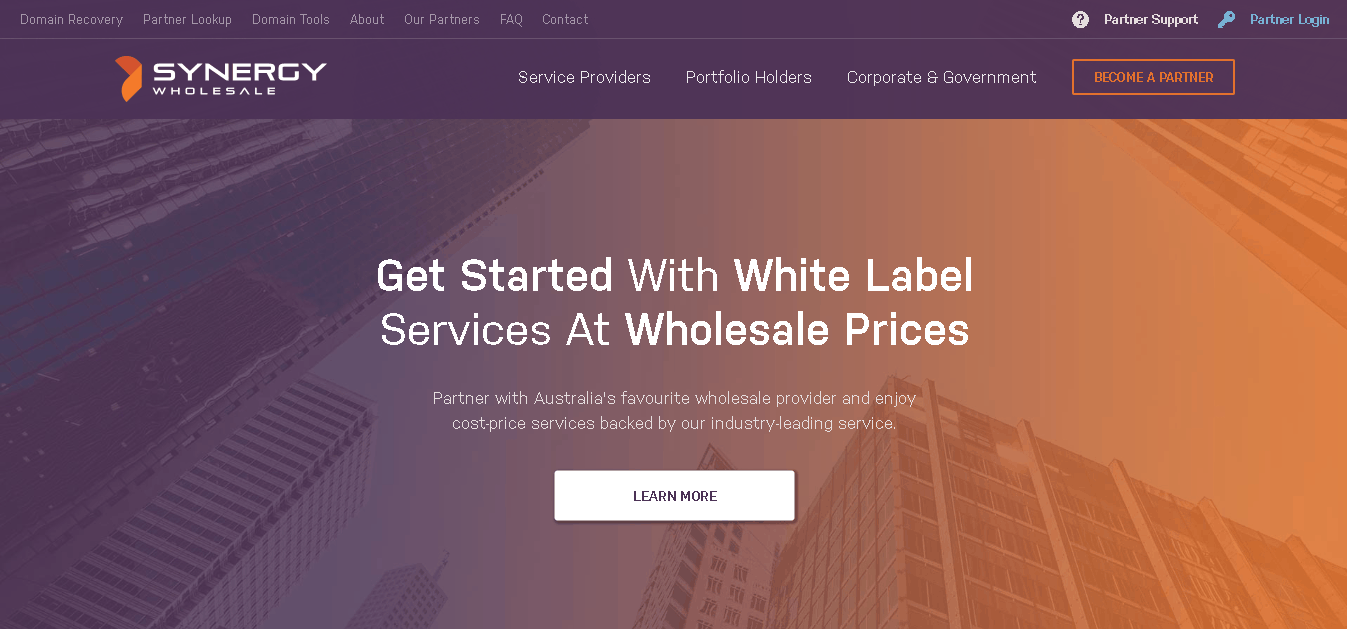 To compare the best web hosts, we hosted the same WordPress website on each one and tested performance, customer service, and value for money. Check out the results here.
As its name suggests, Synergy Wholesale is a wholesale hosting provider that makes it easy for resellers to create a portfolio of hosting services. This is a proudly Australian owned and operated company, and (at least for now) you have to have an address in Australia or New Zealand to sign up as a partner. Synergy is a fully ICANN-registered domain provider, and its current partners are some of the most reputable brands in the industry.
Features and Ease of Use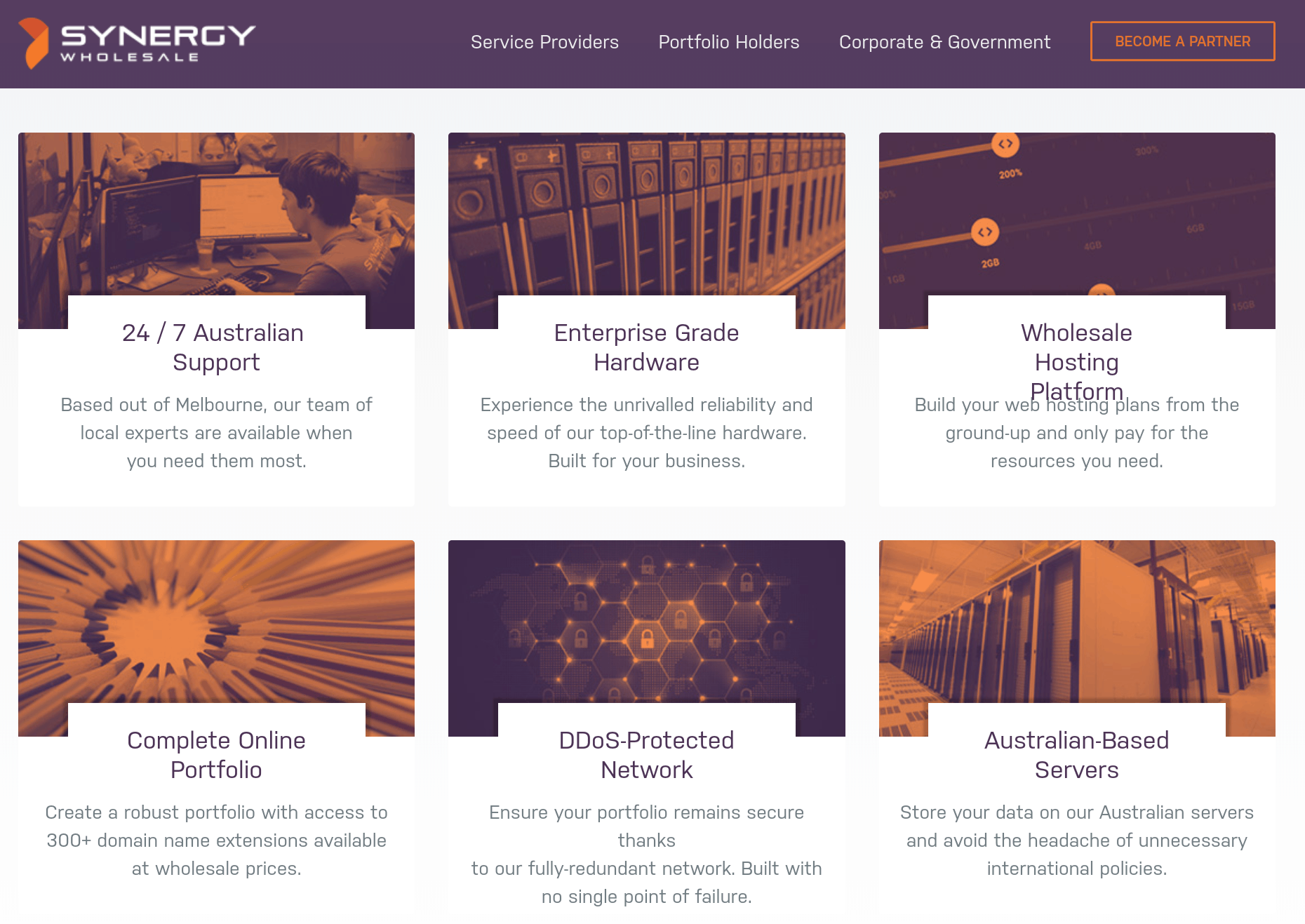 It's easy to become a partner of Synergy Wholesale, to benefit from its excellent management dashboard and robust features including:
Full domain registration with unlimited add-ons, parked, and subdomains

Free AutoSSL certificates (or purchase premium certificates)

Configure hosting services with up to 25 GB of SSD

Unlimited monthly bandwidth with all plans
As a wholesale provider, Synergy can provide you with pretty good features on powerful infrastructure at low cost. Its hosting runs on Dell servers with SAS SSD storage and you can purchase rack space at the NextDC enterprise Tier III data center.
Each hosting service automatically includes Acronis hourly backups, AutoSSL certificates, Fortinet hardware firewalls, and secure email hosting with spam filtering. Security is further enhanced with its DDoS-protected, fully-redundant networks.
If you think that partnering with a wholesale hosting provider will be complicated, you're in for a pleasant surprise. Synergy Wholesale makes it incredibly easy to manage all your domains and hosting accounts along with add-ons like SSL certificates and SMS services. You can manage hundreds of services using the bulk-management and requisitioning tools.
The only negative, to my knowledge, is that you can only resell hosting services with up to 8 GB memory and 25 GB storage unless you contact the company for a tailored solution. There is no uptime guarantee openly advertised on Synergy's website, but its SLA document details the percentage credit that becomes payable if website availability falls below 100%.
Pricing and Support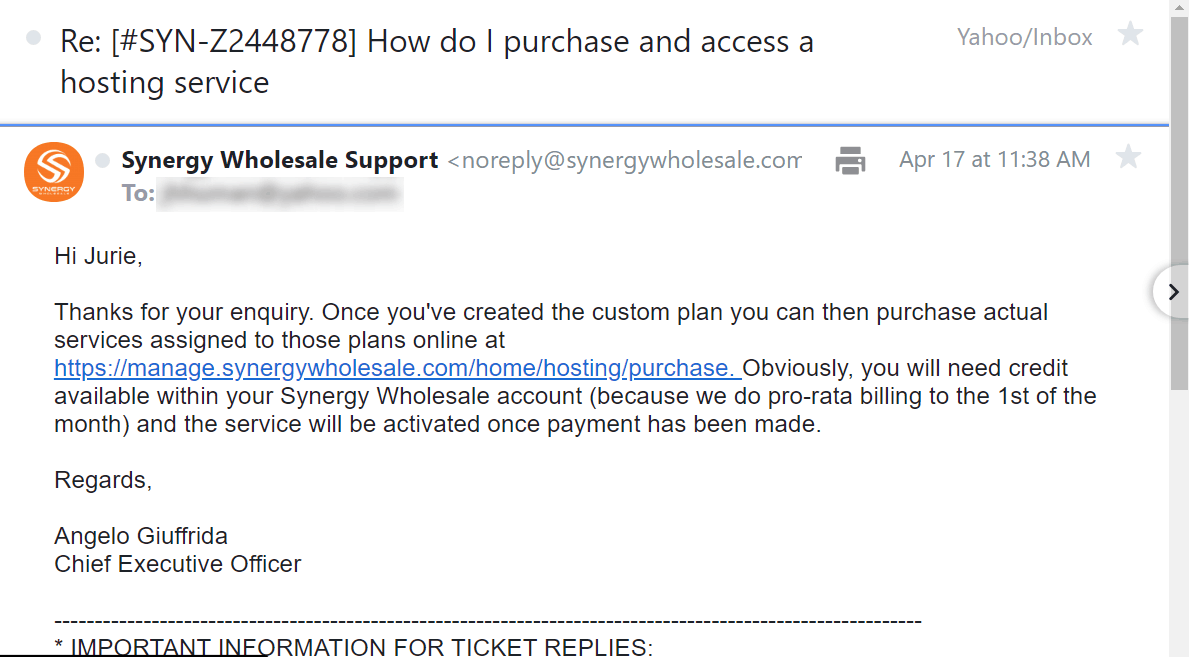 Synergy's Wholesale Hosting Platform for white label services provides a slider-driven tool so that you can "create completely custom web hosting plans that are tailored to meet the needs of your loyal customers," which basically means not paying for resources that are not actually being used. It also provides a level playing field by being the only Australian wholesale channel that guarantees every partner pays the same price regardless of their size or buying power.
Understandably, the wholesale prices look very low compared with retail shared hosting prices.
You can create a 7-day free trial account (which will be accepted or rejected by the company) to test the dashboard's management features and other services. To actually use the hosting services, you'll have to purchase by loading credits onto your account. If you manage to activate 100 services within the first 30 days, Synergy will rebate your initial sign-up fee. There are no other refunds on offer unless you have a very good reason for requesting one because the provider genuinely falls short.
Synergy provides 24/7 support to wholesale partners primarily via a ticket system, but with the option to call your Wholesale Manager "if all else fails" for limited technical assistance or to direct you to the right resource. I was pleased to receive an email reply within only 15 minutes.
In addition to one-to-one support, Synergy's website includes a comprehensive set of FAQs plus a complete set of documentation for partners comprising a reseller agreement, a service level agreement, and so on.