Softronics has been in business since 1992, growing over the years to offer an array of technology-related services to customers in Switzerland and beyond. Today, the company offers web hosting solutions like virtual servers, dedicated servers, and shared web hosting. It is one of the top 30 web hosting companies in Switzerland with a market share of 0.16%. The Softronics website is available in German and English.
Features and Ease of Use
Softronics hosting solutions include the following standard features:
phpMyAdmin

IMAP / POP3 Mail

Extended webmail & web statistics

Online FTP/FTPS access

DNS Administration

Unlimited domains and subdomains

MariaDB databases

PHP 5.6, 7.0, 7.1

Perl and CGI

Spam protection and antivirus

Free SSL Certificate
Softronics markets itself as a Terminal Server Solutions provider. The business proposition revolves around helping customers access and work with their programs and data from practically any location.
Softronics takes care of all issues related to technology so that the customer can concentrate on running their business. This vendor started out as just a data center located in Switzerland but has evolved to offer an array of hosting solutions backed by powerful hosting infrastructure.
The vendor's Swiss data center is highly secured. It has multiple redundant firewalls on high-performance servers, operates on an encrypted connection, has efficient protection against spyware, viruses, and worms, and is video monitored around the clock.
The Softronics web interface allows users to create and edit the DNS records of their domains. Referred to as the DiskStation Manager 6, this web interface is user-friendly and relatively easy to use. Its Package Center includes a long list of apps that users can install with a single click.
This vendor offers daily full backups as part of its cloud hosting solution where users can restore their account data for the last seven days. They can also do manual backups by syncing their local data. What's more, this hosting firm allows users to back up their websites to a USB hard disk, any Rsync compatible server, and an Amazon S3-Server.
Pricing and Support
Softronics hosting solutions are pretty cheap with prices listed in euros. They are quite customizable; users can adjust their package during checkout. The hosting firm's monthly billing cycles would be quite convenient for most customers. It ALSO offers up to three months of free hosting but does not say what a user has to do to enjoy this free hosting period.
This hosting company does not offer a money-back guarantee and its 99.9% uptime guarantee is only available by request.
To contact Softronics, you can send its support team an email or a message via the website contact form. The vendor has not made available a live chat option or ticketing system. I sent them an email inquiring about their WordPress solutions but never got a reply.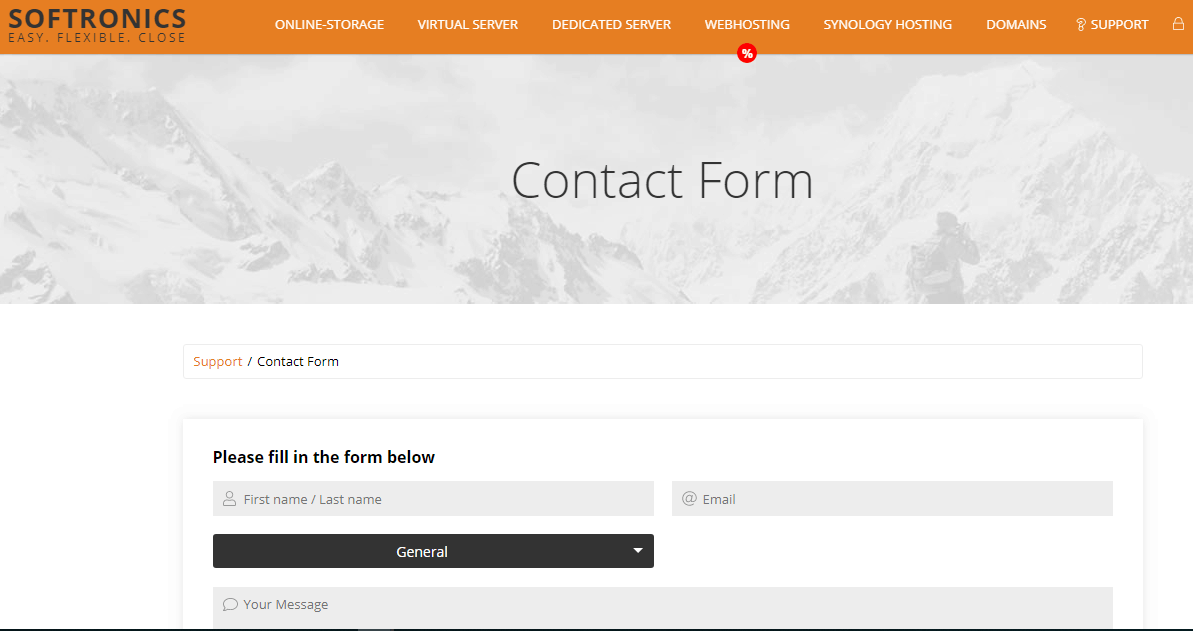 The Softronics website includes tutorials, but only the vendor's registered users can get access to them.