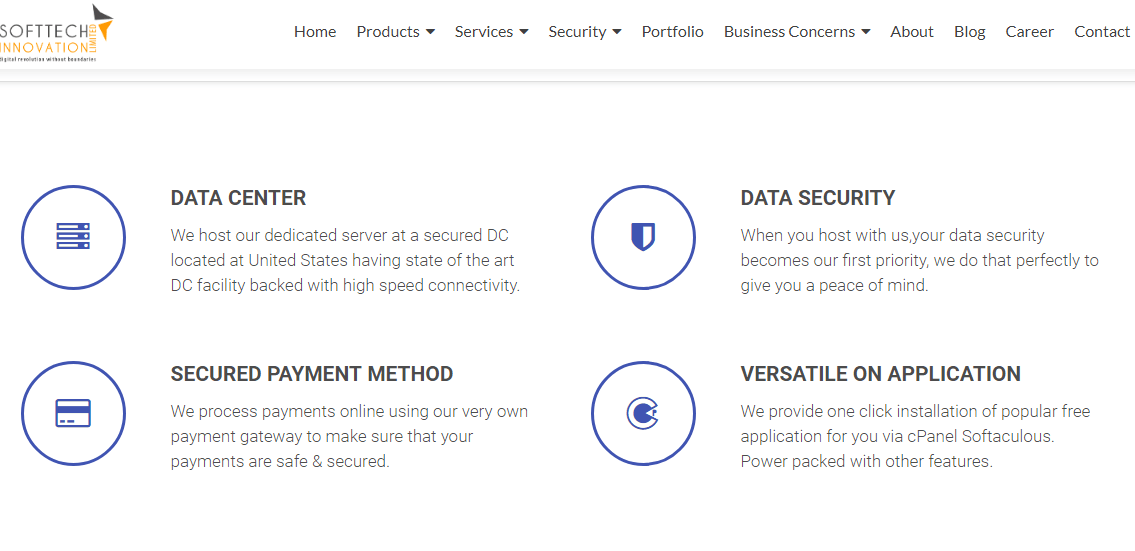 Soft Tech Innovation Limited has been providing quality web hosting since 2005. It's based in Bangladesh and has served over 1,200 customers. As well as web hosting services, Soft Tech also offers website development, IT consultancy, and point-of-sale products.
Its servers are located in the United States, and its website is in English.
Features and Ease of Use
Soft Tech offers six web hosting plans, with the lowest plan providing enough storage for small business websites and personal brands. E-commerce businesses can use the top plan instead.
All customers can enjoy the following features and resources:
99% uptime
Up to 30 TB monthly bandwidth
Full snapshot backups with R1Soft
Up to 10 GB RAID storage
All the web and email security basics are covered, including anti-spam and antivirus protection, secure FTP access, and IP blocking. The ionCube Loader is also provided to prevent software written in PHP from being accessed on an unlicensed computer. Soft Tech also offers four SSL certificates.
Customers use cPanel to manage their hosting accounts, and the Softaculous installer allows you to install additional applications easily. There is no website builder, so you'll have to make separate provision for this.
Software developers should be pleased that this provider supports MySQL and a plethora of programming languages including PHP, Perl, Python, Ruby on Rails, and CGI. E-commerce companies with be happy to see support for a range of payment processors.
Pricing and Support
Soft Tech's prices are low for the resources on offer, and you can pay month-to-month or year-to-year. The 7-day money-back guarantee slightly mitigates the risk of you being unsatisfied with the services initially, but many hosts offer a better 30-day money-back guarantee.
Soft Tech's support is not 24/7, but customers can contact the company 16 hours every day by telephone or email. There is no live chat, no ticket-based support, and no knowledge base for self-support. On the plus side, my exploratory email was answered within 12 minutes: