Focus on Business Customers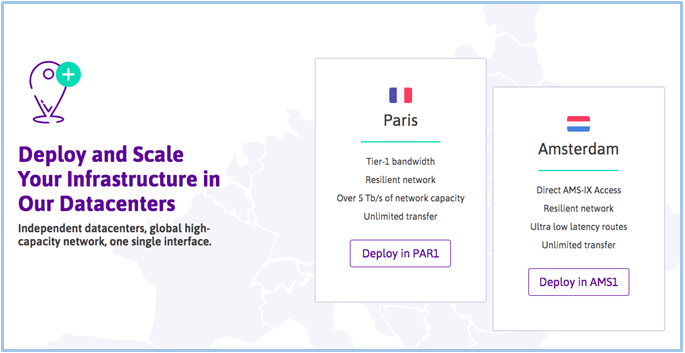 Founded in 2015, Scaleway is a subsidiary of French-based telecommunication company Iliad Group.
Scaleway targets professionals, developers, and scaling businesses by offering web hosting, cloud hosting, dedicated servers, private infrastructure, and bare-metal cloud services. However, if you need top quality web hosting for personal or small to medium-sized business, don't miss this top web hosting comparison.
Scaleway also offers other cloud web-related services and security solutions, including, but not limited to, DDoS protection, RPN, and Failover IP.
It serves business clients in more than 150 countries and has four data centers in France and one in the Netherlands. The website is available in English and French.
Advanced-Level Cloud Hosting
Scaleway provides cloud infrastructure for developers and growing businesses. It's not a managed host, so you won't get assistance with server configuration or help with migration. Nevertheless, it offers three web hosting plans (Hosting Personal, Hosting Pro, and Hosting Business) that come with basic features like a free domain name, website building tool, CMS deployment tools (one-click installer), and DDoS protection. Read on to find out if Scaleway has what you're looking for.
One-Click Deployment 
While the Scaleway website comes across as quite technical, it offers many of the usual features you'd expect with any standard host. Scaleway calls it "ready-to-use distributions and applications in a click," which is just a fancy way of saying you can install popular programs via a one-click installer, InstantApps.
Above-Par Uptime SLA
Scaleway has an above-average uptime service-level agreement (SLA), which is between 99.9% and 99.99% depending on your plan. Plus, it promises that you will be compensated if you experience excessive downtime. I'd be a little cautious, as the exact compensation isn't in the website terms and conditions.
Designed for Developers
After visiting Scaleway's website, you should have no doubt that it's targeted at developers. Not only is the language full of tech jargon, but there are also lots of developer-specific features.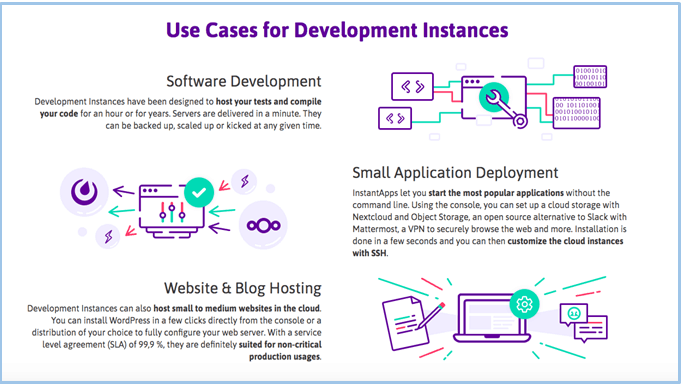 There's a developer program (you can submit your application on the ImageHub to reach potential customers), an open-source alternative to Slack, a VPN to securely browse the web, and SSH access.
Bare-Metal Servers with SSD Storage
Scaleway offers bare-metal servers that are entirely independent of your digital neighbors, meaning you won't be affected in the event of peaks in other people's traffic or even malicious attacks. Plus, the SSD storage will enhance your website's performance up to ten times compared to HDD.