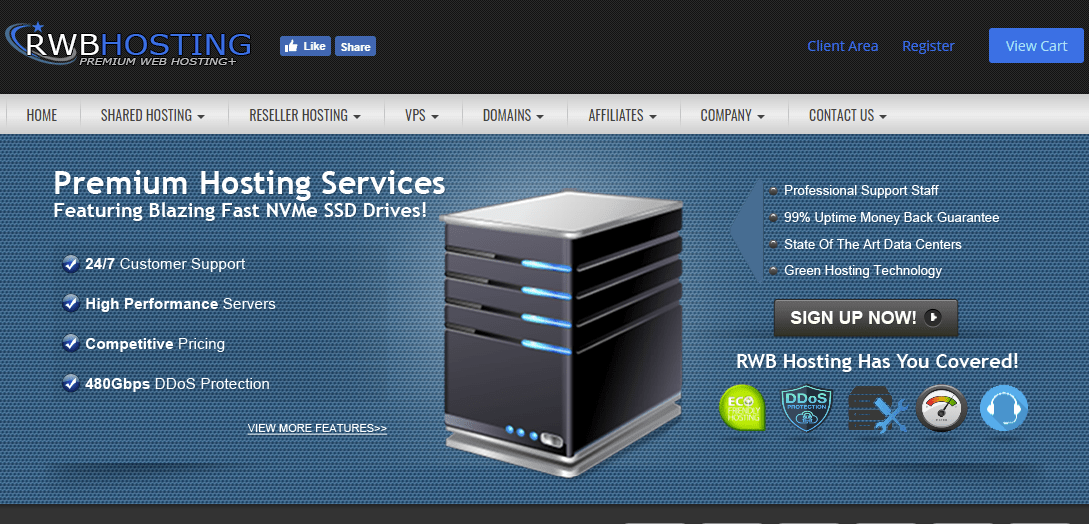 Formed as a division of RWB Services, RWB Hosting provides shared hosting, reseller hosting, Virtual Private Servers, and domain registration. The company's servers are housed in data centers located in Australia, the United States, the United Kingdom, and Canada. Its website is available in English only.
Features and Ease of Use
RWB Hosting offers four hosting plans with different resources. The four plans run across its four server locations, so you can choose the one that fits your website resource needs and the location of your target audience. These are some of the features that the company offers to customers:
99% uptime
Daily automatic backups
Free DV SSL Certificates
Unlimited add-on domains
Unlimited bandwidth
RWB Hosting provides the Softaculous application installer with every cPanel account it gives its customers. You can use it to install over 300 scripts quickly and with ease.
You have probably read about how great SSDs are. If you haven't, well, they are great. However, NVMe is way better. RWB Hosting provides Non-Volatile Memory express (NVMe) to customers.
This is a hardware interface protocol with a faster hardware interface because it capitalizes on the low latency and "internal parallelism" of SSDs. As a result, it provides about 6X faster data transfer and 60x better IOPS performance than SSDs.
RWB Hosting takes it further by mirroring in RAID 1, which improves the reliability and read and write speed of your drive.
They are protected from DDoS attacks of up to 480Gb/s. That should be sufficient for most medium-sized businesses. If you own a large international business, however, you should look for additional protection.
The drives run on CentOS Linux distribution, but if you need any other operating system, you can get that from the VPS plans. On any of them, you can install an OS of your choice.
Pricing and Support
RWB Hosting has some low-cost plans; the tops ones do go a bit high for shared hosting but with the features on offer, they are worthwhile. Plus, it provides free domain validation SSL certificates.
There are two payment duration options – one month and one year. If you're willing to pay for a year, you'll get a 25% discount. However, going for the one-month duration is better to reduce your risk because the money-back guarantee is for only 24 hours. In that time, most people haven't even started setting up their accounts or uploading website files.
VPS comes in four plans in four locations, as well. It comes with nice features like a one-click installer, and the prices are good, too. The money-back-guarantee doesn't extend to VPS; it's only on shared hosting and reseller hosting.
Customer support is available 24/7. You can get help through phone, live chat, and ticketing system. I tried the live chat but the page just wouldn't load, so I opened a ticket and got a reply the same day.