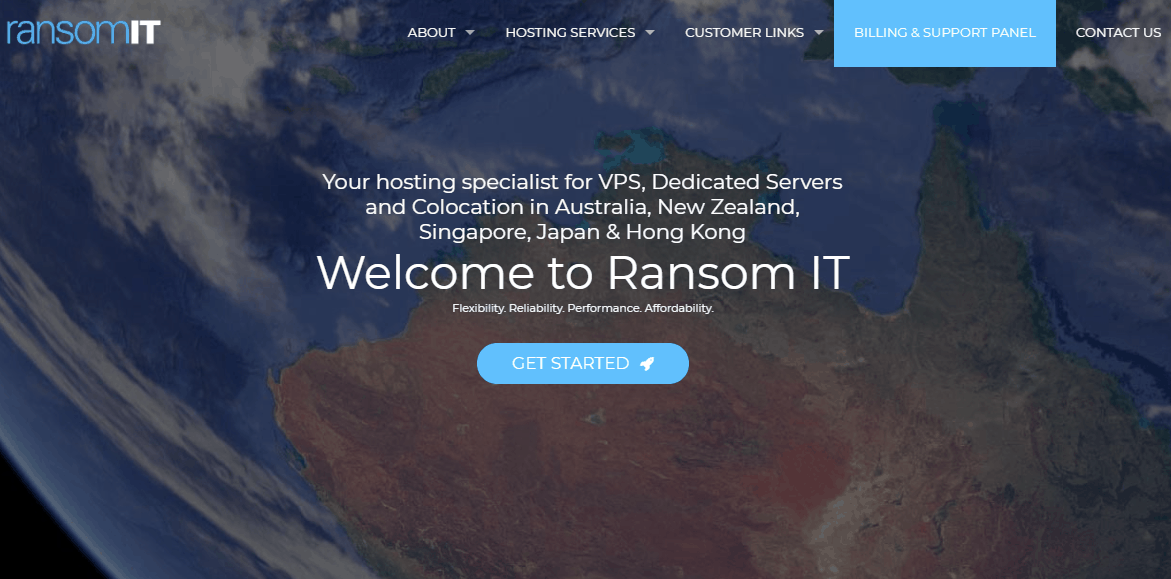 Ransom IT is a web hosting company based in Adelaide, Australia. It was founded in 2008 and has servers in Australia, New Zealand, Singapore, Japan, and Hong Kong.
The company offers virtual private servers, dedicated servers, reseller hosting, and colocation. Its website is available in English only.
Features and Ease of Use
Small businesses that are looking for simple hosting solutions will have to look elsewhere because Ransom IT doesn't offer hosting that's best suited for simple websites. It doesn't provide shared hosting, only VPS and higher-level services.
Its VPS comes in different plans categorized by the location of the server. These are the features on offer:
Two or four CPU cores
Up to 8GB RAM
Anywhere from 20GB to 100GB storage space
Ransom IT places great focus on high-quality hardware. It uses Solid State Disks (SSDs) on its servers to ensure that customers get an enhanced storage experience. Also, it uses RAID configurations where possible to provide data redundancy and reliability.
Ransom IT provides unmanaged VPS. Managed services come with perks like software updates, firewall configuration, and maintenance. If you're not a server guru and you know nothing about managing VPS, you're going to be working with lots of roadblocks with Ransom IT.
You'll have to start with installing your own operating system. Fortunately, Ransom IT provides a list of operating systems namely, CentOS, Ubuntu, and Debian at checkout. You can pick any of the versions you want and it will install it for you.
One hard part, though, will be the control panel as you are working with an environment without a control panel. You could buy a cPanel/Plesk license but have to deal with installing it yourself.
As I mentioned above, it's unmanaged, so it doesn't provide automatic backups. You're expected to run your own backups.
You can get additional resources from the dedicated servers such as a 1Gbps port all to yourself. If you're looking for managed services, it's only the reseller hosting that is managed.
Pricing and Support
As expected with VPS, dedicated servers, and other high-level hosting services, Ransom IT does not offer a free trial and free version. You can pay for one month, three months, six months, or one year.
Its prices are reasonable for the features on offer. However, there is no money-back guarantee. Payment methods are credit card, PayPal, and direct deposit.
You can upgrade or downgrade the VPS. Be aware, though, that disk sizes can not be downgraded, but other resources can be changed up or down. You'll have to contact support when you want a downgrade/upgrade.
Unfortunately, they don't offer tutorials, but you can reach customer support through ticket, phone, and email. I sent an email and got a response soon after.