🏆

Performance Grade
A

⏱️

Uptime Guarantee
No

🔒

Free SSL
Yes

🔧

Hosting Types
Shared, VPS

💡

Basic Plan Features

💲

Starting Price

$

8.25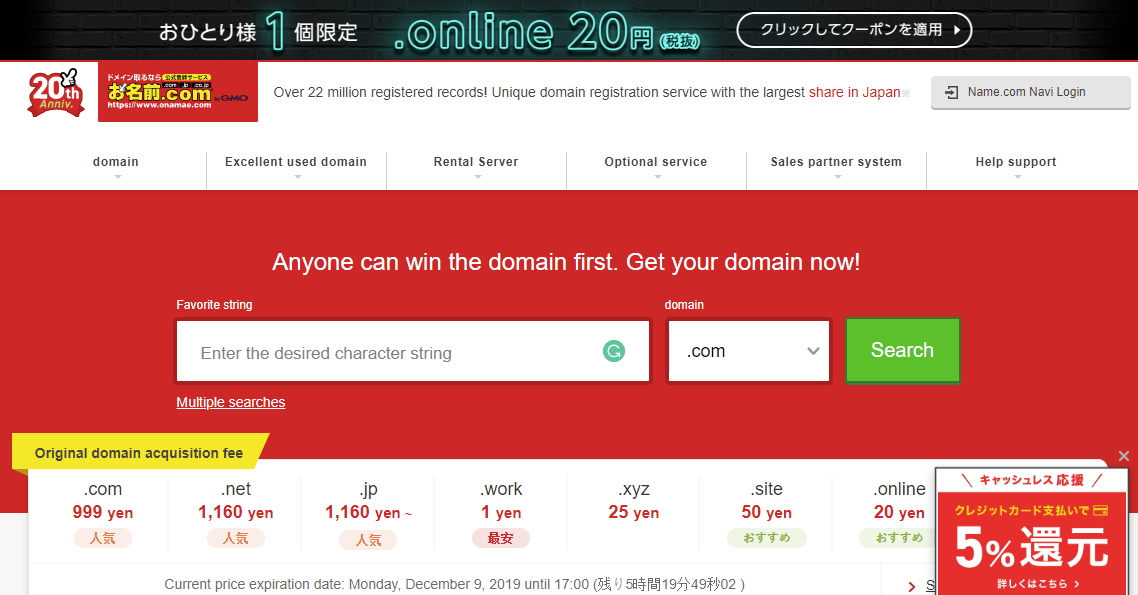 In business since May 1991, Onamae is a web hosting company with its head office in Tokyo, Japan. It offers shared hosting, virtual private servers (VPS), dedicated servers, email hosting, and SSL certificates, among other services/products. Its website is available in Japanese only.
Features and Ease of Use
For personal blogs, corporate websites, and small/medium-sized E-commerce stores, Onamae offers some nice features with its shared hosting. Here are some of its features:
Free SSL certificates
Multiple domains per account
200GB storage
2.5TB bandwidth
Automatic backups
Onamae uses solid State Disks (SSDs) for its servers, providing fantastic performance so that your website pages faster. Also, Onamae has a feature for transferring customers to less congested servers. So, if yours is congested, you can be moved to a better server and enjoy top-notch speed without overcrowding. This can be once every 14 days.
Another performance acceleration tool that it uses is LSAPI, which is proven to be the fastest and most reliable way to serve PHP pages. Plus, it makes Apache more efficient and faster.
Asides from PHP, Onamae also supports Perl, Python, and Ruby. If you need to run custom configurations or handle things faster through commands, there's SSH access as well. For beginners, there's a one-click installer that's easily accessible from the control panel. It supports WordPress, Joomla!, and a few others.
Customers won't have to deal with loss of data if hardware fails. That's because Onamae uses RAID 10 configuration for its SSD, providing fantastic stripping and mirroring. Plus, RAID 10 has performance benefits. For security, there's a web application firewall that detects and blocks attacks. You can enable or disable it for each of your domains.
Pricing and Support
Onamae offers hosting for free for up to two months. During this time, you can test the service to find out if it's good for you. Most companies only offer trials for up to 15 days. Another perk with Onamae is that the cost of the domain – when you buy hosting – is given at a large discount (more than 90% off the usual domain registration cost), so it's almost free.
After the trial period, the prices are cheap. It offers one-month, six-month, one-year, two-year, and three-year subscription periods. From one year, there's a discount on the prices. It accepts credit/debit cards and bank transfer. Do note that there are no refunds after payment, which isn't entirely surprising due to its long trial period.
For its VPS plans, the first two come with a free trial and in general, the prices are affordable.
Locating customer support options for Onamae requires considerable effort. The pages dedicated to phone and contact form support within Onamae do not display a phone number or a contact form. However, there is an easily accessible help center that houses a variety of guides to assist you.