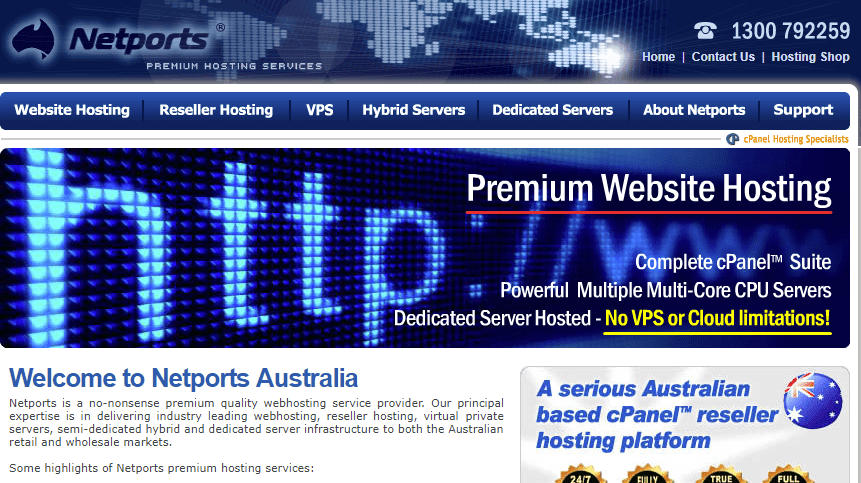 Netports is a web hosting company that was established in 1999 to provide IT and infrastructure services to clients in Australia and the diaspora. It operates out of Sydney, Brisbane, and Cooloola Cove in Australia.
The company offers shared hosting, reseller hosting, SSL certificates, VPS, semi-dedicated servers (hybrid), and dedicated servers. Its data centers are located in Australia and the United States, and its website is available in English.
Features and Ease of Use
Netports offers six shared hosting plans that come with the following features:
Daily/weekly automatic backups
100MB to 2GB disk space
Bandwidth ranging from 5GB to 40GB
The plans offer MySQL databases, PostgreSQL databases, and the PHPMyAdmin tool. You can get to the settings for these as well as access the tools through the provided management tool – cPanel.
cPanel is easy to use, even for newbies to web hosting. It runs on the Linux operating system and supports a plethora of programming scripts and software, including CGI BIN, Ruby on Rails, Perl, Python, Imagemagick/GD, and PHP with Zend optimizer.
One popular feature that many host providers offer is the automatic installer. With it, you can install applications on your hosting account easily. Netports provides the Softaculous one-click installer for this purpose.
Netports also offers a website builder tool – SiteBuilder – but this is a separate service. Since it doesn't come as a feature in the shared plan, you'll have to order it separately if you want to have it activated on your cPanel.
This shared hosting platform is on multiple CPU enterprise-class dedicated servers coupled with SCSI hard disk drives (HDD) in RAID configurations.
The company provides customized service to clients, as well. If any of its shared plans don't meet your requirements, you can contact Netports and it will create a plan tailored to your needs.
Pricing and Support
As stated earlier, Netports has six shared plans, but the fees charged on each are quite expensive for shared hosting, especially one with these features. The prices are more aligned with VPS or dedicated servers.
It has monthly and yearly billing periods with discounts on the yearly subscription. Accepted payment methods are credit cards and direct bank deposit. When ordering, you can choose the data center you want your account to be hosted on.
They don't offer any money-back guarantee or refunds on any plan. They also don't provide any free trial or other free incentives like free domain registration.
Netports support agents can be reached 24/7 through email, phone, and ticketing system. I sent an email to support but never got a response, despite waiting for about two weeks.