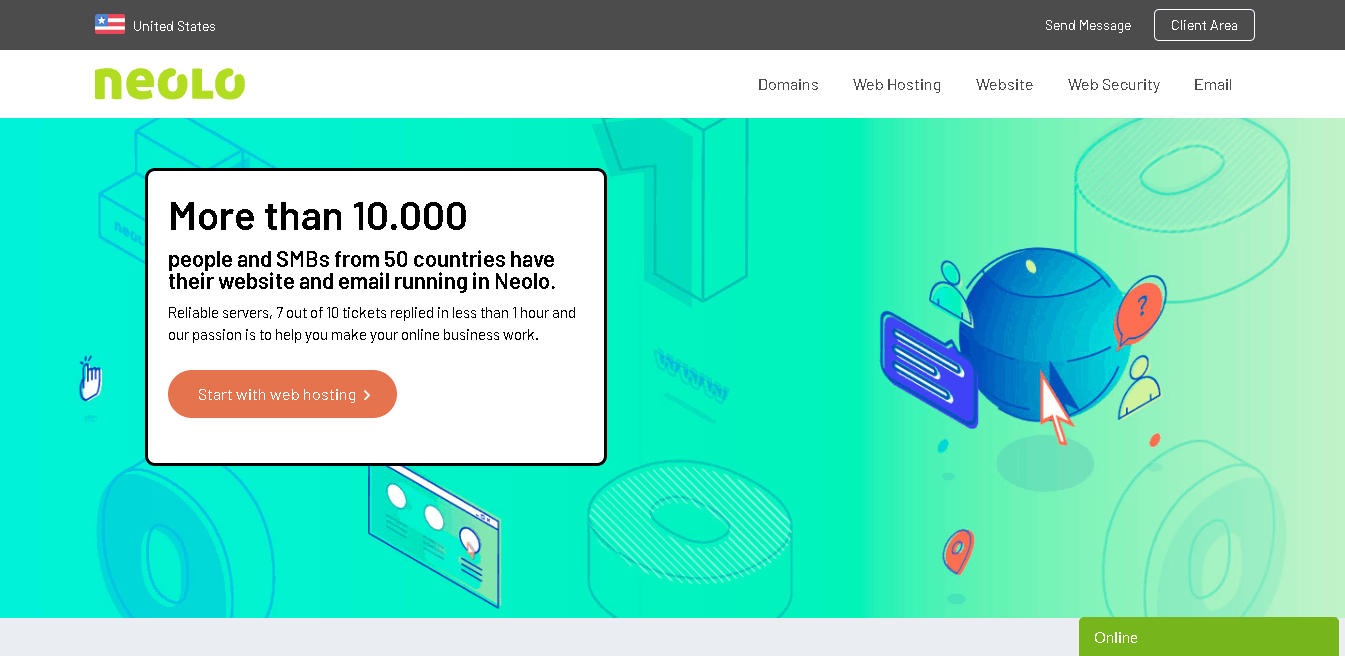 Neolo's journey started in 2002 under the name of Aeolus Hosting. It began its business by offering reseller hosting services. In 2008, the company changed its name to Neolo (which takes EOLO – the pronunciation of Aeolus – the Greek God of wind, and adds the N before it to indicate a forward-moving company). In 2014, the company started international expansion to the U.S., Spain, U.K., Romania, Brazil, and the Netherlands. Today, the company offers web hosting, reseller hosting, VPS and dedicated servers along with domain, website builder, and digital marketing tools. Neolo's website is available in multiple languages for locations across Europe, Latin America, North America, Australia, and Africa.
Features and Ease of Use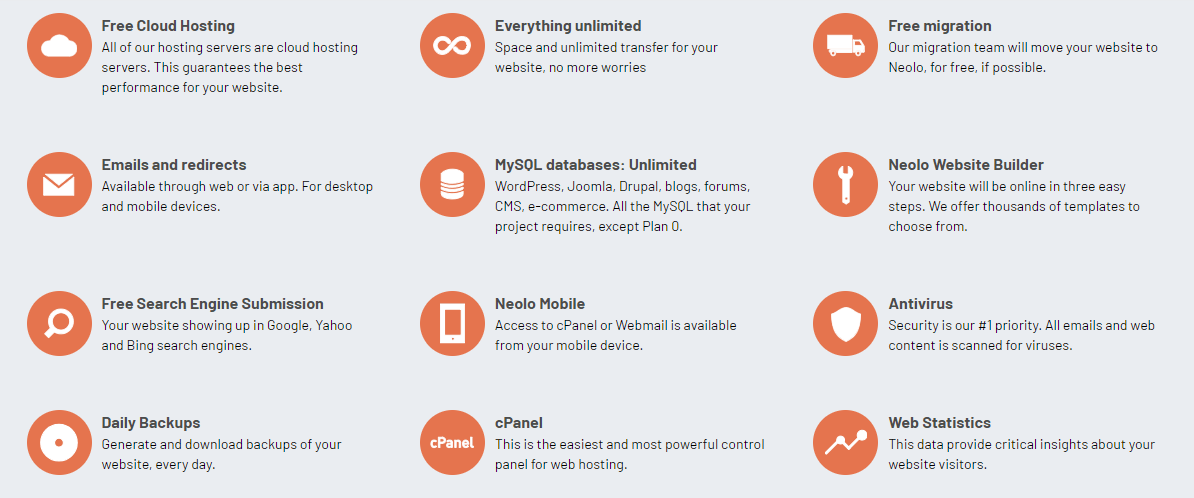 Neolo offers three shared web and email hosting plans – Plan 0, Plan 1, and Unlimited Plan that come with:
Cloud hosting servers
100% guaranteed uptime
cPanel control panel
Unlimited disk space
Unlimited professional email accounts
Free migration
The plans differ in terms of the number of domains (one – unlimited) and SQL databases (zero – unlimited). The highest two plans offer quick WordPress installation in just three clicks with cPanel. In addition, the Unlimited Plan offers a web creator to facilitate fast and easy website creation. Neolo also offers four premium hosting plans (for Joomla, Moodle, PrestaShop, Magento, and Drupal), and five WordPress hosting plans (three of which are the same as the first three premium hosting plans).
Neolo offers Neolo Builder, which you can use to create your website and have it running in less than five minutes. The website builder uses a secure code, offers mobile-friendly designs, and lets you change your website design, internal page, and content whenever you want to. It also ensures your website's search engine presence by automatically adding it to Google, Bing, and Yahoo! Neolo also offers one-click installation of over 200 apps with Softaculous.
The company offers a variety of web services such as security solutions (SSL certificates and malware removal), professional email accounts, and website optimization (to improve your search engine ranking and boost your web traffic). Not many hosting service providers offer such services under the same roof. By bringing them to you, Neolo ensures you have everything you need to make the most of your online presence.
With its VPS and dedicated server plans, Neolo lets you choose your OS from Ubuntu, CentOS, Debian, Fedora, Slackware, Gentoo, Scientific Linux, ArchLinux, or SUSE.
Pricing and Support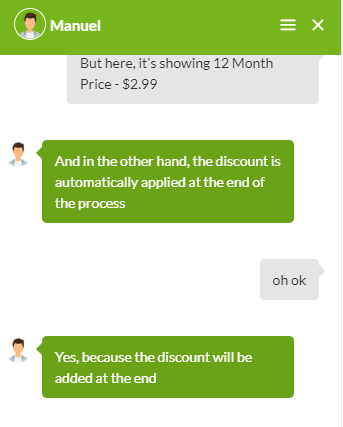 Neolo's shared hosting plans are cheap. However, you'll get the cheap monthly rates only if you opt for the annual or longer billing periods. While ordering the plans, you'll see the pricing displayed as more than what the web pages show, but you need not worry as the discount is automatically applied at the end of the process.
The billing periods available are monthly, quarterly, annual, biennial, and triennial. You can pay for these plans in local currency based on the location from where you're accessing Neolo's site (though it may not always be applicable since Indian customers will have to pay in USD and not in Indian Rupee). Payment options are varied, from PayPal, Visa, MasterCard, and AMEX to Efecty, Santander, BCP, PayU, Oxxo, Scotiabank, and many more.
The company offers a 30-day conditional money refund.
You can reach Neolo's customer support via phone, live chat, and ticketing system. I tried the live chat and my volley of questions was promptly and satisfactorily answered.
Neolo has FAQ sections at the bottom of most of its service pages apart from an extensive knowledge base, which will offer useful self-help to those seeking it.
How much does Neolo cost?
Neolo offers plans from $2 to $84. The price depends on which type of hosting plan you choose. You can see the updated pricing table (updated weekly) below.

Which Neolo plan should I get?
My recommendation is to start with a cheaper plan. You can always upgrade later on. Neolo can help you with the migration to a more expensive plan. The increase in visitors many times takes longer than expected and you shouldn't pay a lot of money until the need arises. Of course, your needs may vary, and you can consult with a hosting expert from Neolo here.

How good is Neolo's customer support?
Neolo is not ranked as one of our top web hosts. But that can also be a result of Neolo being a small, under the radar, hosting provider. There are advantages to a small hosting company – as a customer, you are more important to them. You can also check out our comparison of the most popular web hosting services here.