MojoHost is headquartered in the United States but owns data centers in the U.S. and the Netherlands. Most of their customer base is American, but their global network and IP space allows them to serve foreign users from countries such as Mexico, Brazil, Ukraine, and the United Kingdom. Founded in 1999, they've now served thousands of clients and billions of surfers. They're privately held, self-funded, and have been profitable for almost two decades. Presently, their website is only available in English, though they also have a European extension of their service that's available in 26 different languages.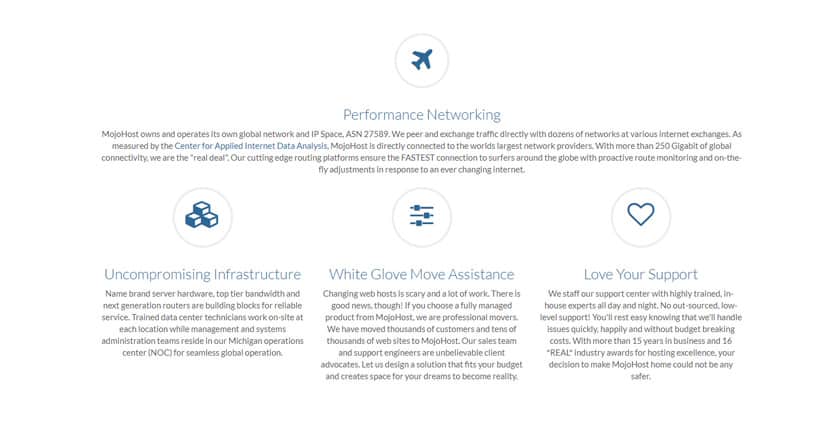 Features and Ease of Use
MojoHost's most popular products are their VPS, dedicated servers, and global CDN, so they're not ideal for those looking to set up simple, largely-static websites. That said, if you're in the market for VPS or dedicated servers, they're an excellent choice. With their SSD VPS packages, you get:
250 gigabits of global connectivity
White glove website migration assistance with purchase of fully managed plans
99.999% uptime
100Mbps to 1Tbps connections available
MojoHost has invested heavily in their hosting infrastructure. They proudly proclaim that they own and operate their own global network and IP space, ASN 27589. This makes it possible for the company to peer as well as exchange traffic with many networks at different internet exchanges. According to the Center for Applied Internet Data Analysis, MojoHost has direct connections to the largest network providers in the world.
While some customers use MojoHost for their unmanaged infrastructure, the majority of their customers entrust all their IT operations to the vendor. Their existing customers regularly tout MojoHost's fully managed services as top-notch, empowering even non-technically-savvy users to maintain websites on a VPS without much hassle.
One downside of the vendor is that while they do offer HTTPS traffic with their CDNs, they don't resell premium SSL certificates. If you need one for your website, you'll have to find it elsewhere.
Pricing and Support
Compared to other premium hosting providers, MojoHost's VPS plans are competitively priced. In fact, I'd go so far as to say that considering the resources you get with the SSD VPS plans, they offer some of the best value in the market. Where you'll have to pay up is for the add-ons and the server management services, however: the fully managed plans can increase your base price by up to 1300%.
They don't have a money back guarantee, sadly, so there's no way to test out their service before you commit. Furthermore, their migration service comes as part of their fully managed package, so if you need help moving your website over you'll have to pay a hefty monthly fee.
MojoHost's support is definitely their strongest point. They take a proactive approach by reaching out to customers and addressing any issues before they become noticeable. For instance, if they need to patch your server and fix vulnerabilities, they will contact you to ensure the patching occurs at a time when your website's online presence is not critical. This level of attentiveness ensures smooth operations for your website.
Customers can contact the vendor's support via email, a toll-free telephone number, their ticketing system, and the contact form on their website. However, the company has no live chat and the knowledge base has very little information. That said, users with limited technical skills love this vendor because they don't inundate you with a lot of tech speak, and they take you through the process one step at a time. Even when you need a simple WordPress website transferred to their servers, their support team can help you with that. In fact, the support team is often willing to have conversations with your developers to resolve any hosting issues that may arise. Many customers have reported that MojoHost's support team goes above and beyond to help them resolve whatever type of challenge they face.
How much does MojoHost cost?
MojoHost offers multiple plans priced highest to lowest. The price depends on which type of hosting plan you choose. You can see the updated pricing table (updated weekly) below.

Which MojoHost plan should I get?
My recommendation is to start with a cheaper plan. You can always upgrade later on. MojoHost can help you with the migration to a more expensive plan. The increase in visitors many times takes longer than expected and you shouldn't pay a lot of money until the need arises. Of course, your needs may vary, and you can consult with a hosting expert from MojoHost here.

How good is MojoHost's customer support?
MojoHost is not ranked as one of our top web hosts. But that can also be a result of MojoHost being a small, under the radar, hosting provider. There are advantages to a small hosting company – as a customer, you are more important to them. You can also check out our comparison of the most popular web hosting services here.