With data centers in Orihuela (Alicante), Loading.es serves more than 33,000+ customers worldwide. The company offers a range of
shared web hosting and VPS hosting
along with domain registration services and reseller hosting solutions.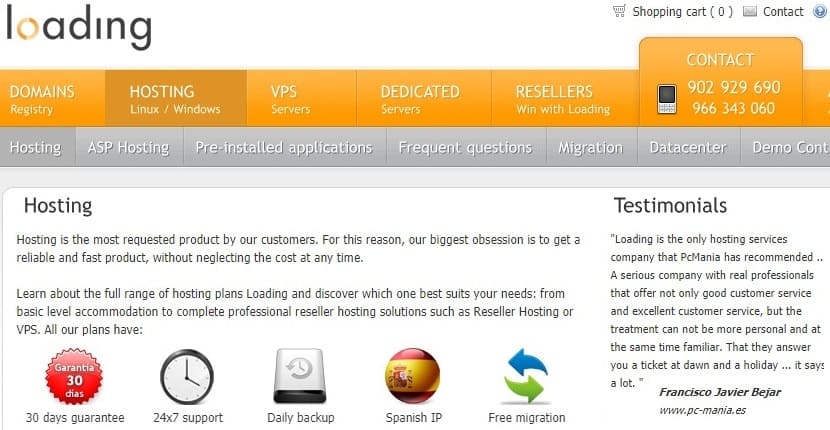 Features and Ease of Use
With Loading, you get everything you need to kick-start your web project. Some of the key features you will find include:
99.9% uptime
ISPmanager, cPanel, Plesk
Unlimited traffic
SSL certificates
MySQL databases
Access by FTP / SSH protocol
Spanish IPs
Email accounts
30 back copies
With 99.9% uptime, Loading.es hosting services are powered by high-grade servers from notable brands, such as Dell, Supermicro, and Dell with SSDs.  On-site support technicians monitor their servers day and night for any anomaly. So the chance of downtime and resulting service disruption because of hardware failure is minimal. Underlying the servers are redundancy networks with multiple connectivity via the BGP protocol. You will enjoy excellent server response 365 days a year.
Hosting plans come with free app installer loaded with over 100 free applications. With three simple clicks, you can create a website using a CMS or app of your choice. All annual plans include a free domain for 1 year. Popular scripting languages, such as PHP, Perl, and Python are also supported.
Not many hosting services facilitate free website and email migration. Load.es takes care of all your migrations including those that are complex to your new hosting account flawlessly. From your website files to databases, they will upload and configure everything to run smoothly on their servers. Simply fill the migration request form on their website or contact the technical support team.
With Loading.es, you will never worry about losing data files following an upgrade. Daily backups – across all hosting packages – ensure that you retain copies of key files. With few clicks, you can rollback any undesirable change without disrupting service delivery.
Pricing and Support
Six pricing plans are available with incremental features. The introductory plan, Mini, comes with 1 domain, 1 GB storage space, 20 email accounts, and a free SSL certificate in addition to pre-installed popular apps, such as WordPress, Magento, and MediaWiki.
Basic plan comes with all the standard features of the Mini in addition to 3 GB storage space, 100 email accounts, and 1 MySQL database. With the Argentum plan, you get 6 GB SSD disk space that can host 5 domains, 200 email accounts, 5 MySQL databases, and free SSL.
Aurum plan comes with 15 GB SSD space and 10 configurable domains. You also get 10 MySQL databases, 30 subdomains, and unlimited email accounts in addition to 10 advanced mail account databases all secure by SSL.
If you want more SSD space and many email accounts, you can choose the Titanium plan or the Platinum plan. You will get free SSL, dedicated IP, unlimited subdomains, and many more features.
Apart from shared hosting, they also offer ASP hosting under Windows Server 2008. This hosting service supports scripting languages, such as ASP, ASP.NET as well as databases, such as Access and MS SQL. Managed VPS with Remote Desktop and SSH access and upto 100 Mbps bandwidth is the other option on the table. With this, you get enough hardware resources to support all your mission critical projects.
Setting up your hosting account with both shared and VPS options is a breeze. As soon as you pay for your plan, your hosting account becomes active right away. The server performance is impressive, even with the basic plan. Plus, with Loading.es, you get the added benefit of incremental backups included in your hosting plan. If you ever need to upgrade or switch plans, it's a seamless process.
Customers come first, that is the mantra by which the customer care team at Loading.es operates. With a selfless support team that offers personalized attention in Spanish, the company provides timely technical and commercial support at all levels. You can contact them by phone, email, Skype, ticketing system, or the online form. Live operators are available from 8.00am to 8.00pm, Monday to Friday. The average response time is about 30 minutes.
Although Loading.es offers some really good packages, it doesn't match that with great usability. The site isn't just outdated but is also non-responsive. Navigating wasn't the problem, but comparing plans was. I looked at the cPanel too and felt it could have been much better. I hope they can reword the design, trim their tables, and offer multiple versions of the site including English.