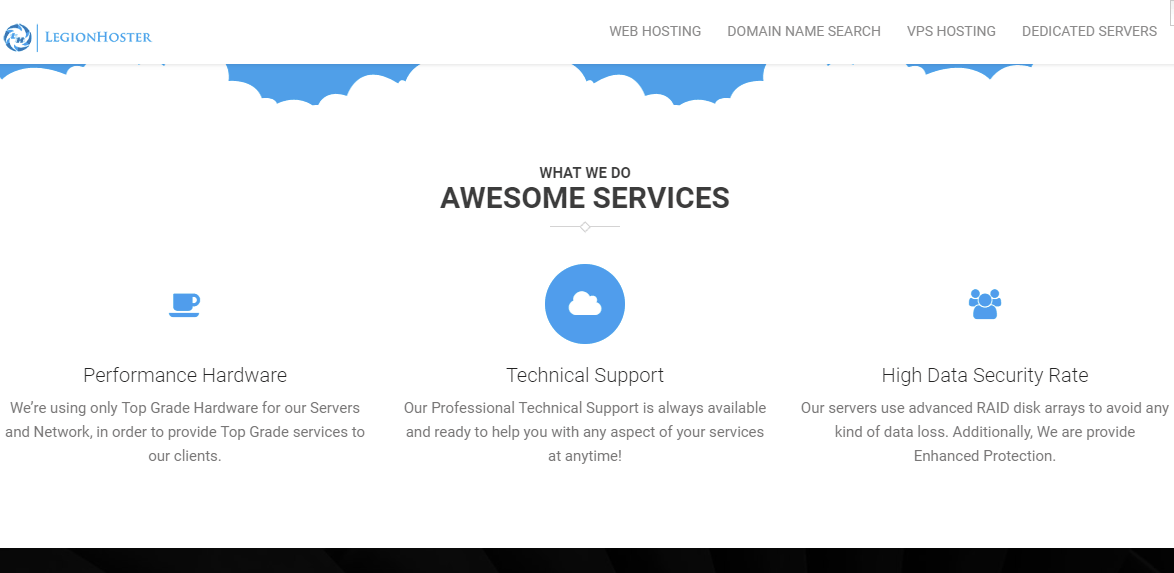 Legionhoster Inc is a web hosting company that's based in India. It offers web hosting, domain names, Virtual Private Servers (VPS), and dedicated servers. Its website is available in Chinese, English, French, Dutch, German, Italian, Portuguese, Spanish, Hindi, Nepali, and Russian. The company's servers are located in the United States, Canada, Russia, the Netherlands, and France.
Features and Ease of Use
Legionhoster offers web hosting in the U.S. and Canada, and offshore web hosting in the Netherlands. There are four plans on each category. These are the features on offer:
99.99% Uptime Guarantee
Daily automatic backups
Anywhere from five to unlimited add-on domains
Up to unlimited bandwidth
Anywhere from 10GB to 60GB SSD
The SSDs are on RAID to avoid data loss from hardware failure. With this protection, if one storage disk fails, you're assured of your data because it's mirrored in another disk, and Legionhoster can easily replace the failed disk.
Another level of data protection that the company offers is automatic backups. Backups are taken daily and each one is stored for three days. These backups are stored both locally and remotely. Of course, it's advised that you still take backups on your own, as well.
The company promises that its servers have a low ping response across Europe, North America, and Asia. This means that loading a web page will take less time and improve website speed. That's great for user experience and SEO.
That, and its offered 1Gbps uplink, guarantees that your server can output more data per second, which is useful if you have a really busy website.
Legionhoster provides DDoS protection of up to 500Gbps. As long as you don't have a large website or aren't a multinational organization, you're less likely to experience DDoS attacks of up to or more than 500Gbps. It also has firewalls and MOD security configured.
Pricing and Support
Legionhoster offers low-cost hosting. For similar features, you're more likely to see higher prices elsewhere. You can pay for one month, three months, six months, or twelve months at a time. The longer the subscription you're willing to take, the more of a discount you'll get. At 12 months, at the time of writing this review, you get a bit over one month of hosting free.
They don't offer a free domain, but with their low prices, adding the cost of a domain wouldn't make the overall expense expensive. You can pay using PayPal, Bitcoin, Perfect Money, Skrill, Alipay, or Visa/MasterCard.
Customer support is available through a knowledge base but there are very few articles in it. For the support agents, they are available 24/7 through Skype, email, and ticket. I sent an email and got a detailed reply.