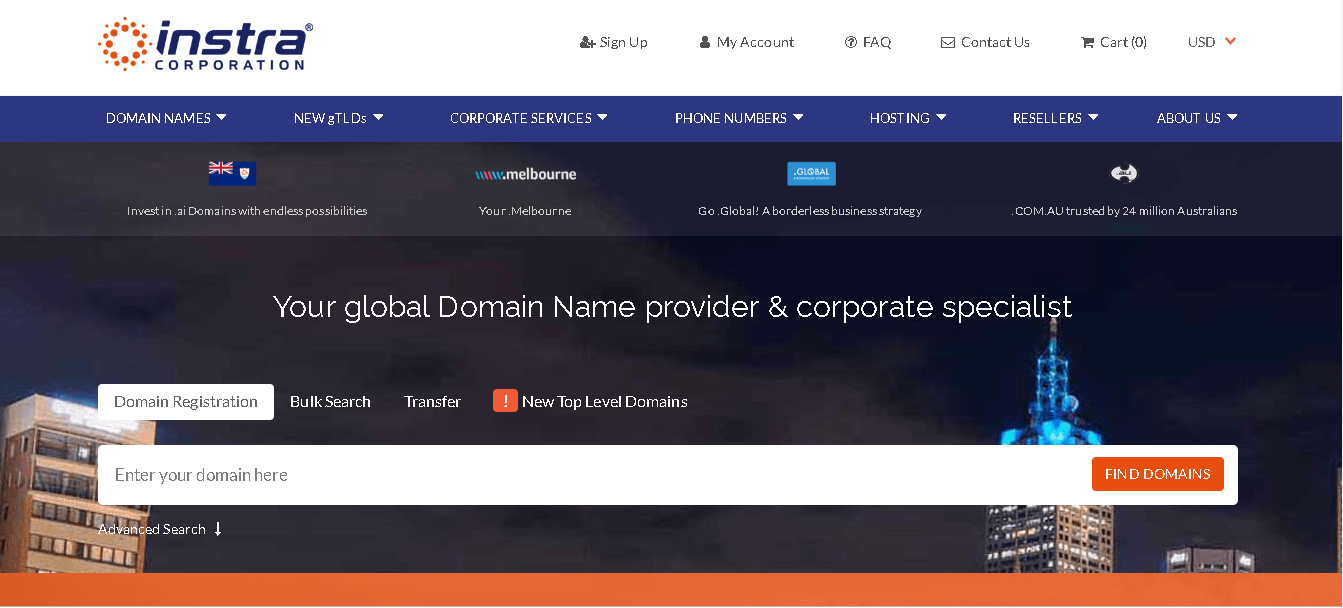 Instra Corporation has been in business since 1999. They've grown from an Australian domain registrar to become a worldwide supplier of website solutions. They have:
Customers in more than 200 countries
Offices in New Zealand, Europe, and Australia
Servers located in the U.S., U.K., Australia and Hong Kong
Their website and support are available in English.
Features and Ease of Use

Instra Corporation's shared website hosting comes as standard with the following core features:
99% uptime guarantee
Daily automatic backups
Domain registration available
From 1500MB to 7500MB disk space
From 5000MB to 35,000MB monthly bandwidth
Instra Corporation has a global DNS infrastructure with servers colocated in Los Angeles, London, Hong Kong, and Melbourne data centers. Although they don't own these data centers, they do commit to only working with data center owners that meet the following specifications:
Tier 1 upstream providers
UPS and generators in case of power outages
N+1 air conditioning systems and network equipment
24/7 security and monitoring
Their uptime guarantee is a little low at 99%, although they do claim it's backed by a service level agreement (which I couldn't actually find on their website).
Instra Corporation offers four shared hosting packages: Economy, Premium, Business, and First Class. The Economy package comes with 1500MB web space, 5000MB monthly bandwidth, and 30 email accounts. The Premium package has 3000MB web storage, 10,000MB monthly bandwidth, and 30 email accounts. The Business package provides 5000MB web storage, 20,000MB monthly bandwidth, and unlimited email accounts. The First Class package affords you 7500MB web storage and 35,000MB monthly bandwidth.
You have to dig deep into each plan to understand which features are included. For example, RVsitebuilder is only available with the three highest price packages, whilst the Softaculous one-click installer is available in all plans but with a different number of installable apps depending on the plan: 5 apps for the Basic plan; 230 apps for the Premium, Business, and First Class plans.
For advanced users or developers, all plans come with unlimited FTP accounts, support for PHP, Perl, CGI, and Python plus Cron jobs.
Pricing and Support

Instra Corporation's prices are a little higher than the international and local competition. While even the basic package includes pretty high resource levels and is likely more than enough for most everyday users, you'll need to upgrade to the higher plans if you require the website building tool or more than five installable apps. Domain registration and SSL certificates cost extra on all plans.
24/7 technical support is provided for existing customers by telephone and email. For other enquiries, telephone and email support are provided 24 hours a day for 5.5 days each week (From Monday until Saturday morning). For a corporation of this size, I do feel that their customer service options are a little limited, and I am disappointed by the almost non-existent FAQ section of their website.
How much does Instra Corporation cost?Instra Corporation offers plans from $6 to $22. The price depends on which type of hosting plan you choose. You can see the updated pricing table (updated weekly) below.
Which Instra Corporation plan should I get?My recommendation is to start with a cheaper plan. You can always upgrade later on. Instra Corporation can help you with the migration to a more expensive plan. The increase in visitors many times takes longer than expected and you shouldn't pay a lot of money until the need arises. Of course, your needs may vary, and you can consult with a hosting expert from Instra Corporation here.
How good is Instra Corporation's customer support?Instra Corporation is not ranked as one of our top web hosts. But that can also be a result of Instra Corporation being a small, under the radar, hosting provider. There are advantages to a small hosting company – as a customer, you are more important to them. You can also check out our comparison of the most popular web hosting services here.