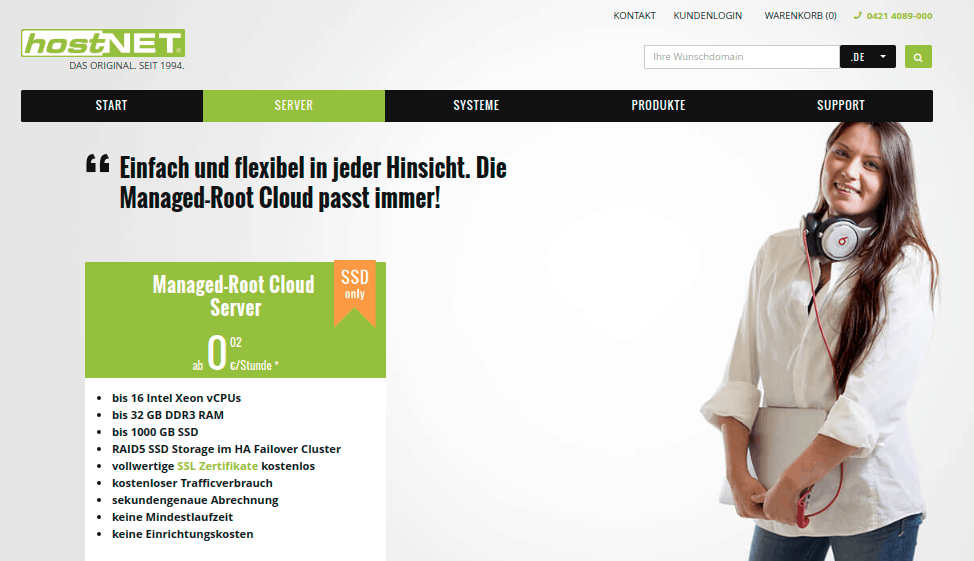 Established in 1994, hostNET is a web hosting vendor based in Germany. It specializes in the provisioning of dedicated managed root servers, agency servers, bare-metal cloud servers, managed root cloud servers, domain name registration services, and SSL certificates. It also offers CMS hosting, including WordPress, Drupal, and Magento, among others.
hostNET prides itself on pioneering reseller business for over 20 years. It was recognized as the best reseller provider in Germany by t3n readers. Its data center is located in Germany and operates under strict German data protection laws. It also applies 100% green energy to its data center. The hostNET website is only available in German.
Features and Ease of Use
hostNET hosting packages incorporate the following standard features:
SSD storage
RAID protection
Free SSL certificate
Free bandwidth
Auto-installer
SSH access
GUI disk management
MySQL databases
Root access
Snapshots backups
hostNET servers are housed in its data center located in Germany. Its data center is subject to German laws for safeguarding clients' data and does not allow direct access with NSA. Furthermore, its data center is monitored 24/7 and adheres to data security measures, including fire protection, redundant technology, and access control.
The firm provides agency services suitable for upcoming resellers to professional resellers. Its agency services include four plans. Its basic plan, Reseller Entry, includes 200GB SSD RAID storage, six Intel Xeon vCPUS, and 4GB RAM. Its advanced plan, Reseller MAX2, comes with 500GB SSD RAID5 storage, 16 Intel Xeon vCPUs, and 24GB RAM. All plans include free bandwidth.
Incorporated in the reseller servers is a managed root system with an auto-installer for hundreds of applications and installations such as E-commerce and CMS, among others. The vendor uses easyTEC, which significantly simplifies the process of installation.
The company uses Linux and Unix operating systems. This provides users with diverse options for up to 10 operating systems, including Arch Linux, FreeBSD, Gentoo Linux, and openSUSE, among others. hostNET offers snapshots backup services for its managed root cloud servers' customers.
Other services offered by the vendor include CMS and E-commerce solutions, including WordPress blog hosting, Typo3 CMS hosting, and Drupal CMS hosting.
Pricing and Support
hostNET hosting packages are reasonably priced. It offers a flexible billing cycle where customers can purchase monthly subscriptions. Its prices are all listed in euros. The firm offers free bandwidth in all its hosting packages.
The company offers a 99.99% uptime network guarantee along with a 30-day money-back guarantee for its shared and reseller hosting users provided the client terminates his/her account within 30 days after buying.
You can get in touch with hostNET technical support through its telephone, contact form, email, and social media. It has no ticketing system or live chat. Its customer service team is available 24/7/365 to offer support in case of an issue.
Moreover, its support is on two levels: free based support for all its basic hosting services and Fee-based support for special tasks. My email to this vendor's support team was responded to just over 24 hours later.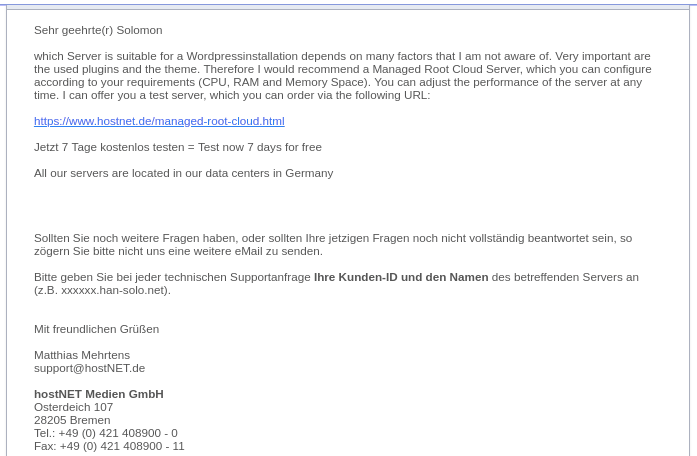 hostNET has a comprehensive FAQ section that acts as its knowledge base, addressing most of the queries customers might have.