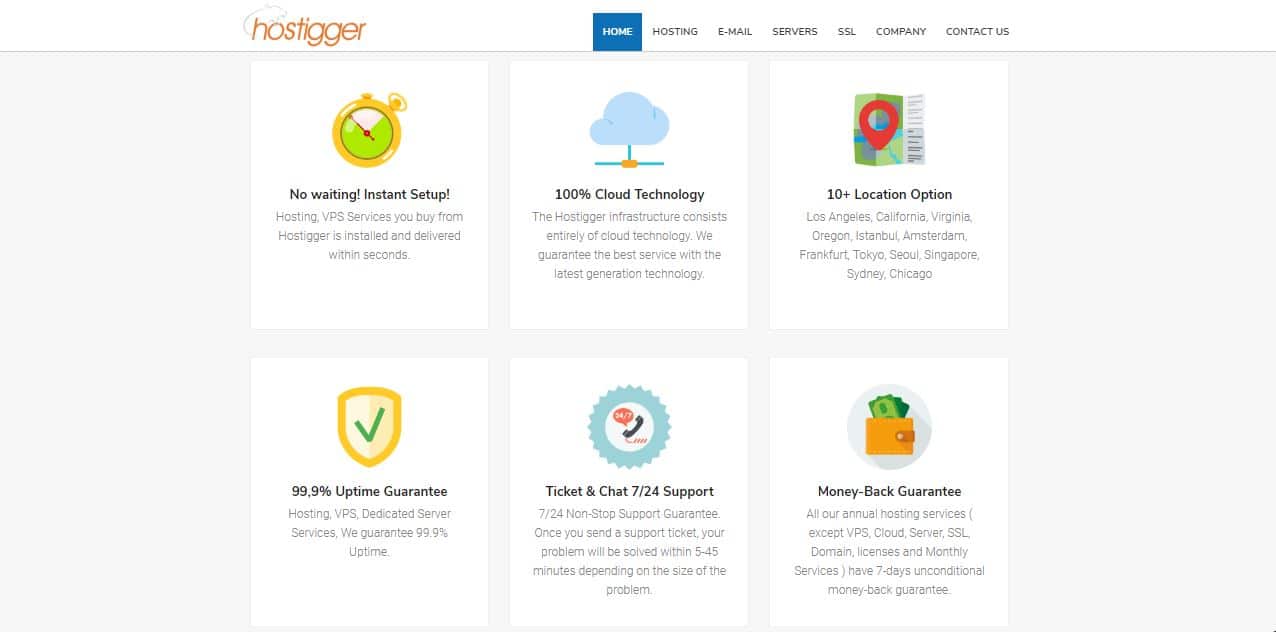 Founded in 2015, Hostigger is a brand name of a company that has been providing data center services for more than 25 years. They operate thousands of virtual services and provide hundreds of server solutions to customers in more than 15 countries in multiple languages.
Features and Ease of Use
Hostigger offers a professional range of website hosting packages including shared website hosting, reseller hosting, WordPress hosting, Windows hosting, OpenCart hosting, and dedicated server rentals.
Their shared hosting plans use a Linux operating system and as standard offer the following core features:
An uptime guarantee of 99.9% for shared hosting, virtual private servers, and dedicated servers
Backup and restore settings via cPanel
Free domain registration with some shared hosting packages
Free shared SSL certificate with all packages
From 10 GB to unlimited disk space
Their cheapest shared hosting plan includes 10 GB SSD storage and 250 GB bandwidth. These resources should be sufficient for many users, but the company does also offer two plans with unlimited traffic and disk space. While the term 'unlimited' can sometimes be misleading because it is often subject to a "fair use" policy, they do also offer unlimited subdomains, unlimited email accounts, and unlimited MySQL databases, which is excellent value.
Hostigger supports PHP from the slower version 5 right up to the faster PHP 7.0. They also support HTML, DHTML, XML, XLS, and AJAX. Note, however, that they do not offer support for advanced languages such as Ruby, Python or Javascript.
All plans are 100% cloud-based with SSD storage. And while they offer a 99.9% uptime guarantee, it is not backed by a service level agreement.
Pricing and Support
Hostigger's prices are great. Their basic plan is extremely affordable, whilst their two upper unlimited plans are still very good value for money. With the exception of the cheapest option, annual plans come with a free domain and shared SSL. Unlike many competing companies, they don't bombard you with add-ons at the checkout, so the price you pay is the one that was advertised.
You can choose between monthly, quarterly, semi-annually, annually, biannually, and triannually contract lengths, with slightly reduced prices for longer terms. They also provide a seven-day money-back guarantee.
Hostigger's customer service is great. They offer 24/7 ticket and chat support, and they commit to a ticket resolution time (not merely response time) of between five and forty-five minutes depending on the complexity of the problem. They are very slightly let down by their tiny knowledge base, but this is not a deal-breaker in my book.
How much does Hostigger cost?
Hostigger offers plans from $3 to $9. The price depends on which type of hosting plan you choose. You can see the updated pricing table (updated weekly) below.

Which Hostigger plan should I get?
My recommendation is to start with a cheaper plan. You can always upgrade later on. Hostigger can help you with the migration to a more expensive plan. The increase in visitors many times takes longer than expected and you shouldn't pay a lot of money until the need arises. Of course, your needs may vary, and you can consult with a hosting expert from Hostigger here.

How good is Hostigger's customer support?
Hostigger is not ranked as one of our top web hosts. But that can also be a result of Hostigger being a small, under the radar, hosting provider. There are advantages to a small hosting company – as a customer, you are more important to them. You can also check out our comparison of the most popular web hosting services here.