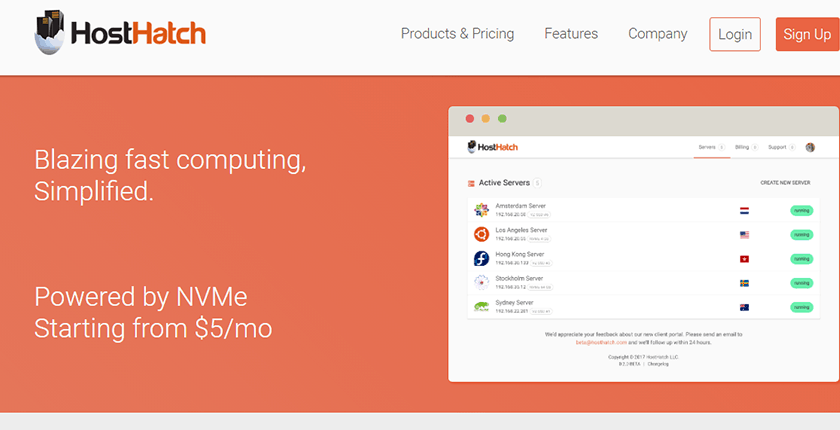 HostHatch is a U.S.-based company that's been offering website hosting and internet server products since 2011. They've grown from a single server to operating their own network in five global locations. During that time, they have helped customers in 100 different countries with online hosting and VM services. They offer a variety of Virtual Machine plans for those ready to graduate from shared hosting with limited features.
Features and Ease of Use
With HostHatch, you get quality Virtual Machine machines hosted in data centers in the Netherlands, Sweden, and the U.S. You also get the following features standard with each VM:
Ability to upload and use your own ISO
DDoS protection from Layer 4 and 7 attacks
Option to announce your own IP space through their servers
KVM-powered servers on a 10GbE private network
Note that VMs are not shared hosting, meaning you will have to set up your operating system, administration tools and website from scratch. If you do not have these skills, do not use this service as they do not help with this (nor do any VM, VPS or dedicated server companies.)
HostHatch has their own proprietary cPanel for their VMs called Falcon that you can use to administer your server, upload your ISO, and view your invoices. While relatively straightforward, there may be a slight learning curve, but if you are ready to use a VM, you probably can figure it out.
Pricing and Support
HostHatch offers eight different VM products, all with ample storage and bandwidth. Here's a breakdown of the differences in each plan.
| | | | | | | | | |
| --- | --- | --- | --- | --- | --- | --- | --- | --- |
| | NVMe 2GB | NVMe 4GB | NVMe 8GB | NVMe 16GB | NVMe 24GB | NVMe 32GB | NVMe 48GB | NVMe 64GB |
| Cores | 1 | 1 | 2 | 4 | 6 | 8 | 12 | 16 |
| Memory | 2GB | 4GB | 8GB | 16GB | 24GB | 32GB | 48GB | 64GB |
| Storage | 20GB | 35GB | 60GB | 100GB | 140GB | 180GB | 240GB | 340GB |
| Bandwidth | 1TB | 2TB | 4TB | 6TB | 9TB | 11TB | 15TB | 20TB |
These plans offer great flexibility for all sizes of websites or group of websites. The only plan I'd be cautious about is the NVMe 2GB plan. On this plan, your CPU core is only 50% dedicated, meaning that your site is going to be slower than on other plans. Personally, I think the NVMe 4GB is a good starting point for most looking for small VM and is very reasonably priced.
As VMs are designed for more experienced users, the level of support provided may not be as extensive as that offered in shared hosting. You are expected to possess some technical knowledge, so assistance with setting up programs may be limited unless the issues are related to the server. The only form of support available is email or ticket support for existing customers. There is no phone or live chat support. However, their available support operates 24/7.
How much does HostHatch cost?
HostHatch offers multiple plans priced highest to lowest. The price depends on which type of hosting plan you choose. You can see the updated pricing table (updated weekly) below.

Which HostHatch plan should I get?
My recommendation is to start with a cheaper plan. You can always upgrade later on.HostHatch can help you with the migration to a more expensive plan. The increase in visitors many times takes longer than expected and you shouldn't pay a lot of money until the need arises. Of course, your needs may vary, and you can consult with a hosting expert from HostHatch here.

How good is HostHatch's customer support?
HostHatch is not ranked as one of our top web hosts. But that can also be a result of HostHatch being a small, under the radar, hosting provider. There are advantages to a small hosting company – as a customer, you are more important to them. You can also check out our comparison of the most popular web hosting services here.